Outside Business Journal
What You Missed on Day 1 of Outdoor Retailer
New gear, first-time exhibitors, and more from the show floor in Denver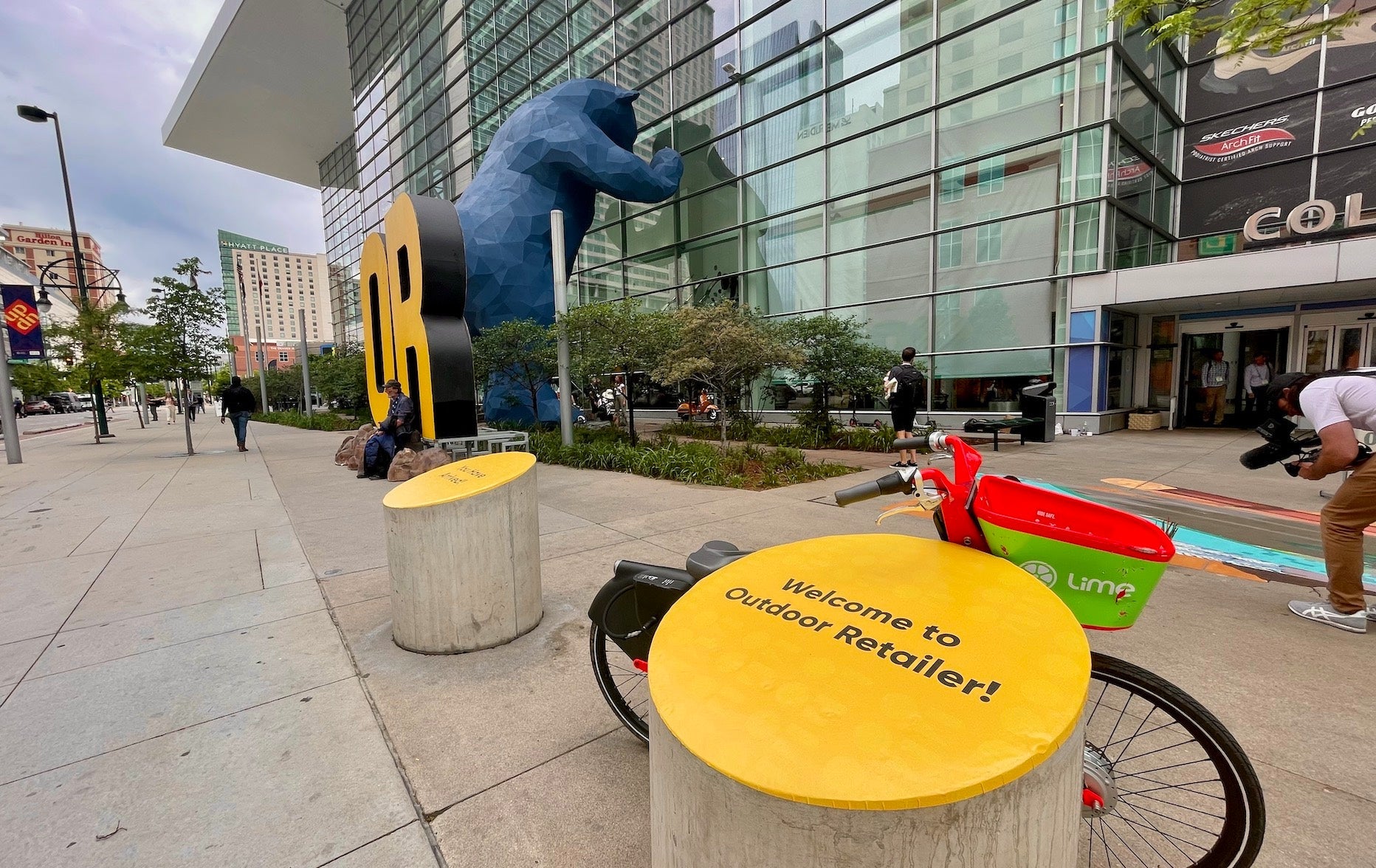 Heading out the door? Read this article on the new Outside+ app available now on iOS devices for members! Download the app.
As the opening day of Outdoor Retailer Summer 2022 comes to a close, it feels bittersweet for those who've grown to love the show's home in downtown Denver. This is the last iteration (for now) in Colorado before the show moves back to its former site in Salt Lake City. OR will call Utah home at least through the end of 2025—a move that was met with surprise and consternation from those troubled by Utah's disregard for policies that protect public lands. 
While Denver's five-year contract was mired in pandemic challenges, some might also call it a transformational period for the very essence of Outdoor Retailer. Take this summer's floor lineup: nearly 30 percent of the roster is composed of new exhibitors. A sign of more inclusivity and expanding reach in the outdoor industry? Probably. An indicator that the show has become more startup incubator than facilitator for heavy-hitting outdoor businesses? Jury's out. Regardless, the positive feedback was flowing in the early hours. Here's a snapshot.
Notable New Exhibitors
Surf stuff and artsy maps: Need a gadget for your surf life? This is the place. From wetsuit driers and waterproof seat covers to bike racks for your board and car door handle lock boxes to store your keys when the waves are calling, Surflogic USA had an enthusiastic presence at its OR debut. Ricky Judalena, current Toyota USA Surfing Longboard Champion, is all in as the owner of 7 Seas, Inc., the parent company of Surflogic USA (and sister brand Awesome Maps—hand-illustrated frameable world art maps with themes such as "bucket list" and "fishing"). "It took 47 years of experience to start this at a late age," he said. Age aside, anyone in need of a few extras for their surf kit should start here.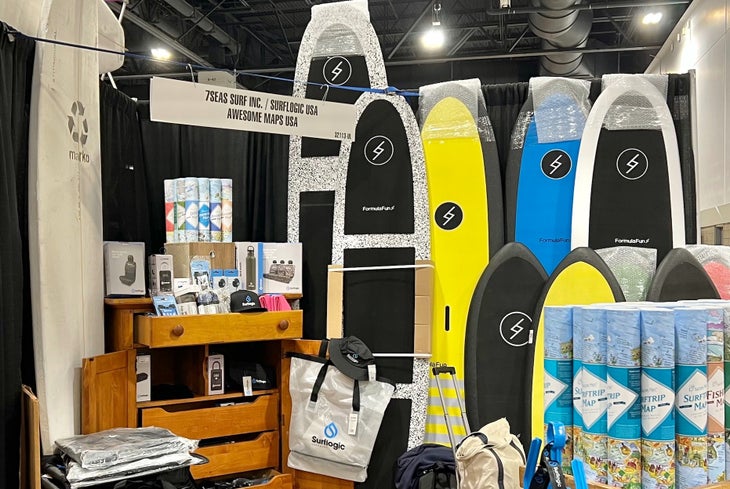 Where to take a wild ride: In an impressively simple yet dazzling display, Fliteboard brings the stoke of eFoil (electric hydrofoil) to OR. For the uninitiated, eFoil is a hydrosport carried out on a board propelled by electric marine power. In other words, a surfboard-like piece of gear that's propelled by a motor as opposed to a sail. The adrenaline-fueled sport is, said the Fliteboard crew, easy enough to pick up in 20 mins (the $13,000 price tag notwithstanding). "So many people love this idea of surfing, but they think they don't have time or that it's too hard," said Jimmy Trask, Fliteboard west coast sales representative. "Really, it's pretty user friendly." Ben Miller, team lead in customer experience, agreed: "If you go out by yourself, it's very accessible. You don't need another person to drive the boat or a big vehicle to tow it. They're a blast." At 60 to 70 pounds apiece, the eFoils can be dismantled into four components, complete with bags and cases, for transport. With a charge time of two hours, you get 90 minutes zipping over the water, whether it's ocean, lake, or bay—any body of water will do. Now about that sticker shock…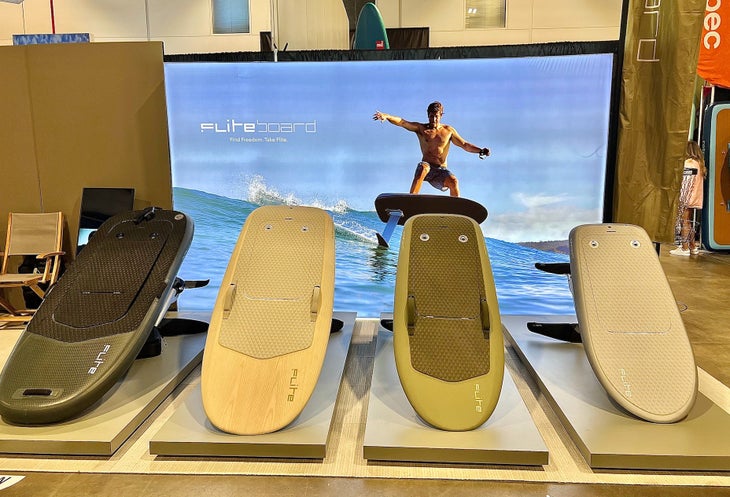 For the sun worshippers among us: We know, we know, sunscreen isn't the jazziest item on the floor—but it's probably one of the most important. Oars + Alps skincare line made its first appearance at OR at the perfect time to talk up its necessity for epic days on the water or the trail. The sunscreen line is "meant to address all the pain points that keep men from wearing sunscreen," said brand manager Annie Gianakos. In other words, the white tinge that sits on face stubble, the greasy finish, and the anti-travel size are nowhere to be found in these products. Take your pick from spray, lotion, and the crowd favorite uber-portable Go Stick Clear ($6 to $22). No excuses.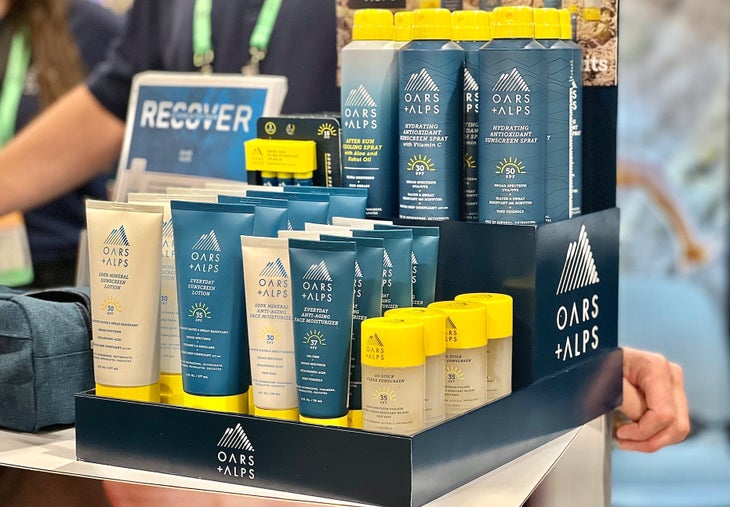 Cool New Products
Tent camping for one: The latest addition to the ultralight Maxfield tent series by Klymit is a solo backpacker's dream. Weighing in at 2.5 pounds, the Maxfield 1 ($320) has unique super-short tent poles that make folding it up and packing it a dream, even with the built-in vestibule. The roomy overall footprint and 42-inch height make for a comfy, totally sit-able respite for taller folks. "It's our most comfortable style tent in terms of keeping your gear safe and the usability of the inside space," said product developer Kyle Hill. Solo getaway to the backcountry coming right up.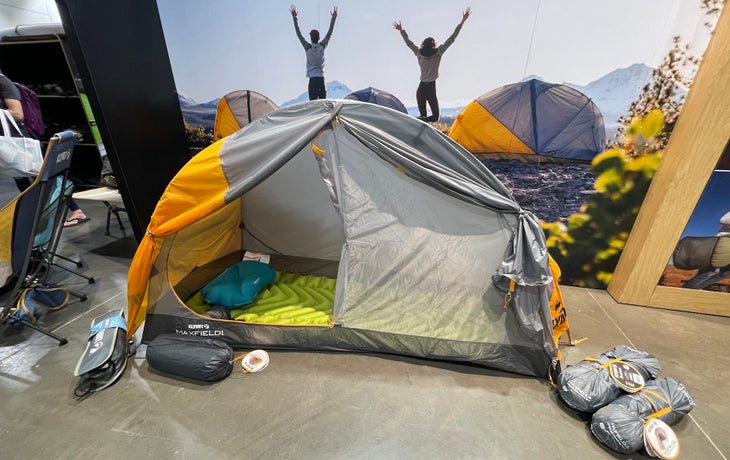 The coziest hammock ever: It's like your fluffy down sleeping bag and your super chill hammock had a baby. Grand Trunk's Evolution 20 Down Hammock ($299), made with RDS-certified down, might be the next must-have for car camping. "There are a couple problems with normal hammocks," said Grand Trunk chief marketing officer Paul Asay. "One: You get cold. Two: There are too many extra attaching quilts if you do, and they don't stay in place. We are solving a problem that's been around for years." Tip: Grand Trunk's Siesta Hammock Pillow is a clutch accessory. When you adjust in the hammock, it doesn't slide down because it hooks into the hammock's carabiner. Brilliant.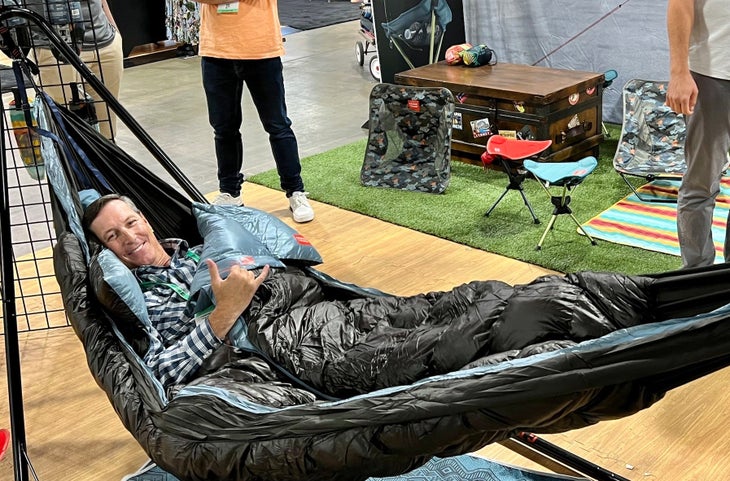 USB-chargeable batteries that never die: If you have ever camped or trekked with a headlamp that flickers out in the middle of the darkness, you know the pain of batteries that don't hold up to sustained device use. Who wants to carry around extra bagfuls of…anything? Especially alkaline batteries that get tossed in landfills at alarming rates. Enter: Pale Blue Earth's USB Rechargeable Smart Batteries, newly reimagined in an Artist Series that makes the batteries, well, pretty. More importantly, the partnership helps the artists—or whoever Pale Blue Earth partners with in the future—pursue their own sustainability goals as part of "an ecosystem of businesses trying to do the right thing," said Pale Blue Earth CEO Tom Bishop. "And from a marketing perspective, it's a way to help move the needle." At $30 for a four-pack of AAs—compared to $5 for four Duracells—the ROI is outstanding, given that six uses pays them off, and it would take 1,000 full uses before they burned down to 80 percent of original capacity.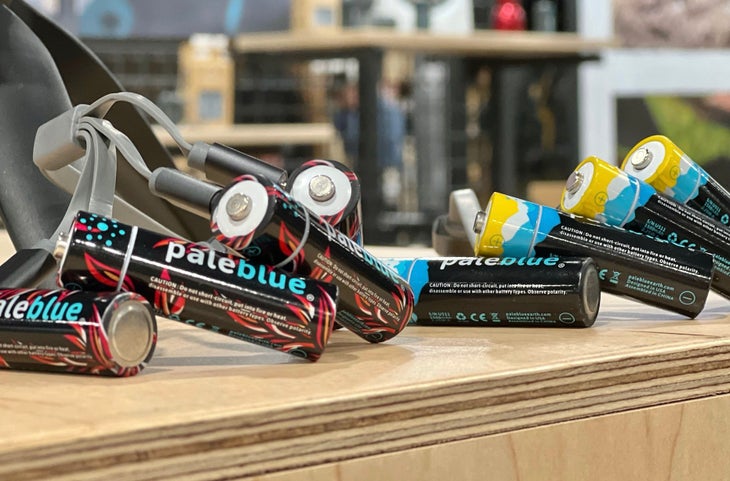 Hot Takes from the Show Floor
Wowed by the selection: "It's amazing to see all of the different products and necessities for the outdoors. You have certain activities outdoors, but when you go around here at the exhibit, it's just like, wow, I'd never have thought that I'd need this or that this could support my activities and endeavors. I think it's a very good presentation. The traffic has been very good. It's been flowy. Especially in the morning." —Barry Jackson, Adidas Eyewear
"It's different in a good way. Just walking around, I see things you'd never think you'd need or never think existed, and you're like, wow, I need that. I walked over to a booth and it was sleeping bag ponchos. I thought that was so cool. There's a plethora of things from A to Z that I feel like I need to bring back to New York." —Ryan Medina, Adidas Eyewear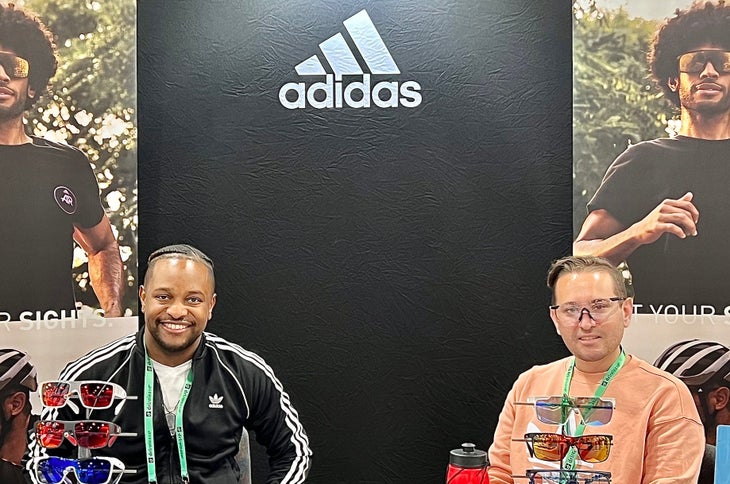 Turnkey, one-stop shopping: "We call Oregon the Silicon Valley of the outdoor industry. This show is really important for our small- and medium-sized companies. Oregon and Idaho combine together to have this booth, the Northwest Pavilion. We kind of pay [the cost] up front with a federal fund. We help companies get grants, provide travel costs, food, setup, everything, with a 75 percent reimbursement for their costs. We try to do that every year. I'm so glad to be kind of a sponsor for these companies because they really need it. And we want to help them. A lot of people have been impressed because this [Northwest Pavilion] is kind of one-stop-shopping. We don't have any duplicates." —Sharon Kim, Business Oregon
"I'm really liking the reception we're getting from everyone coming through. Sometimes you see these big pavilions and people don't walk into them…and they are! I'm so happy that we kept a gap in the middle [of the layout]. A lot of times, the bigger vendors—that aren't really at the show this year—their booths are very closed off and it's like this secret entrance kind of thing. You walk by those and it's like, can I go into those? So I worried a little bit about our scenario here, but traffic really seems to be flowing through. A lot of the buyers are liking that we have 22 companies, especially if they're looking for a wide variety of products. Doing turnkey pavilions was new; we had to do some customization. Thank goodness they worked with me! I think we created a great product." —Tina Salisbury, Idaho Commerce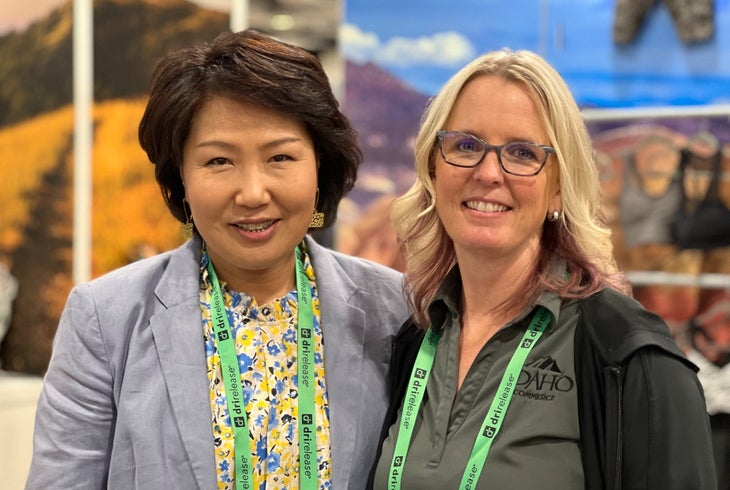 Trending on Outside Online