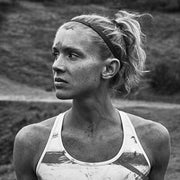 Amelia Boone
Amelia Boone
is a full-time corporate attorney, obstacle racer, and ultrarunner. Dubbed "The Queen of Pain," Amelia is a 4x world champion and one of the most decorated obstacle racers in history. Over her career, she's amassed more than 50 podiums and 30 victories in obstacle racing.
Find Me
Choosing whether or not to have children can be difficult for many women. For Amelia Boone, an elite athletic career and her ongoing eating disorder recovery have made it even more complicated.
The world-champion obstacle course racer has had a 20-year history with anorexia. But now she's in the process of recovering, and she has some important lessons to share.