You Can't Call Yourself a Skier Till You've Adopted These Traditions
The U.S. ski culture's 10 oldest, weirdest events—official and unofficial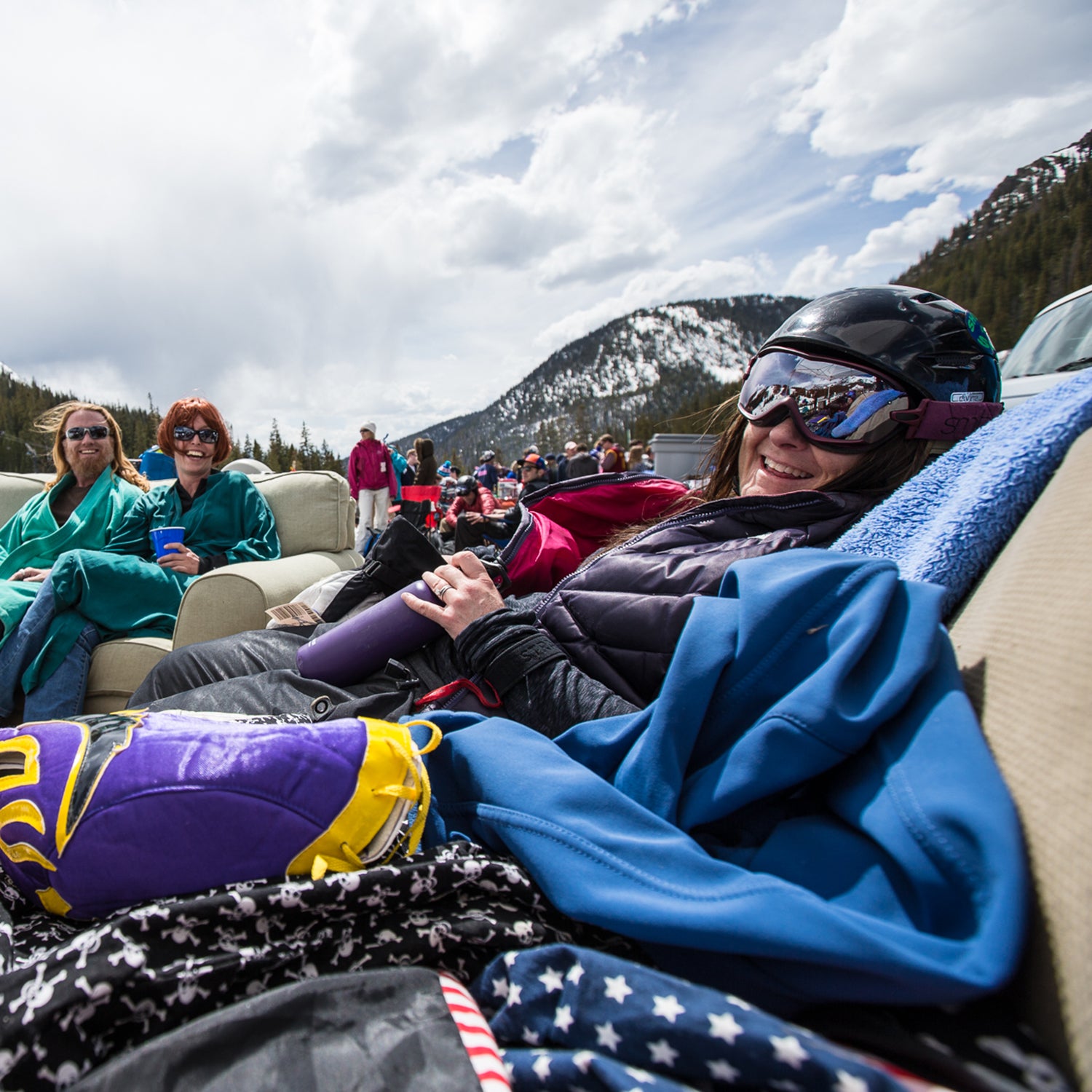 Dave Camara(Photo)
Heading out the door? Read this article on the new Outside+ app available now on iOS devices for members! Download the app.
You'll notice two themes throughout these ski hill traditions: they all entail lots of drinking and lots of showing off. After all, aside from the absolute freedom of sailing down the side of a mountain, that's what makes skiing so fun. These are our favorite celebrations. 
---
The Beach
Arapahoe Basin, Colorado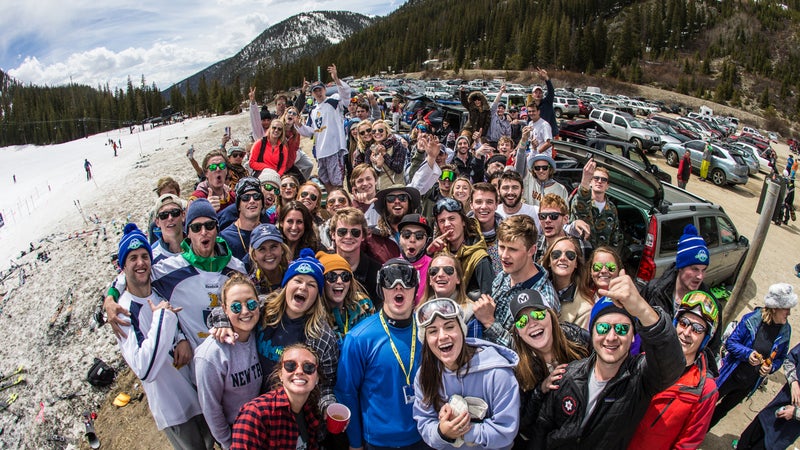 The front row of Arapahoe Basin's closest-to-the-slope parking lot has affectionately been called the Beach since the late 1980s. It's a tailgater's paradise: bikinis, barbecues, shotskis, guitars—essentially a giant, communal après ski party. The scene is most vibrant come springtime, when, thanks to high elevations and a deeper-than-elsewhere snowpack, A-Basin is usually one of the last resorts in the country to close. Slopeside parking spots are limited and coveted, but the resort now sells reservations for about 15 spots if you want to book one ahead of time. 
---
Reggae Fest
Sugarloaf, Maine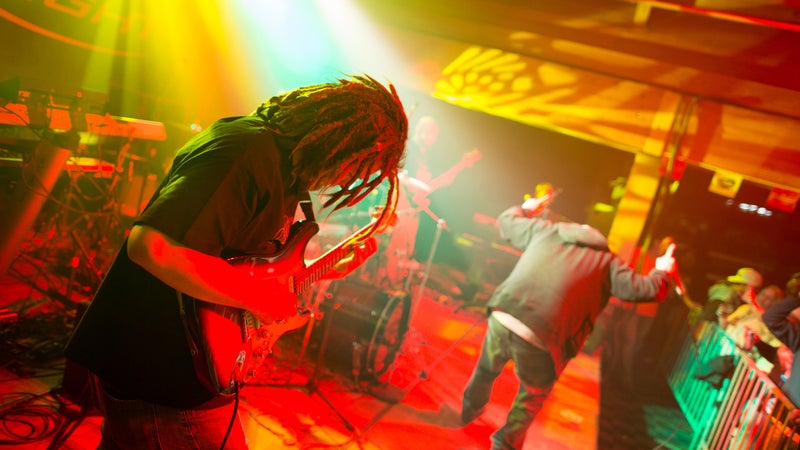 Now in its 29th year, Sugarloaf's Reggae Fest takes place each April as arguably the Northeast's most raucous spring-skiing festival. It's a four-day-long jam of corn skiing and live reggae bands on multiple stages around the ski area's base, with hundreds of people swaying in ski boots on a makeshift outdoor dance floor. You can book a Good Vibes ski-and-stay package that gets you lodging, lift tickets, and concert tickets. 
---
Al Johnson Memorial Race
Crested Butte, Colorado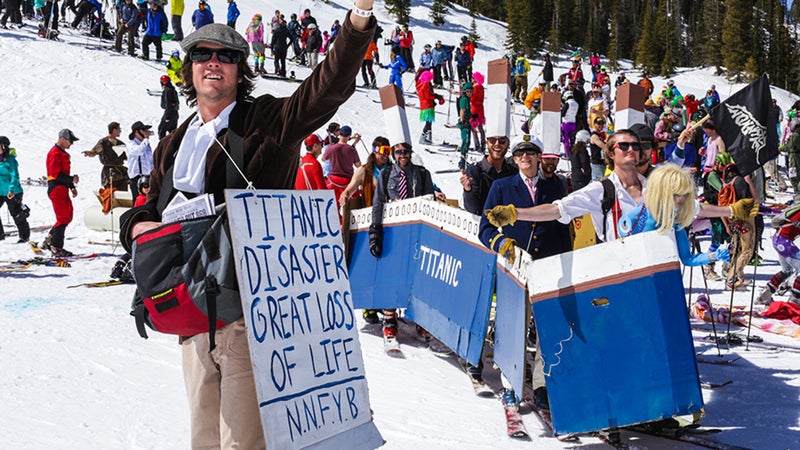 A Crested Butte ritual since 1974, the Al Johnson Memorial Race sends hundreds of telemark skiers in costumes skinning up, then skiing down the resort's steeply rugged North Face each March. Named after a 19th century mail carrier who skied, using an original telemark setup, between the area's mining villages, the historic and hilarious event is now a fundraiser for the Crested Butte Avalanche Center. The Alpineer shop in town rents telemark gear for those who don't usually drop a knee.
---
Pain McShlonkey Classic
Squaw Valley, California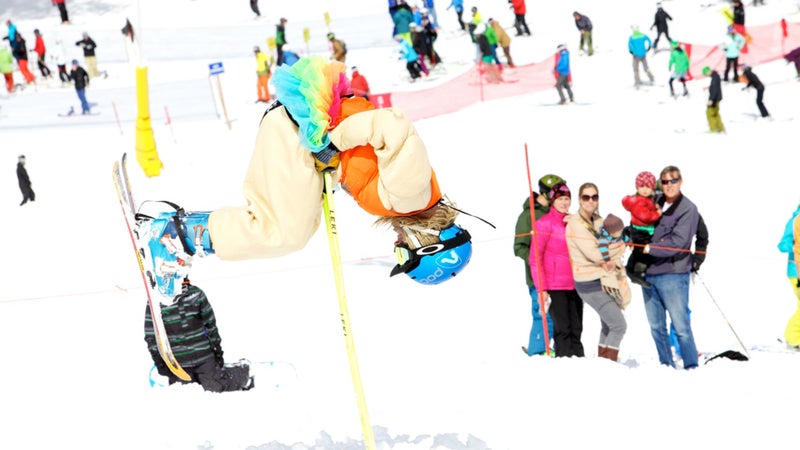 The Pain McShlonkey Classic—dubbed the PMS—started in 2011 as a way to raise money for the Shane McConkey Foundation and celebrate the goofiness that McConkey, who died in 2009 during a ski-BASE jump in the Dolomites, brought to the sport. The one-day event, held each spring on the slopes of Squaw Valley, includes snowblade races, costumes, gold saucer trophies (styled after McConkey's comic alter-ego, Saucer Boy), and general tomfoolery. "The PMS is my favorite contest of the year," says Squaw native and pro skier Michelle Parker. "It's a bucket list goal to take home the saucer."
---
Bear Mountain Mogul Challenge
Killington, Vermont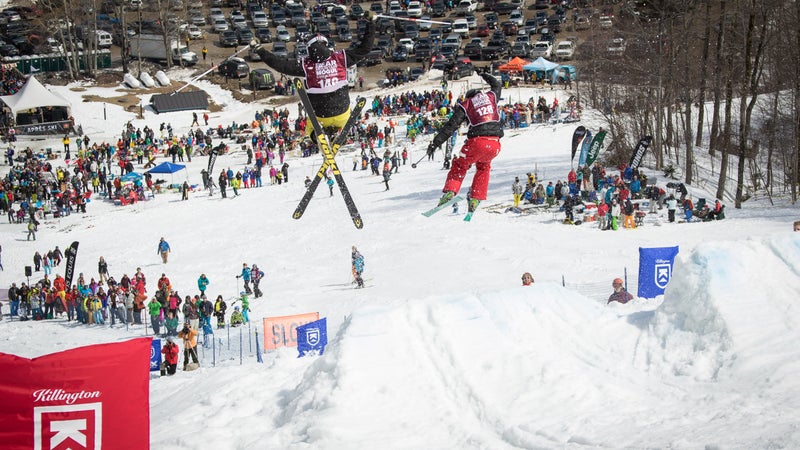 At Killington's Bear Mountain Mogul Challenge, now in its 34th year, bump skiers are judged on their turns, airs, and speed, just like a traditional mogul contest. Only this is for amateurs—no pro freestylers allowed—which makes for some spectacular crashes. Typically held on Outer Limits, a steep, liftline bump run, the springtime event draws costumed revelers by the masses to spectate, play beer pong, and grill brats, while a DJ and fire dancers entertain the crowds.
---
The Shrines
Aspen, Colorado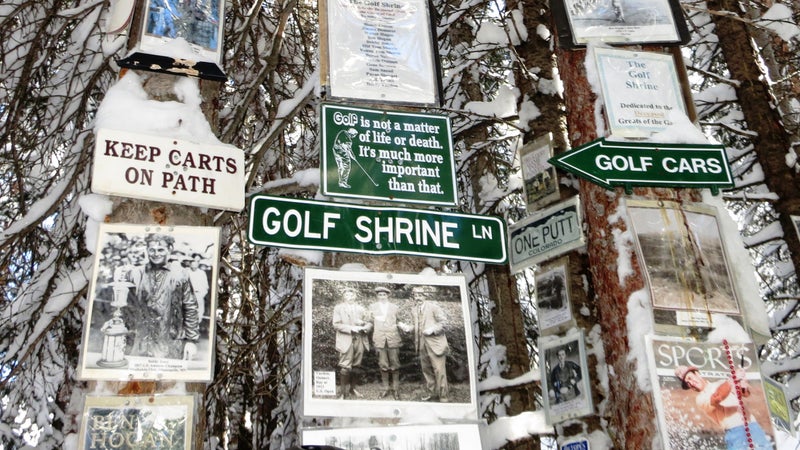 Between Aspen's four mountains, an estimated 100 shrines lay hidden amongst the trees. They are clandestine monuments, established by locals over the past few decades and unauthorized by the resort, that include photos, tokens, plaques, and other keepsakes to commemorate legends like Elvis, Jerry Garcia, Bob Marley, John Denver, Hunter S. Thompson, and others. They're tricky to find unless you know where you're going, so ask a mountain host or a long-time local to point you in the right direction. Or you can pick up the closest thing to a shrine guidebook that exists, Sanctuaries in the Snow: The Shrines and Memorials of Aspen/Snowmass, sold at a few local shops.
---
Triple Crown
Mad River Glen, Vermont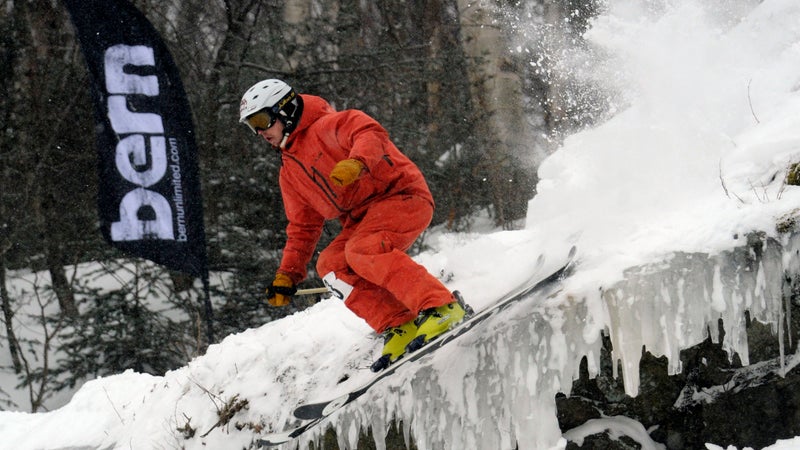 The goal of the Triple Crown is to name the best all-around skier on the mountain. And at Mad River Glen, a classic ski hill with more than its fair share of tough terrain and hardy skiers, the competition is fierce. The three-part event, which takes place in February and March, starts with the Unconventional Terrain Competition—New England's original big-mountain contest—and is followed by the Mogul Challenge and the Vertical Challenge, where competitors see how many laps down the legendary 2,000-vertical-foot Chute they can tackle in a day (the record is 31). The trio of events has taken place for the last 18 years.
---
Dirt Bag Ball
Crystal Mountain, Washington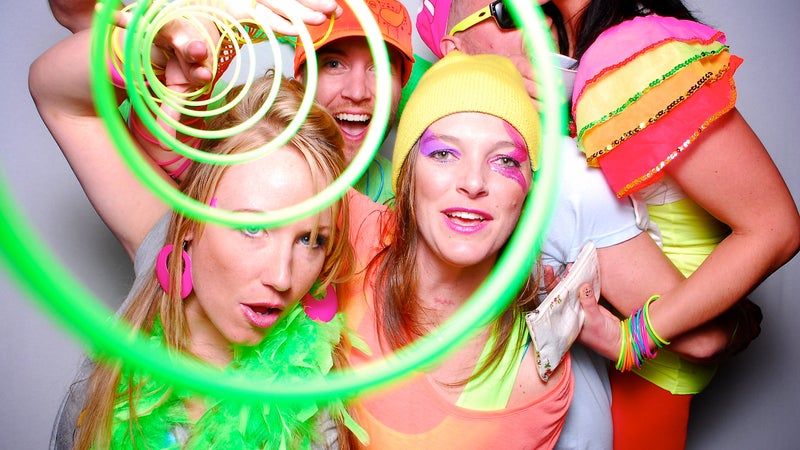 A benefit for the Crystal Mountain ski patrol and avalanche dogs, the Dirt Bag Ball is essentially an excuse for Crystal's local rippers to don ridiculous outfits and stage a DJ-fueled dance party in the base lodge's Bullwheel bar. Now in its 16th year, the party is held each March as a rowdy celebration of the winter season. Past themes for the ball include circus, superhero, neon, and hunters and gatherers. "All the locals come out and dance all night," says Kim Kircher, Crystal Mountain's ski patrol director. "The costumes are over the top. People really go all out."
---
High Boy
Alta, Utah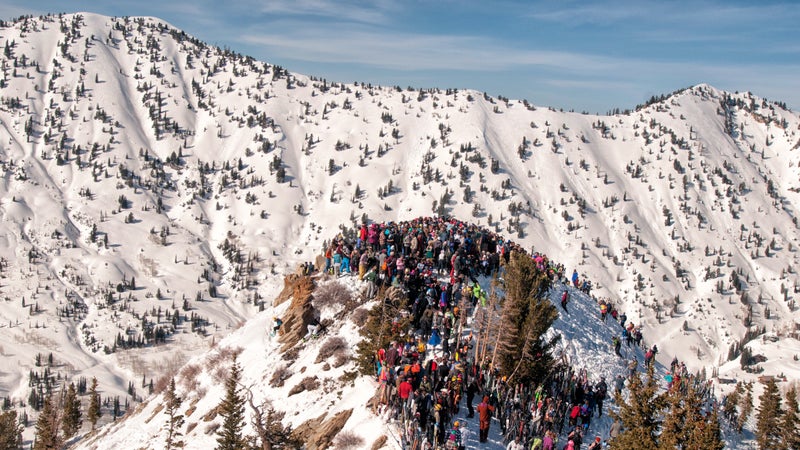 On closing day at Alta, locals throw an unsanctioned party called High Boy, where they don costumes and wigs, then gather en masse at the peak atop High Rustler toting hula hoops and backpacks full of beers. Once the lifts close down, they rally down the steep chutes for one final run of the year. "There's not a lot of space up there, but everyone squeezes in and stays until they are forced off the mountain," says pro skier and Alta regular Todd Ligare. "It's all good because you still have one of the best runs in North America under your feet and a satisfying ender to the season."
---
Gelande Quaffing
Jackson Hole, Wyoming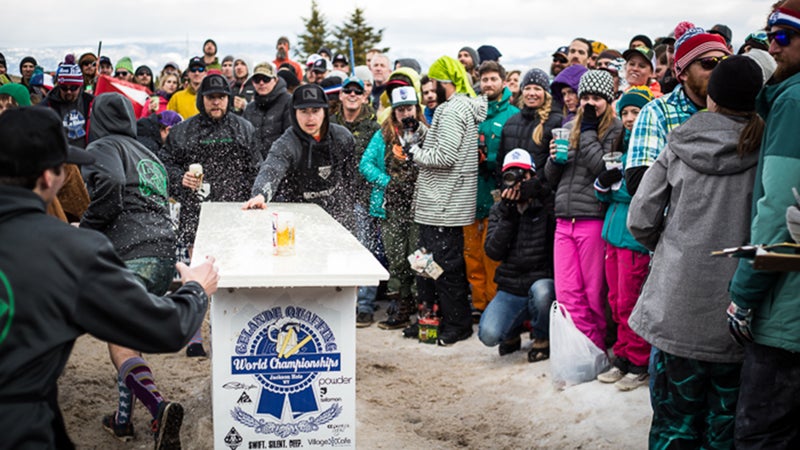 Gelande quaffing is a drinking game that was invented in the 1980s by the Jackson Hole Air Force, a crew of legendary steep skiers in the Tetons. It remained a fairly underground practice for decades, but shot to popularity in 2008 when it got a mention in the ski documentary Swift. Silent. Deep. The official Gelande Quaffing World Championships started that same year and are held each March at the base of Jackson Hole Mountain Resort. The game itself is simple—slide a pitcher of beer down a table, then your teammate catches the beer and chugs it. Extra points are awarded for style. If you don't feel like competing, there's plenty of fun to be had as a spectator, too.
Lead Photo: Dave Camara