5 Tips for Happy Adventure Families
New York Times columnist Bruce Feiler's new book The Secrets of Happy Families has a novel strategy for overwhelmed parents in need of a break: give kids more control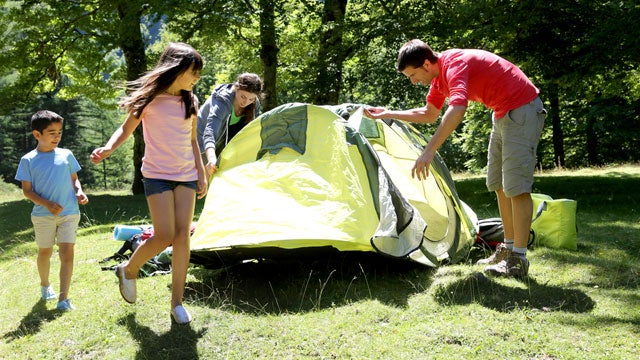 Heading out the door? Read this article on the new Outside+ app available now on iOS devices for members! Download the app.
Bruce Feiler has a secret for creating happy families. Actually he has hundreds. But his most fundamental strategy—his secret weapon—is surprisingly simple: Give kids more responsibility. The New York Times "This Life" columnist and bestselling author of the new book The Secrets of Happy Families believes that kids are far more capable than we give them credit for, and that they can—and should—play pivotal roles in creating harmonious, thriving families.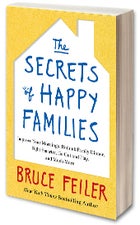 The Secrets of Happy Families
The Secrets of Happy Families is not your run-of-the-mill parenting manual. For starters, it's less about parenting and more about designing successful families, pulling from the strength of all the members. And rather than turn to the usual crop of child psychologists, Feiler takes advice from  tech entrepreneurs, pro sports coaches, negotiators, theologians, and chefs. Then he puts their practices to the test with his wife and their eight-year-old twin daughters.
The result is a practical, entertaining playbook that upends some of the most accepted wisdom in family-rearing today.  He offers dozens of smart ideas to start practicing now: Put up a family flowchart in the kitchen to manage to-dos. Empower children to choose their own punishments and rewards. In software development and startup land, these are called "agile" practices; when applied to families, Feiler explains, they "let your kids take a greater role in raising themselves."
The idea of giving kids the metaphorical keys may make frazzled parents wince, but Feiler argues that it's exactly the respite we need. A recent study by the Families and Work Institute found that the number one wish children had for their parents wasn't for mom and dad to spend more time with them, it was for their parents to be less stressed and less tired.
"Parents are lost, confused, out of control, always playing catch up, and our kids sense it," Feiler told me.
To find out more about how outdoors-loving clans can make use of Feiler's advice, I called up the author.  What he came up with was a list of best practices designed specifically for little rippers and the parents who raise them. Take a look:
Find your adventure weakness and attack it
For Feiler and his gang, their weak link is packing and getting out the door. For my husband and me, it's agreeing on a campsite . Whatever your particular pressure point is, analyze what it is and then troubleshoot it. "The answer almost always lies in giving the kids more responsibility," Feiler says. "You want to bring everyone into the solution." In his family, his kids run the pre-trip checklist: They're responsible for making sure they've packed their stuffed animals, the iPads are charged, the stove is off, and the doors and windows are locked. Though we put our little ones on pedal bikes when they're three and skis at 18 months, somehow we overlook the fact that they're also capable of doing chores and follow checklists. If they can't read, suggests Feiler, give them a verbal list or draw simple pictures as reminders.
Focus on family fun
Identify what your family likes to do, and then do more of it. Sounds obvious, right? But Feiler is talking about the whole family–as in, everyone. You might like to take photographs, while your daughter likes to swim, your son wants to fish, and your wife wants to trail run. Great—design outdoor adventures that cater to all of you. "Create a family adventure manifesto or mission statement," suggests Feiler. "Do it when you're on the raft or sitting around a campfire. Get everyone together to decide, 'these are our five principles of adventuring.' Figure out what everyone likes, and everyone gets happy."

Become storytellers
Feiler's a big proponent of talking up family histories. Knowing where they came from, who their relatives are, and what their overarching family narrative is boosts children's resilience and self-confidence. Camping trips, river trips, day hikes, and almost any outdoor activity are great occasions for dusting off the old family lore, especially adventure stories.
Next time you're sitting around the campfire roasting marshmallows, Feiler suggests playing "I remember…," where everyone goes around telling their favorite real-life adventure tales—good and bad. "I especially encourage you to tell stories about awful experiences," says Feiler, like the time your canoe flipped in a rapid or the tent almost blew away during a storm. "Why? Because when something awful happens on this trip, the kids know it will one day become a funny story."
Go on a mission
Feiler's a fan of inventing family games that last for days, based on a point system. Kids get points for getting to the top of a mountain first, eating new foods, or getting Mom to jump in a lake. (I've tried it, and it works just as well at home. It's amazing how fast they jump when you announce, "first one to clean up the playroom gets three points!")
After a while, the points matter less than the adventures themselves. "The scores melt away," says Feiler, who likes to mix it up by assigning his daughters to come up with their own missions. "My daughters are shy, so during airport delays, I'll tell them to go ask another traveler what she had for breakfast and where she's going to sleep tonight."
Make the adventure last all year
The adventure's over, and you've just spent a week creating (hopefully) positive memories and lots of fun for all. Don't let them evaporate into the mania of daily life. Download your digital photos and make a memory book of the trip. "It takes major self-discipline to do this, but it's so worth it," says Feiler, whose own family strategies include writing a poem after every adventure, usually an acrostic of the name of the place they went (Y-O-S-E-M-I-T-E). "If you retell positive memories, you're burning them deeper into your memory."
Trending on Outside Online