5 Ways to Get Kids Into Nature
Author Richard Louv, who coined the term "nature-deficit disorder," is back with his latest book on the importance of getting kids into nature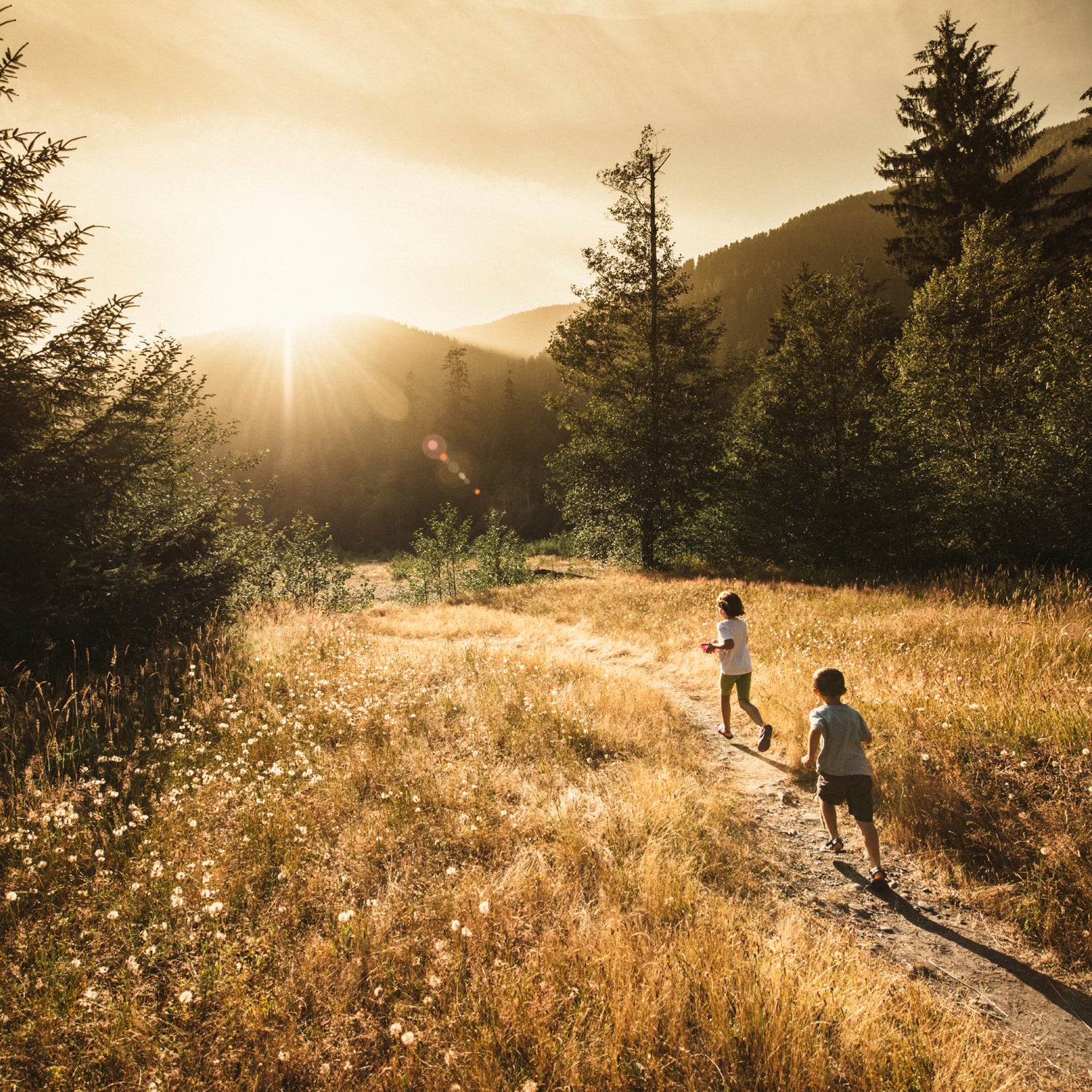 Ferran Traité Soler/iStock(Photo)
Heading out the door? Read this article on the new Outside+ app available now on iOS devices for members! Download the app.
"Children in nature are an endangered species," Richard Louv told his audience during a speaking event last week in Santa Fe. A decade ago, the award-winning journalist-cum-parenting guru coined the term "nature-deficit disorder" in his bestselling book, Last Child in the Woods, and the phrase launched an eco-minded revolution in parenting. Louv, founder of the Children and Nature Network, has since been its tireless advocate of getting kids outdoors, and he was in town to promote his new book, Vitamin N: The Essential Guide to a Nature-Rich Life, out April 12.
Louv has spent most of the past decade traveling the country and promoting his brand of nature parenting, and says kids not getting enough time outside. As a result, he says, we're seeing increasing rates of childhood obesity, anxiety, depression, attention disorders, vitamin D deficiencies—the list goes on.
But here's the good news: it's never too late to improve. No act is too small. And each and every single child and family can make a difference.
That's the crux of Vitamin N, a cheerfully pragmatic, can-do manual on parenting. Louv offers 500 simple, creative strategies for getting kids outdoors and creating a lasting connection with the natural world. It's no longer enough to strive for a sustainable future for our children and their children, he argues. We must create a nature-filled world, starting now—in our families, neighborhoods, and communities. Here are just a few of the many easy, everyday ways to bring our kids back from the brink:
1. Teach Hope
"Our culture is addicted to oil and despair," said Louv. "Chances are, when you think of the future, you imagine negative post-apocalyptic images, like Bladerunner or Mad Max." But how can our children believe hope is possible if we don't adjust our mental pictures and reimagine a brighter future? This takes practice and vigilance. Instead of bemoaning how much better things were when you were young, brainstorm solutions for how you and your family might be part of the solution. Start commuting to school by bike. Encourage your town or city to become the best city for families in nature. Change the conversation to the many positive developments that have come out of the environmental movement: clean air, clean water, new wildlands, like the three national monuments in California that President Obama created last month. Instill in your children the philosophy that change is possible if we work together to create the world we want to live in.
2. Embrace Nature Wherever You Are
You don't have to live in rural areas with access to trails and mountains to cultivate a lifelong connection with the natural world. Bring nature home by creating a "world-watching window" in your living room or kitchen, or any room with a view. Stock it with a nature notebook, stargazing guides and a bird identification book, a cheap pair of binoculars or an affordable beginners telescope. Watch the sky and learn "cloudspotting" and what kind of weather different types of clouds bring; keep tabs on lengthening days and budding trees and other changes to the natural cityscape outside. In nice weather, pitch a tent or set up a mattress on your rooftop or backyard. Bivouac NY provides New Yorkers with urban camping and communal meals in tents and lean-tos on rooftops across Brooklyn. To find the wildest parts of your neighborhood park or playground, prowl the perimeters, where the turf or blacktop ends and the rocks and weeds begin. Writes Louv, "Wildlife thrives at the edges." On the road, take advantage of President Obama's recent "Every Kid in a Park" initiative: the program grants every fourth grader in the country and their families free entry to our national parks and federal public lands.
3.  Become a Weather Warrior
As a culture, we are plagued with a "pandemic of inactivity," says Louv, who argues that rain, sleet, heat, or snow are no reason to stay inside. Show your kids how to tap into the beauty of all the seasons. In winter, freeze sheets of black construction paper and use them to catch and examine falling snowflakes (they won't melt on contact) with a small magnifier. Keep an "instant snowman" kit at the ready: rocks or black buttons for eyes; hats and scarves; a carrot nose; twig arms.When spring rains come, make a rain-gauge. In summer, plan family picnics in the park; come fall, hunt and gather leaves, acorns, seed pods, and other collections in a clear, glass "wonder bowl" on the kitchen counter.
4. Expand Perimeters
An acquaintance recently told me that when her son was high school, he used to get up at 5 a.m., fill two glass jugs with boiling water, and drive an hour across the Golden Gate Bridge with his friends into San Francisco to surf before class. When he was done, he'd rinse himself off with the hot water and drive to school in time for the first bell. I love this story because it reminds all of us that as children grow, their geographic boundaries will expand naturally. It's our job as parents to allow this to happen. Keep little ones close at hand or within view outside but as they grow, encourage them to develop their own relationship with nature, whether it's through finding their own contemplative "sit-spot" to quietly observe the plant and animal life and weather or, as they reach middle school and high school, exploring the neighborhood by bike, meeting friends for nature walks, or starting their own hiking clubs.
5. Join Forces
Children need unscheduled, self-directed free play, said Louv, but it's been in steep decline for decades, steadily eroding kids' natural creativity and self-reliance."We've stripped away two years of executive function in kids," said Louv, who explained that it terms of practical, independent skills, a seven-year-old today is comparable to a five-year-old in 1940. This is in part because, Louv continued, "we live in a time that appears to be violent. Even though statistically crimes against children have decreased, it feels violent." To ease your mind about letting kids out to play on their own, create a safety net with friends and nearby parents. Alert your neighbors about your kids' boundaries, writes Louv, "and ask them to call you if they see your child misbehaving or going beyond the boundary." For younger children, set up a "play watch" with other parents to take turns watching kids play from "a respectable distance—no hovering allowed!" Create a rotating calendar and a communication plan with the kids' names, phone numbers, and play schedules. It takes a village to create nature-rich lives for our children. 
Lead Photo: Ferran Traité Soler/iStock