7 Real Life Dogs Being Heroes
Some of them trained for years to save lives. Others came to the rescue by following their noses. They all earned our eternal gratitude.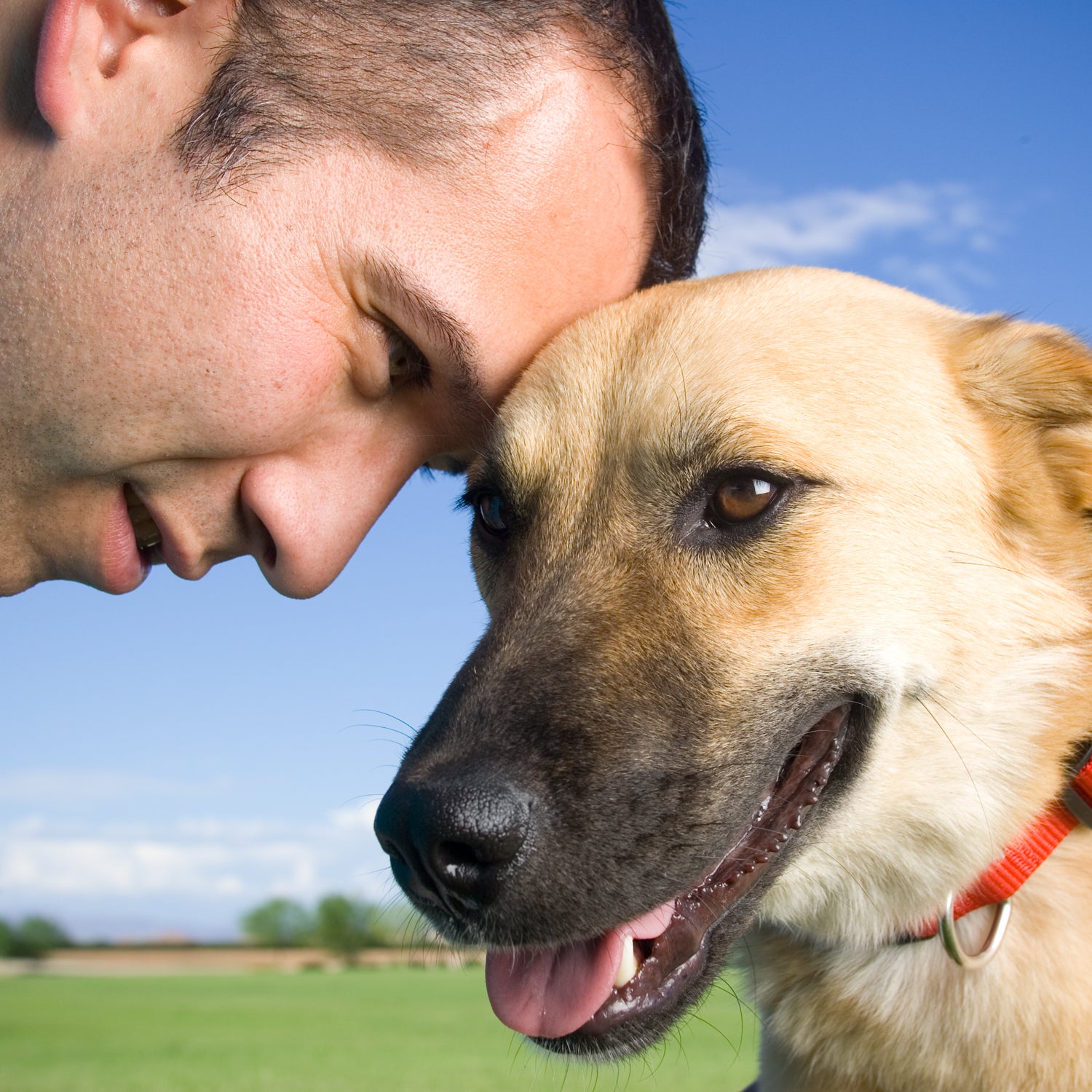 Tom Spitz(Photo)
Heading out the door? Read this article on the new Outside+ app available now on iOS devices for members! Download the app.
We're real suckers for a good dog-saving-the-day story. Doesn't matter if it's a professional rescue breed going above the call of duty, or your Average Joe dog playing the unexpected hero—they're all good, and they're all likely to make us a little teary-eyed. These real-life wonder dogs give us hope that we will never run out of Lassie inspiration.
Guardian Angel
Boston Bar is a remote hamlet, deep in the Fraser River Canyon, 130 miles northeast of Vancouver. It's the type of place where backyards grade into truly wild country. On the day after New Year's 2010, 11-year-old local Austin Forman had a surprise meeting with one of his feral neighbors. He was pushing a wheelbarrow toward the family woodshed when he was charged by a mountain lion. That's when his 18-month-old female golden retriever, Angel, bounded over a lawnmower and began battling the big cat, giving Austin time to dash inside the house, where his mother dialed 911. 
When Constable Chad Gravelle of the Royal Canadian Mounted Police, whose office was nearby, arrived on the scene moments after being dispatched, the cougar had dragged Angel under the back porch, where it was gnawing on her neck. Gravelle shot the cat twice, killing it, and pulled the dog out, assuming she was already lost. But with the family gathered around, Angel sucked in a huge breath and stood up. She'd suffered dozens of deep puncture wounds but survived. She spent the next week recovering at a veterinary clinic. When she got home, the family treated her to steak dinner and a new, insulated dog house. 
"She was my best friend," Austin told the CBC afterward. "She's like my guardian now."
---
Work Like a Dog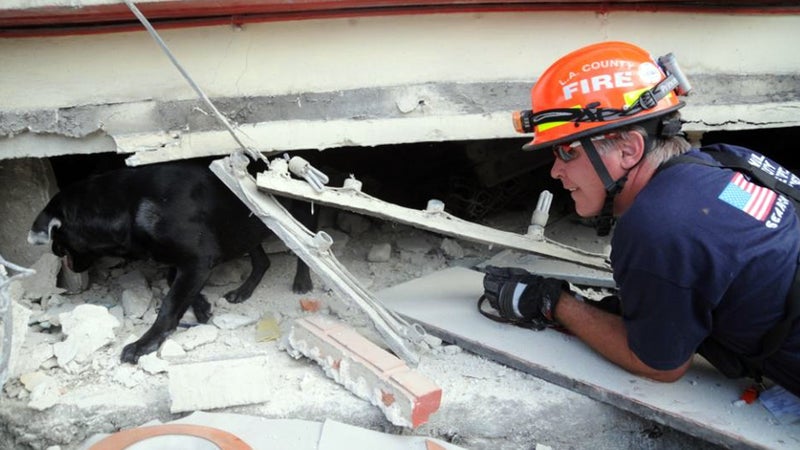 When the volunteers of the National Disaster Search Dog (NDSD) foundation found a little black lab in a shelter in Northern California, in 2007, they couldn't have guessed that just a few years later she would be the American Society for the Prevention of Cruelty to Animals's Dog of the Year. But they did see her potential—Pearl had a great temperament, an awesome nose, and a solid work ethic. In 2008, she was assigned to Ron Horetski, a search-and-rescue captain with the Los Angeles County Fire Department. In 2010, Horetski and Pearl, along with six other canine teams, traveled to Haiti after the devastating earthquake that hit Port-au-Prince. Pearl and her four-legged companions on Los Angeles County Task Force 2 sniffed through the rubble, even squeezing their way four stories underground. Pearl and her comrades pulled out 12 survivors during their two-week deployment. Then, in 2011, Pearl was sent to Japan after the country's devastating earthquake, where she combed the wreckage for survivors. 
"She's the type of dog that will just flop on her back asking for a belly rub," says Celeste Matesevac, community-relations manager for the NDSD. "But when you say the search words, you can see her switch gears."
---
Go Fetch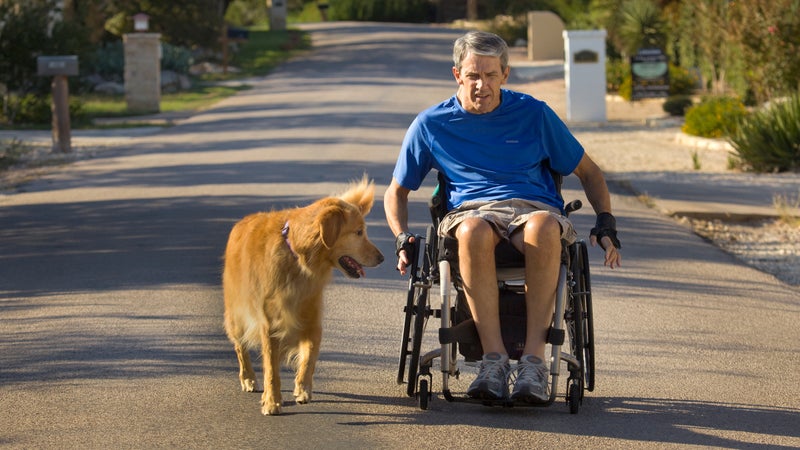 Paul Horton had biked the network of jeep trails and streets around Lake Travis near his home in Austin, Texas, hundreds of times without incident, usually to give his pal and sailing buddy, a four-year-old golden retriever named Yogi, a little exercise. But one day in October, 2010, Horton flipped over his handlebars while bumping up a curb on a dead-end road, landing squarely on his head and knocking himself unconscious. A few minutes later, when the 58-year-old awoke, he couldn't move from his armpits down.
Watching over him was Yogi. Horton, blood streaming from his nose and mouth, tried to coax Yogi to go get help, but the dog wouldn't leave his side. Horton laid there, out of site of passersby, for 45 minutes while Yogi kept vigil. Then, suddenly, the dog dashed down the road, barking frantically: he had heard Horton's neighbors, Bruce and Maggie Tate, who were out for a walk. Yogi led the couple back to where Horton lay, and the Tates contacted emergency services. 
These days, Horton, who is still paralyzed but has regained some movement in his arm, takes regular outings around Lake Travis in a wheelchair, and his trusty companion is usually by his side. "He did become more protective after the accident," says Horton of Yogi, who was named the 2011 Valor Dog of the Year by the Humane Society of the United States. "My life would be so different without him."
---
In the Line of Fire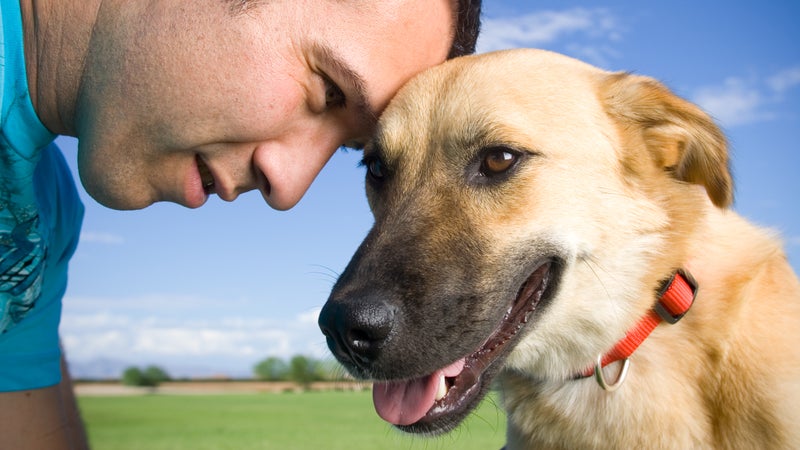 Target earned her name the hard way, dodging potshots from villagers in the Afghan province of Paktia. That's why the little yellow shepherd mix and her packmates—two mutts named Rufus and Sasha—began hanging out near a U.S. military barracks in Dand Aw Patan, where they'd get an occasional head scratch or a piece of beef jerky. In February 2010, the trio repayed that kindness when a suicide bomber rigged with 25 pounds of C-4 explosives snuck into the base and headed for the barracks. The dogs rushed the intruder, growling and barking. When soldiers yelled out the window for the dogs to shut up, the terrorist detonated his bomb prematurely, injuring five servicemen and killing Sasha. It's thought that if the dogs hadn't held the bomber up, he could have killed 50 soldiers. 
Sergeant Terry Young, a medic, and Sergeant Christopher Duke, who was injured by shrapnel in the attack, felt like they owed the dogs their lives and were heartbroken to leave them behind. "I gave Target lots of love and an extra long pet wishing her the best of luck," remembers Young. 
After rotating home, Young wrote an article about Target for a community newspaper that helped convince the nonprofit Hope for Warriors to pay to bring the dogs to the U.S. Rufus went to Duke, while Target went to Young in San Tan Valley, Arizona. The two dogs made the rounds during the summer and we're even featured on Oprah. But tragically, just months after relocating, Target jumped the fence in Young's backyard for a little ramble and was picked up by a dogcatcher. She was mistakenly euthanized before Young could claim him.
---
Down, Girl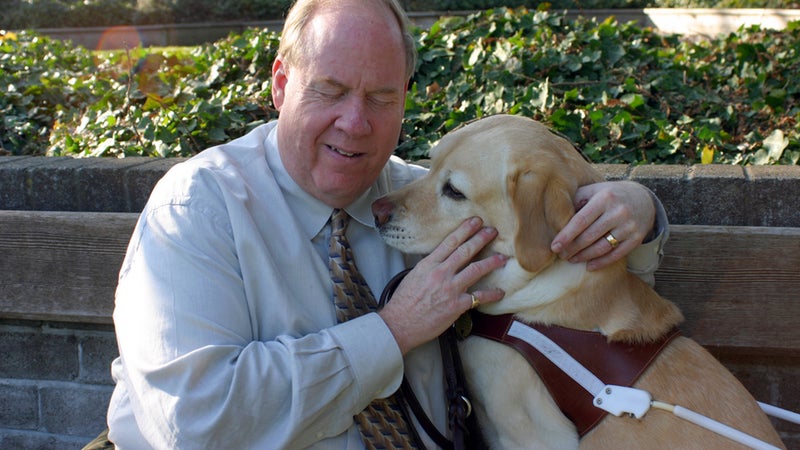 When American Airlines Flight 11 struck the North Tower of the World Trade Center on September 11, 2001, Roselle, a yellow Lab, was on the 78th floor, sleeping under under Michael Hingson's desk.  She'd been assigned to Hingson some 21 months earlier by Guide Dogs for the Blind, so they were still considered to be in the honeymoon phase of their relationship. The building swayed when the plane impacted, and though Hingson's initial instinct was to back up the data for his employer, computer-sales firm Quantum/ATL, he decided instead to command Roselle toward stairwell B in the center of the building. 
Over the next hour, Roselle guided Hingson down through the acrid stench of jet fuel, the mounting heat, and a stream of horribly injured survivors. Along the way, she comforted others, nudging a woman suffering a panic attack and licking the hand of the first firefighter she saw. Her cool composure allowed Hingson, blind since birth, to make it down without panicking. "If Roselle and I worked together, we would be okay," he wrote in his account of the incident, the 2011 book Thunder Dog. 
At the bottom, as the South Tower began pancaking, Roselle led Hingson at a sprint into the Fulton Street subway station, where they waited out the collapse. In October 2011, just a few months after her death, Roselle was named the American Hero Dog of the Year by the American Humane Association.
---
Riding the Bull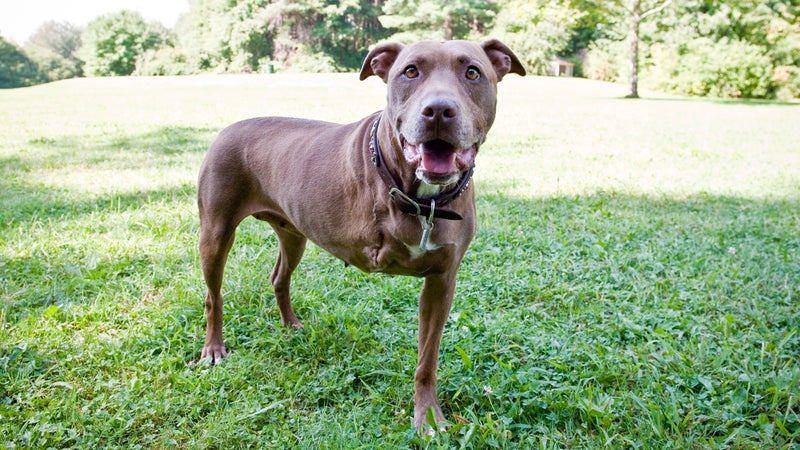 On May 3, 2012, just after midnight, Christine Spain fainted on the tracks at a train crossing near her home in Shirley, Massachusetts. Just minutes away, a freight train was barreling toward that same spot. Spain's constant companion, eight-year-old pit bull Lilly, a shelter dog given to her five years previously by her son, Boston police officer David Lanteigne, sensed the train's approach and jumped into action. The engineer would later tell reporters that in his headlights he spotted Lilly pulling and pushing Spain's unconscious body off the tracks. 
But Lilly didn't have time to move out of the way—the train sliced through her right forepaw and fractured her pelvis in several places. First responders rushed Lilly to an emergency animal clinic. She underwent several surgeries: her right leg was amputated, and a steel plate was placed in her pelvis. Donations from well-wishers around the world poured in, covering Lilly's surgeries and physical therapy. Now she's back on her feet, taking several walks per day, and visiting classrooms and community groups to support pet adoption and break down stereotypes of pit bulls. 
"I think everything happens for a reason," says Lanteine, who is overseeing Lilly's recovery. "We got Lilly out of the shelter, and she returned the favor. She saved my mom's life."
---
Lost and Found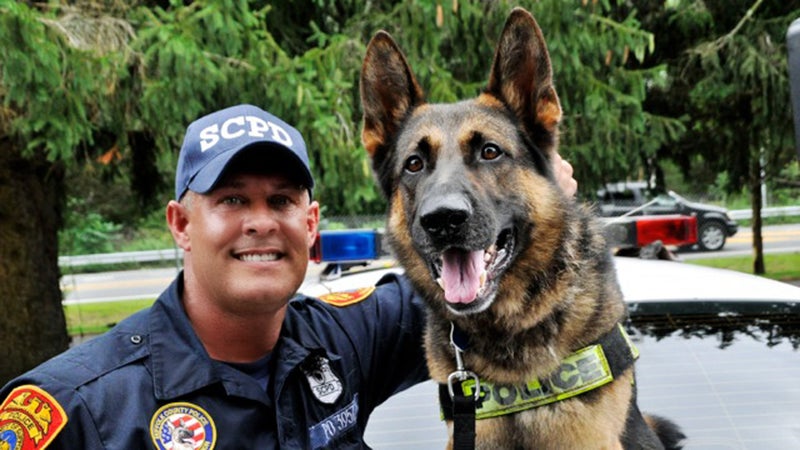 In September of 2012, 76-year-old Jerome Nadler decided to spend some time fly-fishing in 543-acre Caleb Smith State Park Preserve on Long Island. Feeling dehydrated and weak, Nadler, a doctor of internal medicine, sat down on the shore to drink a Diet Coke. That's the last thing he remembers. 
When Nadler failed to return home, the authorities began a massive search by air and land. Their first clue to his whereabouts was a bottle of floatant that the disoriented Vietnam Vet had dropped. It was enough to give Chase, a four-year-old German shepherd assigned to the Suffolk County K-9 unit, a scent. Chase took off through the forest near the Nissequogue River, his handler Sam Barreto following. Around noon, when Barreto called for Chase and the normally obedient shepherd didn't respond, he knew something was up. He walked toward the dog's last known location and found him lying down in deep brush next to Nadler, who was on his back covered with hundreds of mosquito bites. 
The doctor, who had been lost for three days during which there were periods of heavy rain, was airlifted to a nearby hospital and treated for exposure. Chase was honored with the Dog of the Year Award by the Suffolk County SPCA.
Lead Photo: Tom Spitz