Annie Leibovitz's Bucket List
Pilgrimage, a new book and traveling exhibition by one of the magazine world's most famous working photographers, was inspired by a close-to-home family vacation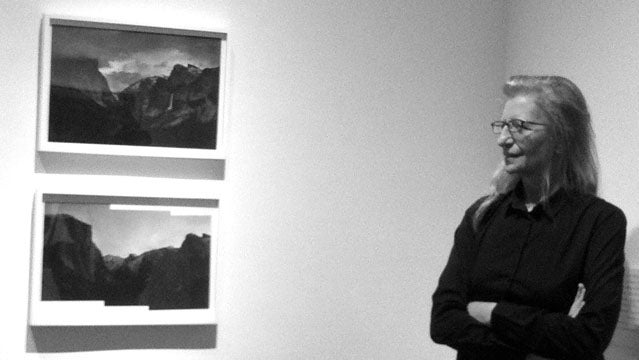 Heading out the door? Read this article on the new Outside+ app available now on iOS devices for members! Download the app.
When photographer Annie Leibovitz took her three young daughters to Niagara Falls in 2009, she wasn't looking for inspiration. What she needed was a close-to-home family vacation that wouldn't break the bank, and a time-out from her well-publicized financial woes. Yet what she witnessed on the brink of the 168-foot cascade would launch a two-year cross-country journey to photograph some of the most iconic landscapes and landmarks in America, from Walden Pond to Spiral Jetty, Yosemite to Yellowstone.

Annie Leibovitz, Door in adobe wall at Georgia O'Keeffe's home in Abiquiu, New Mexico, 2001.

Annie Leibovitz, Niagara Falls, Ontario Canada, 2009.
The photo she took that day is a moody, startling close and personal portrait of Niagara Falls. "It was not the best time in my life," Leibovitz explained in Santa Fe last week. "I was sitting off to one side on a bench. Then I noticed the kids. They were mesmerized. They were just staring for a long time. So I got up and stood behind them to see what they were looking at. And then I took this picture. A lot of times I have to work for my photographs. They're not always just there. But this was unusual because my children saw the picture first, and it was right in front of me on the walkway. Anyone could have taken it."
The Niagara trip came on the heels of another fluky discovery. Leibovitz was in England for a family bar mitzvah when she decided to visit Virginia Woolf's house. She snapped pictures of Woolf's ink-stained writing desk, the willowy trees outside, and the lapping blue waves on the River Orse, where the writer drowned herself. "I was seduced," she said. "I came home and made a crazy list of what I wanted to photograph."
The result is Pilgrimage, a photography book and traveling exhibition that's making the rounds at museums around the country, shadowing the artist's own photo odyssey to a dozen places on her bucket list. Like Niagara Falls, many of the images were shot casually, with a digital Canon G10, during family trips. Some required more effort, like trying to elbow aside 40 tourists with cameras at the Yosemite Valley viewpoint that Ansel Adams made famous. All were the product of a single, clarifying mission: to photograph only those places and subjects that moved her personally. For an iconic photographer who has built her reputation on making high-profile celebrity portraits and shooting more than 140 magazine covers on assignment, this marked a major departure.
"After 40 years working for magazines, I didn't know what I had left in me," Leibovitz explained at the preview of Pilgrimage, which opened at the Georgia O'Keefe Museum in Santa Fe on February 15. "To think I could go out and take a picture with no agenda except that I was moved to take it. There was a deep well in me, and I dug it up."
Some of Pilgrimage's unexpected treasures: a TV with a bullet hole in it at Graceland, the bucolic gardens at Jefferson's Monticello, and, of course, Georgia O'Keefe's painting studio and summer home at Ghost Ranch, New Mexico. It's an ambitious span of time and distance, but in person Leibovitz is anything but self-congratulatory. "What gumption did I have to think that I could photograph this?" she said, gesturing to a saturated picture of an adobe wall and doorway at O'Keefe's place at Ghost Ranch, the same doorway that inspired the artist to settle in Abiquiu, and the one she painted repeatedly during the 37 years she lived there.
"These photographs form a kind of notebook," Leibovitz continued. "They're peripheral vision, things you see on the side of the road, and think you know, but you don't." Like the chalky outline of Spiral Jetty rising once again out of the Great Salt Lake and the rusty springs of Thoreau's creaky old bed. "I always thought that Thoreau must have slept outside, on the ground, or on a bed of nails. But the thing you find out about Walden Pond is that it's an idea, not a place. It's about being in nature."
The same could be said of Pilgrimage: This is a record of being awake in the world, of seeing things with your eyes and your heart, as her own children did at Niagara Falls. "You have to do what you feel moved to," instructed Leibovitz. "You should all make a list. It's endless."
For a schedule of upcoming Pilgrimage exhibitions, visit the Smithsonian American Art Museum.