It's OK to Be Anxious About Taking Kids into the Backcountry
Taking kids on extended trips into the wilderness comes with an element of stress—the key is to talk about it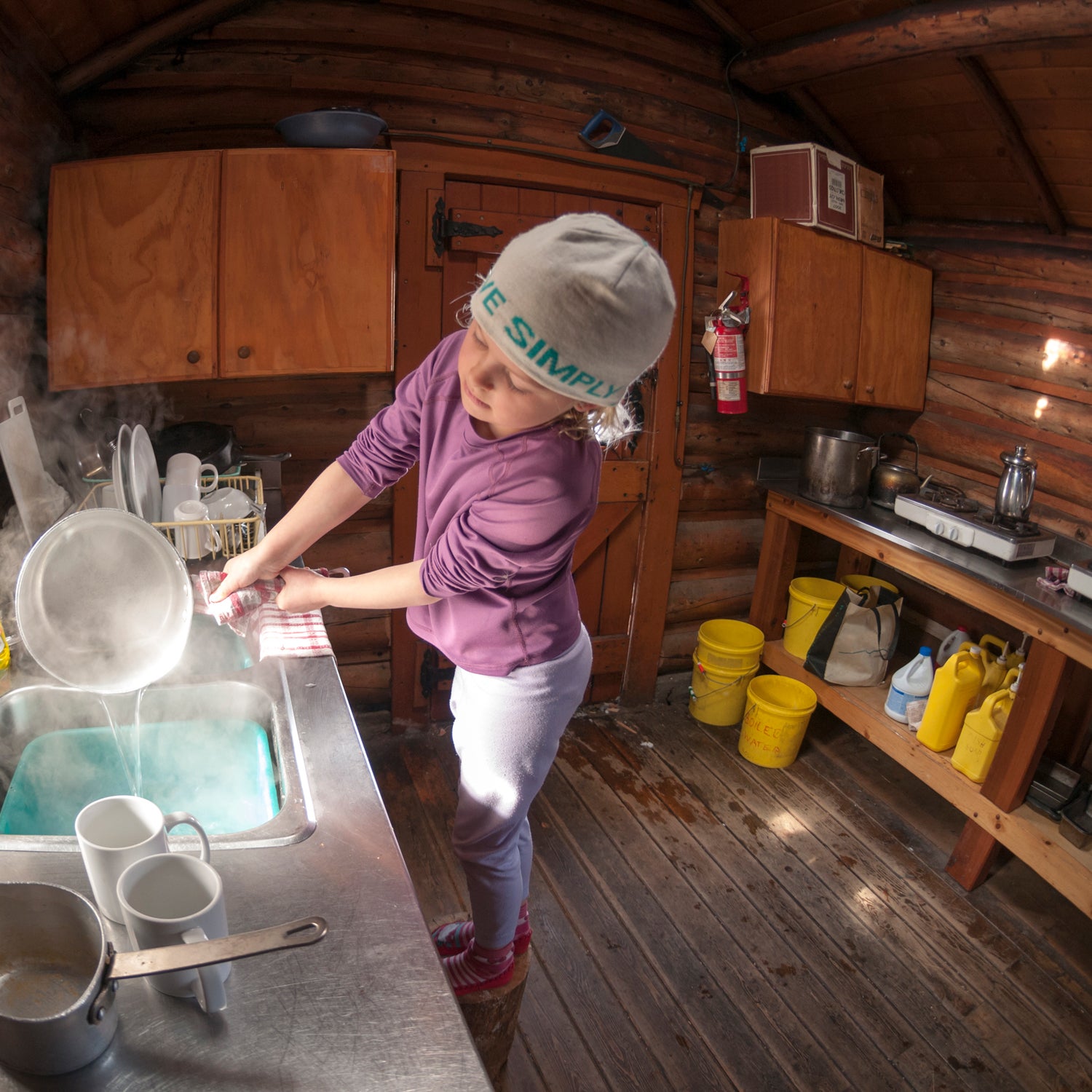 Kennan Harvey/Aurora(Photo)
Heading out the door? Read this article on the new Outside+ app available now on iOS devices for members! Download the app.
This January, my husband and I skied with our daughters and three other families into High Camp Hut, a privately owned backcountry cabin at 11,500 feet in the San Juan Mountains of Colorado. It was our third year at High Camp, and we knew what to expect. The list of things it doesn't have—running water or electricity, internet service or phone, relentless barrage of news and social media—is as appealing as those things it does have: a fat-bellied woodstove, a rowdy sledding hill, a sauna roomy enough for all 15 of us, and nearly eight feet of pristine, untracked snow all to ourselves right out the heavy timber door.
And so on Friday, January 20, at just past noon, we set off from the trailhead at Lizard Head Pass into a sky thick with blowing snow—the adults marching on skis, the little ones towed on sleds. The amount of cajoling required to move young children three miles and 1,000 vertical feet uphill through a squall cannot be overstated. Bribes were offered, threats made, tears shed. Once we arrived, we told ourselves, we'd be able to relax into a more natural pace dictated by weather and daylight, by our physical needs for sleep and food and movement, not by phones or Twitter feeds or digital to-do lists.
No one ever sleeps well the first night at the hut. At nearly 12,000 feet above sea level, the heart revs like you've just downed a late-day latte, even when you're lying down. Maybe especially when you're in a darkened cabin a couple hours from the nearest town or hospital with seven precious children under the age of eight squirming in the sleeping loft. In the uneasy limbo between wakefulness and sleep, anxiety creeps in as the mind races with improbable scenarios: What if someone gets altitude sickness or their appendix bursts? How fast could we get out if we needed to?
Because this is the elephant in the hut, the thing no one talks about: time in the wilderness may be the cure—for grief and anxiety, for the frenzied pace of our overscheduled lives, for the disquieting sense that time is moving much too fast—but it's also a stress bomb. The week before a backcountry trip, I'm always a bit of a freak show, planning menus, shopping for meals, chasing down gear, briefing the dog sitter, hustling to meet deadlines, wondering what will happen while we're gone.
Part of this is personal: on my most recent trip into the backcountry, last summer, I broke my leg and had to raft 98 miles down a Class IV river with a fractured tibia. Part of it is maternal: I love my daughters fiercely, and protecting their well-being is the singular, primal organizing mission of my life. And part of it is simply human: travel exposes us to our own vulnerability. The act of leaving home—whether to fly across the ocean or glide into the wilderness—requires a tolerance for uncertainty. How will the world change while we're gone? How will we?
It would be better if we talked about these feelings. If we didn't wallow in our private worries, as my friends and I did last week, keeping a stiff upper lip, pretending to each other that we weren't all thinking variations of the same thing. What if. It would be better if I told my husband, "Oh yeah I'm getting that anxiety again, the one I always get before taking the girls out into the wild." And if he said, simply, "I know." Or if he said, "I never know how things will go." And I said, "I know."
But we don't talk about it. Instead, we pack and plan and act brave and cool, like it's the most normal thing ever to ski into the wilderness with young children. In some ways, it is. We've been taking our girls into the snowy high country every winter since our oldest was three. And it's gotten easier each year. We used to have to haul them in on ski trailers or in backpacks. Now they ski in on their own; at eight, Pippa just got her first pair of climbing skins and rad, though not flawless, binding inserts so she can tour on her alpine skis. Six-year-old Maisy charged the whole way on cross-country skis, duck-walking up the steepest pitches, so steady and sure I almost couldn't keep up. But the fact that it's easier doesn't automatically mean it's easy. And the fact that we love these remote places and feel soothed and at home in their midst doesn't mean they don't sometimes scare us. Worry, I'm still learning, comes with the territory.
But in the matrix of traveling with children in the backcountry, the sum is almost always larger than its parts. Even on those trips when everybody's puking, we still ski out rejuvenated and euphoric, glad we'd come and reluctant to leave. We still remember the massive air on the sledding track, the homemade cinnamon buns for breakfast, and the late nights spent playing Cards Against Humanity, laughing until our cheeks hurt while the children lay curled together in their sleeping bags.
In some ways, this was our smoothest and best hut trip yet. No one got sick. No one spent the night on the lug-a-loo because someone accidentally gave them laxative tea before bed. No one broke a rib sledding or tweaked a knee popping a ski jump. No one triggered an avalanche on the 25-degree slope where we do laps. The kids mostly all got along and slept when it was time to sleep and threw shockingly few tantrums and devised elaborate games of Twister that, thank god, didn't involve us. The snow kept falling, filling in our ski tracks, so that on the last morning, when it was time to ski out, nearly all traces of us had been removed, scrubbed away by the wind and the storm, our middle-of-the night angst buried again until next time.
But next time, I hope, will be different. Because now I know to say these things out loud. These are my closest friends. I would trust them with my children—I do trust them with my children—so I can trust them with myself. Maybe if we share our worries with each other, we won't have to carry them alone. Maybe instead of lingering into the first sleepless night, they will ease during the ski in or before we even arrive at the trailhead. At least we'll know we're not alone.
Even with the bracing wind and the drifting snow, the downhill trip back to the road took a fraction of the time as our trip in. We were skiing back into another world, for real this time. So much had changed in the course of four days, but our love of the wilderness, and our need for it, was as constant as ever, an anchor in the storm.
Lead Photo: Kennan Harvey/Aurora
Trending on Outside Online