Being Brave Isn't Just for Kids
Raising a courageous, independent child means being a courageous, independently minded parent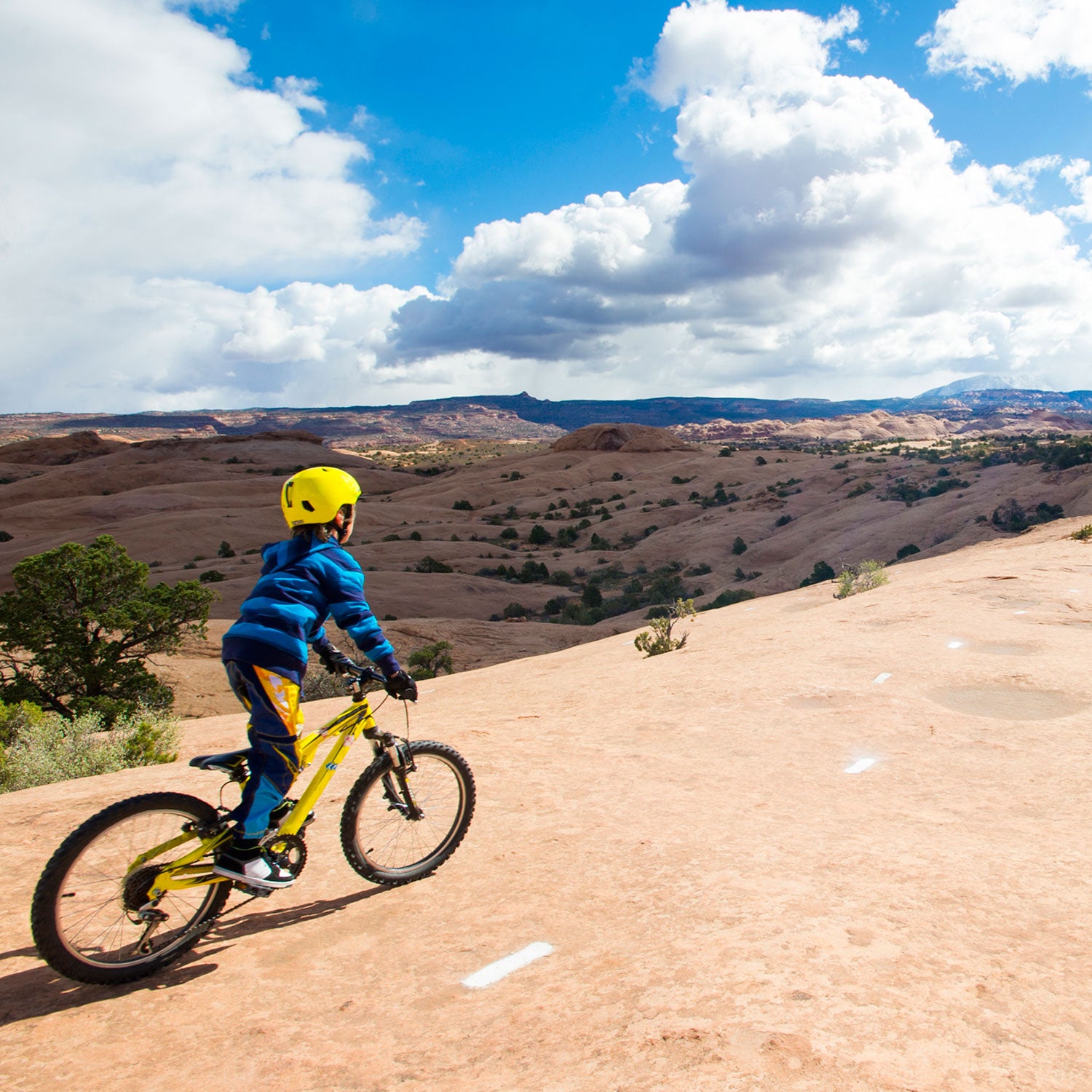 Scott Markewitz/Aurora Photos(Photo)
Heading out the door? Read this article on the new Outside+ app available now on iOS devices for members! Download the app.
We have a new morning ritual at our house. My husband bikes a mile to school with our two daughters, six and eight, and I wave them off down the driveway and try not to hyperventilate. 
Ever since I broke my leg in the wilderness earlier this summer, my nervous system has been on high alert. There's nothing like an accident—unpredictable, irreversible—to drive home a sense of your profound vulnerability in the world. One minute you're floating down a pristine river on a bucket-list tenth anniversary trip, the next you're wrapped around a rock and your shin is sticking out of your knee at a freaky angle. There's no going back from that. 
We all live with uncertainty every day, but most of the time we organize our lives in such a way as to keep the idea of mortality at bay. This is good because if we thought about it too much, how perilously close we brush up against trauma and chance all the time, we would surely go crazy, or at least never leave the house.
We talk about the importance of raising fearless, curious, free-wheeling kids and brave girls. But we don't talk about how to raise brave parents, to condition ourselves for courage.
The opportunities for worry shoot through the roof once you have kids. "For parents, anxiety is normal," says Debbie Pincus, a psychotherapist and parenting coach, and the author of a series of audio lessons called The Calm Parent A.M. and P.M. "From the second they're born or before it, the worry begins and it never stops." Even as they grow and become independent beings, capable of pouring their own cereal and biking to school and, yes, sometimes annoying you, the worries don't end. They just change form. You want them to be happy, have friends, do well in school, live. Even when we are ourselves adventurous and risk-tolerant, determined to let our kids be out in the world and make their own mistakes, to let them ride bikes, climb peaks, and run rapids, anxiety is chronic, low-grade, inescapable.
"The courage required of us as parents is staggering," says Kate Reynolds, a Santa Fe-based psychotherapist who specializes in mindful parenting. Reynolds spoke last month to a group of parents after a local high school student died accidentally while conducting a science experiment at home. "When you get stressed out or worried in your family life, it helps to look at the big picture: We are all here, right now, together," she said. Then she paused, lowering her voice: "And we won't always be."
The unspeakable horror of losing a child is, of course, every parent's worst nightmare. It's what keeps us up at night waiting for the crunch of the teenager's car in the driveway and has us sweating at the bottom of a tree run, waiting for them to pop out in one piece, brain still intact. For parents, worry, like love, is universal. But no one talks about it. We talk about the importance of raising fearless, curious, free-wheeling kids and brave girls. But we don't talk about how to raise brave parents, to condition ourselves for courage. 
It's not just a mother thing. A male friend of mine, an accomplished mountaineer and lifelong adventurer known for pulling off burly solos, used to fight off panic attacks while on expedition—not because he feared for his own safety but for his two young daughters' half a world away.
Sheltering our kids isn't the solution. "You're building their grit when you let them out in the world," says Krissy Pozatek, author of Brave Parenting:A Buddhist-Inspired Guide to Raising Emotionally Resilient Children. "They're growing in the world. If you keep them contained and safe, they're more vulnerable because they don't have the necessary skill development."
So how do we nurture our own emotional resilience to help our children develop theirs? "I don't think we can delete our emotions, but what we can do is be smart and use our intellect," says Pozatek. "Rather be guided by emotions we have a cognitive process." 
Start by finding your comfort zone. Pozatek's older daughter is 12 and lobbying to join a youth downhill mountain bike team near their home in Vermont. "You have to do a cost-benefit analysis and decide if you're comfortable with it," explains Pozatek. "We're not totally there yet, in terms of being okay with the risk, but if I say yes, I have to let go." In my girls' case, we already green-lighted biking to school last year—they rode nearly every day. There's no more traffic now than then. They're older, bigger, and arguably more aware of their bodies and bikes in relation to cars around them. And perhaps most reassuring, they're not alone. They're with their father, a competent rider for whom their well-being is his highest priority. 
They're at no greater risk than they were a year ago—in fact, probably less. The only difference is my own newly heightened sense of vulnerability in the aftermath of my accident. Tapping into self-awareness is key to diffusing your fear. Figure out what's yours and what's theirs—Pippa and Maisy aren't afraid of biking to school. I am. "Then, if you're still in the grip of anxiety," says Pozatek, "you can say, 'There's my anxiety again.' By doing that you're not in it, you're observing it." Then you can focus on self-care techniques, like a minute of mindful breathing or doing a body scan to see where you're tense. "A great way to work with your thoughts is to go into the body; pay attention the energy in your feet and hands." Or, suggests Pincus, take a quick walk.
After the girls wheel out of sight, I go into the backyard and set the Meditation Timer app (free and simple, no talking, no instruction, just a timer and chimes) on my iPhone for ten minutes and just try to breathe through the irrational fear. Usually by the time the bell chimes, I'm calmer for the practice (and not just because I can hear Steve home safely again, rattling around kitchen).
Bottom line: Hovering will only make you worry more.
Then it's a matter of surrendering to the unknowns. "You can't control everything," says Pozatek—like, eek, drivers barreling down the street while texting, oblivious to little girls on bikes—"so you have to practice thinking, whatever happens, I'll face it. It's about trusting that we're here to learn and grow, and whatever happens it's okay."
Talk it through with your kids. You don't have to let them know that the sight of them spinning away sends you spinning. (According to a study in the Journal of American Academy of Child and Adolescent Psychiatry, between two and seven percent of children whose parents suffer from anxiety develop it, too.) But you can and should have an open, honest conversation about the risks and consequences of their activities. "I think I do both at different times—keep it in and discuss it," says Pozatek. "I'm not a robot. When my daughter jumped off 40-foot cliff jump, I told her that we weren't going back there. Certainly she needs to know we care about her safety." Kids have their own comfort zone; some are more reckless, others more accident prone. "I'm very open with my girls. I'll say, if you hit your head doing blank, you're not going to be playing soccer. You'll be going to the E.R., and then you're going to be sitting at home in a dark room for two weeks with a concussion." At that Pozatek laughs a little. (Humor helps, too.) "My daughters are very motivated for their sports, so it's all about showing them they have a choice. On the other hand, you don't want to be alarmist, especially if your child is more timid. Once you give your blessing you need to be okay with it."
Finally, once you've talked it through and given the go-ahead, resist the urge to micro-manage their choices and actions. Sometimes before my girls ride to school, I'll remind them to take it easy around the blind corner where cars sometime swing wide. "Don't forget to slow down," I warn them. This may ease my worries in the short-term, says Pozatek, but it will actually add to them down the road. 
"Noticing your helicoptering," Pozatek says. "You're telling them, 'Do this, don't do that,' rather than having them own it. Instead, ask them, 'What's your plan? How are you going to ride to school safely? Where do you need to be most careful?' The goal is to strengthen their executive function so they're on alert, so you don't have to hover over them and problem-solve for them. Kids who have their parents run interference for them don't think they're capable. That's way more anxiety producing. That's one thousand percent more stressful."
Bottom line: Hovering will only make you worry more. 
On this point, I'm starting to think that maybe my physical injury—if not the emotional trauma that followed—might actually be a good thing. It's pretty much impossible to hover when you're hobbling around on crutches. The other day I shooed the girls off when they told me they wanted to hike over and down the steep arroyo and down the street to a new friend's house. Sure, I said, just stick together. Had I been physically able to walk them there myself, I probably would have bossed them the whole way. Instead I hung out in the backyard and later, after their friend's father called asking vaguely, "Have you seen my daughter?" and my immobility made it futile to freak out and they finally straggled back from who knows where, way past lunchtime, they went inside and made their own tuna fish sandwiches—a win for childhood independence and this parent's fragile nerves.
Lead Photo: Scott Markewitz/Aurora Photos