Breaking My Leg Made Me a Better Mother
How three months of parenting on crutches taught me invaluable lessons about patience, relinquishing control, and taking each moment as it comes.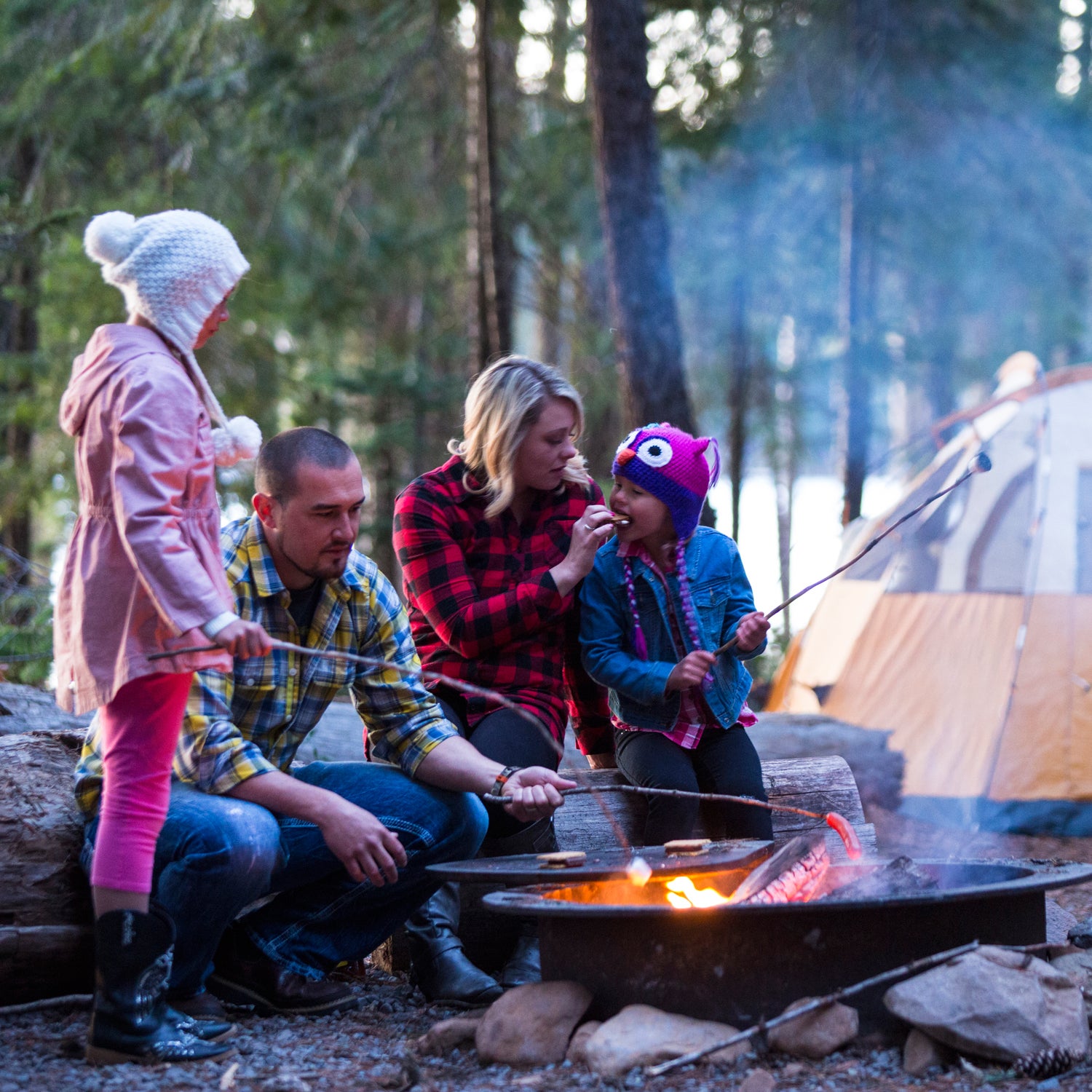 Justin Bailie/Tandem(Photo)
Heading out the door? Read this article on the new Outside+ app available now on iOS devices for members! Download the app.
Fourteen weeks have passed since I broke my leg in a whitewater-rafting accident over the summer. My bone has healed, and a few weeks ago I was cleared to begin bearing weight again, albeit only 30 pounds at first. Just this week, I transitioned from two crutches to one (mono-crutching!) and soon I'll be ready to break the remaining crutch over my good knee, toss the pieces into the air, and walk away. No looking back. 
But of course I already am. Because while our bodies knit themselves back together, our minds do the same. We try to reassemble the broken pieces into an experience we can learn from—something whole that makes sense. 
When I was flung from the raft, I didn't know the extent of my injury, but I knew I had a choice: stay on the river and float 95 miles and 95 rapids downstream through the roadless Idaho wilderness or call for an air evacuation. In the end, I decided to stay. Each day our group of 19 faced technical Class IV rapids for which the Middle Fork River is famous. At breakfast, we'd pass the guide book around and discuss strategies for running ominous-sounding rapids like Powerhouse and House Rock. The locals in our group, who between them had rowed the Middle Fork dozens of times (including Bob, a 75-year-old captain in a solo cataraft), appeared unperturbed, but among the newcomers, the air was charged was nervous energy. None of us could afford another accident, least of all me. I had to stay in the boat. 
If you've ever longed to be a free-range parent but didn't know how to make the leap, try breaking a limb, particularly one responsible for walking. 
Each day, I steeled myself for the rapids to come. There were so many factors swirling through my head—our daughters, my running, our summer, my injury, my dead cell phone that had fallen overboard with me, my terror at what awaited around the next bend—that I couldn't afford to focus on any of them. All I could do was hold onto the raft as we dropped over the edge. That's how I got downstream. One moment, one rapid, at a time.
Turns out, this is a pretty good strategy for parenting, too. 
Because as strange as it sounds, I'm pretty sure that breaking my leg has helped me become a better mother. Not always and definitely not every day—just ask my husband and daughters who suffered through my mood swings. This was the Mama-is-grumpy summer and for-the-tenth-time-pick-up-your-shoes-so-I-don't-break-my-other-leg summer. But even in the midst of all those wretched low points, I had an odd hunch that in the balance of things, at least as far as mothering was concerned, I might come out ahead.
For starters, my girls gained independence. Out of sheer necessity, they learned to make their own lunches and pack their bags for camp and activities. They explored the arroyo out front, built tree forts behind the shed, and played "zombie tag" on the dirt trails behind the house. Consigned to crutches, I couldn't shadow them if I'd wanted to—which of course I did. I just sent them off with walkie-talkies and tried to trust that they'd be okay. If you've ever longed to be a free-range parent but didn't know how to make the leap, try breaking a limb, particularly one responsible for walking. 
It was being wild with my girls that I missed the most this summer, even more than my regular long runs. Every day it seemed I had to let go of something: riding bikes after dinner with my 8-year-old, using maps she'd drawn by hand; hiking up Sun Mountain on Sunday afternoons; running rivers and trails as a family. If we were going to get outside together, we had to learn to be wild with what we had close to home.
So we started a new Saturday tradition: family campfires in our backyard. My girls dragged a bucket of wood from the woodpile, retrieved their kiddy camp chairs from the shed, and laid the fire in the steel pit a friend made for us. We ordered takeout and invited friends over and sat on the patio watching the setting sun illuminate the towering white cumulus clouds as though from within; off in the distance there was lightning, so far away we couldn't hear the thunder. We craned our necks and watched the first stars pop out through patchy clouds, counting them one by one until there were dozens. A faint light lurched across the sky. It was either the world's tiniest, most erratic plane or a star surrounded by drifting clouds. For a few magical seconds, the optical illusion held and we couldn't tell which. 
The fire lit on the first strike and the kids charred marshmallows for s'mores. We sat there and watched the night come in. When was the last time we'd done this? Really seen day shift to night, the whole long show, and felt it, too? And we hadn't needed to schlep our gear and or even get in the car. All we needed was our backyard—not particularly big, not particularly level—and a bit of sky overhead. (Admittedly we're lucky: Santa Fe is one of the few state capitols where, on a clear night, you can see the Milky Way from downtown.)
Afterwards, the night was so lovely that the girls decided to sleep outside. No tent, just a fenced yard and their sleeping bags spread out on a couple lounge chairs. (Sofa cushions on the patio work in a pinch, too.) They were asleep before I finished the second lullaby, just as the first raindrops fell from a wispy cloud that skidded in out of nowhere. When, 20 minutes later, it began raining harder, I expected them to dash in the door. But they slept until it became apparent that I would have to wake them. They were both snuggled so far down in their bags with the hoods pulled over their heads they didn't even feel the rain. They probably would have slept that way all night. 
We weren't charging hard through nature. We were just out in it, paying attention. And it felt so good.
We've kept up our Saturday ritual, sometimes inviting friends or herds of kids, other times doing it just the four of us. Last Sunday seemed like the last warm day of summer; it seemed a heresy to let it end—the day, and the whole maddening and yet weirdly OK accidental summer—without some sort of proper sendoff. It was five'o'clock on a school night…what could we do?
A picnic.
I called a friend and we rustled up a makeshift dinner and drove to the nature center trailhead. I crutched along and she carried a picnic basket and our three girls dashed ahead on the short trail around a pond. This was no wilderness expedition—we were ten minutes from town, surrounded by houses—but it felt like one. The cattails rustled in the breeze and a lone beaver mowed his way silently across the pond, chowing down on his salad supper. The girls picked cattails and tossed the fluffy white fur into the air, scheming how to germinate a whole forest of them. We'd walked all of a half a mile, and yet it felt like we'd truly departed, walked out of our regularly-scheduled lives and into a little pocket of wildness, as though through the back of the wardrobe into another world. 
In Japan, they call the act of opening all your senses to nature shinrin-yoku, or "forest bathing." The name has always sort of made me laugh: a bath tub in the middle of the woods and someone lying in it? But to the Japanese it's serious business, a widely-practiced form of preventative medicine with legitimate scientific cred. A 2010 study found that only 20 minutes of being surrounded by and aware of nature lowers blood pressure and the stress hormone cortisol.
As the cattail fluffed rained down on me, I finally got it: we were letting the fresh air and the sunshine and the vanilla scent of ponderosas and the wet-dog smell of blooming chamisa bushes and, yes, the dandruff-y insides of fluff, wash over us. We weren't charging hard through nature, we were just out in it, paying attention. And it felt so good.
The whole point of nature bathing is that it isn't complicated or fussy or far away. You can do it anywhere there are trees or grass, a trickle of a creek, a pond. You can do it riding bikes, having a picnic, or sitting around a campfire in the backyard. (Just check your fire regulations.) As the season shifts, you can go foraging for foliage to see how many different types and colors of leaves you can collect. Make a weekly or daily ritual of wandering through your neighborhood, exploring streets you've never walked before, or walk it in a different direction. Have your child invent the route and draw a map by hand.
Or just take it all in and be wild with what is—by far the best lesson of my broken leg. 
Lead Photo: Justin Bailie/Tandem