Can't Keep a Good Dog Down
When it comes to big air, this dock dog is a natural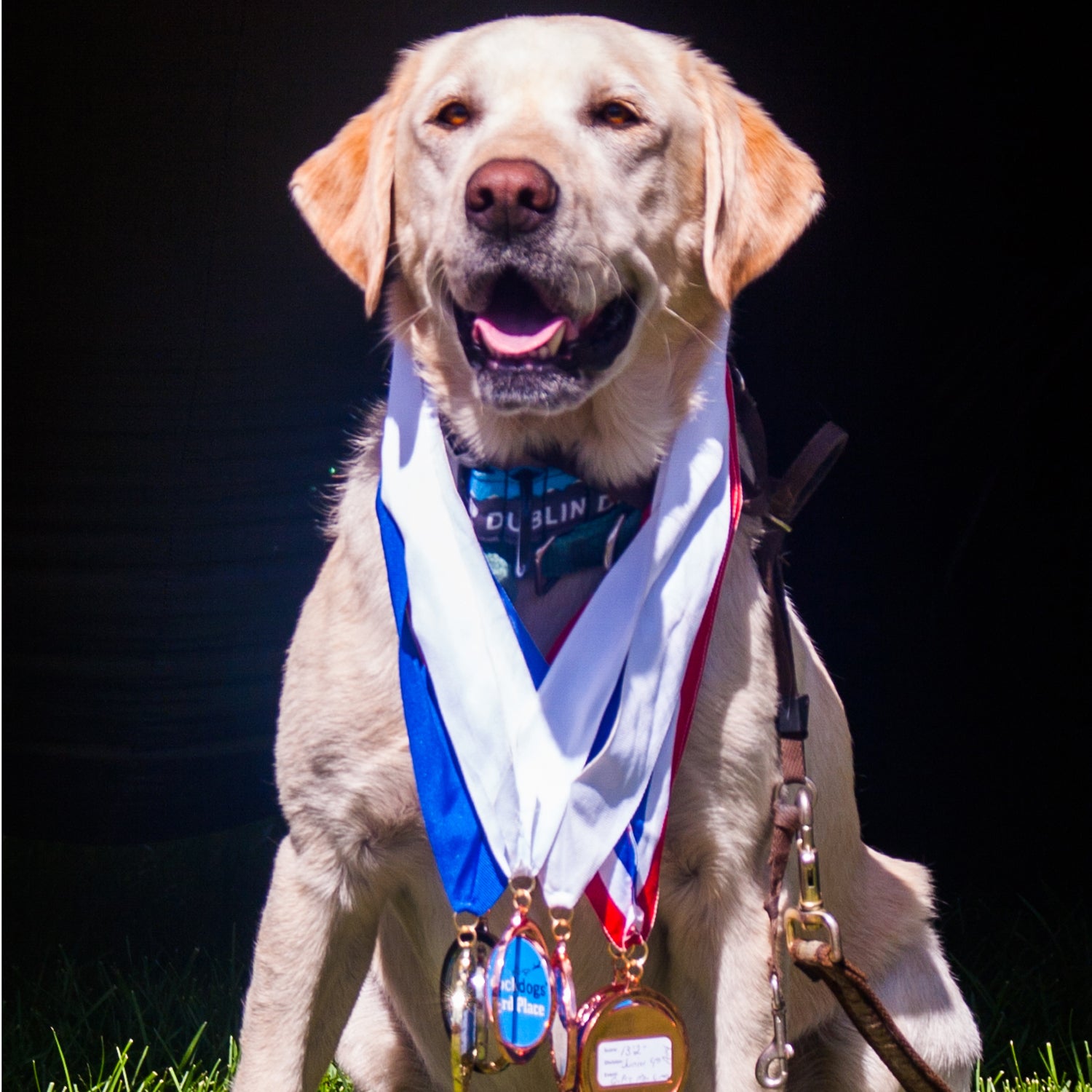 Heading out the door? Read this article on the new Outside+ app available now on iOS devices for members! Download the app.
Animal athletes are as much a part of the GoPro Mountain Games as human competitors. In fact, it's fair to say that dock dogs—in which pooches spring down a runway and launch themselves into a pool to retreive a toy—garners the most spectators of the weekend.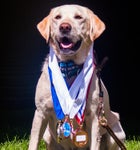 Avalanche sports her medals after Saturday's dock dogs competition in Vail, Colorado, at the GoPro Mountain Games.
And this past weekend, all eyes were on Avalanche, a 4-year-old Lab who jumped a personal best distance of 13 feet, ten inches, and brought home six medals around her scruffy neck. 
But even more impressive than Avi's GoPro performance is the story of how she got to Vail in the first place. 
Six months after Alisa Babler put her black lab, Alpine, to sleep, she was on the lookout for a new companion. Her search ended with an ad on Craigslist in October 2010. A couple was looking for a new home for their yellow lab, which they described as "too much dog" for them to handle. They warned Babler that the puppy had broken her elbow and had three pins put into her front left leg to repair the bones. Undeterred, Babler met them at a dog park, fell in love with Avi's exuberance, and gave the Craigslist puppy with hardware in her leg a new home.
Soon, Babler noticed that even though she'd been injured, Avi was an athlete. "She jumps around constantly," Babler says. "She would bounce up and down at the back door; the slobber marks on my window were higher than my head."
A vet explained to Babler that by jumping off and landing on her hind legs, Avalanche could leap and land with no pressure on her bionic front leg.
That's when Babler knew dock jumping would be great for Avalanche, who also loved to swim. The pair went to the local dog park in Chapfield, Colorado, and started practicing by throwing a canvas hunting dummy out into the water from the dock. "I didn't even have to give her treats or try to encourage her to jump and fetch," Babler says. "It's what she wants to do. Just the act of jumping into the water after her toy and some praise from me was enough reward for her."
For a year, Babler and Avalanche went to the park to practice every week. In September 2013, Babler entered Avi into the Broomfield Days Dock Dogs competition but didn't come away with any laurels. Nine months later, however, Avalanche left the GoPro Mountain Games with a slew of medals around her neck.
Avi jumped at the Junior Bottom Level, and for it only being her second competition, Avalanche showed a lot of promise. Babler says that there will definitely be more Avalanche showings in future dock jumping contests.
But, as with many athletes, competition isn't always about winning. "We are in it for the fun, not to just win," Babler says. "I'm spending time with my dog and making great memories."
Check out our behind-the-scenes look at the Dock Dogs competition and the rest of the GoPro Mountain Games: