Chasing Swells and Raising a Ripper
Postcard from East Java: Belinda Baggs on itinerant surfing, the world's best waves, and motherhood as the ultimate stoke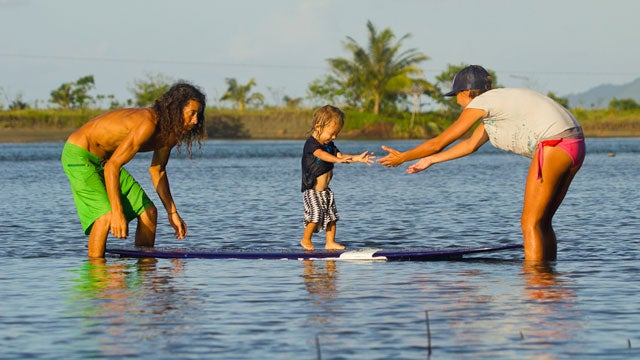 Adam Kobayashi(Photo)
Heading out the door? Read this article on the new Outside+ app available now on iOS devices for members! Download the app.
In the two years since pro surfer Belinda Baggs gave birth to her son, Rayson, she and her partner, Adam Kobayashi, haven't spent more than two consecutive weeks at their home in Newcastle, Australia. Instead the footloose surfing family has been roving far and wide, chasing waves from New Zealand to the Philippines, Sumatra to Singapore.

Belinda surfing in Australia

The Baggs family

Another shot of Baggs surfing
"When we decided to have a child, we wanted him to experience the best the earth has to offer," explains Baggs, 32, who has been surfing as long as she can remember, started competing at 16, and took third at the Women's World Longboarding Championships when she was 19. "I don't want to sugarcoat it—traveling with a baby can be a lot of work. But the rewards of seeing the world and raising Rayson in so many different cultures are so worth the effort. Hopefully he'll take the best from each country we visit and become a citizen of the world."
These days, Baggs works as a surf ambassador and product tester for the gear company Patagonia, and she and Adam (who documents the family's travels through photos and videos) manage the company's social media in Australia as a way to fund their surf safari. "Our pay isn't huge," she admits, "but we live simply and sacrifice certain things in order to travel and live day by day at the beach."
Belinda Baggs: Right now we're in Watu Karung. It's a small, sleepy surfing and fishing town in East Java, Indonesia. We're staying in a friend of a friend house about 100 meters from the door to the shore. It's a small slice of heaven! The waves are heavy, so the surf has been challenging. They break heavy right onto reef, so if you make a mistake there is a good chance you will lose some skin.
The risk is worth the reward, though. Sometimes when I'm on the edge, about to drop into a wave, Rayson's little face flashes into my mind, but now instead of being scared, I want him to be proud of his mom. I try to lead by example; be the best I can be.
Before Rayson was born, surfing was all that mattered. I sacrificed anything and everything for waves, sometimes including family. Now I've realized that without family, waves become almost meaningless. I guess there was a hole in my heart, and I tried to cram it full of waves, the more waves I caught, the closer it became to being full, but then I would wake up in the morning, and the hole would be back, an endless quest that would wash away and dissolve into the shore. Now surfing is something for us to share as a family, something for us to love and respect together. It's not about doing the best nose ride or biggest turn or deepest barrel—it's about living, loving, and being immersed in nature.
I surf at least once a day, depending on ocean conditions, weather, and Rayson—twice if we're lucky! Our lives really are lead by the winds, tide, and swells. There is a lure, almost an urgency, about getting in the ocean daily. If the waves are good we surf, and most days there are always waves to be had. I don't get to spend as much time in the sea as I did before he was born, but my time is now better spent and more appreciated. For the raw rugged beauty, and at the helm of nature fury, I really love a few beaches down near the Twelve Apostles, in Victoria, Australia. For pure fun and stoke, and sharing it with your friends, a few points in Philippines are high on my list. But my all time favorite wave is Macaroni's in the Mentawai Islands, Indonesia.  
There have been moments when there doesn't seem to be enough hours in the day, but ever since we decided to have a child, Rayson has always come first. I'm lucky to have a fantastic partner. With a happy, supportive family, I don't look at it as juggling surfing and motherhood, but more loving every minute of our life and time together. I get my surf time in, and I'm content with the sessions that I have missed knowing that it has been the best choice for Rayson or our family. Swimming with him, building sand castles with him, reading to him—if you look at those things like work, parenthood can be tough, but if you give yourself wholeheartedly to the moment, nothing can be better.  
Rayson spends 90 percent of his time with us on the beach and the water. If the weather is too hot, rainy, or cold, Adam will hang back at the house with him while I surf. But most days we tag team. I surf while Adam plays with Rayson, then we swap shifts and I hang out with Rayson on the beach and Adam surfs. He is still learning to swim, so he sticks to the shore, and we never leave him alone. He has caught a few tiny waves on a paddle board with both Adam and me. He has also been pushed into a few little reforms, and he stood up and ran to the nose on instinct! We will never push him into surfing, but it would be a dream of mine come true for the three of us to all be out surfing together.
In a few weeks, we're heading back to Australia. Adam and I are both terrible planners. We know one day we will have to settle Rayson into some kind of routine, but for now we're content with traveling. We've talked about the option of home school, the possibility of moving to Japan for a year, living in Victoria, or buying a sail boat and sailing around the world. For now, we are playing it month to month. It always works out, and we're always right where we want to be.
—Katie Arnold
@raisingrippers
Lead Photo: Adam Kobayashi
Trending on Outside Online