The Cross-Training Secrets of Ultrarunner Sally McRae
The newest recruit to Nike's Elite Trail Team talks about speed work, core strength, and why parenthood is not an excuse.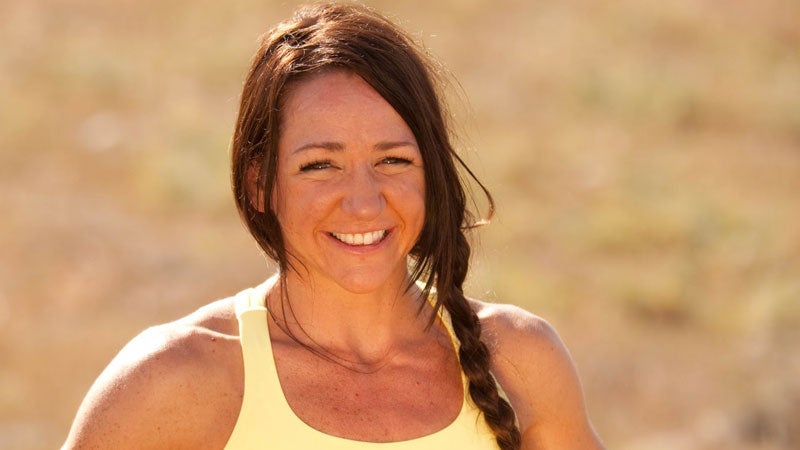 Heading out the door? Read this article on the new Outside+ app available now on iOS devices for members! Download the app.
If ultrarunner Sally McRae's name isn't familiar to you now, it will be soon. The 34-year-old, Orange County-based ultrarunner finished sixth at last year's Lake Sonoma 50, one of the most competitive ultras in the country, and took second at the Sean O'Brien 50 Mile, in February, earning a slot at this year's illustrious Western States 100.


A mother of two children, ages six and eight, Sally also runs a part-time coaching business for ultrarunners and triathletes; maintains a rigorous, round-the-clock training schedule; and can cram more into a single day than even the most zealous overachievers (her email signature says it all: Sent while running).
I caught a glimpse of Sally at The North Face 50 Mile Championships in December, when she passed me at mile 42: a blur of pink, a beaming smile, and a long, easy gait that made her look like she was just out for a short jog. While I plodded along on wooden legs, she glided by, seemingly chased by an entourage of fans shouting "Sally!" Even from the dark depths of my pain cave, I could tell that she was someone who radiated joy and ease on the trail. So I tracked her down to find out how she gets it done. The answer? Tons of trail time, high-intensity strength work, and the ultimate cross-training regimen of all: parenthood.
How do you fit in all your training?
Early on in motherhood, I learned that if I wanted to maintain peace in my daily schedule, I would have to learn the art of balancing discipline with flexibility. This is the reality of life, especially with children. Sometimes you can't plan for the flu, meltdowns, how long homework will take, sports, social events, and family emergencies.
When my kids were babies, I ran with a jogging stroller, and when they were a little older, I took them to the kids' club at the gym and did all my runs on a treadmill (close to 80 percent of my training for my first ultra was on a treadmill). As the kids get older, I've remained committed to using my entire 24 hours. I'll plan out a day's schedule down to the hour the night before, but with full awareness that something unexpected will come up. It's actually great training. Similar to a 50- or 100-mile race, the chance of a race going as planned is a rare gift. If you've trained properly, then you have trained your mind to not break down when things start going wayward.
Give us your secret to balancing trail running and parenthood without losing your mind.
Stop using parenthood as your excuse to not run or workout. I hear this on a weekly basis, and it is a poor excuse. It is also a horrible message to send to our children. And I say this with great understanding and compassion for all parents. I know what it feels like to be sleep deprived, overwhelmed, pulled in all directions, busy, frustrated, and utterly drained.
But being a good parent doesn't mean you throw your health out the window; it also doesn't mean you teach your children that when they, too, become parents, that their goals and dreams are no longer important. It's taken me almost a decade to figure how to balance training and motherhood, and I can confidently say that I never will have it down perfectly—because, like life, we're not supposed to have everything perfectly figured out. I enjoy the adventure that comes with being a mother. My kids keep me grounded, balanced, and challenged. Ultimately, they make me stronger and more disciplined. 
How do you include your children in your training and competing?
Both my kids have been running with me since they were three (short distances at first) and now they compete in local races. They're also a part of their school's running club. If it's a short recovery, they'll join me for five or six miles on the trails. I also have home routines to get my body strong: quick, five- and ten-minute routines for my core, arms, and injury prevention, and sometimes they join me. My daughter, Makenzie, loves to run with me and I try to set aside one to two days a week where we run together and have girl talk. But I do remain mindful of the fact that they love doing other activities, too, so I don't push running on them. When we go on the trails my goal is to simply have fun.
Do they cheer you on at your races?
Typically not; for most races I need to get on a plane, so it can get pretty pricey. They went to a couple of my very first trail races when they were babes, and it was hilarious and kind of sad because I'd come into the aid station for 60 seconds and then run away and they'd be standing there crying like, "Wait! Where are you going?" Or they couldn't understand why they couldn't eat the food at the aid stations. I remember the first 50-mile race I won, I likely would have had a better time had I not been bartering with the volunteers to give my crying son a piece of licorice!
You're also a coach. What are your top three favorite at-home cross-training exercises every ultrarunner needs to be doing now?
First, single-leg stance exercises. They improve your balance, coordination, and speed. They are often overlooked. Also, make it a point to balance on one foot more. Stand up and balance while putting your shoes on. Stand on one foot while you brush your teeth, talk on the phone, cook eggs. When we run, we are continually in the single-leg stance so you should want to be strongest in this stance. Most runners have some type of weakness or imbalance that can be strengthened by doing these exercises.
Second, hip raises: Lie on your back, knees bent, feet flat, and push your hips to the ceiling and squeeze your butt. Hold for a few seconds and lower back down. Be careful not to arch your back or tense your shoulders as you do this. Do two to three sets of 15 to 20 reps. I think it's safe to say that most runners have weak hips and glutes, partly because we spend so much time sitting. This is an easy exercise. Do it daily!
Lastly, hold a 60-second plank. It's so easy to do, and it strengthens your core and upper body; you can also add donkey kicks to it and get creative with how you progress it. All you need is three minutes for three planks a day. And your kids can do them with you.
What's a typical training week like for you?
This varies depending on the distance of the race. For a 100-mile race, my training will peak at a handful of 100-mile weeks. If it's a 50-mile race, I only need 70- to 85-mile weeks to get in tip-top racing shape. I am a huge believer in cross-training, especially for trail runners. When I transitioned from road marathoning, I learned quickly that trail races are not always won by the fastest athlete, but sometimes the strongest most enduring person.
I have a gym routine I do as many as three times a week. I lift heavy weights, do 40 minutes of non-stop core and functional exercises, and then I'll spend a solid 20 minutes stretching and rolling out any tight areas. I like hot yoga but I can only manage it in doses. The idea of staying on my little mat for 90 minutes is difficult for me and how I operate. Typically, I'll do yoga if I've discovered an imbalance or have an injury. Aside from that, the gym is quite enough inside time for me.
What's your favorite, go-to training run?
A long run in the mountains that either starts with a sunrise or ends with a sunset (or both!). Since I was a child, I have had a deep love for the mountains. I relish the peacefulness that comes with disconnecting from electronics and the hustle and bustle of the city. I think many people feel the same way—just getting outside for an extended period to enjoy nature and all it entails: the sights, the smells, the sounds. It's raw and it's real and it makes you feel more alive. 
Do we really need to be doing tempo runs and speed work?
Runners should tailor their training in accordance with their goals. If your goal is to simply complete a race, that looks different than someone who's trying to get on the podium. In the past two years, the sport has gotten faster and faster. More elite road runners are taking to the trails and they're bringing their fine-tuned training with them. This is raising the bar in races. Although back-to-back long runs are necessary for the longer distances at certain stages in your training, they shouldn't trump the rest of your training schedule. The key is variety. Be purposeful every time you run and don't be shy to work an anaerobic or speed phase into your schedule. It will transform your fitness and racing results. Whatever your goals, whatever motivates you, match your training to that. If you want to be fast, you need to have a phase in your training where you're doing fast running, so suck it up and do the speed work!  
What's your approach to nutrition?
This is the million dollar question. I do not follow any type of plan, although I have experimented with just about everything out there from raw, vegan, Paleo, Atkins. I try to eat as much real food as possible and I pay attention to what makes me feel good. I feel best when I'm eating eggs, fish, veggies, and fruit. I love coffee but feel better when I stick to tea. I did not feel strong as a vegan. Do I splurge? Absolutely. I like pie and donuts after a solid race—they're definitely a treat!
Any ideas for avoiding injury?
Stop being stubborn. As soon as it hurts, take care of it. What seems like a slight nag will become magnified as your training enters more intense stages and especially if you are planning to run an ultra-distance. So get on your foam roller, or rub out your feet on a golf ball. Take the time to stretch or get a massage. Get physical therapy if you need it. I used to work at a PT clinic and learned very quickly that the majority of injuries that we saw could have easily been prevented with the most basic at-home care techniques. So stretch, roll, ice, and take rest when necessary. No magic formula there.
How do you keep from burning out?
I have a genuine love for running. Although I'm a coach, I have never had a coach myself or even followed a rigid training plan from start to finish. I keep my runs fresh by changing up routes, exploring new trails, and running at various times of the day. Sometimes I run with music, sometimes I leave everything, including my watch, at home. I also make sure every run has a purpose and a goal. This makes every run feel different. One might be short and intense and focused on keeping a certain pace, whereas another is just about chasing a sunset and meditating. I'll go on long runs and pray for people. I remind myself daily to be thankful for the ability to run. Every day that I get to run is a gift.
What inspires you most about racing ultras?
When I set a goal for a race, it's not just about getting on the podium. It's about communicating a message to the people around me. Go after your dreams, believe in yourself, never give up. I've toed the line next to runners in their 70s. Sure, we finish at different times, but we went the same distance, we crossed the same finish line, and it was hard. You must have courage to sign up for an ultra distance, and I have unrelenting respect for every single person who ventures to believe that he or she can go the distance. When was the last time you had a chance to stand among a mob of courageous, hopeful, strong individuals?
Lead Photo: Courtesy of Sally McRae