Running Rim-to-Rim-to-Rim
42 Miles Across the Grand Canyon and Back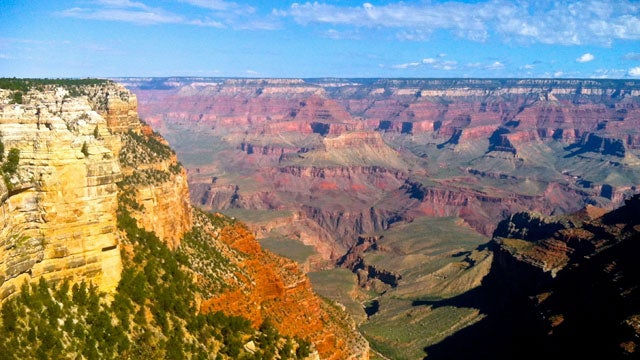 Heading out the door? Read this article on the new Outside+ app available now on iOS devices for members! Download the app.
We were alone on the edge of the world, peering into blackness. Night still had its grip on the Grand Canyon, and only a faint scrim of pinkish yellow lined the horizon.

Route finding.

Black bridge and boat bench from South KaibabTrail

Roaring Falls from the North Kaibab Trail.

Finished! At the South Rim.
Seven trail miles and 4,600 vertical feet below us, the Colorado River snaked, bottle-green and cold, through some of the oldest exposed rock on the planet. The air was 35 degrees, with a light breeze; the three of us stood shivering in shorts and thin wind jackets, headlamps flickering. Somewhere across the unseen chasm, the North Rim loomed indifferently in the dark, waiting for another day to dawn.
At five minutes after 6 a.m., we dropped into the abyss. 
Within seconds, we came up hard against a long, dusty mule train. Our easy lope slowed to a fast, impatient walk. The wrangler's scratchy voice drifted out of the twilight. "Don't get too close," he called. "We'll let you pass at the bottom." 
But after few switchbacks, we came to a wide curve in the trail and slid past the mules. We settled into an easy pace, but I kept my eyes fixed to the ground so as not to trip over the wood steps laid across the trail every few feet (presumably to keep the sand from sliding 4,000 feet straight down to the river). Eventually I found my rhythm, a sort of pinwheeling, hopping gait that became less awkward as I descended.
I'd come to the Grand Canyon on a backcountry running mission with two friends: Meaghen, a 25-year-old Outside editor, and Anna, 35, an urban planner and mother of one who ran competitively in college. I hadn't been on an all-women's adventure trip in who knows how long, and as we barreled west on I-40 the day before, Anna cueing up some ridiculous Brittany Spears pump-up music, I remembered how wonderful it feels to leave motherhood and responsibility and head into the wild unknown, if only for a few days. 
The R2R2R, or double crossing as it's also called, is a DIY, bucket-list adventure run, revered for its stunning scenery, tough climbs and descents, and bragging rights. In recent years, it's also become a benchmark for elite trail runners who converge on the Canyon to set a new FKT (fastest known time). In May, Rob Krar set the men's record, 6:21:00, and back in 2011, Bethany Lewis set the women's: 8:15:51.
When we set off from the South Rim, we had no intention of running for time or speed. This would be our first R2R2R—and Meaghen and Anna's first trip to the Grand Canyon, period—and the last thing I was going to do was rush. I wanted to sink into the wilderness, to test my legs and lungs on 11,000 feet of climbing, and to immerse myself in as much of this enormous, ancient canyon landscape as possible in a single day—all without the competitive pressures of a race or a clock.
As we descended, it got warm as quickly as it got light, and by the time I reached the Colorado River, the sun was reflecting off the water and my jacket felt like overkill. I stood on the black iron bridge for a few moments, staring down at the river sliding soundlessly beneath my feet. It was 7:12. A few minutes later, Meaghen arrived and then Anna. We crossed the bridge, and stood on the far side, peeling off our sweaty layers and hiding them, along with our headlamps, behind a rock. The day was clear and bright; no sense carrying them all the way up to the North Rim and back. 
The Grand Canyon is one of the wildest, least hospitable landscapes on earth, but even in its deepest backcountry, it caters to civilization. There are toilets and emergency phones at semi-regular intervals along the Bright Angel and South Kaibab trails, the main routes from the South Rim to the river. The Bright Angel has drinking water every three or four miles. And at the bottom of the canyon, half a mile up Bright Angel Creek, 91-year-old Phantom Ranch sits in a green oasis, with guest cabins, hot meals, mules for transport, and a canteen that's reputed to serve the best lemonade in the world. 
Just downstream from Phantom, we refilled our hydration packs, used the bathroom, and ate a couple of energy gels before veering onto the North Kaibab Trail. Unlike the South Rim trails, the North Kaibab climbs gradually along the cascading Bright Angel Creek, gaining 6,500 feet in 14 miles to the North Rim. 
The first seven miles of trail to Cottonwood Campground rolls upward, crossing bridges and winding through jagged two-billion-year-old rock walls crashing down on either side of you. The climb was so gradual that my legs, liberated from the awkward cadence of the descent, lengthened into a steady run, and I pulled ahead of Meaghen and Anna. That was the last I'd see of them all day. I felt as though I'd entered the deep, red heart of the world.  
Above Roaring Springs, I left the shadows and crossed into the blazing desert sun. I passed waterfalls and brilliant cottonwoods in full color along the creek, and meadows of silver-green yucca, some shooting their blooms skyward. I parted waist-high swaying grasses, hopped over lizards, caught up to groups of runners who'd left the South Rim before us, and tried to outrun swarms of flies. 
In the last three or four miles to the North Rim, there are several sections where the trail is bounded on one side by massive red limestone cliffs, and on the other by several hundred feet of sheer drop-off. The lack of guardrails wasn't terrifying as much as sobering—a good reminder to pay close attention to the trail.
I put my head down and tucked in for the final push. Though steep, the North Rim was entirely runnable, and within the hour, I'd rounded the last bend, past a thick-trunked ponderosa, and topped out on the North Rim. As panoramas go, the views from the North Kaibab Trailhead, which is tucked into a side canyon, are not nearly as spectacular as from the South Rim. The anticlimax was OK, because all I really wanted to do was eat a snack, fish some grit out of my shoe, refill my water, and be on my way. I didn't feel particularly rushed, but I was looking forward to making up some time on the descent and seeing Meaghen and Anna again. 
At 10:45, eight minutes after I arrived at the North Rim, I began the long drop back to the river. 
My legs still felt solid and not particularly tired, the blistery patch on my foot was gone, my fingers weren't too swollen, my belly was full, and I still plenty of life left in my iPod. I let my stride lengthen and loosen and soon it felt like I was floating, legs spinning past now-familiar landmarks. I passed a woman I'd seen earlier, who told me that Anna and Meaghen had turned around at Cottonwood. I wouldn't catch them now.
Farther down, the wonder of the Inner Gorge made me want to cry. The rock was so old; it was indifferent to joy and pain, success or failure. I could be anything in this canyon, and it wouldn't matter. We were tiny and new, specks on the landscape. This was true freedom. This is why I'd come. This is why I run. 
Back at the river, seven miles and 4,600 feet above me, the South Rim seemed impossibly high and distant. I checked my phone: 1:10 p.m. I hadn't been in a hurry the whole day, but now the end was in sight, sort of, and I was eager to eager to tackle the last climb.
But first, I took off my pack and stripped off my shirt and splashed cold river water over my face, arms, legs, and stomach. Cooler now, I ran straight into the jaws of the climb. The South Kaibab is relentless right away, with sandy switchbacks and those dreaded wooden steps, the memory of which I'd already repressed. Nothing to do but dig in and run.
The Colorado dropped away quickly and soon I could only see the river in pieces, little slivers of whitewater on their way someplace else. I passed in and out of shadows cast by steep walls. Ravens circled above me, and a delicious breeze riffled my skin. 
My hydration bladder was more than half full of electrolyte-flavored drink, but what I wanted most was plain ice water. I opened my mouth to let the breeze blow in. I wanted to drink the wind, that's how thirsty I was.
Above the Tonto Trail junction, the trail zigzags maniacally through a dozen switchbacks to gain another steep wall. To conserve energy, I alternated between running slow and power hiking—a weird rhythm that normally annoys me but now felt like all I could manage. I hadn't been in a rush, but now it seemed important to keep on pace, to finish strong. I wasn't sure if it'd be possible to complete the climb in two hours, but I decided to try. For the first time, I let myself think about the clock.
Near the toilets at Ooh Ah Point, I knew I was getting close because there were many more day hikers. At the bend where the mules let us pass, I broke into a trot; I knew I was almost there. I felt like crying from happiness, but instead I just whooped, and in front of me, day hikers scattered at the sound and let me pass. 
And then it was over. I shouldn't have been surprised, but somehow the end came sooner than I thought. My phone read 3:25 p.m.: 9 hours and 20 minutes. I plunked down in the dirt and ate the almond butter sandwich that had been smashed in the bottom of my pack since before dawn.
That night, reflecting on the adventure, I was too excited to sleep. My happiest times on the trail were when I was alone for long stretches, floating between blue sky and red walls. Although I'd fueled my run with long training sessions and the food I'd carried on my back, I understood that I'd drawn strength and momentum from the landscape around me, the enormity and beauty of which were staggering and humbling.
I couldn't believe I'd crossed through such vast space and back again. It was reminded me a little of childbirth: Surely I'd been transported somewhere else, and was only now returning to find the whole world changed.
To move through nature on my own two feet, in a concentrated and purposeful—but not urgent—way, absorbing every detail of the day, is to be transformed. The R2R2R wasn't a race or a training run or a workout, but a journey. Though I hadn't tried to run fast, I'd done so anyway. The beauty, of course, was in not trying, in running from my heart straight into the heart of the world.
For a DIY tutorial on how to stage your own Grand Canyon crossing, read "DIY: R2R2R."
Trending on Outside Online