The Culture Shock of Coming Home
Returning to the U.S. after 12 months in rural Brazil means running water, big American breakfasts, and nearly a year of getting used to being back.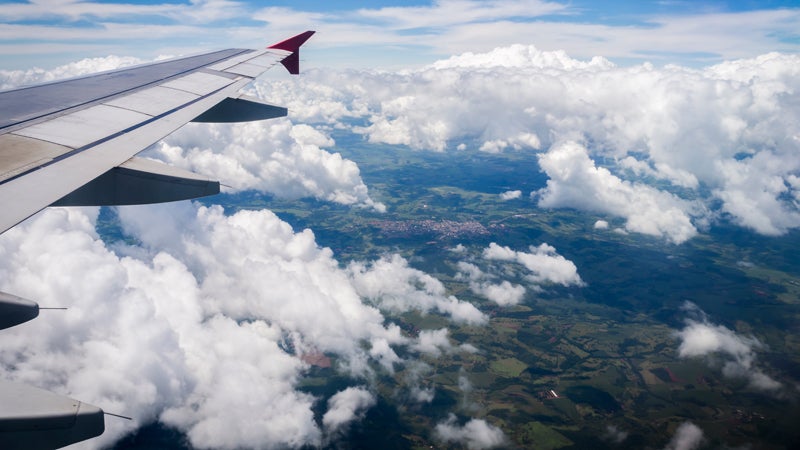 Heading out the door? Read this article on the new Outside+ app available now on iOS devices for members! Download the app.
We shuffled off the plane in Miami at 6:30 in the morning, our stream of passengers merging with other streams of passengers all flowing toward Baggage Claim and Customs. We entered a wider portion of the hall where large armed men held their ground in the middle of the crowd, scanning for people to pull aside and question.
"Wow, not too warm; not even a smile," our daughter Molly noted.
"Pick up the ball! Pick up the BALL! PICK. UP. THE. BALL!" It took our son Skyler a minute to realize the uniformed man with the rearing German shepard was talking to him. Chagrinned he snatched up the soccer ball he'd been dribbling with his feet.
"Don't worry Skyler. The dog just wanted your ball," I said, pulling him closer.
We were returning home to the U.S. after a year living in Brazil. These returns are always an eye-opening jolt and, for me, a long, slow adjustment. It usually takes me a full year to reintegrate into life at home.
We managed to find all our bags, make it through Customs, recheck the bags and enter Security. There we stood one-by-one in the beam-me-up-scotty Imaging Station, our hands raised over our heads, while our bodies were stripped to their bones.
I wondered what our Brazilian friends from the small, rural town where we'd been living—a town where for many people the luxury of running water was erratic—would make of all this and the self-flushing toilets, and automatic paper towel dispensers.
As we were repacking and redressing (the TSA agents had even scrutinized our flip flops) we were put through not one but two episodes of shouted, "Halt! Everybody, Don't Move…. Okay, you can go, just a drill."
We were definitely not in Brazil.
"Whew, this is intense," Skyler said. "Let's get out of here, before they do another one."
Things had gone smoothly, until we hit the First World. Then things began to go awry. Our flight out of Miami was delayed for maintenance, which was okay. We happily rounded up a breakfast of things we hadn't eaten for a year.
"That's what they don't have in Brazil: muffins, whipped cream, and vending machines," Skyler exclaimed seeing one for the first time in 12 months.
This is why it's worth all the trouble of leaving one's job, renting one's house, learning other languages, uprooting one's kids, and struggling through cultural adjustment: for this chance to pull back. And especially so our kids can get that perspective at young ages. But the return is hard.
What do you say to all your old friends asking, "How was it? I bet it was so fun." I don't know if I could really say living abroad is fun. Certainly it can be exhilarating. It's definitely stimulating, but it's also painful and hard. It's more like giving birth to a child. Not fun, but so worth it. Worth if for the connections we've made with people so different from ourselves, culturally, racially, economically, socially; and the pride, and I hope the increased confidence for our kids, because of the obstacles we had to overcome.
So what's the sound bite that will somehow encapsulate our hearts cradling the people of Penedo (our small town in Brazil), the quilt of sherbert colors, palms clacking in the breeze, horse hooves on cobblestones?
I settled on, "Well, it was really rich, and well, really hard, so I feel relieved to be back and—sad, too." It was lame, but the best I could do. Then I'd flip the conversation.
There was still too much to say. It would take months to boil it down. So it seemed simpler to say nothing. Besides no one really wanted more than that ten-second sound bite anyway. We'd warned our kids not to expect lots of interest from their friends. It's both disheartening and understandable.
Home was so familiar, too familiar. Had we ever left? I resented it a little. I wasn't ready for this huge experience that my family and I had just had to be reduced to a dream. As I rode my bike and drove around our Montana town in my car, I realized we couldn't have chosen a foreign town more the opposite of home. Penedo's hard surfaces and chute-like streets were met with Missoula's sprawling-wide, leafy-soft avenues; Penedo's bright oranges and pinks with Missoula's muted greens; Penedo's constant scraps of ricocheting sound with the quiet, steady susurration of Missoula's water.
I kept finding myself thinking "here, there, here, there."
In my next life, I dream of lobbying Congress to create a program to send every American teenager abroad, preferably to a developing country. It would change our relationship to the world, as individuals and as a nation, completely. Those kids would come back with a visceral understanding of why they're so lucky to have been born in the U.S.—recognizing how precious is their ability to speak out without risking their lives; seeing how well the law works, mostly. But they'd see, too, that we're not so different, nor are we "ahead"; that our breakneck speed might be breaking us down; that our touted 24/7 access to work might be sapping our energy and stealing time, time we could be spending with others, face to face, as families do every Sunday in Brazil. Those U.S. kids would learn that maybe we need to look a little farther afield before we claim the bragging rights some of us seem to cherish as Americans. They would be shocked, as I was, that we have Congressional leaders who have never left our shores, have never been issued a passport, but make our foreign policy.
Some of those kids would decide they never want to leave the U.S. again, that they're in the place they love. Others might decide, like me, that the world is their home, and it's both inexhaustibly big and very small; that it's full of people just like them, trying to find their place, their role, their identities; trying to take care of people they love. Then together they could change the world.
I hope that my children will be able to see how they can fit into that larger world—one bigger than nations, broader than race—and feel comfortable enough in it to know they can jump and then look, because they'll know they can cope when they land.
I think they will and when they do I hope they take me with them.
Trending on Outside Online