In Defense of Vanity Dogs
Find a companion you can get along with, whether from a responsible breeder or your local shelter. You're going to be spending the next 13 years together.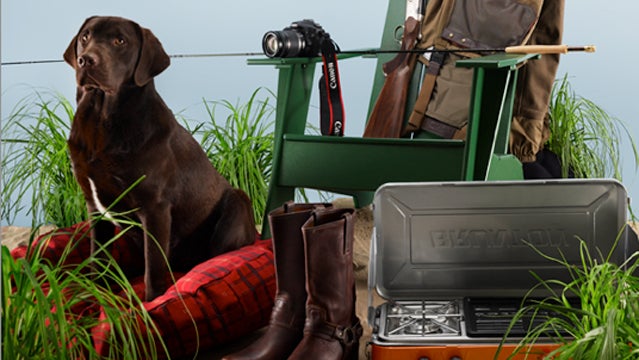 Heading out the door? Read this article on the new Outside+ app available now on iOS devices for members! Download the app.
In Outside's June 2009 issue, I included my dog Danger, who is a pure-bred chocolate Lab, in a round-up of cool summer gear. We received several letters in response, taking us to task. A typical letter included this: "There are millions of healthy dogs awaiting adoption right now in animal shelters. And they are priced far less than Schaffer's vanity animal."
What stands out about this letter, and several others we received, isn't its well-justified promotion of shelter animals but its personal jab. When exactly did the adoption movement go from promoting shelter animals to scolding anyone who would get a dog from a breeder? It's time to give the shame-mongering a rest. The six–eight million animals that show up in shelters each year are overwhelmingly the result of backyard accidents and mass breeding—of human negligence and greed—not the product of responsible breeders. Adopting a dog is a worthy act and maybe even one of mercy, but blaming dog buyers for the  deaths of pound puppies is some seriously specious logic. Your goal when choosing a dog should be simple: Find a companion you get along with. You're going to be spending the next 13 years together.
Shelter dogs certainly have their advantages. Mutts are likely to have a healthy mixed gene pool; you can find good pets of just about any demeanor; they're cheaper at the outset; and you'll be supporting a community organization that stands up for animal welfare. The Humane Society also makes note of the fact that 25 percent of all shelter animals are pure bred—more on that in a minute.
But shelter dogs have their drawbacks, too. You generally can't meet a shelter puppy's parents—the biggest determinant of a dog's grown-up personality. You don't know an adult dog's history or whether there are latent behavioral problems that could crop up. There's also the matter of spaying and neutering. Some shelters won't allow an animal to go home before the operation. This has led to spaying and neutering as young as eight weeks, which can cause developmental problems (PDF) related to hormone deficiencies. Nearly all shelters require their dogs to be fixed by six months. The research is mixed for operations at that age but either way, you don't get to choose.
Then there are those pure-bred shelter animals. They tend to get adopted first, yet they almost certainly represent the worst of both worlds: The genetic disorders (hip dysplasia, cataracts, and such) of irresponsible breeding with the uncertainty over why they ended up in the shelter. True, most animals end up in shelters for human reasons like bankruptcy, marriages, and divorces that are unrelated to a specific animal behavior or health problem. But I'll also say this: Mike Stewart, Danger and Cooper's breeder, has placed thousands of dogs with families over the last three decades. None of those dogs has ever ended up in a shelter. He and his wife, Cathy, keep track of every dog they place and have a long waiting list of people for any dog that needs to be surrendered. Keeping up with clients is one of the requirements for responsible breeders.
And I guess that's the issue. The well-intentioned push to stop mass breeding has cast too wide a net. There are still plenty of puppy mills (PDF) masquerading as responsible breeders but if you're buying a dog for the right reasons, you shouldn't have any problem avoiding them. The Humane Society publishes an excellent guide (PDF) on how to tell if your breeder is responsible. Good reasons to buy a dog? Everybody has their own, but generally they should start with wanting a dog with a specific temperament and work ethic. For me, I happen to like fishing, hunting, skiing, and, well, dog training. And starting with good working stock increases the likelihood that I'll end up with a buddy that can come along and stay out of trouble.
The trainers of service dogs, cattle dogs, hunting dogs, avalanche dogs, search dogs, and drug dogs all rely on careful breeding to produce consistent results. Yes, mixed-breeds can make fine working dogs, but trainers who are about to invest thousands of dollars and hours generally don't go looking for puppies at random. If you're the sort of person who's willing to make a serious time commitment in training a companion animal, a well-bred dog from a working line will almost certainly make the process easier. Readers email us their canine behavior problems every week. A surprising number of these problems arise from the dog exhibiting the instinctual tendencies of its dominant breeds.
Danger's not without his foibles. He's a humper, a skirt-lifter, and he often prefers the neighbors' trash cans to coming when called. But he's also predictable and intelligent as all hell. Could I have ended up with a similarly great dog from a shelter? Maybe. And maybe next time I will.
This article originally appeared on Outside K9, the former dog blog of Outside magazine, on July 31, 2009.