DIY Holiday Makeover
This season, choose outdoors over indoors, adventure over eating, and hiking over cooking.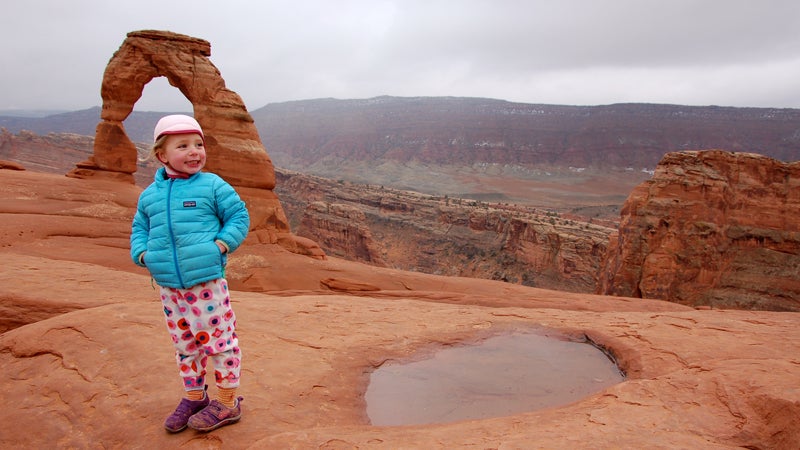 Heading out the door? Read this article on the new Outside+ app available now on iOS devices for members! Download the app.
Every family has a Thanksgiving tradition. This year, we bucked ours. My husband, Steve, our two daughters and I went to Moab, Utah, to play for a few days. We chose our nuclear family over our extended clan, and it was exactly what we needed.
As it turns out, Thanksgiving just might be the perfect springboard for family adventure.

Fishers Towers.

Hiking Negro Bill Canyon.
When you tell people you're going exploring during a holiday that's typically associated with staying home, eating too much, lazing in front of the TV, and now, sadly, shopping, they tend to give you weird looks. "Moab?!" my friends said, surprised, as though that was the most random, self-indulgent idea they'd ever heard.
As it turns out, Thanksgiving just might be the perfect springboard for family adventure.
With four or five days to burn, you can drive or fly to most outdoor destinations and still have plenty of play time. And because the vast majority of Americans are at home with their extended families, not hiking or surfing or mountain biking, you'll often have pick of the trails, campgrounds, and backcountry lodges. Ski resorts, if they're open, usually offer big discounts on lodging and lift tickets. Sure, it's that slightly awkward shoulder season when the weather's iffy and it's dark long before dinner, but if you plan it right, you can be exploring while the rest of the country is stuffing their faces.
We started scheming our Thanksgiving trip in the early fall. Why not squeeze in one last camping trip? It's easy to fantasize about sleeping outside when the days are still warm and longish, but as the season wore on and it got colder and darker, we realized we'd have to revise our plan. It's not the temperatures that make winter camping with kids challenging, but the lack of light and the 13-hour nights. 
Our criteria was simple. We needed something within an easy day's drive of our Santa Fe home, where the weather would be mild enough and the trails clear enough for hiking, where we could stay a few nights in a wilderness lodge and be as close to nature as possible without actually sleeping in it. Tucson was warm but too far; ditto Big Bend and Joshua Tree. Southern New Mexico's Gila Wilderness was the next obvious choice, but we were craving wild, open desert, not mountains. So, after some last minute scrambling, we booked a cabin right on the Colorado River, a few miles outside of Moab. The day before Thanksgiving, we packed our bikes and our trail shoes and Pete the puppy, and headed out of town for the seven-hour drive north. 
Growing up, I spent most Thanksgivings on my father's farm in Virginia, with my sister, stepmom, and grandparents. The weather as I remember it was always grey and raw, the trees blown bare by the wind. Undeterred, we took long walks through the woods, and in the late afternoons, my father would pour the adults gin and tonics and we'd all sit on the floor around the coffee table and play Sorry! or Clue. Thanks to my stepmother, we ate like kings, but the real heart of our holiday was simply being together, rambling around outside and playing silly gags. In old home videos, we are laughing almost constantly.
This year would be only the third time I'd skipped out on traditional family gatherings to make my own adventure holiday. Once in my 20s, I met a boyfriend in northern California. It felt weird to be on the wrong coast, below relentlessly sunny skies, with someone I hadn't known my whole life. Then last year, Steve and I struck out with our girls and our geriatric chocolate Lab in our 1960s Airstream for Chaco Canyon and Canyon de Chelly. The road trip was unforgettable for many reasons, not least of which was the fact we nearly destroyed the Airstream on the long, rough road into Chaco. But once we patched the old rattletrap back together with garbage bags and duct tape, we had a lovely few days, just the five of us, exploring the canyons, eating turkey on picnic tables, and roasting s'mores over the campfire.
Our Moab base camp for the weekend, the Sorrel River Ranch, was a considerable upgrade over the imploding Airstream (which we later sold on Craigslist). The 160-acre resort and working ranch sits at a wide bend in the Colorado River, 17 miles upstream from Moab, sandwiched between the craggy red rock cliffs for which this part of Utah is famous.
The 55 guest cabins are set fewer than 20 feet from the river, with deep private porches and big windows to frame the gaping view. Ever since I moved to New Mexico nearly 20 years ago, I've lived in a near-constant state of dehydration, so any flowing water is balm for my soul. Even though it was dark when we arrived, I knew by the steady rush of the invisible Colorado that we'd made the right call.
Our cabin, like the other family suites at the ranch, was stylish in a ripped-from-the-pages-of-Sundance-way, with an enormous four-poster log bed, a couple of comfy Chambray-covered couches, a small kitchenette, and, best of all, an upstairs bedroom with two beds for the girls. And in honor of Pete's first road trip, a soft dog bed, two feed bowls, a small stash of treats, and a leash. Ours was a duplex, but we only saw the family next door in passing and heard nothing through the walls (unfortunately, they probably couldn't say the same of us). We'd brought a cooler full of food to fuel us for three days of hiking Moab's trails.
We woke on Thanksgiving to a moody mist hanging over the river, low clouds licking the tops of the buttes. It was the perfect weather for chilling out inside, but we'd come to play outside, so we drove three miles up the road to Fishers Towers, a collection of craggy, spiky sandstone pinnacles that jut out of earth like shark's fins and lopsided skyscrapers, some so thin they look like they could topple under their own weight. Following a winding BLM trail 1.5 miles through red dirt, we snaked around to the base of the Titan, a top-heavy tower popular with BASE jumpers and climbers. No one was jumping, but a couple of climbers were scaling a nearby spire, so we stopped to snack and to watch them a while before turning back. 
That afternoon we explored the ranch by bike (in addition to two tennis courts, basketball, and horseshoes, the resort provides a few free mountain bikes). The outdoor pool and horseback riding had closed for the season, and we couldn't find the sauna, so we pedaled the empty roads and paths along the river. A trail climbs a mile to the top of Sorrel Ridge, a hunchbacked escarpment with views of the ranch, river, and sandstone buttes. Everywhere you looked, the cliffs were littered with enormous boulders ground to a halt in slow free-fall—a millenniums' worth of arrested development.
The town of Moab has an odd but enticing vibe. The rocks, buttes, rivers, and trails have made it an obvious epicenter for serious outdoor athletes—mountain bikers, climbers, river runners, paddle boarders, ultra runners, sky divers, and BASE jumpers—but it's just as popular with arch-obsessed tourists who only want to hike a few miles or go Jeepin' through the desert. It was too cold and the girls were still too young to do any real mountain biking while we were there, but we were content joining the hiking tourists on the trails.
The next day, we drove 45 minutes to Arches National Park and made the must-do three-mile trek to Delicate Arch and back, then clambered around the base of Double Arch, crazy interlocking spans in the Windows section of the park.
Afterwards we drove into Moab for a late lunch of Frito pie and strawberry milkshakes at Milt's Stop & Eat, a cramped but cozy 1950s-era lunch counter swarming with down-clad climbers and mountain bikers, dusty like us from the day's adventures.
On our last morning in Moab, we hiked two miles up Negro Bill Canyon, following the rushing creek to Morning Glory Arch; a quarter mile in we glimpsed tiny figures atop the 300-foot canyon wall. Squinting, we thought they were setting up a rappel, but then the air cracked with a thunderous clap—a BASE jumper's parachute snapping open, and echoing off the walls. The jumper sailed overhead, and landed across the creek in a small patch of grass. One by one, the trio of jumpers threw themselves off the cliff above us, black dots suspended in mid air for second, maybe three, followed by the whoosh of the chute. The girls, slack jawed, craned their necks and watched them drift back to earth, a sight—like the long weekend itself—none of us would soon forget.
Sure there were a few downsides to our DIY adventure holiday. Thanksgiving dinner at Sorrel River's restaurant was spiffy and delicious, but it felt a little strange to order turkey and pumpkin pie off a menu, while back East and in Santa Fe, our families and friends were gathering for their own convivial, home cooked dinners. 
The weather was uncharacteristically cold and grey for Moab, the slate sky muting the usually vibrant red cliffs. But somehow the fact we didn't see the sun for three days felt strangely appropriate and deeply familiar—an homage to so many East Coast Thanksgivings. 
There was the usual daughter drama, too: Maisy ate one too many s'mores charred over the ranch's riverside fire pit and threw up all night. The girls, excited as always to stay in a hotel, got up each morning before dawn, and Steve and I took turns hiding under the covers and shushing them frantically so they wouldn't wake the neighbors. Such is life—we'd long since learned that adventuring with kids is not a vacation. It's a trip. In every sense of the word.
But without a doubt, we'd gotten what we'd come for: five days of family togetherness outside, uninterrupted by work schedules, deadlines, or social engagements; quality play time in the wild Utah desert; and even some riverside R&R to read, write, and play cards. It was the perfect mix of active and restful, and we had so much to be thankful for. Adventure is our Thanksgiving tradition now.
Sorrel River Ranch winter rates: doubles from $329, family cabins from $529; sorrelriver.com
Trending on Outside Online