Sponsor Content: Visit Montana
Explore Montana's Badlands and Battlefields
Follow this meandering point-to-point tour through Southeast Montana's most otherworldly and storied landscapes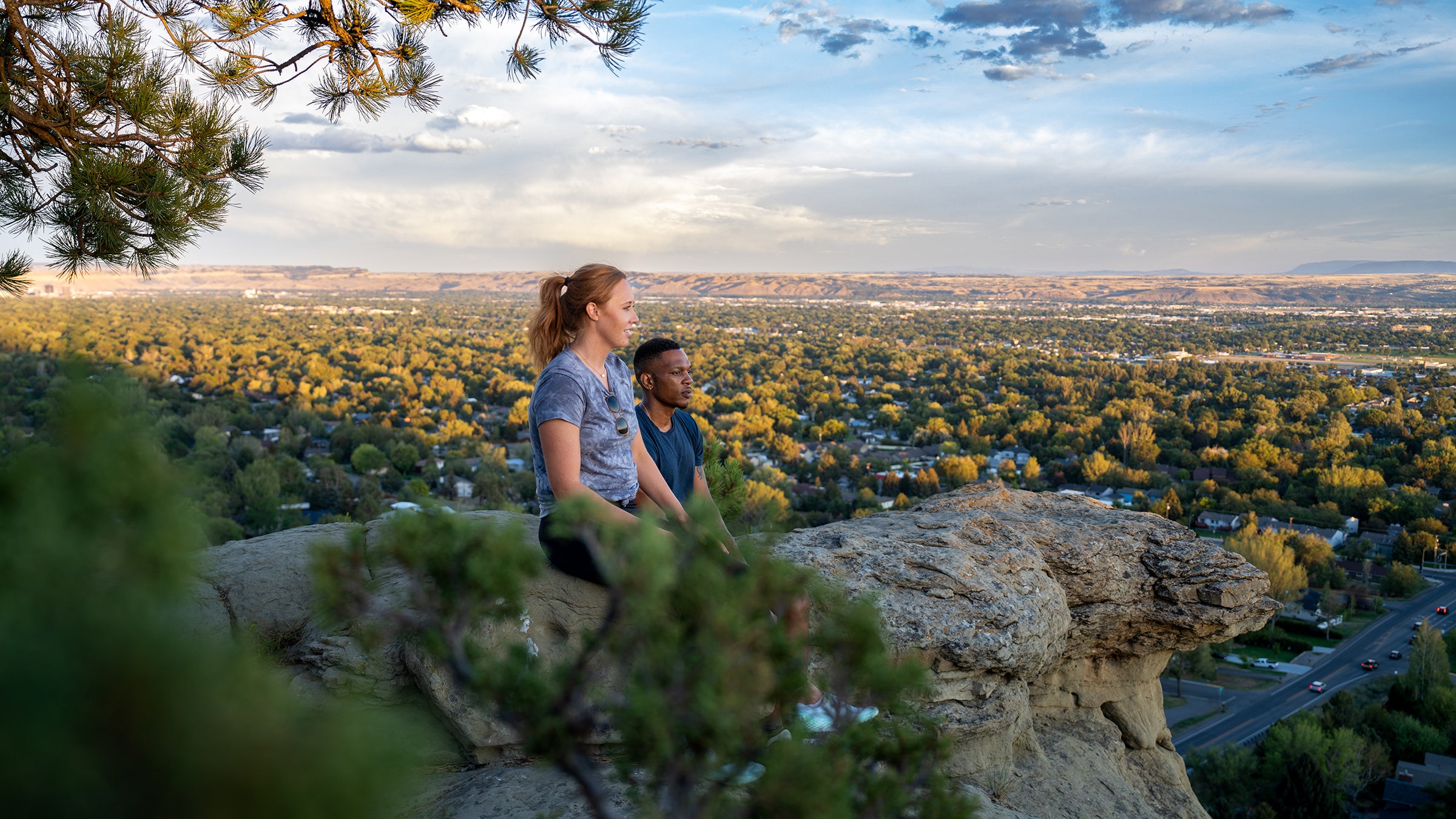 Visit Montana
A trip through Southeast Montana is like traveling through history. Here, wide-open roads transport you from Billings, a thriving modern city, to as far back in time as you want to go—from old western cattle-trading towns to Native American battlefields to otherworldly landscapes where dinosaurs once roamed. Along the way, opportunities for adventure and cultural immersion abound.
Billings
Situated on the banks of the Yellowstone River, Montana's most populous city is also its cultural and economic hub. Translation: it's the ultimate place to start, end, or spend an entire Southeast Montana getaway. Find your bearings with a hike or mountain bike ride along Billings's iconic Rimrocks—sandstone cliffs that rise hundreds of feet above the city—starting from Zimmerman Park. Because the trailhead is located on top of the Rimrocks, visitors will find the views of five nearby mountain ranges, the Yellowstone River Valley, and downtown Billings as easy to come by as they are stunning—especially at sunrise or sunset.
Nearby, at Pictograph Cave State Park (open Wednesday through Sunday), follow the three-quarter-mile-long interpretive trail past three caves adorned with more than 100 pieces of the park's namesake artwork, the oldest of which dates back more than 2,000 years. Come prepared with binoculars for the best look at these ancient artworks, which are believed to have been created by nomadic hunters.
Back in downtown Billings, steep yourself in the town's unique blend of Old West and modern cultures. When it opened in 1964, the Yellowstone Art Museum (YAM) was the first museum in the region to focus its collections on contemporary art. That tradition continues today, with an extensive permanent collection and rotating exhibitions by contemporary artists from the American northwest and northern Rockies. For the most immersive experience, book a guided group tour led by one of YAM's docents (60 minutes, from $5). And don't miss the Visible Vault, an innovative detached facility where visitors can admire YAM's permanent collection.
Eat, Drink & Stay: Start your day with a chorizo burrito and coffee at Rail Line Coffee. Later, order a quenching Staycation IPA and catch some live music at Thirsty Street Brewing Company @ the Garage (a stop along Billings's Walkable Brewery Trail). For a taste of what's in season, pop into Fieldhouse, a scratch kitchen with a menu featuring locally sourced ingredients and a focus on freshness. Bed down at the recently restored Northern Hotel, which has been offering Billings visitors a healthy dose of "unpretentious luxury" since 1904.
Pompeys Pillar and Little Bighorn Battlefield
Just 30 minutes east of Billings is one of Montana's most historically significant points: Pompeys Pillar National Monument. This 120-foot-tall sandstone tower, now a protected national monument, bears the markings of the Indigenous peoples who utilized it as an observation point and ritual site for the past 11,000 years and to whom it remains an important spiritual site today. On July 25, 1806, William Clark and his team stopped here during their Yellowstone River exploration. Clark inscribed the pillar with his name—the carving, still visible today, is believed to be the last remaining physical evidence from the Lewis and Clark Expedition. The natural monolith, which Clark is said to have named for Sacagawea's son, whose nickname was "Pomp," is known to the Apsáalooke (Crow) people as Iishiia Anaache, or Place Where the Mountain Lion Dwells.
A short drive south of Pompeys Pillar is Little Bighorn Battlefield National Monument, another site that tells the complicated history of America's western expansion and displacement of Indigenous peoples. The monument commemorates the infamous battle in which warriors from multiple northern plains tribes defeated the U.S. Army's 7th Regiment of the Cavalry—known today as the Battle of Little Bighorn. During your visit, try to catch one of two ranger-led historical presentations (these talks are unscheduled but typically take place midmorning and midafternoon) before visiting the park's two main memorials: the Indian Memorial and the 7th Cavalry Memorial. For the most immersive experience, book a guided tour in advance through Apsáalooke Tours (available Memorial Day through Labor Day).
Medicine Rocks State Park
A visit to Medicine Rocks State Park is like a trip to another planet. Out-of-this-world formations—sandstone deposits left by a retreating inland sea that covered the northern Great Plains some 60 million years ago—jut up from a ponderosa-dotted ridgeline in what today is a vast ocean of grassland prairie. The park's seclusion makes it one of the best places in the country to view dark skies (see the Dark Skies and Wildlife road trip, on page 12, for more info). But it's also an incredible venue for serene nature hikes, birding, wildlife photography, family camping, and more. However you choose to explore the park, plan your outing around sunrise and sunset, when low-angle light brings out the pockmarked texture of Medicine Rocks and casts long shadows across the landscape.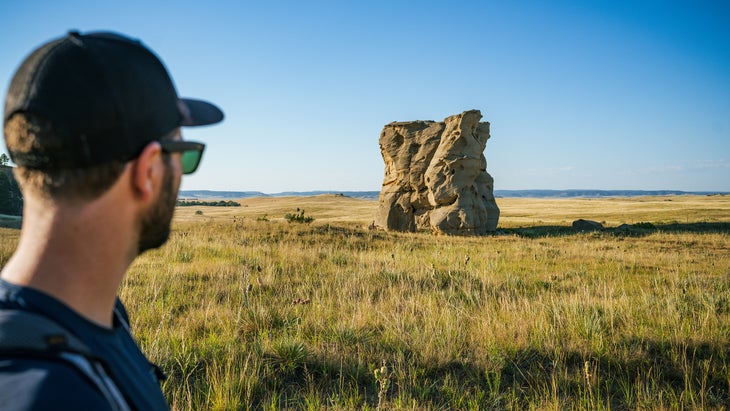 Eat & Stay: On your way from Billings to Ekalaka, stop for a slice or a sandwich at Seabeck Pizza and Subs in Broadus. In Ekalaka, just 20 minutes south of Medicine Rocks State Park, grab a burger at Dawg House Pub, part of the Southeast Montana Burger Trail, and stay at the Midway Motel or Guest House Motel.
Miles City
Miles City is the ideal image of a Western town. It's a community rooted in the livestock industry, where weekly cattle auctions continue today. (Nonbidding visitors are welcome to drop in.) It's a place where you can have a pair of cowboy boots or a saddle custom made to your specifications. On Main Street, experience that legacy of leatherworking for yourself—head upstairs at Miles City Saddlery to view the store's centuries-old collection of saddles, or pop into Moran's Custom Leather to see where custom saddles and boots are still made today.
Eat & Drink: Pay a visit to the Montana Bar, the historic saloon attached to Tubb's Restaurant on Main Street and a stop along the Southeast Montana Burger Trail, and order a stuffed burger: the toppings and cheese are built right into the Grade A beef patty. Afterward, grab an award-winning beer at pinball-themed Tilt Würks Brew House or a glass of wine at Tongue River Winery.
Terry
Follow Interstate 94 and the Yellowstone River 40 miles northeast to Terry, where iconic badlands dominate the town's northern horizon. Hop on your gravel or mountain bike and ride six miles of empty two-track to the Terry Badlands Overlook, where you can watch the sunset from atop the sand castle–like cliffs. Or, if you have a high-clearance four-by-four, venture into the badlands on the Calypso Trail (impassable during periods of wet weather). Back in town, thumb your way through the extensive and eclectic book collection in the bookstore at the historic Kempton Hotel, Montana's oldest continuously operating hotel.
Makoshika State Park and Glendive
Makoshika (pronounced Ma-ko'-shi-ka), Montana's largest state park, often flies under the radar. But one visit is all it takes to see why the park is regarded as a crown jewel of Eastern Montana. Here, a landscape of otherworldly badlands and rugged coulees can be explored by foot, wheel, or hoof on an extensive trail system. Hike or run the rolling Hungry Joe Trail to a scenic overlook above Makoshika and Glendive (2.5 miles one way) before exploring the stunning Cap Rock Trail (0.5 mile round-trip), which leads to a natural bridge and past many of the park's iconic toadstool-shaped hoodoos. Kids, families, and dinophiles alike might find it difficult to venture past the park's visitor center, which is loaded with educational interpretive exhibits and prehistoric fossils, including a complete triceratops skull. And that's just the start—the park also offers camping, disc golf, and an archery range on site.
Looking for even more local history? Back in Glendive, head to the Frontier Gateway Museum and stroll along a replica of 1800s Merrill Street, Glendive's "Main Street." On modern-day Merrill, pop into Hell Creek Music and More, a quirky shop that's part instrument emporium, part music museum (multiple guitars autographed by Kiss band members are on display), and part dinosaur exhibit—a complete, 38-foot-long T. rex skeleton looms above the registers.
---
Visit Montana markets Montana's spectacular unspoiled nature, vibrant and charming small towns, breathtaking experiences, relaxing hospitality and competitive business climate to promote the state as a place to visit and do business.
Lead Photo: Visit Montana
Trending on Outside Online