The Family That Carries Their Life on Their Bikes
After quitting their jobs and selling their house, Coloradoans Erica and Mark Lighthiser packed it up—kids, dog, possessions—and started pedaling north. How far will their journey take them?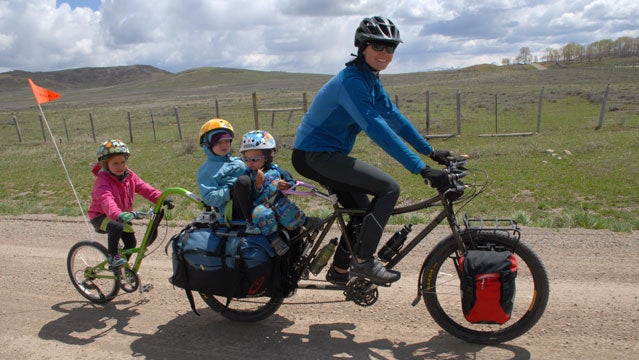 Erica and Mark Lighthiser(Photo)
Heading out the door? Read this article on the new Outside+ app available now on iOS devices for members! Download the app.
If you happened to be passing through Mancos, Colorado, on May 13, you might have seen Erica and Mark Lighthiser rolling out of town. You couldn't have missed them. They were the ones riding cargo bikes, towing a handmade gear trailer, three kids ages seven, five, and two, and a 90-pound dog.

Two of the little Lighthisers.

The family dog, Hayduke.

Mark Lighthiser.

The gear.
The family of five is now three weeks into a long-haul bike tour from southern Colorado north "towards Montana." They've averaged about 20 to 30 miles a day ("not much," admits Erica) and have humped over 11,000 foot passes.
But speed and mileage aren't their biggest priorities. "Touring with children isn't without considerable challenges, but urgency (unless fleeing from a hail storm) doesn't have to be one of them," they write on their blog, The Family Ride. "The idea here is to simply slow down and take it easy."
Friends of mine ran into them in Buena Vista in early June, and when I tracked them down by cell phone a few days later, they were catching their breath in Leadville, hoping to push on to Copper Mountain the next day—or eventually. "We were planning on going to Montana, but now we've fallen in love with Colorado," Erica told me. Their plans are loose, their loads are heavy, and their time is their own.
Raising Rippers: This seems crazy ambitious. How'd you come up with the idea?
Erica Lighthiser: Back in March, we decided to rent our house. I quit my job, and we put stuff in storage. Our plan was to go home to Montana, where we lived when we first got married. My husband was looking for work, and it came to me:  I didn't want to jump back into the rat race.
Had you done a lot of touring before this trip?
Before we had kids, we never tried it. We were into backpacking and summiting mountains, but that's hard to do with children. We wanted to find a way to have that same self-reliance, of carrying our own weight in the world. There's something great about learning to do it together.
When our older daughters were four and two, we rode around Washington. It was completely life-changing. It's such a wonderful way to travel. You're going so slowly. You can always put the kickstand down and talk to someone.
If it were just Mark and me, we'd have a destination mindset. But with kids, we have to keep it loose. At the end of two weeks, we thought we should be responsible parents, so we stopped, but we could have kept going. I wished we'd kept going.
What are you riding?
I have a Surly Big Dummy cargo bike [http://surlybikes.com] I can carry up to all three kids on it. Usually, I have Emmett, who's two, behind me, and then one of the older girls behind him. They have a safety strap and a handlebar rigged to the seat post. The third girl rides the Burly Piccolo trailer that we attached to the Big Dummy. Mark rides a Surly Long Haul Trucker with a Surly Bill trailer attached to it. It's a flat bed, and he turned it into a wagon. That's where Hayduke, our dog, rides. Sometimes our girls sit there, too, when we're on back roads going slowly, or when I need a break. It's good to have options.
How much do your bikes weigh?
That's a little scary to think about. I think, including our own weight, we're definitely in the 400-pound range. Mark has four panniers with our gear, and I have two. We try to keep it light, but I'm sure we could be lighter. We've already done one gear dump, in Gunnison, when my parents met us and we shed about 20 pounds. We all cram into a Big Agnes four-person tent that weighs about 7 pounds. Mark and I share a double sleeping bag, and Emmett sleeps between us. The girls each have their own.
With these kinds of loads, we go super slowly, one to two miles per hour up the steepest passes, maybe five to six miles per hour on steady climbs up a river valley. We didn't train that much. Two weeks before we left, we started riding up and down these rural roads near the house we were staying in.
And then there's Hayduke. He's a big dog!
We didn't bring him last time, and it made it that much harder for us to keep going. It makes you feel bad, leaving the dog behind. For this trip, we wanted to be self-contained. He's part of the family, and we were going so heavy anyway. When we're going up a steep climb, he gets out and walks or runs next to the trailer. 
Do you worry about riding in traffic?
Ideally, we'd be able to travel on dirt roads, but that's not always possible with our loads. Granite to Leadville on Highway 24 was super sketchy. My husband rode behind the kids and me. He rings his bell two times if a car is coming behind us and three times if it looks like it's going to be close, and we just pull over to the side. 
Where do you stay?
Mostly we're camping. If we're rolling through a town, we almost always get offered a place to stay or a yard to crash in. We usually get a shower every other day. It's almost always the middle-aged people who are worried about us and want to help. We got ferried over Monarch Pass.
It had been storming and hailing, and we were five miles below the pass when these people pulled up. Of course we accepted the ride. We're taking it all in stride. We're not completely married to the idea of riding from A to B.
What kinds of rides do you recommend for people who want to try bike touring with kids?
Maybe not tackling Colorado, with the big mountain passes, but there are plenty of flatter, kid-friendly routes on the West Coast they can do. There's also the Erie Canal, and a dirt trail across the Idaho panhandle. You can do a weekend, or a short trip and still have the same experiences. The only thing you miss is the serendipity of being able to stay in one place longer when you're not on a strict schedule.
Are your kids psyched?
I wouldn't say psyched, but this is their reality now. They're outdoors all the time, meeting new people. They're very social on this trip. It's shaping them. It's teaching them to adapt. It's giving them faith in people and showing them how wonderful the world we live in is. I want them to grow up knowing people will help them. You see nothing but the best of people. People of all stripes. You realize that we're all pretty much the same.
Lead Photo: Erica and Mark Lighthiser
Trending on Outside Online