Throw Your Kids a Quarantine Campout
Set up a tent, turn off your screens, and enjoy some family bonding—without leaving home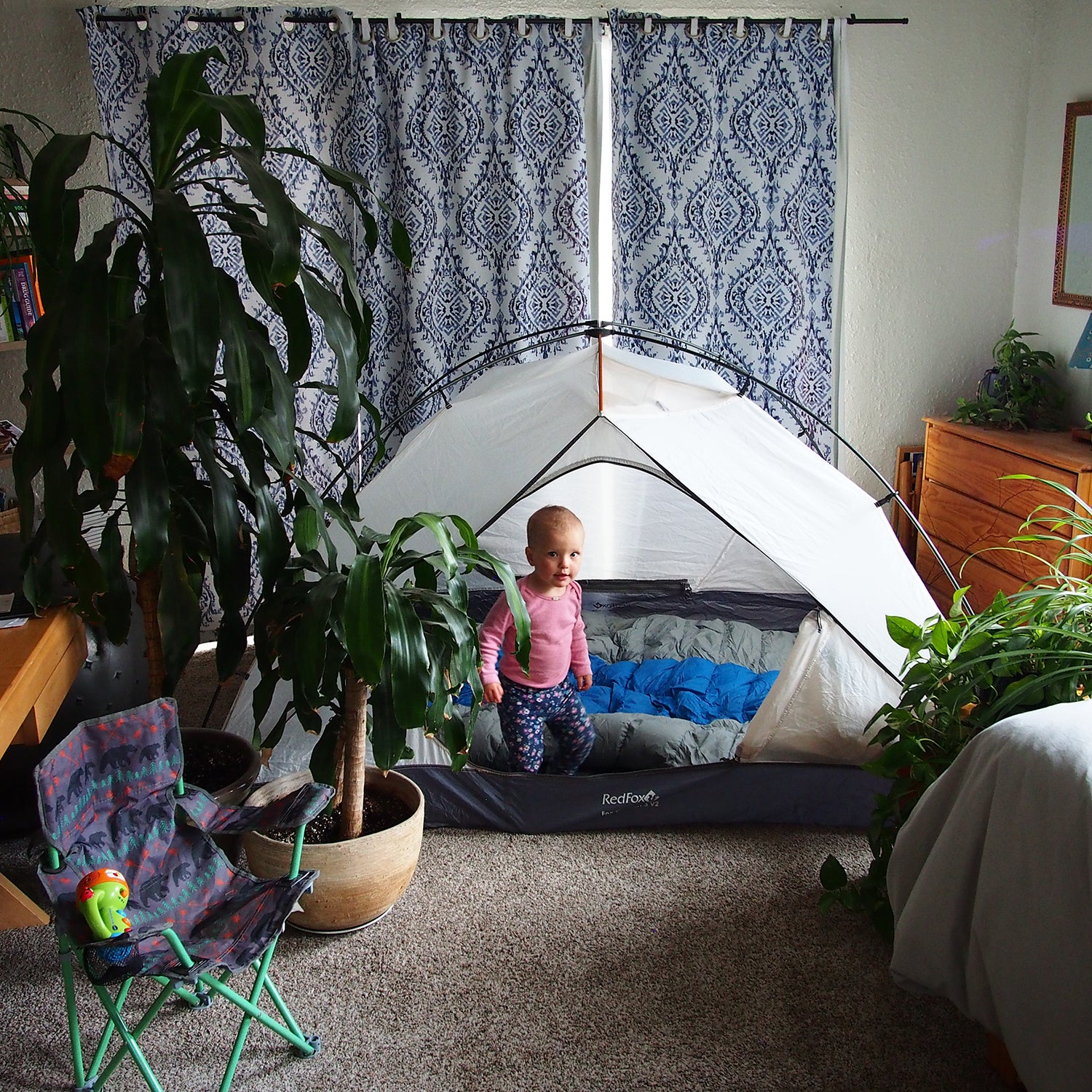 Krista Langlois(Photo)
Heading out the door? Read this article on the new Outside+ app available now on iOS devices for members! Download the app.
It was day four of quarantine. Or maybe day three. Or five. It's hard to say, since the days all blend together now. Regardless, my husband, Jesse, had the day off from the emergency room where he's a nurse, and since my work as a freelance journalist has also dried up, we were both home with our two-year-old, Josephine. Bedtime was hours away, and we were running out of toys. So we decided to have a dance party. We pulled down the shades, turned on some blinking lights, and began jumping around to Katy Perry songs like crazy people. 
Josephine was overjoyed—partially because we were blasting pop music at an unprecedented volume, but also because both her parents were paying attention to her at the same time. Normally, it's rare for all three of us to be home together. Weekdays find us rushing out the door to get to work or day care or errands or playdates, or else Jesse and I take turns watching Jo while the other squeezes in some exercise, makes dinner, or takes a work call. In fact, the only time we tend to completely clear our schedule for extended family bonding is when we're doing something outdoors, like camping or hiking. We make lifelong memories on those trips, not just because we're outside in beautiful places but because we're intentionally present as a family. Before the pandemic, quality time together required lots of planning ahead. Now, due to a statewide stay-at-home order, we are together often but our favorite outdoor activities are out of the question for the foreseeable future. 
I realized that if we wanted more of the unplugged, mindful togetherness we usually get through camping, we'd have to create it ourselves—at home. After all, I can only handle so much toddler dance music. So last week, I began plotting our first quarantine campout.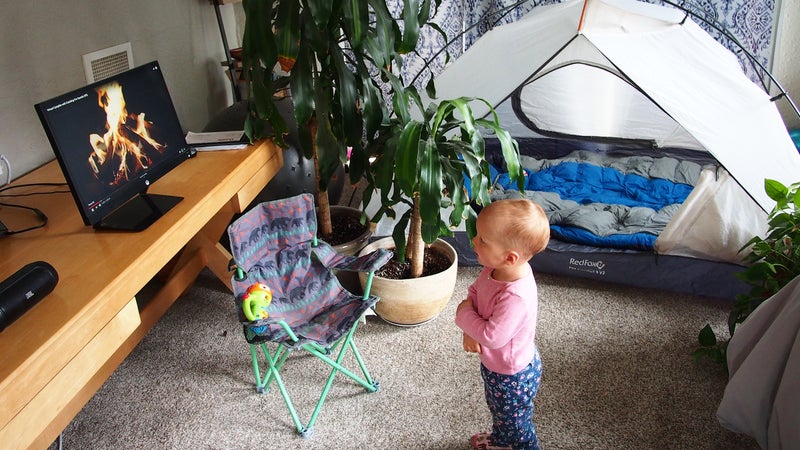 I started by blocking out a time when we'd all be home with nothing on our schedule (that's easier said than done, even during a lockdown). I cleared the small army of plastic toys that had taken up residence in our office/playroom and stashed them in a closet. We have a few special toys that only come out on camping trips, like a flashlight that makes animal sounds, so I took those out, too. Finally, I set up our tent and arranged a bunch of indoor plants around it, going for the illusion that we were camping in a jungle.
If you have a backyard and the weather is warm enough, putting your tent outside is a great option, too. And if you don't have a tent, or yours won't fit in your space, get creative—try hanging a guyline between two walls or pieces of furniture, draping a sheet over it, and staking down the corners with books or bags of rice or dried beans. You can also make a fort out of pillow cushions and blankets and call it your "camping cave."
Another important step is to turn off your Wi-Fi or hide your screens. No phones, no computers, no news, no distractions. Just like with real camping, the goal is to emerge refreshed and rejuvenated—and it's hard to do that with a phone in your back pocket serving up constant pandemic updates. If that seems challenging, decide in advance how long your imaginary camping trip will last. Even half an hour counts, if that's all you have time for. We chose to make two strategic exceptions to the technology rule: we'd use a phone to stream nature sounds via a speaker, and we'd turn our desktop computer monitor into a virtual campfire.
While there are several apps that stream generic nature sounds, I've fallen in love with the Soundcloud page of Gavia Immer (the Latin name for the common loon). That's the pseudonym of Jacob Job, a natural-sounds recordist at Colorado State University who also works with the national parks. He travels the country taping soundscapes from specific places and then compiles them into curated collections ("Elk Rut and Rain Shower, Rocky Mountain National Park"). The tracks are beautiful, calming, and utterly transporting. If you can have a fire in your backyard or fireplace, go for it. But turning your TV or computer screen into a virtual campfire is also a great way to set the mood.
And what's a campfire without s'mores? Use this excellent Food Network recipe to make them in your oven if you have the ingredients on hand. Otherwise, anything sweet will do—we made our gooey chocolate-chip cookies from ingredients already on hand and ate them in camp chairs in front of our indoor tent. 
Last, try to go for a walk before kicking things off—getting some fresh air will help you and your kids relax and mentally reset. Our family is lucky enough to have uncrowded trails nearby, so on the day of our quarantine campout, my family set off on a three-mile loop. Jo ran down the trail, scrambled up rocks, examined pine cones, and pointed out things that most adults overlook: water dripping onto moss, for example, or the texture of a stump riddled with insect holes. If you're in a city, taking a stroll around the neighborhood works just as well. (No matter where you are, be sure to adhere to the social-distancing protocols that your area has in place.)
With our eyes newly opened to the beauty right outside our door, we returned to our indoor campsite and gorged on freshly baked cookies. We galumphed around the tent, playing like we were bears and moose, and we looked out the window to see if we could spot other "wild animals." (We saw a woman walking her dog.) We snuggled in our sleeping bags and pretended to hide from a rainstorm. There were a million things I needed to do—start dinner, sign a contract, respond to email—but I set my to-do list aside and tried to be be fully present. If Josephine could give me the gift of noticing water dripping onto moss, I figured I could give her a couple hours of undivided attention.
At one point, Jo asked for the iPad, a request that's becoming more frequent the longer we're in quarantine. Sometimes telling her no is enough to set off a toddler tantrum, but this time, she didn't seem to care. Her question was half-hearted anyway, more like a reflex than an actual request—and when we reminded her that we were camping, she dove back into the tent and wrapped herself in her sleeping bag. We read books while listening to a recording of rain falling in Rocky Mountain National Park. It may not have been as good as hearing a real storm in a real park, but Jo didn't seem to mind. We were together as a family, and we were healthy and safe. That's always worth setting aside some time to celebrate.
Lead Photo: Krista Langlois
Trending on Outside Online