Family Summer Trips: Rafting the Wallowa and Grande Ronde Rivers
A writer searches for kid-friendly whitewater in Oregon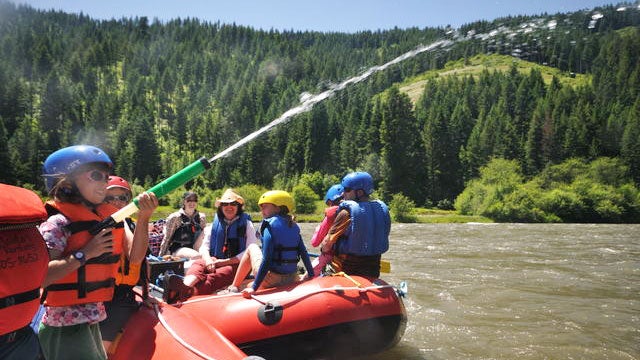 Heading out the door? Read this article on the new Outside+ app available now on iOS devices for members! Download the app.
Finding DIY wilderness rivers that are tame enough to take little ones down can be challenging. You want mostly flatwater runs, punctuated by gentle rapids just splashy enough to make things exciting. Warm water and sand bars will make the trip feel beachy; mosquitoes won't. Remoteness can be a plus if you want a break from cell phones and signs of civilization (though you'll need to assess your comfort with being out of range for days at a time), as long as you can find a company or a couple of friends willing to shuttle your vehicles from the put-in to the takeout. Lottery-issued permits keep the hordes away, but make winning a launch date more challenging.
Adventurer, father-of-two, and author of the outdoor blog The Big Outside Michael Lanza recently discovered family rafting nirvana on the Wallowa and Grande Ronde Rivers, a 45-mile stretch of Class II-III whitewater in northeast Oregon. Spanning ponderosa pine forests and desert canyons, the three-day trip is runnable into early summer, but even then, the water is frigid. Good thing the days are usually sunny and hot. Permits are self-issued, meaning you won't have to win the lottery to run these rivers. There's plenty of room for fly-fishing and water fights, and, at least on Lanza's trip, just enough surprises to keep things interesting:
The Wallowa River hisses and slithers past us like a fat snake with ill intentions. An urgent line of muscular waves emits a constant, low rumble on this June morning at the launch site in the tiny burg of Minam, Oregon. The outfitter who rented us our rafts informs us that this waterway and the Grand Ronde River, which we will enter nine miles downstream, are running high enough to whisk our two rafts down the course of this 45-mile, normally three-day stretch of whitewater in just 10 hours.

Then he tells us that the first bit of technical whitewater we'll encounter, Minam Roller Rapids, has flipped several rafts in recent days—and its hole is "guaranteed" to toss us into the frigid, snowmelt-fed water, too, if we fail to make the turn there hugging the right riverbank tightly. That grabs our attention in a hurry.
Read the rest of his story on his blog, The Big Outside. To find more of our favorite self-guided whitewater trips fit for the whole family, check out our guide to scoring permits here. Or, just try one of these classics:
Rio Chama, New Mexico
Rogue River, Oregon
Green River through Stillwater and Labyrinth canyons, Utah
Lower Salmon River, Idaho
Lead Photo: Picasa