The 9 Most Famous Adventure Dogs
Sometimes the greatest outdoors companion comes with four legs, a tail, and a whole lot of wet kisses
Heading out the door? Read this article on the new Outside+ app available now on iOS devices for members! Download the app.
Fearless, enthusiastic, and down for anything, these dogs share all kinds of adventures with their equally active humans. Whether you're looking for pugs sunbathing at the climbing crag, golden retrievers snowboarding down steeps, or fluffy mutts hitching rides on bicycles, you'll want to know these dogs—and follow their very active social media handles. The quirky bonds shared between human and dog has never been so inspiring, not to mention so damn cute.
---
Kicker
Owner: Athlete and photographer Andrew Muse
Breed: Golden retriever
Age: 1.5
Sex: Male
Follow Them: @andrew_muse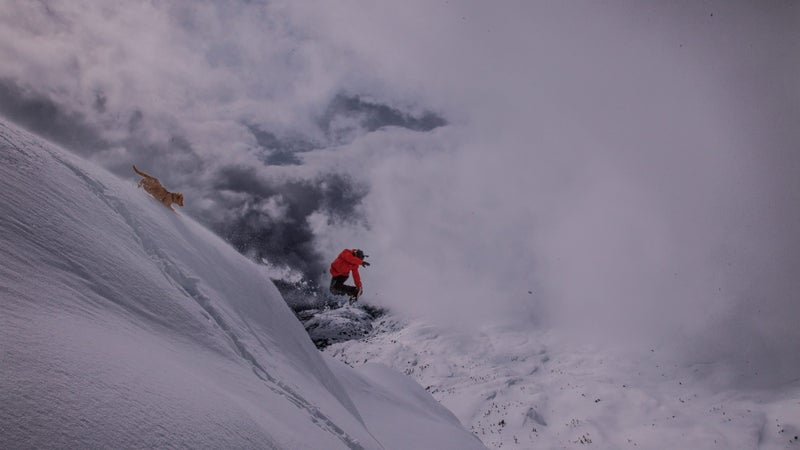 How They Found Each Other: "It's a tragic story with a happy ending. In 2015, I was on the road trip of a lifetime, filming a six-month, 12-episode series around the western states called Tiny Home Adventure with my previous and equally legendary dog, Booter. The journey was also taxing, with strict self-imposed deadlines and exterior obligations. On my way home to Utah, I ended up falling asleep behind the wheel and rear-ending an 18-wheeler. I lost everything—my home, my vehicle, my belongings, and my best friend, Booter. At the scene of my accident, I refused care and demanded that the paramedics help Booter instead, but he died in my arms.
"One of the firefighters came to me with a blanket and said, 'I'm so sorry. I get it, man. I have six dogs.' He was the only person at the scene of the accident who I connected with, and he helped me through the worst day of my life. I ended up getting his information so I could later show him the adventures I had with Booter. After almost two months of steady communication with him, he called me to say that his family now breeds golden retrievers, and that they had a puppy for me when I was ready. Once my life was stable enough, I took him up on the offer. They gave me a pick of the litter, which was incredibly difficult—I spent over four hours at their house trying to decide."
Best Times: "While I was rebuilding my life, GoPro picked up season two of Tiny Home Adventure. Kicker and I spent an epic eight months on the road in 2016. He spent his puppy years living in a van with me in Alaska, riding big mountain lines and going on all kinds of other wild adventures."
Secret Talent: "Kicker's secret talent is being willing and trusting of me in literally any scenario—backcountry snowboarding, kiteboarding, paragliding, rock climbing, camping, skateboarding, you name it."
---
Cajun
Owner: Climber Steph Davis
Breed: Seems to be a mix of a border collie, Australian shepherd, and maybe a bit of heeler.
Age: About 6
Sex: Female
Follow Them: @highsteph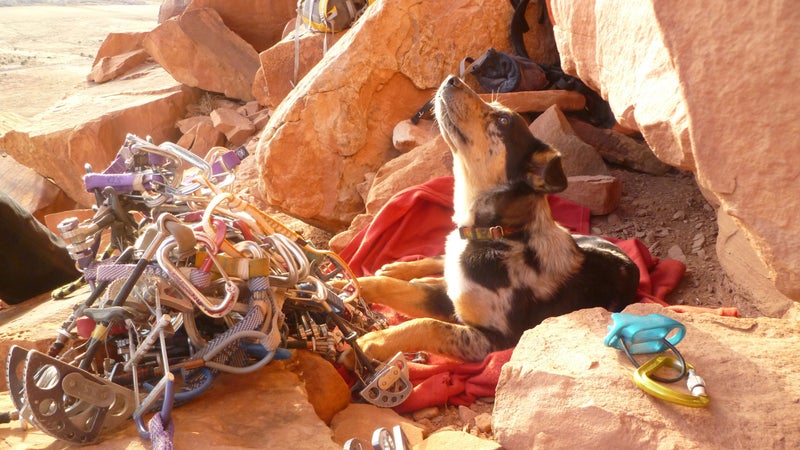 How They Found Each Other: "Cajun was picked up on the Navajo reservation by a neighbor working on electrical towers. It appeared she'd been dumped out of a truck. Cajun came running to his car, jumped in, and was brought to Moab and put up on Facebook for adoption. I really didn't want a puppy, but at a certain point, how picky can you be? I was looking for a rez dog, and she was looking for a human. She was probably around three months old when I got her."
Best Times: "Cajun is incredibly energetic and athletic, and she likes to be together all the time. Normally we spend every waking moment of the day together, but the longest we are ever apart is maybe an hour or two. She loves running and skate skiing. I take her BASE jumping with me almost daily: we'll walk up together, and she'll run down to meet me after my jump. (Even if it took us an hour to hike down, she can get down in about 12 minutes—she's a Velcro dog, meaning she wants to be attached to me at all times.) That said, Cajun probably likes running and skate skiing better, because then we are together the whole time."
Secret Talent: "If you toss a piece of grass or snow, she leaps up in the air and does barrel flips in either direction."
---
Loki
Owners: Photographer Kelly Lund
Breed: Mix of wolf and malamute—a low-content wolf dog
Age: 4
Sex: Male
Follow Them: @loki_the_wolfdog and @shark_toof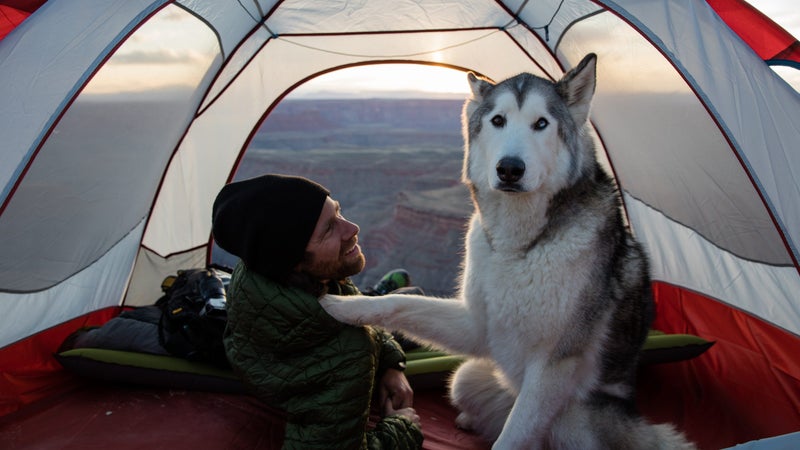 How They Found Each Other: "Loki came from a small breeder in Utah. He was eight weeks old when I picked him up. The trip should've taken seven hours one way, but because of a heavy blizzard, it was about 14 hours each way. I didn't mind a bit, though. I'm pretty sure I just had a perma-grin on my face during the entire 28-hour trip."
Best Times: "Our favorite thing by far is backcountry snowboarding. We both get great exercise sticking to low-angled slopes. (The steeper slopes are rough on his joints.)"
Secret Talent: "Loki can 'pound it' quite well if you stick your fist out for him."
---
Aspen
Owners: Media gurus Hunter and Sarah Lawrence
Breed: Golden retriever
Age: 5
Sex: Male
Follow Them: @aspenthemountainpup, @hunter_lawrence, and @sarah_michelle_lawrence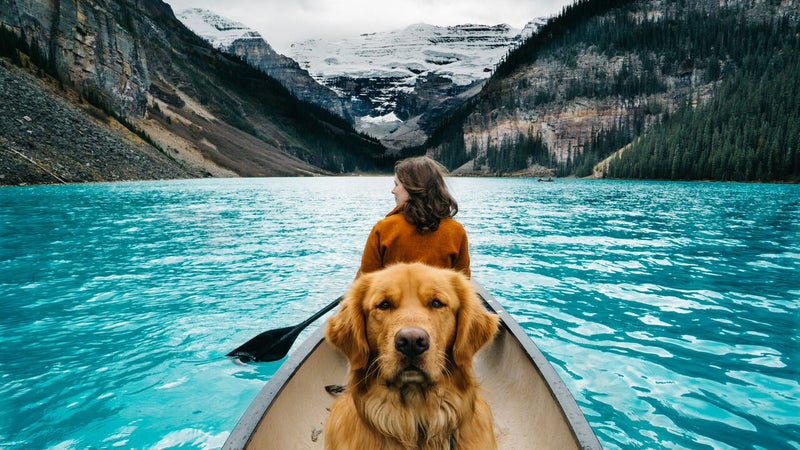 How They Found Each Other: "I got Aspen on Thanksgiving Day, 2011. I'd always wanted a golden retriever and happened to find an online ad for a litter of puppies located near my hometown. Without hesitation, I jumped in my car. At six weeks old, Aspen was the biggest of his litter. Love at first sight, to say the least."
Best Times: "My wife and I took a road trip from Denver up to Canada and through Washington and Oregon a year or so ago. It was such a blast camping with Aspen in some really amazing places."
Secret Talent: "Aspen can out-hug anybody. Within moments of meeting him, he'll give the biggest bear hug you've ever seen. He's the most lovable, well-mannered pup we've ever been around, and I don't think we're biased [laughs]."
---
Gus
Owners: Climbers Cedar Wright and Nellie Milfeld
Breed: Pug
Age: 12 and going strong
Sex: Male
Follow Them: @allterrainpug and @cedarwright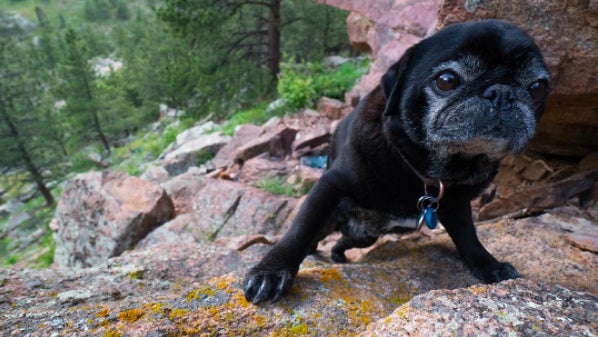 How They Found Each Other: "Gus came into my life [when he was about four years old] via my wife, who adopted him after a short career as a show pug, where he won several blue ribbons. I've been told he has 'perfect pug features.'"
Best Times: "Gus' favorite things are naps, food, sending the gnar, and more food. But together, Gus loves to come climbing with me and my wife. We have brought him across tyroleans—free spaces between two high points on a rope—rappelled with him into remote crags, and hauled him in haul bags on various adventures. That's how he got his nickname: All Terrain Pug, or ATP for short.
"My favorite and worst memory with Gus was during a climbing trip at a remote high-altitude crag called the Monastery in Colorado. He wandered off and was nowhere to be found. I called and searched for him until the sun went down, pretty sure he'd been eaten by a mountain lion, coyote, or eagle. The next day came, and I still couldn't find him. I was devastated—every time I saw his leash or dog bed, I cried. It was horrible. Seven days later, Gus was found 25 miles from where I'd last seen him—at a vacation cabin. Gus survived solo in the rugged wilderness for seven days. That really cemented his ATP legend."
Secret Talents: "Gus has many talents. He can climb P-14, as well as roll over, sit, shake. He also is good at sniffing on things, peeing on them, and sniffing them again."
---
Peanut
Owner: Sports dietitian Alex Borsuk
Breed: Border collie mix
Age: 6
Sex: Male
Follow Them: @alexborsuk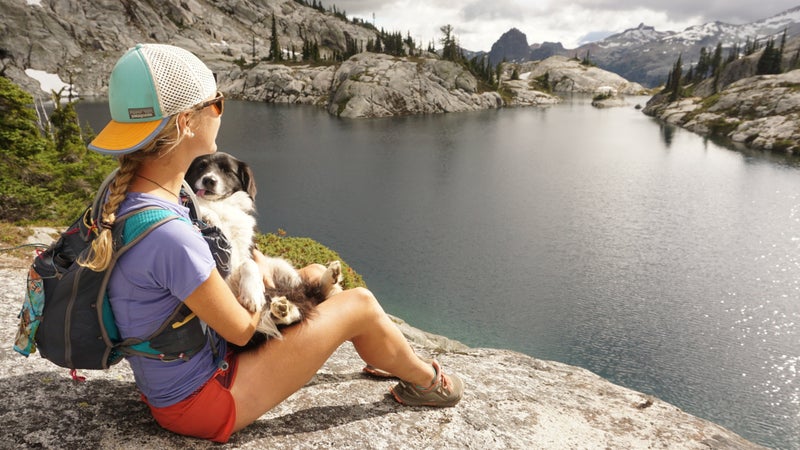 How They Found Each Other: "I met Peanut as a college student, over five years ago, while trail running along remote hills in southern Ohio. He was a stray, and I decided to take him home. Never having had a dog before, I really didn't know what to do with this tiny, furry creature. During our first week together, I fed him a lot of brown rice and sweet potatoes. He was spoiled from the get-go. When I had to bike to class or work, I'd throw him in my backpack and bring him with me. Ever since, we've done everything together."
Best Times: "It depends on the season. In the summer, we love trail running together. Peanut has quite the endurance and has completed his fair share of ultramarathon distances. In the winter, we love to ski tour together. He's my dawn-patrol buddy and has summited many mountains, including Mount Hood, Mount Adams, and Mount St. Helens. We both love the ski descent, and he keeps up with me turn for turn. When conditions aren't great or there's some sort of multipitch rock climbing involved, he loves going for a ride in my backpack—this dog can't say no to a summit bid."
Secret Talents: "Peanut can do one heck of a high-five, but I would say his greatest strength lies in his ability to climb 5.2. He has been known to scramble up rocks that a normal human might rope up for."
---
Baloo
Owners: Filmmakers Taylor Rees and Renan Ozturk
Breed: Half husky, quarter malamute, quarter timberwolf
Age: 2
Sex: Male
Follow Them: @baloointhewild and @taylorfreesolo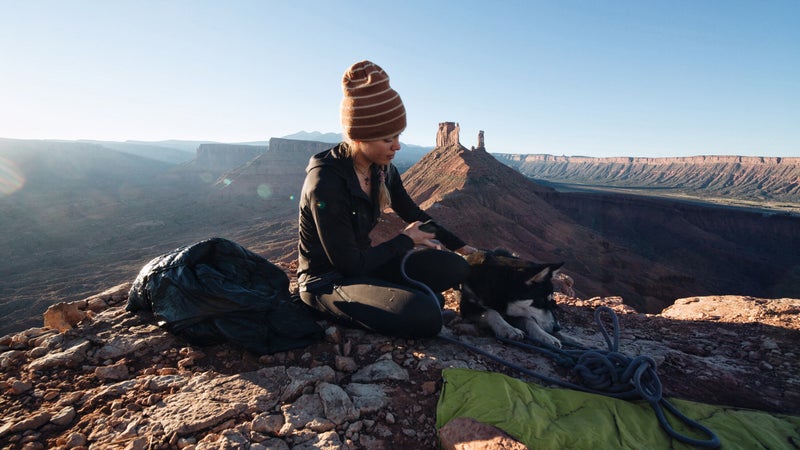 How They Found Each Other: "The one thing Renan and I knew going into being dog parents was that we travel for work and didn't want to take in a dog that could end up with severe separation anxiety. We wanted to raise a puppy from the very beginning. We also wanted a husky/malamute mix because we planned to bring him on long half-day bike rides, backcountry skis, and backpacking trips, so a dog breed meant for running for hours was the goal. We looked for months to find an eight-to-ten-week-old rescue husky but didn't have any luck, so we found a litter of husky mixes in Utah. Our friend and neighbor Rudy also got a husky-mix puppy at the same time, and they now spend all their days together, we babysit his husky Zulu during the day, every day, while our neighbor is at work, and he takes care of Baloo when we are out of town."
Best Times: "Our favorite thing to do with Baloo is run wild. He loves to mountain bike and alpine ski. He finds it amusing when he can leap out of trees onto a trail right in front of us, making us eat dirt. When we don't take him out for his daily woodland adventures, Baloo takes himself—ever since he figured out how to twist open deadlocks on our doors and open them.
"One of our earliest memories of raising Baloo was when he was struck with giardia as a few-months-old puppy. Despite treatment, it lasted for months, resulting in a temporary nickname: Baloo the Poo. During his sickness, Telluride Mountainfilm invited Renan and me to show our film Down to Nothing, and there was a filmmakers' dinner the night before. Prior to the event, Renan and I took turns running Baloo down our resort's three flights of stairs because Baloo was still having runny poo explosions every 30 minutes. Well, one of Renan's turns didn't end well, and Baloo covered him and the hotel stairwell in Baloo poo. We didn't have time to clean up, so Renan washed his hands and sprayed himself with some perfume. In the car on the way to dinner, Renan felt it was better to douse his skin and clothes in tequila in an attempt to cover up the smell of poop and perfume. Needless to say, we arrived to the filmmakers' dinner in style."
Secret Talents: "Baloo has a few secret talents. One is the 'hover,' where upon running down steep power slopes, if he hits a jump, he can hover-fly for 20 feet. He must be using pixie dust." (Watch here.)
---
Nori
Owner: Photographer and filmmaker Ben Moon
Breed: "Probably a little bit of collie, shepherd, and husky. Some say she has a coyote's tail, too."
Age: Under one year
Sex: Female
Follow Them: @ben_moon and @noribythesea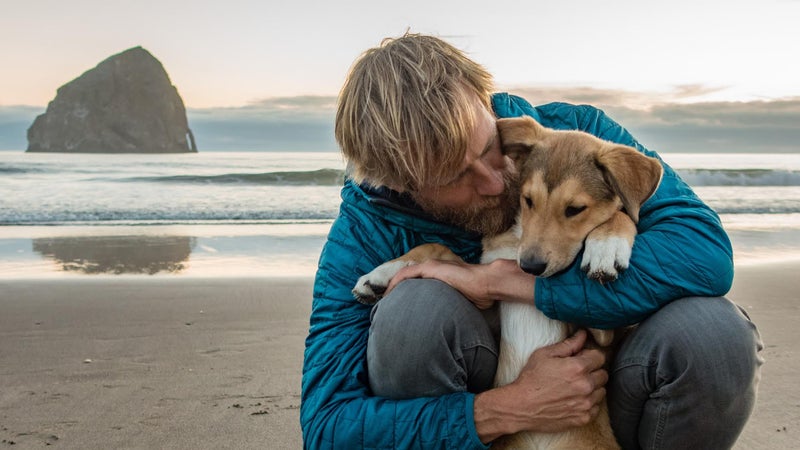 How They Found Each Other: "Nori was originally rescued with three siblings and their feral mom in the desert east of Los Angeles. I knew I definitely wanted to adopt a rescue pup, as there are so many amazing dogs out there that need a home. Mixes are wonderful, and I love observing their personality unfold. That mystery is so much more interesting than choosing the 'perfect' breed."
Best Times: "Nori might have been born in the desert, but she absolutely loves the coastal life here in Oregon. It's a quick walk to the beach from our house, so she gets to play there every day.
"One of my favorite memories with Nori is from this winter, during a road trip to Baja. I was surfing a remote point break, and she would romp up and down the beach, occasionally stopping to let out a long howl to let me know she was there waiting for me."
Secret Talent: "Nori has an innate climbing ability—especially for a larger dog. Whether it's a sheer rock scramble or a steep beach cliff, she seems to relish figuring out how to get to the top."
---
Milly
Owners: Ultrarunner Dylan Bowman and Harmony Teitsworth
Breed: German shorthaired pointer (GSP)
Age: 2.5
Sex: Female
Follow Them: @dylanbo and @millyofthevalley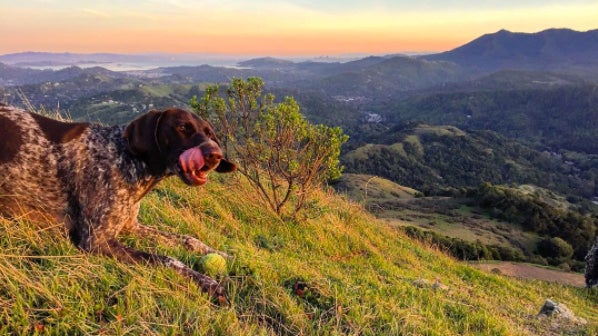 How They Found Each Other: "We got Milly from a well-respected breeder in Esparto, California, in September 2014. We've become good friends with the breeder, so when we go out of town, Milly gets to go there and play with her biological parents and siblings."
Best Times: "Our favorite thing to do together is trail running. GSPs are very athletic, high-energy dogs that need lots of exercise. Milly joins either me or my fiancée for a run almost every day. The longest she's gone is about four hours, but most runs are between 30 and 90 minutes. We've been careful not to overload her so we can ensure she has a long and healthy running career. I also work from home, so we get to spend almost every waking (and sleeping) moment together. It's a good life.
"One time we were running through our neighborhood when I noticed that Milly kept glancing back at something. I turned around and realized a young deer was running behind us, trailing by about 15 to 20 feet. It was pretty surprising but nonthreatening, so we just continued running back toward our house. After a couple minutes, with the deer still following us, a guy in a Prius pulled out of his driveway and started driving behind the deer. The roads in our neighborhood are such that the Prius had no space to drive around and pass the three of us, so we were all in a line. For another half-mile, the deer continued following Milly, though still separated by a safe distance. I could tell they were intrigued by one another. It was like they had some kind of connection—totally surreal. Eventually, as we got closer to the house, the deer got spooked and ran into someone's yard. At that point, the guy in the Prius drove passed and rolled down his window. We were both speechless, so we just shook our heads, failing to express in words how amazing the whole things was. It was probably the wildest five minutes of any run."
Secret Talent: "Millys running endurance is only matched by her swimming ability. It took her a while to learn, but now she absolutely loves it. The problem is she stays in the water so long that I get worried she'll fatigue herself and drown. On several occasions, I've had to swim out into cold water to get her attention and coax her back to shore."