Finding the Perfect Sporting Companion
Looking for a dog that makes a great family member at home but is also able to help out on the hunt or when fly fishing? There are five main categories of sporting dogs to consider.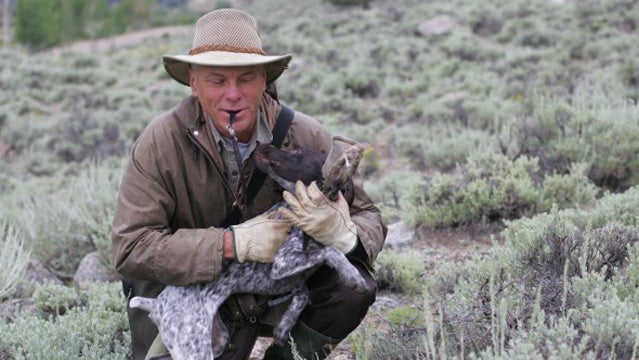 Heading out the door? Read this article on the new Outside+ app available now on iOS devices for members! Download the app.
The world of the versatile sporting dog is where we live daily at our facility—dogs capable of pricking waterfowl by morning and hunting upland birds in the afternoon that also possess the temperament to make a great family member that evening. Today, many sportsmen hunt a variety of game in various locations across the country. These enthusiasts also wish to have a companion for other outside pursuits and travel. The one-dog-fits-all objective is a tall order to fill for any animal, but there are breeds of sporting dogs and some select trainers producing just this type of dog.
One of my clients, Joe Auteri, says of his lab Flynn, "He goes with my wife, Maria, when she drops off the kids at school riding in a red convertible VW bug. With Flynn on the front seats, she says she gets more comments about the dog than she does about her prized car."
Auteri says Flynn travels each year with his buddies to the Colorado River to hunt duck and fly fish. "He's a fantastic hunter, family dog, and patient in temperament." He hunts duck with enthusiasm and accompanies Auteri on float fishing trips. Flynn is a true, versatile sporting companion.
There are five main categories of sporting dogs to consider, each with varying attributes: pointers, retrievers, flushers, treers, and trackers. First, to understand versatility, keep in mind instinctive traits as opposed to skills trained in. No single breed will perfectly match all the necessary skills one might wish for in versatility. Pointers may lack a bit at retrieving ability. Certainly spaniels, traditionally bred to flush birds, may be compromised as a pointer. Select breeds based upon your primary desired utilization and keep expectations for other skills reasonable.
Next, match the energy level of the dog to yours and your lifestyle. Performance-bred, competitive retrievers may prove to be a handful on a duck hunt or a hike. A dog from show lines can be an attractive specimen but lack the natural gamefinding abilities and trainability for field pursuits. Pointers and hound breeds are independent in nature and may not be enjoyable on a hike or a float trip.
IN SELECTION, THINK:
Desirable skills needed

Energy level and lifestyle considerations

Reasonable expectations
THE VERSATILE BREEDS
Retrievers: Labrador Retriever, Chesapeake Bay Retriever, Golden Retriever, Nova Scotia Towler

Pointers: German Shorthair Pointer, Hungarian Vizla, Brittany Spaniel, Wiemarener

Spaniels: Field-Bred English Cocker, English Springer Spaniel, Boykin Spaniel
This article originally appeared on Outside K9, the former dog blog of Outside magazine, on May 6, 2009.