Meet the First Baby to Hike the Appalachian Trail
Sound crazy? Not to Bekah and Derrick Quirin, who are embarking on a thru-hike with their one-year-old this March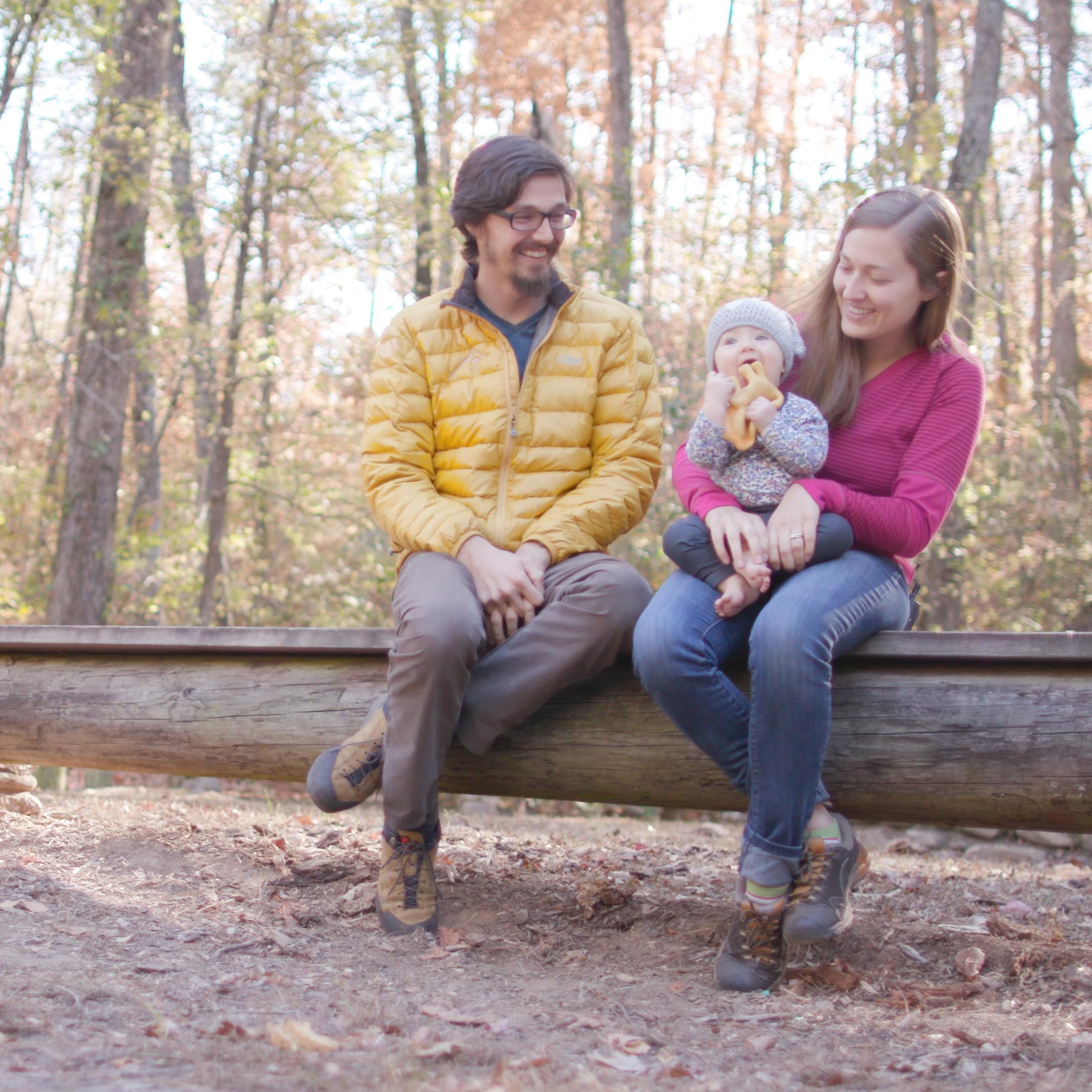 Heading out the door? Read this article on the new Outside+ app available now on iOS devices for members! Download the app.
Setting off on a six-month hike right after your baby turns one might seem like the ultimate sufferfest. But Bekah and Derrick Quirin, both 25, who will launch their bid to thru-hike the Appalachian Trail on March 20, think the timing is perfect. Twelve-month-old Ellie isn't walking yet, still loves to ride in the child backpack, and naps reliably for long periods of time while being carried. Plus, she's still breastfeeding six times a day, which means less food to carry. When you break it down like that, the couple's logic starts to make a weird sort of sense.
"We want to immerse Ellie in the outdoors and have it become normal for her from the beginning, and this is about as early as we can manage," says Bekah, who, along with Derrick, studied outdoor leadership at North Greenville University and logged lots of trail time working as backcountry guides for at-risk teens. "Time flies so much faster after you have kids. People always say, 'I wish time could slow down.' This is the best way I can think of to do that."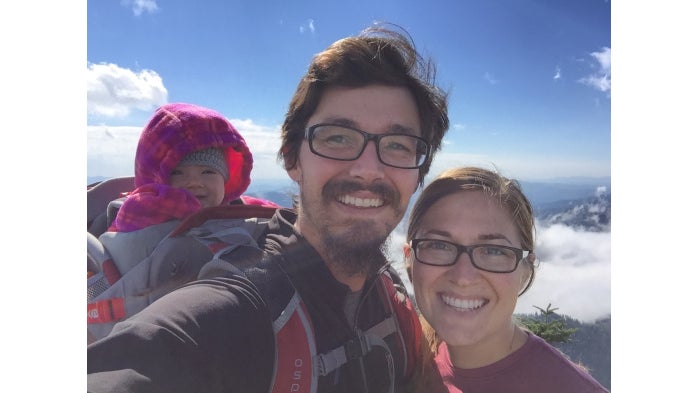 The Appalachian Trail is ten minutes from their backyard in Roanoke, Virginia. Bekah and Derrick grew up seeing thru-hikers and hiking sections of the trail themselves. Still, nobody's done it with a baby—yet. "I called the Appalachian Trail Conference looking for resources, and they'd never heard of anyone doing it," says Bekah. (The youngest person to thru-hike the AT on his own two feet is Christian Thomas, aka "Buddy Backpacker," who walked the trail in 2013 with his family at age five.) Now that Derrick has left his job as a local outdoor guide (Bekah is a stay-at-home mom), the two will begin their effort in March.
Talking to Bekah, Derrick, and Ellie by Skype was almost enough to make me want to have another baby, if only so I could bundle it onto my back and hike 2,190 miles with 465,000 feet of elevation gain and loss. Then I remembered changing diapers in the tent, sitting on the ground to breastfeed, and dusting off the dirty pacifiers the baby dropped over and over—while giggling, of course—and I'm entirely psyched to live vicariously. (You can, too: follow them on Instagram and on their site.)
---
OUTSIDE: What inspired you to try this now?
​BEKAH: It's always been a dream of ours to do the AT, and when we had a child, we thought, "It's not going to be anytime soon." But then I joined the group Hike It Baby out of Greenville, and I started going on short hikes and then longer ones with Ellie. Meeting other like-minded moms was a huge help when I left work to stay at home. That's when I realized that maybe now is the time to do it.
DERRICK: And we've got to go now while we still only have one kid!
How long do you think it will take you?
DERRICK: That's a really tough question. We're thinking six months but allowing for longer. We think realistically Ellie won't slow us down a lot, but we don't know what the unexpecteds will be. Technically for a thru-hike, you have one year.
Do you plan to do it straight through, point-to-point?
DERRICK: We're going to flip-flop, which means starting in the middle and going south. Then we'll come back and go north.
BEKAH: The Appalachian Trail Conservancy has requested that people start from other places than Georgia because it gets really crowded there in the spring. The campsites get overloaded, and the privies get overloaded. We both have family in the area. So, for the first 100 or so miles, we'll be close to family as we're sorting things out. Most of the way, we'll be so close to towns that if we get major snow or rain, we can always hop off the trail and take a break.
What kind of mileage are you aiming for?
DERRICK: We're hoping to start out averaging 12 miles a day. With 12 hours of daylight, this seems relatively achievable.
Have you gotten any pushback from people who don't understand why you're taking a baby backpacking?
DERRICK: Not much. It's honestly not any different than if we weren't taking a baby. We get the same questions from our families, about what we will do if we see a bear and how we'll take showers. The only question we get that's different from other thru-hikers is about diapers.
What are you doing about diapers?
DERRICK: We use a brand called gDiapers with an outer cloth cover and compostable insert. They're eco-friendly, but we're not going to bury them. They will be disposed in trash cans every two days or so when we go through towns or pass a trailhead.
How will you carry all your gear?
DERRICK: We're planning an ultralight hike [laughter]. Except for Ellie's things. Bekah will carry Ellie with a little stuff—their clothing and diapers—and I'll carry a lot of stuff.
How much weight will that be for each of you?
DERRICK: We weighed everything the other day, and it's about 35 to 40 pounds per person. Ellie weighs 18 pounds…right now. Our sleep system is a double system, a Therm-a-Rest coupler that combines two sleeping pads with a Vela HD Double quilt. Ellie will sleep with us. We've got a Zpacks Triplex tarp that goes up using trekking poles. We're bringing a Patagonia full-down baby bunting for Ellie, a Patagonia Torrentshell suit, and wool base layers from Ella's Wool. Our stove is an MSR PocketRocket with a Snow Peak titanium 1.5-liter pot.
What will you eat?
​BEKAH: In each of the towns where there's a place to mail something, we'll send a box ahead. We're packing them all now. It's like a warehouse in here. We're doing a combination of rice, beans, freeze-dried veggies, and noodles in a quart-size freezer bag. All we have to do is add water. Also organic, non-GMO, low-grain bars. Ellie will breastfeed as long as my supply stays good, and to supplement, I'll pack freeze-dried organic baby food from Amara in resealable, reusable pouches. Other than that, she eats what we eat.
What's the longest stretch you'll be out of range?
DERRICK: The Hundred Mile Wilderness in Maine. At the farthest point in, we'll be three-and-a-half days from a town. We still need to figure out logistics for that section, but we'll obviously have a Spot tracker that allows us to send emergency beacons if we need to.
Besides remoteness and distance, what do you think will be your biggest challenges?
​BEKAH: We want to be considerate of others. The stereotypical thru-hiker is a single person. If there are nights when Ellie's fussy, we'll put our tent farther from others. In camp, we'll have to take turns watching over her. There are cottonmouth snakes. We can zip up the tent and she can play there.
How are you mentally preparing for the unknowns?
​BEKAH: I'm trying to look at it as though they'll be the same as if I were at home. The baby mood swings, the temper tantrums, the teething. We're just in a different environment. Honestly, I think it might be easier than at home. There's so much to look at on the trail. Ellie's always happier when we're outside.
Corrections:
(09/22/2023) This article originally stated that the Quirin's live in Greenville, South Carolina. They now live in Roanoke, Virginia. Outside regrets the error.