Five Family Archaeological Adventures for Fall
Do family vacations that are meant for learning about other cultures devolve into the wild mistreatment of historical sites? These guidelines aim to help you help them see what's so special about all things ancient.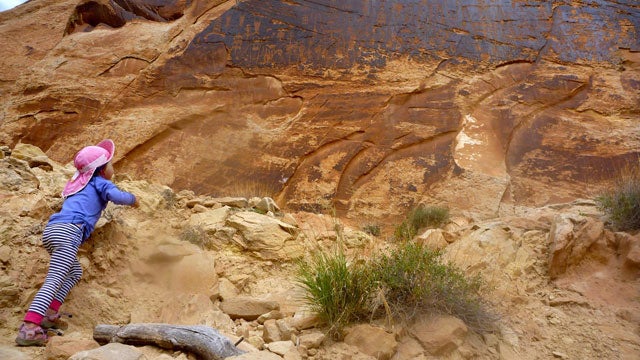 Heading out the door? Read this article on the new Outside+ app available now on iOS devices for members! Download the app.
Just because school's back in session doesn't mean you have to throw in the towel on family adventures. In the spirit of the season, make your outings educational. With cooler days and fewer crowds, fall's an ideal time to explore the many cultural sites and ancient ruins around the country. Learning vacations shouldn't be a tough sell. After all, most kids are natural-born archaeologists: They ask a million questions and love to dig in the dirt.

Archaeologist and Harvard professor Matthew Liebmann explains which historical sites are the most kid-friendly.
But setting little ones loose on ancient ruins without advance prep is a recipe for mayhem, as I learned on a family trip to Gisewa Pueblo in New Mexico earlier this summer. The Native American settlement, dating back at least 700 years, was once home to a 17th-century Spanish Mission church and today is home to some 2,000 people of the nearby Jemez Pueblo community. My four sons, ages two to eight, know how to hike a trail—scouring the ground for beetles and lizards—but this adventure challenged them in new ways. They couldn't resist climbing and exploring ruins, nor could they slow down long enough to appreciate the subterranean stories of an ancient culture, preserved just beneath the topsoil.
But, lucky for us, our tour guide was Matthew Liebmann, friend, Harvard professor, and archaeologist, who's spent over a decade living with the Jemez people and studying their ancestral heritage.
With a little guidance, the kids learned to explore cultural sites with respect and curiosity, to become, as Liebmann puts it, "modern-day Indiana Joneses, who are both brave and ethical, and won't run into a sacred temple and swipe an indigenous people's most cherished idol." Follow Liebmann's five ways to raise budding archaeologists; then let them loose, feeling more responsible, at one of Liebmann's top kid-pleasing cultural sites this fall.
(Actually, at a time when sojourners are rushing after Forrest Fenn's reported $3-million buried treasure, these are behavioral guidelines we can all stand to practice.)
Take only pictures; leave only footprints.
Don't remove arrowheads, shards of pottery, or any other artifact from a park or historic site. You might pick them up and look carefully, with curiosity, but once you're done, put them back where you discovered them. "These artifacts are pieces to a puzzle we want to preserve as archeologists so that we can learn from them," says Liebmann. "When they are removed from their place, the pieces lose their contextual story. And the place loses a piece of information that could shed light on how people inhabited and survived in the world at that time." If you think you found something of magnitude, leave it where you found it and alert a park authority.
Make weird things seem normal and normal things seem weird.
When approaching a new culture with kids, point out the similarities—that they lived in houses, just like us. Then admire the differences—that their houses were built into cliffs. Ask questions: How did they eat? What did they eat, and where? "Sometimes people in the past did things that seem really weird to us today, but they did those things for good reasons, some of which are similar to why we might do things today," says Liebmann. "Why would people crouch down in a hole for hours on end in order to catch an eagle, to get some tail feathers? They could ask the same thing about why we wait hours in line for a chance to see Justin Bieber."
Impress upon your kids: It may be different, but it's not bad.
When visiting ancient ruins, says Liebmann, "let go of the presumption that because the people lived long ago they were either savages or stupid. Many of these cultures lasted thousands of years—a lot longer than [our culture] has to date—and they came up with ways to live, survive, and even thrive in the world." Pay attention to how cultures adapted to their environment. Was it arid, or wet? Hot, or cold? Visiting historic places is a great opportunity to appreciate diversity and encourage empathy.
Study up and develop a discerning eye.
Do some reading before your trip so you can tell your child about the site in advance. "Going beyond Wikipedia pays off," say Liebmann. Discuss how you expect them to behave. Consider scheduling a tour with park rangers or local guides, as they know the area inside and out. Pay attention to the details; something that looks like a hill in a wide-open, flat space might actually be the remains of a thousand-year-old village. Train your eye to notice what is manmade and what was caused by the elements. "This discerning eye is a skill that gets sharper with practice and research," says Liebmann. "It's like bird-watching. When you start out, a bird is a bird. But as you learn, you begin to recognize the exotic ones."
Don't try to do it all in one day.
Start with the most impressive section and work your way out. Covering one section well is better than messily trying to cover all of them. You'll need to be ready to pull the ripcord at any time with young ones in tow, so pack plenty of water and snacks, and make sure everyone is dressed appropriately for the environment.
Five family-friendly destinations:
1. Mesa Verde National Park, Cortez, Colorado
The nine-hundred-year-old cliff dwellings of Ancestral Pueblo (a.k.a., Anasazi) look as though they were built yesterday. Don't miss the guided tour of Balcony House. Kids will love crawling through a 12-foot tunnel on all fours to access the site, and later climbing down the ladders when it's time to leave.
2. Cahokia Mounds State Historical Site, Collinsville, Illinois
Just across the Mississippi River from St. Louis, Missouri, this site was the ancient capital of North America, occupied from A.D. 700–1400. Explore the remains of a city that boasted over 30,000 people, whom archaeologists call "Mississippians," though we don't know what they called themselves. Climb to the top of Monks' Mound, a ten-storey platform where the temple of the paramount chief used to be. And see the reconstructed "Woodhenge," a calendrical time-keeping device erected to mark the solstices.
 3.  L'Anse Aux Meadows National Historical Site, Newfoundland
The only known European settlement in North America before Columbus, this site dates back 1,000 years ago. See the excavated remains and reconstructed versions of the peat-turf houses that were briefly occupied by Norse seamen (a.k.a., Vikings) during the time of Leif Erikson.
 4.  Jamestown, Virginia
In the past decade, archaeologists have discovered the site of the original Jamestown Fort—among a slew of other finds. Kids will love the ferry ride across the James River and the hands-on archaeology demonstrations. Bring your swimsuits and take a dip in the river after your visit, or detour to nearby Colonial Williamsburg. Jamestown is home to an impressive museum as well.
5. Teotihuacan, Mexico
Just north of Mexico City, this bustling pre-Aztec metropolis of over 100,000 people was the New York City of the Ancient World, thriving from 300 B.C.–A.D.600. The city is home to the Pyramid of the Sun, which is one of the largest pyramids in the world, built upon a base larger than those in Egypt.
Lead Photo: Katie Arnold