Free Forest School Wants Kids to Run Wild
Kids need more outdoor playtime, and one national nonprofit is helping provide families with just that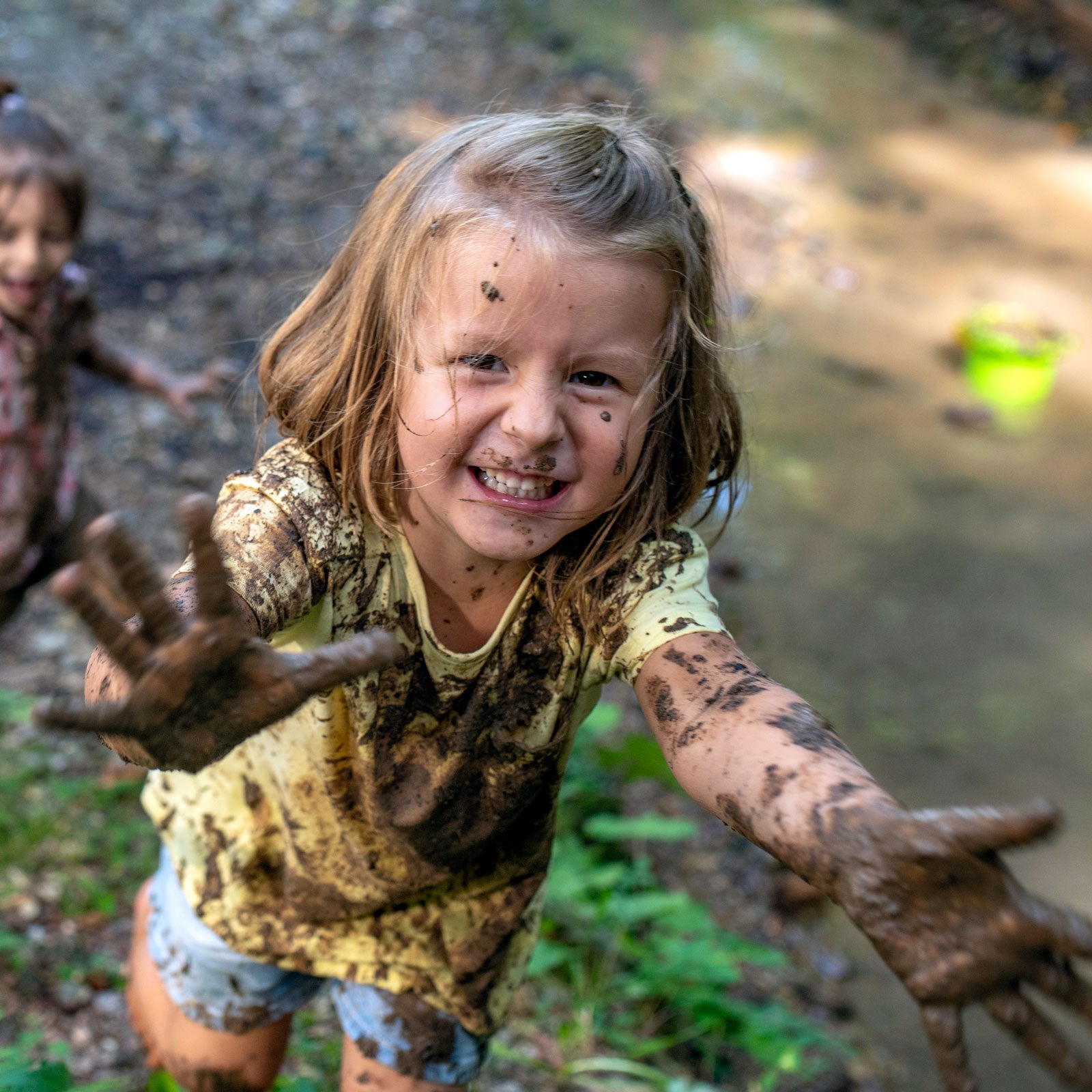 Heading out the door? Read this article on the new Outside+ app available now on iOS devices for members! Download the app.
Usually there's a calm pool at the edge of Junction Creek that's perfect for kids to play in. Not today. The first warm temperatures of the year have sent a torrent of snowmelt barreling through this wooded canyon near Durango, Colorado, and the placid creek looks more like a whitewater river. It might not be the safest place for a toddler, but 21-month-old Koven Marshall is unfazed. He wanders to the creek's edge and begins chucking rocks and sticks into the current. A dozen or so other kids, ages ten months to six years, are doing the same.
Nearby, Koven's mother, Aliisa, chats with other parents, keeping an eye on Koven but not interfering in whatever imaginary world he's conjuring up. In this era of helicopter parenting and injury-proof playgrounds, it's a relatively rare scene. And it's happening because the families gathered here on this June morning are all members of Free Forest School, a nationwide nonprofit that encourages parents to let their kids take risks and run wild outside.
Although Free Forest School is guided by pedagogical principles, the organization isn't a school in the traditional sense. It isn't part of any formal educational system, and attendance isn't mandatory. Families can show up once, skip a few weeks, then attend again when they feel like it. Plus, caregivers must be present—no dropping your kid off and heading to work.
Instead, Free Forest School is more like a playgroup where parents get together once a week to let their kids explore nature, use their imaginations, and get dirty. Like, really dirty. A half-hour into its Durango meetup, three toddlers have stripped off their clothes, moved from the creek to a giant puddle, and painted themselves with mud. Again, their parents don't seem to mind. 
"Their confidence and comfort in nature grows so much," Katherine Dudley, director of Free Forest School of Durango, tells me later. "You can just see that they feel at home out there." 
Free Forest School is like a playgroup where parents get together once a week to let their kids explore nature, use their imaginations, and get dirty. Like, really dirty.
Free Forest School was founded in 2015 when a former outdoor educator named Anna Sharratt temporarily moved from Austin, Texas, to Brooklyn, New York. She enrolled her son in preschool there and was horrified to learn that his class didn't spend any time outside. "We could see a change in him," she recalls. She looked into several Forest Preschools in the area—actual schools inspired by Scandinavian practices where kids spend most of their time outdoors—but the price tag was outrageous. (One such school near New York City charged $14,000 a year in 2017.) 
"Parents were paying a ton of money to make mud pies with their kids, and I just felt like it was depressing," Sharratt says. "Why is it so foreign to let our kids play outside?"
Sharratt knew that unstructured outdoor play fosters physical, emotional, and cognitive development, and that such play is increasingly rare, especially in urban areas. She missed the freedom her son had enjoyed in Austin, where he'd played with other kids at the base of rock walls while their parents climbed. So she created a Facebook group to find parents in Brooklyn who shared similar values. Overnight, 100 families joined, and Free Forest School was born. When she moved back to Austin two months later, Sharratt founded another Free Forest School chapter there. She did the same when the family relocated again, to Minneapolis. 
In 2017, Sharratt incorporated Free Forest School as a nonprofit, and today there are 150 chapters, mostly in the U.S. and Canada. Roughly 30,000 families have participated. Each chapter operates somewhat independently, led by local volunteers under the Free Forest School umbrella. The nonprofit raises money through grants and donations, and supplies best practices, a waiver for parents to sign, and a website with information on the benefits of outdoor play for parents who aren't sure they want their two-year-old tossing rocks into a rushing creek or riding home in their car seat covered in mud. 
And a lot of parents aren't sure. Unaccustomed to letting their kids just play, many parents initially see the Free Forest School as another scheduled activity, like gymnastics or piano lessons. They struggle to not direct their kids' outdoor adventures, not to call out "Be careful!" every two minutes or give their child a boost as she tries to climb a tree. Free Forest School volunteers lead by example and gently encourage parents to step back. Sharratt says that with time, the tactics often work: parents begin to trust their kids more and hover less. "It takes a shift in thinking," she explains. "You have you practice letting your child take risks." 
Unaccustomed to letting their kids just play, many parents initially see the Free Forest School as another scheduled activity.
Studies have shown that kids who engage in supposedly "risky" outdoor play are actually less likely to get hurt than children playing organized sports, and that taking small risks—like climbing a tree or navigating a creek—helps kids gain confidence, reduce aggression, and learn to manage risk, an important skill when they hit adolescence. Free Forest School isn't the only organization trying to get modern kids to play more like their counterparts from previous generations. Other groups are building "playgrounds" filled with scrap lumber and tools or hosting summer camps where kids are encouraged to play with fire and knives, but it is one of the more far-reaching, attracting families from small-town Colorado to Anchorage, Alaska, to Baltimore.
The organization is also working to diversify the families participating. Atiya Wells, a Free Forest School volunteer and board member, says that her family is consistently one of the few black families at Free Forest School of Baltimore events. That's partially why she launched a new organization called Backyard Basecamp, to get more children of color into the city's outdoor spaces and nature-based programming into city schools. The group has also taken over stewardship of an unmaintained park to host Free Forest School events that will hopefully attract more diverse families.
Meanwhile, in Durango, the local public school district is starting its own Forest Preschool program during the week, and teachers will help kids learn shapes, colors, and other skills in parks and open space for $3,960 a year (or for free with financial aid provided by the Colorado Preschool Program). In Minneapolis, Sharratt has capitalized on Free Forest School interest to mentor public-school teachers on the benefits of experiential outdoor play and to help schools to bring students into the woods as part of their regular school day.
Ultimately, such ripples may be the biggest benefit of the Free Forest School movement. After joining the Free Forest School, Sharratt says that some parents experience such a shift in their values that they question whether they want to send their kids to public schools, where kids spend so much time inside. But rather than taking children from the public school system, Sharratt hopes her organization will inspire more schools to incorporate nature-based play into their curriculums. Letting individual kids get covered in mud is great, but convincing public schools that all kids need nature—not just those whose families can afford it—is even better.