Going Wild in the New Costa Rica, Part 1
Adventures with kids in Nicaragua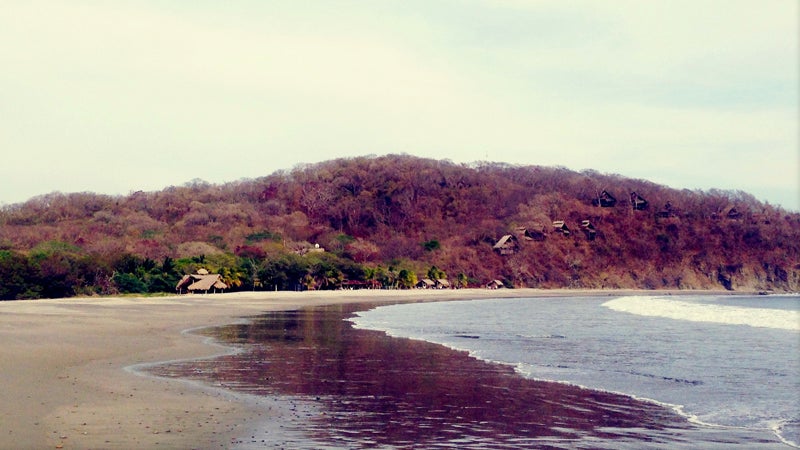 Heading out the door? Read this article on the new Outside+ app available now on iOS devices for members! Download the app.
Say the words "Nicaragua" and "family vacation" in the same breath, and you may get odd looks. There's just something about the combination that sounds a little off. Kindly older ladies in the grocery store will gaze with grandmotherly concern at your young children and inquire if there's still a war going on. The manicurist during a marathon layover at the Houston airport nail salon will assume you must be doing mission work. Even the flight attendant on the plane to Managua will ask why you've picked Nicaragua for your family beach adventure, gushing longingly, "Costa Rica is my favorite!"
It's enough to give you second—or third—thoughts.
We'd chosen Nicaragua because last spring we'd traveled to Costa Rica. It had been for us and our two daughters, the perfect mix of inland jungle—complete with monkeys, an organic farm, and volcano views—and idyllic Pacific coast. Costa Rica was so easy to love—maybe too easy—and we loved it so much, in fact, that we just had to go someplace else, someplace like Costa Rica, only maybe, possibly, a little bit better. Someplace with steaming mountains and sandy beaches, with fewer foreign tourists, where not everyone we met spoke English, where there wasn't a zip line in every corner of jungle.
Nicaragua is right next door, and some well-traveled friends of ours had gone with their two daughters and raved about the relatively undeveloped Pacific coast, less than 50 miles north of the Costa Rica border. It was like Costa Rica was 20 years ago, they said, before the explosion of eco-tourism. Nicaragua's bloody war between the Contras and Sandinistas had ended nearly 25 years ago, and I'd heard somewhere that it was now the safest country in Central America. It was also closer and more affordable (flights were $300 cheaper than to Costa Rica and Hawaii). I cruised the internet, sent a few emails, and booked our tickets. We were Nica bound.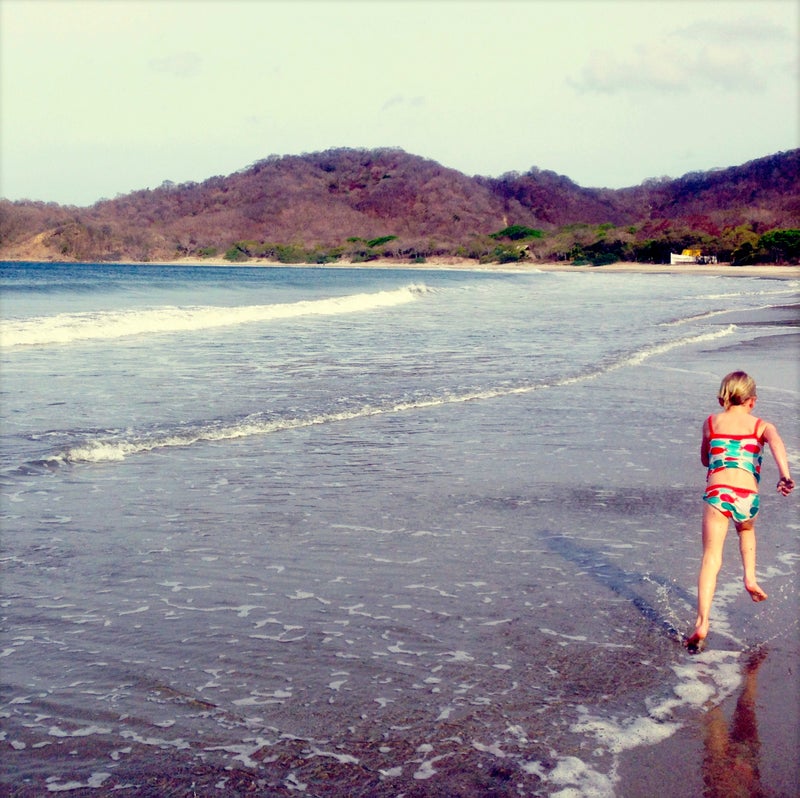 Only then did I buy the guide book. In the last chapter, past the many tantalizing pictures and descriptions of empty beaches and howler monkeys dangling from trees like fruit, I found the "practical information" section. This is where I learned that Nicaragua's "safest-country in Central America" reputation was a little dated—try 2008; in some urban areas, crime has been on the upswing. And that malaria is a risk, albeit a low one on the west coast. And that all travelers are advised to have a laundry list of vaccinations before arriving. I thought about our two young daughters and wondered if I'd gotten us in over our heads, when all we wanted was an active, nature-based beach vacation plus a little Latin American culture. By the sounds of it, Nica was going to be a bumpier ride than Costa Rica. But wasn't that the point?
We landed in Managua on a 90-degree April night. I didn't love the idea of arriving in a foreign city after dark with small children, especially one as hectic as Managua, which by most accounts was worth skipping entirely, but driving onward at night to the reputedly nearly 500-year-old colonial town of Granada, an hour away, was discouraged So I reserved a room at a small, well-reviewed inn about 20 minutes from the airport, and a driver who whisked us through darkened streets in his cramped, white Toyota sedan. The girls promptly fell asleep on my shoulders, while up front Steve and the driver chatted amiably about the passing sights in rapid-fire Spanish I couldn't understand.
Out the window, the Latin night blurred by: flashing lights and families in flip-flops clutching toddlers' hands and plastic shopping bags, rickety motor bikes, giant illuminated palm tree sculptures, and eight-year-old boys darting through four lanes of traffic. Cars seemed oblivious to pedestrians, or the pedestrians invincible to cars, with neither yielding to the other, and no one getting hurt. We stopped only once, along with a line of other cars, to make way for a pair of long-legged young women in short shorts crossing the road. "Ballerinas" I heard the driver tell Steve in English. How nice, I thought, a local dance company.
Later, as we settled into the lovely Hotel Casa Naranja on a narrow side street a block from the city's main hotel row, Steve told me that the driver hadn't been pointing out local landmarks but had been giving him a kind of ghoulish, unsolicited crime tour of Managua. This is where someone got stabbed; over there, a drive-by shooting; the ballerinas were strippers leaving a club. But now that we were safely ensconced in the lush courtyard, the gritty city seemed far removed. Our girls were sleeping deeply in a guest house surrounded by high brick walls topped with coiled razor wire, and we were sitting beside a tiny pool, drinking in the strange, new tropical night—the honking horns and squawking parrots that sounded like someone getting strangled and the sweet waft of orange blossoms on the breeze—awake in a way we rarely are at home. The drive from the airport alone had been worth the trip: We weren't in Costa Rica anymore, and I couldn't have been more glad.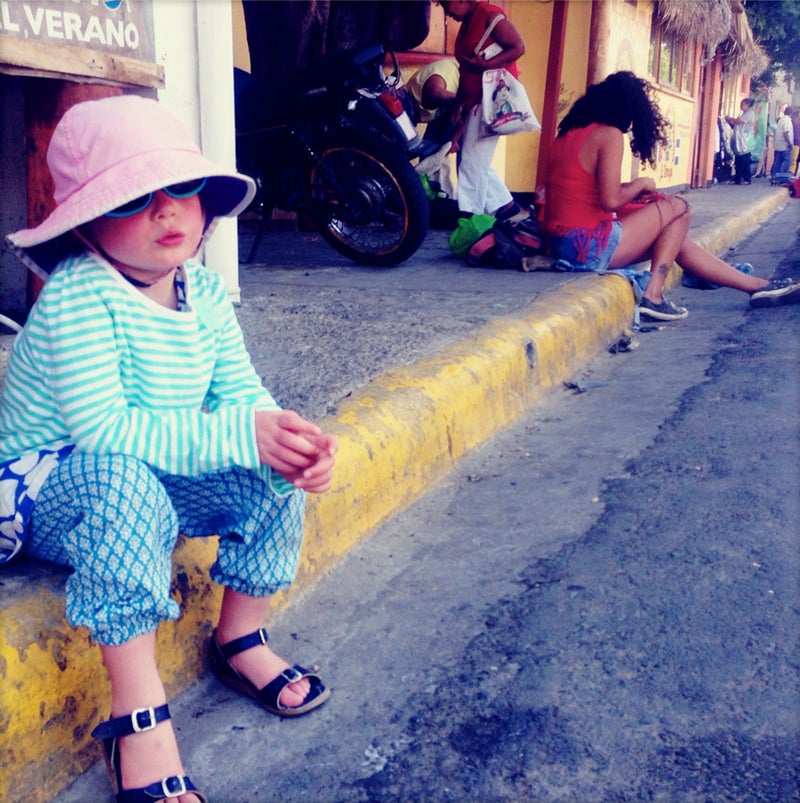 Desert dwellers that we are, we had come to Nica to live as close to water—and nature—as possible for the next ten days. Our plan, then, was to head straight to the Pacific coast for six days at Morgan's Rock Hacienda and Eco Lodge, which more or less launched eco-tourism in the country a decade ago. With 15 open-air bungalows set above an pristine arc of white sand and gentle surf in a protected bay, it sounded like our favorite kind of base camp. From there, we'd travel north to Rancho Santana, a burgeoning luxury development that stretched along some of Nicaragua's best surfing beaches. 
Morgan's Rock is both a stylish guest resort and a real working farm, or finca, set on 4,000 acres of dry forest about half an hour's drive north of the expat surfing hub of San Juan del Sur. It's a three-hour drive from Managua on surprisingly well-maintained paved two-lane highways, which we shared with wobbly, three-wheeled tuk tuks and horse-drawn carts before reaching the final dusty, washboarded road to the lodge. When at last we arrived at Morgan's Rock, it was clear that getting there had been the easy part. Leaving was going to be much, much harder.
Our bungalow, number five, clung to a small cliff about 150 steps above Playa Blanca. Screened on three sides, the hardwood cabana sported a thatched palm roof, mesmerizing views of the blue Pacific, and a roomy, private porch with a spider monkey peering down at us from the rafters. Inside was all smooth, polished loveliness: teak beds and furniture, made onsite from wood from the finca, a shower with ocean views, ceiling fans to aid the breeze. In fact, it's hard to say what was more impressive: the sound of the ocean—a steady thunder of crashing waves—or the sight of it. It was just like living outside, only better.
Usually it takes a couple days to unhitch from the routines of home and ease into vacation mode, but at Morgan's Rock we settled into a natural rhythm right away. The constant roar of the ocean, the ultimate 24/7 white noise, seemed to drown out the distractions and root us right to the spot: a mile-long sweep of beach and our breezy bungalow on the hill. Instead of filling our day with organized activities, we decided to let them flow without pressure. This was easy to do because, though Morgan's Rock offers plenty of enticing tours and adventures, there's plenty for families to do on their own.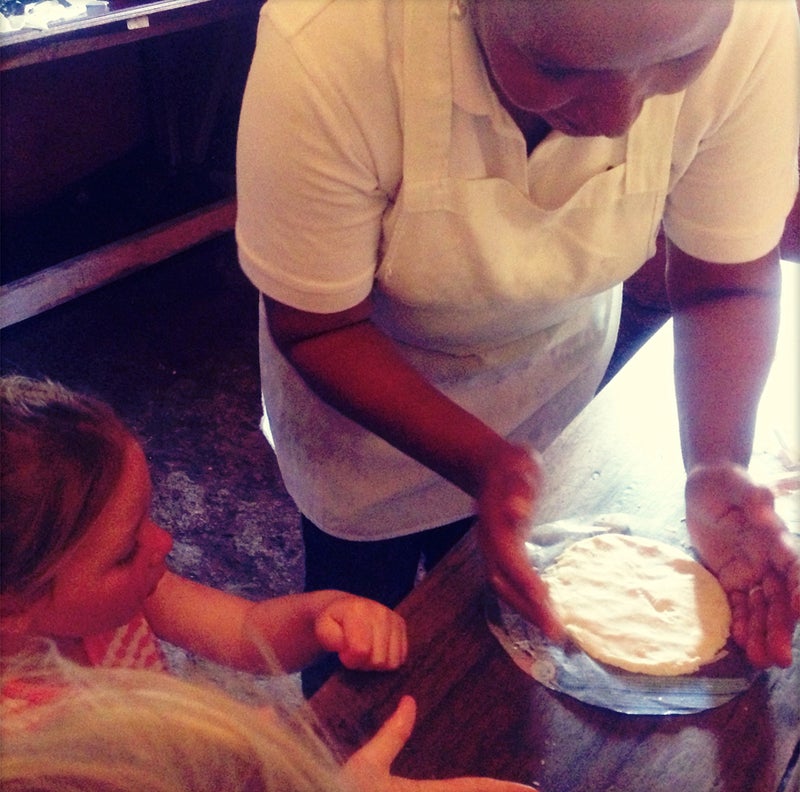 Without obligations or a schedule, our days took on a pleasing, predictable routine: wake early for a short run at first light, coffee and hot chocolate delivered to our door at 6:30, a lazy morning of reading on the hanging day bed, then down to breakfast by 8. The restaurant is a large, airy expanse overlooking the pool—like the rest of the buildings at Morgan's Rock, thatched-roofed and open on all sides—and Steve and I would linger over our rancheros eggs and fresh papaya and pineapple while the girls swam and hurled themselves off the small rocky outcropping that doubled as a diving board. Almost immediately they befriended at trio of kids from London, about their age, and the five ran around like they owned the place. Which, being the only children at Morgan's Rock that week, they practically did.
Not all beaches are created equal, and not all beaches are child-friendly, but Playa Blanca met all the necessary criteria, and then some. Bound on both sides by steep cliffs that sheltered the bay from strong currents, the surf rolled in gently, at low and high tide, creating a perfect playground for boogie-boarding and bodysurfing. With the exception of a few rocks at either end of the beach, there was nothing larger than a hermit shell crab on which to stub your toe. Morgan's Rock rents boogie boards ($10 per day), and we'd carry one down each morning and set up shop beneath a thatched-roof palapa on the sand.
Most days, we and the Brits had the whole beach all to ourselves. The surf was small enough for our three-year-old to learn to duck dive through unassisted and our five-year-old boogie-boarder to catch her own waves but still fun enough to give us adults a decent ride. The palapas provided ample shade, a couple of lazy hammocks, and Adirondack chairs—perfect for surveying swimming and splashing and sandcastle building while multitasking with a new novel. After lunch, we would retreat to our bungalow, hose off under the outdoor faucet, and stretch out on our beds for an all-family siesta while the tropical sun scalded the beach. (At the tail end of Nicaragua's dry season, April is the hottest month, and, night or day, the temperature never dipped below 85 during our stay). In the late afternoons, the slanting sun would pull us back to the water. We'd rent double sit-on-top kayaks ($5) and paddle into the estuary, or wander down to the north end of the beach and scramble around the rocky point to watch the sun set and wade ankle-deep in tide pools teeming with sea urchins and anemones.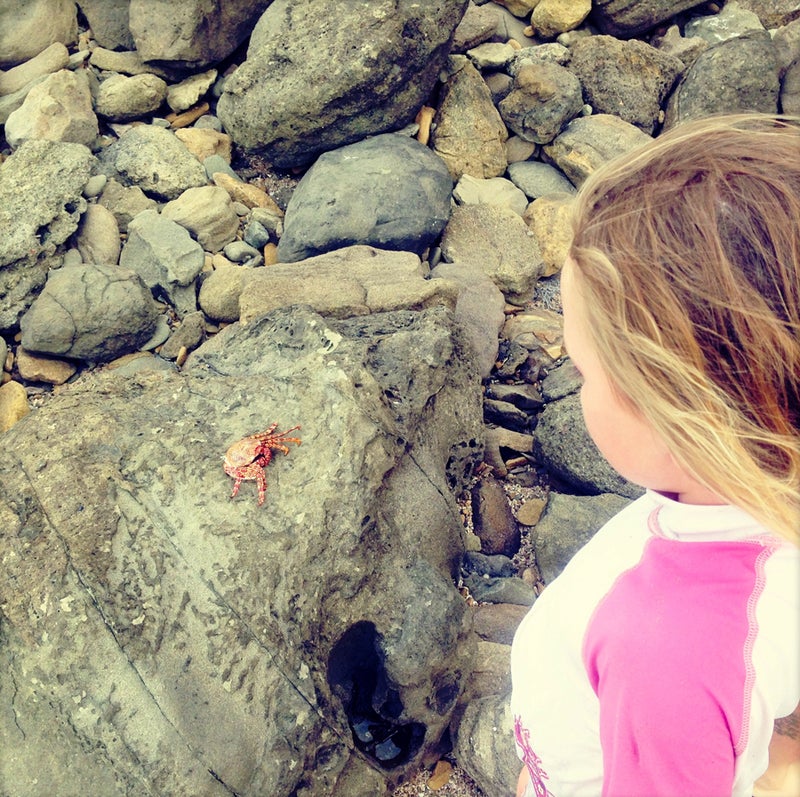 Though the ocean is the big draw, Morgan's Rock doesn't turn its back on the land or its locals. Since it opened in 2004, the lodge has been committed to reforestation, planting 1.5 million hardwood and fruit trees on the property. More than half of Nicaragua's  population lives below the poverty line, and the country's small farmers are among the poorest of the poor, often without running water or electricity. The lodge and farm, called El Aguacate ("The Avocado") employs nearly 100 people and donates part of its proceeds to support six area schools, which serve more than 250 rural students. More than 90 percent of the food at Morgan's Rock comes directly from the finca: eggs, milk, produce, free-range poultry. Many mornings just before sun rise, I'd run past the farm's organic shrimp ponds, or camaroneras, on my way to the beach, where I'd see the fishermen pushing off in their punt to bring in the mahi mahi we'd be eating for lunch.
Early one morning we rode out to El Aguacate in the back of a pickup truck and helped milk the cow and collect eggs from the tidiest henhouse I've ever seen. Inside a simple, dirt-floored shack, one of the women taught the girls how to make tortillas over a wood-fired oven, flattening the dough into small discs with their fingers, which we ate with the eggs we'd gathered, scrambled and served with rice and beans and hot coffee. A breakfast typical in Nicaragua, and probably the freshest we've ever eaten.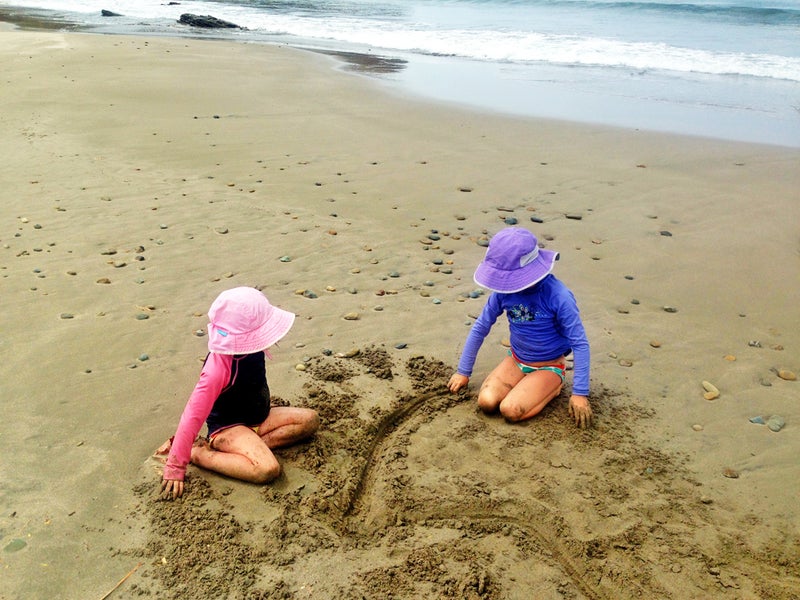 For all its laudable agri-tourism efforts, Morgan's Rock isn't perfect, of course. At times the employees, while always goodnatured, seemed distracted or inexperienced (nearly everyone we met during our stay had worked there less than a year). Except for the breakfast farm tour, you have to leave the property if you want to interact with the local communities, which we did one afternoon when we hired a fishing boat to take us south down the coast to San Juan del Sur, a strange mix of backpacker-surfers and American cruise ship passengers who'd come ashore for the afternoon. Still, there's no denying that Morgan's Rock is that exceptionally rare place where you can retreat from the world and immerse yourself in the wild, without sacrificing creature comforts. Not that it is always comfortable—nor, if what you want is full immersion in nature, should it be.
On our second night at Morgan's Rock, I awoke as I often did to the crashing of waves. They came in sets, rising and falling in volume and intensity, and every now and then one would crescendo loudly enough to pull me from sleep. Lying there in the inky blackness with my family around me and the whole vast Pacific yawning out for thousands of miles, crashing relentlessly to shore, I felt suddenly small and very exposed. It's hard to think of something I like more than sleeping outside, lulled by the steady thrum of moving water—a river sliding by, water sloshing under a dock, the endless shift of the tide—but for a few moments I inexplicably found myself longing for shelter, real walls and a roof, awed, humbled, and a little terrified by the wild, teeming world all around.
In the morning, when I woke to the first grey light of day and the familiar thump of the sea, I looked around the bungalow and saw everything in its place: the huddled shapes of my daughters and husband under thin sheets, the ocean, the spinning ceiling fans. My uneasiness was gone, replaced by a deep calm. There are few places where you can live this way—truly outside, day and night, in the air and wind, with the monkeys and birds—without camping. In Nicaragua, we'd been lucky enough to find one of them, and for six days at Morgan's Rock, we wore nature like a second skin, sand in our toes, sun on our skin, and the ocean, always, in our ears.
Trending on Outside Online