Homemade Hot Chocolate on the Go
Sometimes you're miles from the nearest hot chocolate source when you want it most. But thanks to the Jetboil Flash, you can have DIY hot cocoa anywhere, any time.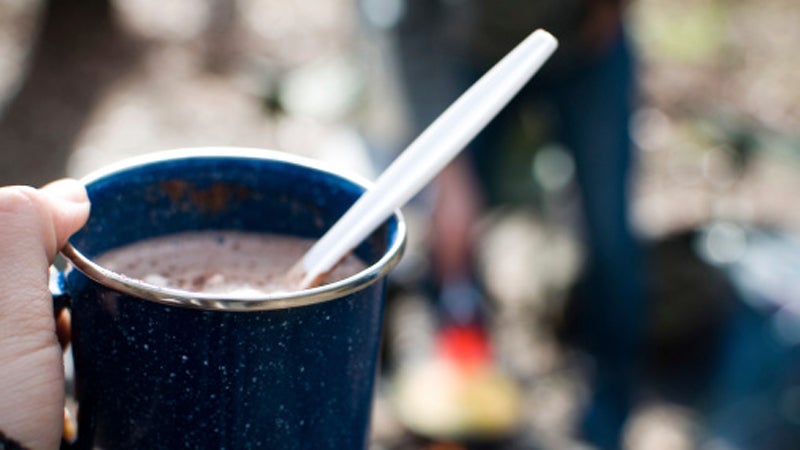 Getty Images/iStockphoto(Photo)
Heading out the door? Read this article on the new Outside+ app available now on iOS devices for members! Download the app.
You can tell a lot about people by what's in their cars. This is especially true of adventure parents, who know that a well-stocked hatch can mean the difference between a long, fun play day outside and game-ending meltdown. When my daughters were babies, I kept a wad of extra diapers, wipes, a warm hat, and my rumpled Ergo baby carrier in the back at all times—everything I needed to hit the trails on the fly. 

Hot chocolate ingredients at home.

Apres ski hot chocolate.
These days, the baby kit has been replaced by a puppy leash and collapsible bowl, a North Face backpack (big enough for lots of snacks and kiddy layers), a pair of mud-encrusted snow spikes, my backcountry yoga mat, a well-loved copy of Richard Scarry's Busy Town (dog-eared to the page with the pickle car, natch).
And my new favorite secret weapon for winter: a Jetboil Flash ($100). 
I take the brilliant, stowable stove-on-the-go wherever I go because almost every cold-weather outdoor adventure is an excuse for hot chocolate. The kids clamor for it after a few runs at the ski mountain, burying theirs in Reddi-wip and then slurping it with a spoon. It's a great chaser to a couple hours spent digging a snow tunnel followed by an impromptu shovel-sledding Olympics, and it's an exceptionally motivating bribe for a slippery cross-country ski into a backcountry hut.
Like all Jetboils, the Flash is a genius all-in-one cooking burner and insulated drinking cup. It's compact and simple to use, even for a camping-stove phobe like me. All you have to do is thread on the fuel cartridge, fill the cup with water or liquid of choice, turn the control valve counterclockwise and press the black ignite button. Presto. The Jetboil roars to life, bringing liquids to a boil in as little as 30 seconds. A heat-indicator window changes color from black to orange when the content's temperature exceeds 140 degrees.
The Jetboil excels at churning out piping hot drinks, soup, and foods in less time than it takes to prep them. You can have a cup of cocoa ready before the kids wriggle out of their ski boots and bibs. But its greatest strength is also its weakness: Let the Flash crank too hot or long, and you'll need to toss in a dollop of fresh snow to cool it down for the kids. And if you're using milk of any kind, turn the control valve to its lowest setting so it doesn't come to a full boil and curdle.
When making your own Jetboil hot chocolate, the easiest option is to go with the old Swiss Miss powdered standby. Simply fill the cooking cup with the desired amount of water, heat it to an appropriate temp (avoid a boil if you are serving little ones), and stir in a packet of cocoa mix. You can drink straight from the insulated cup (unthreaded from the fuel canister), and the Flash also comes with a plastic drinking cup—perfect when multiple mouths are involved.
But if you're whipping up your own hot cocoa, you might as well earn extra style points by making it from scratch. Here are a couple recipes that can be easily made on a Jetboil on your tailgate or in the backcountry. The one-liter JetBoil cooking container can heat half a liter, or two cups, of liquid. To avoid boiling over, do not fill above the line, and never use your Jetboil in small, enclosed spaces. 
---
30-Second Hot Chocolate
This is Jetboil's own concoction for make-ahead powered cocoa mix. I mix a batch and store it in a tupperware, along with the Jetboil, in the back of my Subaru. All I need is a full water bottle, and this recipe is good to go, wherever I go.
1/3 cup cocoa
1 1/3 cup instant nonfat dry milk
1/2 cup sugar
2 tablespoons powdered non-dairy creamer
1/4 teaspoon salt
Mix all ingredients and store in a Ziploc baggie. To one cup hot water, add 1/3 cup dry mix (about four to six heaping tablespoons) and stir well. Parents, add a little instant coffee for mocha. For a real flourish, BYO Reddi Wip and mini marshmallows.
---
Dairy-Free Mexican Hot Chocolate
If you've given up dairy by choice or necessity, this recipe—my own modified version of classic Mexican Hot Chocolate—will satisfy your sweet tooth and still taste rich, like the real deal. Because this involves liquid and powdered ingredients, your cocoa prep and cook kit will be a little more elaborate.
1 cup unsweetened vanilla or plain almond milk
1 cup water
semi-sweet dairy-free chocolate chips (look for a brand such as Enjoy Life)
1/8 teaspoon powdered cinnamon
1/4 teaspoon chile powder (or to taste)
pinch salt
Heat the water and almond milk at low heat to avoid a full boil, stirring occasionally. As it heats, add chocolate chips to taste, about 1/4 cup, stirring to ensure they melt completely. Add the dry ingredients to taste (or mix a Ziploc bag beforehand to store in your car).
Lead Photo: Getty Images/iStockphoto