How to Bring Meaning to This Holiday Season
Nature eases stress, and there's no better way to offset the collective holiday insanity than by escaping to wild places. Presenting five family adventures for a meaningful season.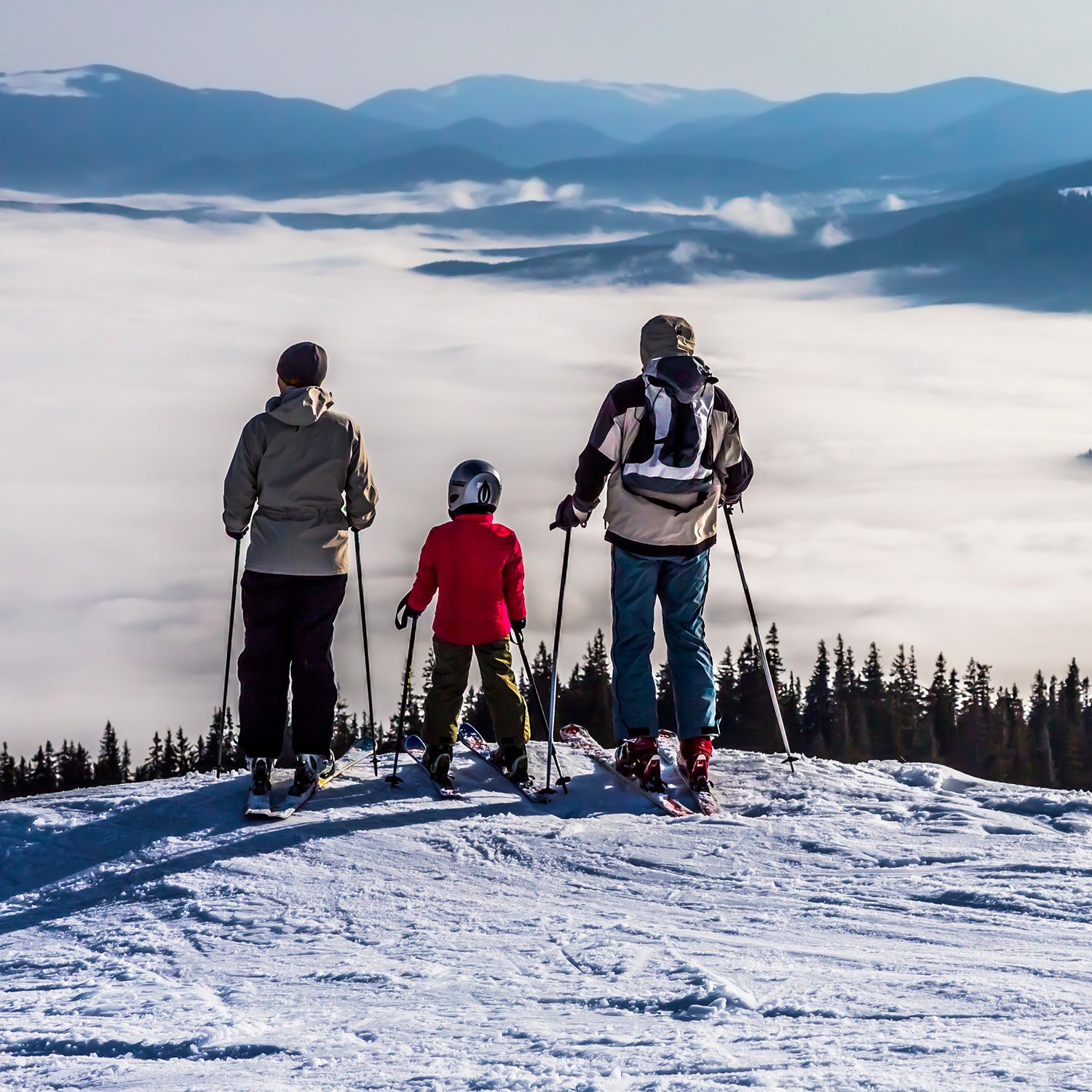 AlexBrylov/iStock(Photo)
Heading out the door? Read this article on the new Outside+ app available now on iOS devices for members! Download the app.
The other night, my husband and I streamed the classic 1989 holiday flick, National Lampoon's Christmas Vacation. We were trying to get into the holiday spirit after an especially dispiriting few weeks, and watching Clark "Sparky" Griswold (played by Chevy Chase) fall off his roof, electrocute his cat, and drive the family's wood-paneled station wagon under an 18-wheeler on their way home from uprooting an enormous Christmas tree seemed like a good way to lighten the mood of a month beset by terrorism, mass shootings, and ugly politics. 
Griswold's bumbling efforts are hilarious because, in one way or another, we've all been there. In our collective efforts to create, in Sparky's words, "the best family Christmas ever!" we subject ourselves to a frenzy of gift-buying, decorating, party-going, and all-purpose holiday-shellacking that rarely results in the intended joy. The holiday season is purportedly about slowing down and spending time with loved ones, languidly sipping eggnog by the fire like the motley Griswolds, but I've been so busy obsessing over the 19th iteration of our family Christmas card to savor these long evenings, let alone engage in more meaningful parental activities like helping my five-year-old learn to read.
And this year, in light of the terrible proliferation of violence and want, our self-imposed, consumer hysteria feels even more hollow.
Fortunately, we have an out. Literally. We know that nature eases stress, and there's no better way to offset the collective insanity than by escaping to wild places, plotting a family adventure, and making memories rather than breaking the bank on gifts no one really needs. Here are five ways to have a more meaningful holiday season, naturally. 
Give Back 
It's proven that giving gifts make us feel good, and giving charitably feels even better. According to research published in 2013 in the International Journal of Happiness and Development, giving in a way that creates social connection boosts happiness even more. Instead of rounding out your gift list with last-minute fluff or shipping gifts to the in-laws in Florida, donate to a non-profit in their name. There's a charitable option for everyone on your list, at any price point: Foster an orphaned elephant through the David Sheldrick Wildlife Trust (from $50), purchase a tree to be planted by Southwest-based conservation non-profit Wildearth Guardians ($10 per tree), help a wounded veteran heal through surfing at the Jimmy Miller Foundation's ocean therapy program, or donate a weekly share of organic fruits and vegetables with a community-supported agriculture program near you.
Go Remote
According to a 2014 study published in the journal Psychological Science, we derive more happiness from spending money on experiences than material possessions. This year, escape the holiday mania by holing up out of range in a backcountry yurt or on a far-flung island, where the news of the world won't reach you and you can't haul in a lot of superfluous presents. At press time, the Appalachian Mountain Club's Maine Wilderness Lodges still had openings at Little Lyford and Gorman Chairback lodges, which open for the winter season on December 28. The AMC's three winter huts in New Hampshire are open on a self-service basis throughout the holidays. Make your own natural ornaments from twigs, ribbons, and pine cones and hang them from a fir out front. Or snag a last-minute lodge room at Little St. Simon's Island, a private, family-owned refuge just off the south Georgia coast, accessible only by ferry. LSSI has seven miles of undeveloped beach, 25 miles of trails, and a resident naturalist who will take you fishing for sea trout and flounder, lead you on night prowls to see Great Horned owls, and set you loose on the lodge's bikes to explore the island on your own (all-inclusive holiday-season doubles from $600 and from $400 in January and February). So sweet you'll want to make it an annual holiday pilgrimage.
Get Outside
Create a new family tradition in the fresh air, whether it's skiing the bowl at Aspen Highlands or taking a stroll in your home park, like pro climber Beth Rodden does each Christmas in Yosemite, with her husband and 18-month-old son, Theo. "Although presents are nice and nice to give, we have tried to create memories in the mountains with Theo," explains Rodden. "Last year we all went out climbing, and Theo did some good crawling between boulders. We try to explore a new place in the park, even if it's just a short walk, and that's our gift to ourselves." Ski mountaineer Hilaree O'Neill, who lives in Telluride spends Christmas Day skiing the mountain with her husband and two sons, ages six and eight. "It's the busiest time of year for our little town, and it's really hard to keep the stress levels down with all the work, social obligations, and school functions," says O'Neill. "I find that a family ski day on Christmas helps put it all in perspective and take the stress level down." She also dreams of skiing into the Opus Hut (whole hut rental from $640 per night,) at 11,675 feet in the San Juan Mountains backcountry, to spend a few nights with her family. 
Share Memories
It's been proven that when we take the time to remember meaningful moments in our lives, the very act of recalling these events enhances our contentment and makes us feel like our lives have more meaning. A 2013 study found that photographs are among the best ways to keep the memories alive and tide you over 'til your next adventure. For this reason, I'm gifting pictures to everyone on my list this year (sorry to ruin the surprise, Mom). With a recent proliferation of stylish smart-phone apps, it's easier than ever to design personalized mementos that look like they've been torn from a magazine, not slapped together on Shutterfly from your desktop. Some of my favorites: lie-flat family "yearbooks" from Impressed (from $79); Mosaic's mini 7" inch-square memory book, perfect for your best Instagram shots ($20, via mobile app); and a wooden clipboard-backed photo calendar and booklet of postcards featuring 20 your favorite landscapes, both from Artifact Uprising ($29)."We try to create a photo album or book from our adventures and send that to our families as gifts, so they can see where we've gone," says Beth Rodden, who's partial to sites like Pear Tree and Snapfish. "And whenever possible, we try to include them in our adventures." 
Chip Away at Your Bucket List
You could also forego presents entirely and put the money you save—according to a Gallup poll, the average family plans to fork over $830 on holiday gifts this year—toward a big adventure in the year to come. There are still last minute openings and deals to be had, whether you travel or simply book in the next three weeks. In Wyoming, the unforgettable, ultra-luxe Brush Creek Ranch perfects the art of relaxing-yet-adventure-packed family vacations, offering guided horseback riding on 30,000 acres of rolling sagebrush in the foothills of the Snowy Range, fly-fishing private waters on the North Platte River, archery, zip lining for kids as young as four (my youngest still raves about soaring 100 feet above Brush Creek), and a fully-staffed, all-day L'il Wranglers program. For the first time, BCR will share its winter wonders with guests this year, with packages that include sleigh riding, snowshoeing, ice fishing and skating, cross-country skiing, and, yes, saloon karaoke (three-day New Year's stays from $800). To go really off the grid, take the gang on a six-day Northern Lights cruise in Norway. This is winter at its finest: short days, icy fjords, Viking feasts, and dogsledding, and near-nightly aurora borealis (from $907). 
Lead Photo: AlexBrylov/iStock
Trending on Outside Online