How to Compete on the Road While Raising Kids—5 of Them
James Lawrence, aka the Iron Cowboy, ran 50 Ironman triathlons in 50 days this summer. He did it all with his five young children in tow.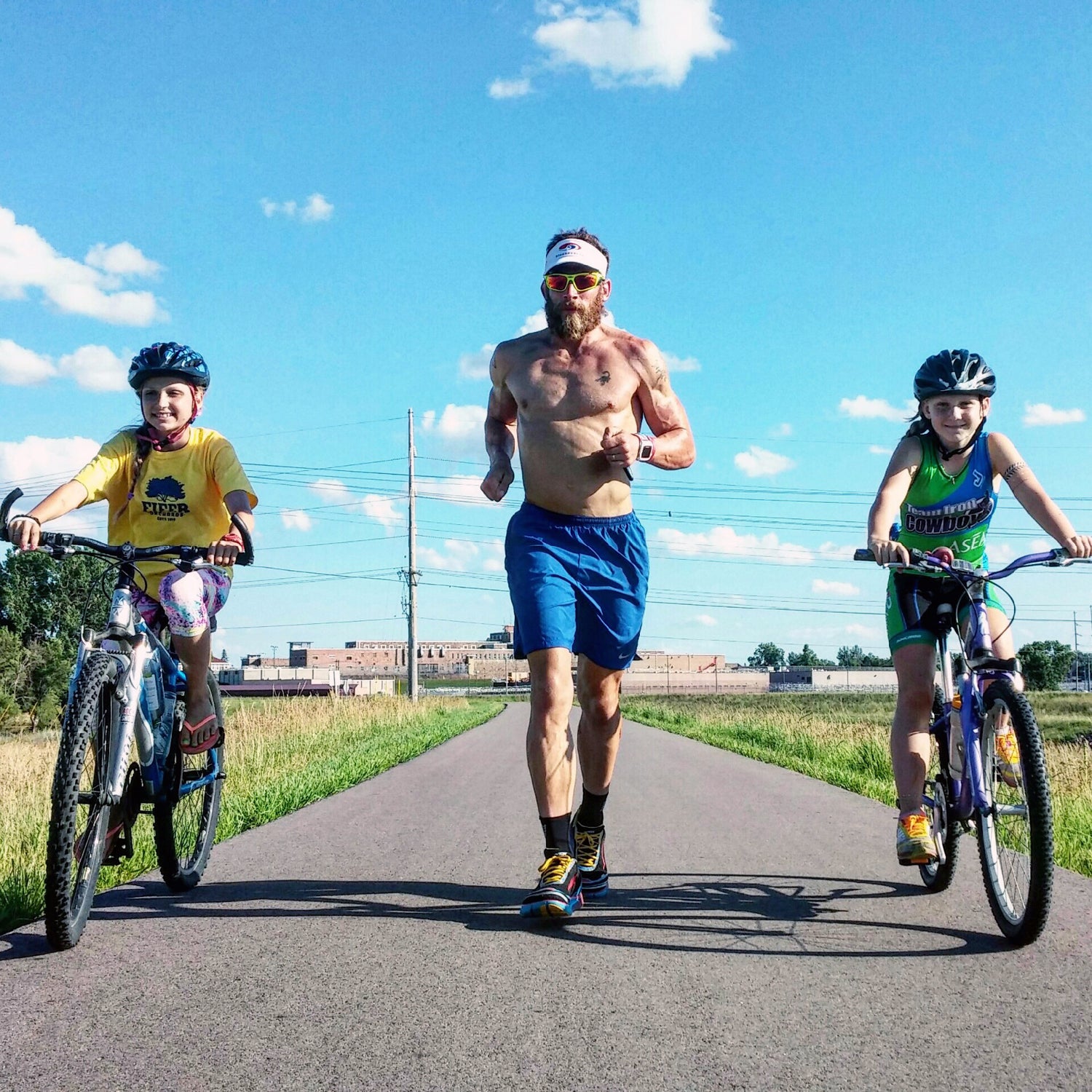 Heading out the door? Read this article on the new Outside+ app available now on iOS devices for members! Download the app.
Earlier this summer, James Lawrence, the 39-year-old world-record holding Ironman athlete, rolled out of Lihue, Hawaii, to begin his most insane endurance campaign to date: 50 Ironman triathlons in 50 states in 50 consecutive days. Over the next seven weeks, he and his wife, Sunny, and their five kids—four girls and one boy, aged six to 12—traveled the country crammed into a rented RV. 
The physical demands of Lawrence's quest were staggering—Lawrence, aka the Iron Cowboy, swam 2.4 miles, cycled 112 miles, and ran a full 26.2-mile marathon every single day. But the logistics of sleeping, eating, parenting, and driving to the next state in time to race again the next day proved perhaps a comparable test of stamina. By the time he ran back into his hometown of Orem, Utah, on July 25, Lawrence had raised $75,000 for the Jamie Oliver Food Foundation to fight obesity. And, miraculously, his family was still speaking to him. We caught up with the candid Iron Cowboy, his wife, Sunny, and his 12-year-old daughter, Lucy, by phone from Utah to find out how they pulled off the whole crazy circus.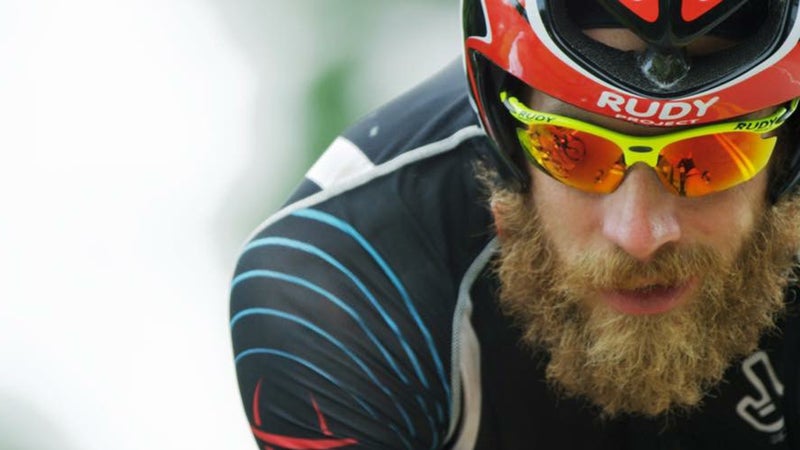 OUTSIDE: Why did you decide to bring your family with you on the road?
LAWRENCE: I left my family in 2012 to do 30 Ironmans around the world. This time I wanted them to see the country and see how the triathlon community unifies. I also believed I needed the love, support, and motivation from my kids and wife in order not to go into a dark place. 
SUNNY: He missed the family a lot in 2010 [when he set the record for most half Iromans in a year] and 2012 [when he set the record for most full Ironmans]. He didn't have to tell me he wanted to bring the kids. I just knew it. He wanted to do it in 2014, but I told him if we give ourselves an extra year, it will give us a chance to prepare. I guess I guessed right. He's the one that has great ideas. I'm the one the one who uses logic. If we put them together, we have a perfect brain. We packed everything up and left life here behind. 
LUCY: I didn't totally understand it at first, but when I did, I thought 'This is randomest idea ever!' But it's really cool.
How big was the RV?
LAWRENCE: Definitely not big enough! It had two beds and a pullout. There were seven of us on two beds. Actually, for most of the time, there were ten of us, including a driver and my two wingmen. We never had less than ten people in there. People were sleeping three on the floor. It was the biggest motor home we could afford. Eventually, by about race 30, we got a van. We took the seats out and made a bed for me.
LUCY: It was crazy in the RV.  We had these small twin beds, and there were either five of us in a full bed or three of us sleeping on a twin.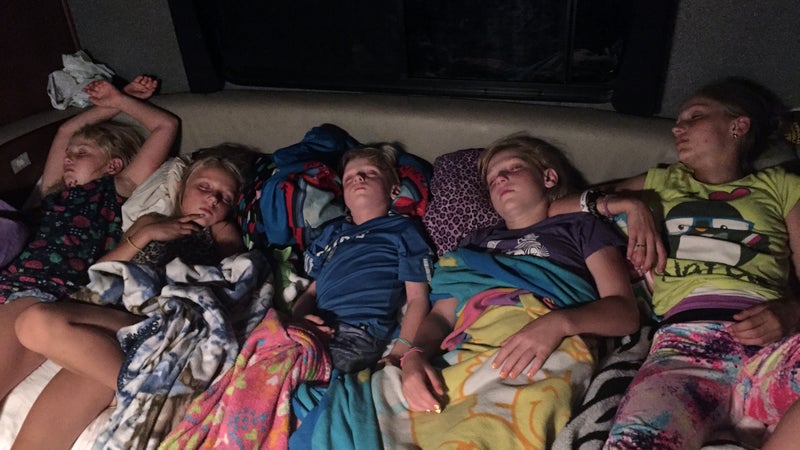 So while you're doing this insane day-in-day-out endurance blitz, it's also full-time family vacation?
LAWRENCE: Yeah, totally. That was one of the harder things I had to figure out—going in and out of Iron Cowboy, the athlete, and James Lawrence, the father. I had to find the happy medium. My family always comes first. Obviously there were times I was irritable, but I tried really hard to make sure that my kids were number one and always having fun.
What did they do everyday?
LAWRENCE: We had ambassadors in every state who helped design the courses. They had activities set up for our kids—zoo, swimming pools, monuments, children's museums. My kids got to see or do something cool in most of the states. People ask me, what was it like to see the country? I was on my bike. I was in lakes and pools. I didn't see the country! But they did. Lucy and our 11-year-old, Lily, met me every evening to run the last 5K with me. 
LUCY: I just decided a couple days before the trip that I would run everyday with him. It was my idea. I wasn't going to see him much so that was the 45 minutes a day I'd get to spend time with him. Most days, the running wasn't really that hard.
How do your kids stay active at home?
They're all in gymnastics except for the oldest. The two middle play volleyball, the two older girls have started a run club. I take them rock climbing every week. They ride their bikes to school. We let them choose the activities, and we don't force any of it on them. I'm not cracking the whip, saying, You have to run because we're a running family. But they know they can't sit around and play video games all day, either.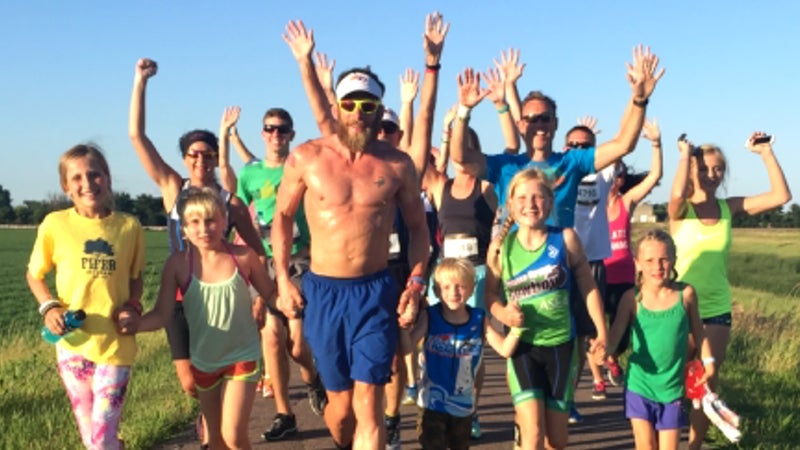 How did you find the time to train with five kids at home?
All the way up to the 50/50/50, my wife was in school, and both of us were working out. She would get up at 5 a.m. and get her workout in with her friends. Then I would go. And our kids are old enough now that we can both go out together in the morning before they go to school. 
So where do you go from here?
I'm getting back into my coaching business and raising money for charity. I'm going to do a lot of fun racing, but it's not going to be so hyper focused and structured. Two world records and now this should hopefully satisfy my hunger, and other peoples'. 
Sunny, did you get any time for yourself on the road? 
SUNNY: Not a fat chance! I swam with James five times, and one morning in West Virginia the wingmen made me go out and do a short run. But you know, it's only 50 days. It's like the longest sleepover of your life. I knew it was going to end.