How to Keep Your Kids Safe at the Beach
The family that learns to chillax correctly will be much safer on or near water. Here are some easy tips.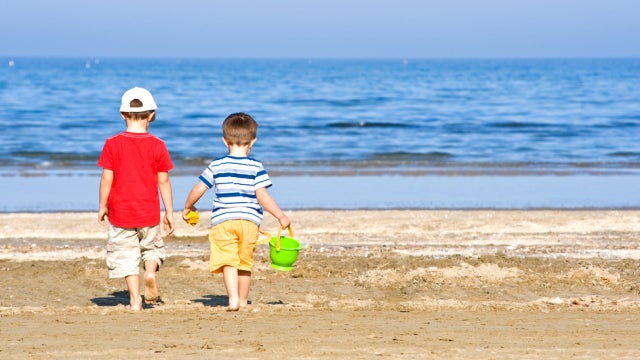 Heading out the door? Read this article on the new Outside+ app available now on iOS devices for members! Download the app.
Two years after the fact, I take what happened in the surf at an Atlantic beach much more seriously.
At the time we thought it was hoot. One minute, this fifth-grader friend of our daughter was fooling around on her body board in the shallows, the next she was way out beyond the break, courtesy of a sudden strong rip current.
I paddled out to her on my kayak, saw her grin, and mock-scolded, "Young lady, what are you doing way out here?" We could laugh, because the kid was such a good swimmer and she did everything right: She relaxed and didn't try to swim against the current.
The sudden loss of control could have freaked-out a different, less comfortable kid. There could have been tears, fear, yelling for help. And there could have been much worse. Fear could have triggered full-on panic, and the girl would have drowned.
"Once they go far into that [panic] cycle, the brain shuts off, and there's nothing they can do to save themselves," says Roy Fielding, lecturer and aquatics director at the University of North Carolina, Charlotte, who sits on the American Red Cross Scientific Advisory Council and advises the Red Cross on its lifeguarding programs.
Fielding is echoed by Izzy Tihanyi, co-owner of La Jolla-based Surf Diva which has taught thousands of girls to surf and be safe in the surf zone. Both agree that there's only one way to prevent panic: build comfort in the water.
The more you know about this gorgeous and supremely entertaining liquid environment, the more comfortable you can be. Comfort is also built on hours of fun in the water that is not just swimming.
"There is a big difference between a proficient swimmer and being comfortable in the water," says Fielding, who adds that with kids, everybody in the family should be comfortable. Here's how you and your crew can get there.
Teach Them to Swim
The earlier the better, put kids into lessons and stick with it until they're strong swimmers, good for distances, with strong survival skills such as treading water and back floating. Remember, though, that pools where kids learn swim are, as Fielding says, "sterile environments" with surprises built out. The challenges of oceans, lakes, and rivers, by contrast, are all about surprises.
Look, Think, Talk
For a day at an ocean beach, know the weather forecast and tide table. When you get there, check out surf conditions and warnings on signs. Talk, talk, talk, starting in the car, about what might happen, how to respond, whether you've got what you need to be safe. On beach trips it's always good to hammer on rip currents, a leading deadly danger. If you're next to the water – fishing off a jetty, say, or tide-pooling on a rock shelf – be prepared go into the water. It happens all the time. On boats, everyone on board needs a PFD.
Sign Language
Make sure everybody knows the universal signals for "Help!" waving arms in the air, and "I'm okay," putting a hand on top of the head.
Practice
Don't just tell the kids that it's safe to dive under big waves, go out and have fun doing it. In pools, practice diving for rings and staying under for at least 10 seconds, to make deep dunkings routine. Where it's too deep to stand, play games, clown around, talk, and just hang out until your kids get used to it.
Be the Lifeguard
Even where there are lifeguards, designate a grownup to watch children like a hawk. It's important to designate a particular person, because, as Tihanyi says, "Everybody is nobody." She says, too, that youngsters never outgrow the need for adult vigilance. She highly approves of one of our friends with champion swimmer teens who are not allowed to use their own pool without a parent there watching.
Sunscreen is Not Safety
Sunburn is bad, sure, but Tihanyi cautions against fixating on it. "Parents are so worried about sunscreen. As soon as it's on, they start texting and talking on the phone and reading their magazines." Meanwhile, Junior toddles off toward the big blue beckoning Death Zone. Relax, yeah, but never space out. False comfort is the opposite of the solid comfort that makes you and your family safer and happier in the water.