How to Road-Trip California's Highway 1 with the Kids
The secret to surviving a weeklong family vacation along the Pacific Coast? Rent a tricked-out minivan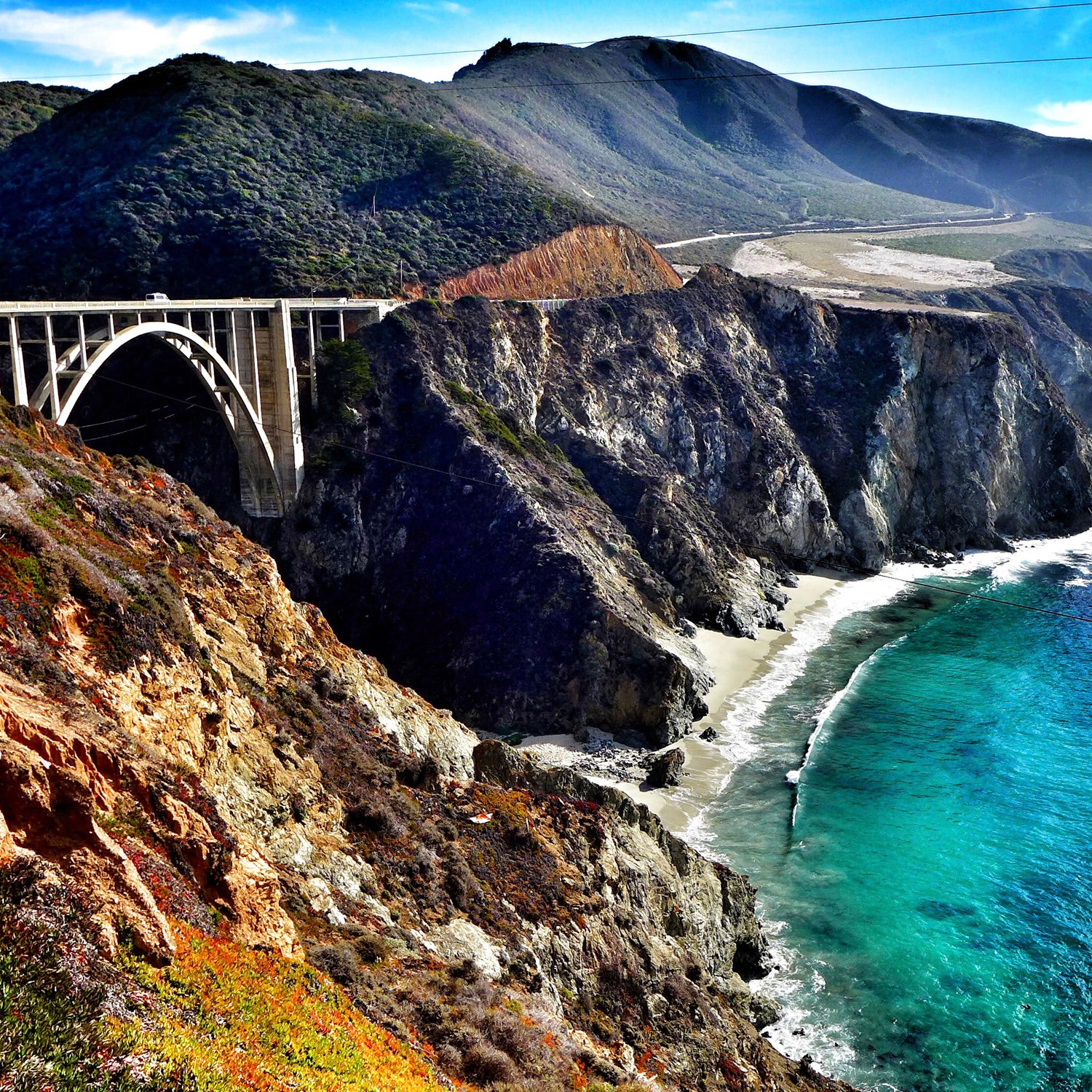 65mmre/iStock(Photo)
Heading out the door? Read this article on the new Outside+ app available now on iOS devices for members! Download the app.
The bunnies are not a good sign. It's day one of our Jucy van adventure along the California coast and we've just spent the last two hours snarled in four lanes of Good Friday traffic crawling northbound from LAX on the 101. Now we've pulled into our campsite at Carpinteria State Beach ($60), halfway between Ventura and Santa Barbara. By some miraculous stroke of luck, we managed to snag a last-minute cancelation at the only available campsite in Southern California, beachside on "Ocean Row," with an uninterrupted view of the Pacific Ocean through the dashboard.
On either side of us, however, are wall-to-wall, hulking RVs, each backed into its narrow wedge of blacktop. With paper lanterns strung up from awnings, pop-out rooms, and satellite dishes, the monster campers dwarf our diminutive Jucy, a tricked-out Dodge minivan. But it's the giant, inflatable rabbits that unnerve us the most. Across from us, our neighbors in the Prowler have erected a small pop-up shade structure for the express purpose of displaying two eight-foot-tall Easter Bunnies, propped up in matching lawn chairs. Beneath a strand of twinkling holiday lights, the rabbits taunt us with their absurd, plastic-y cuteness.
A few months earlier we'd decided it would be fun to drive a Jucy van on Highway 1 from Los Angeles to Big Sur for spring break, camping along the way. We have a checkered past when it comes to recreational vehicles, having been seriously chastened by the decrepit Airstream we bought (and then quickly sold) in 2011. A couple years later, we almost froze to death when we borrowed a friend's 1992 VW Eurovan for a Thanksgiving road trip through the remote canyonlands of southern Utah. Both experiences convinced us that we are tent people at heart, far happier sleeping on the ground beneath a flap of nylon than in a cumbersome vehicle with lots of moving parts (some of which break). 
Then we heard out about the Jucy. If you live on the West Coast, chances are you've seen seen the lime-green-and-purple micro-campers cruising the national parks, scenic byways, and beaches. Jucy was founded in New Zealand in 2001, to take advantage of the country's notoriously awesome network of public campgrounds. It made inroads to Australia in 2007 and was exported to the U.S. in 2012. You can now rent Jucy vans in Los Angeles, San Francisco, and Las Vegas. 
A late-model, micro camper van that was easy to drive, had two full beds and a small kitchen, and most importantly, was not ours seemed like the ideal way to explore the Central Coast with our two young daughters. The Jucy might prove to be the Goldilocks of campers—and if it wasn't, we could return it at the end of a week and walk away, no strings attached. I pictured us roving freely up the coast, our tiny mobile home on our back, pulling over to camp along gorgeous beaches whenever and wherever we felt like it. 
The thing about California is that everyone else has this fantasy, too. If you want to sleep in nature, close to trails and beaches—not in glorified parking lots bedecked with holiday kitsch—you need to reserve campgrounds in advance. Way in advance. Which puts the kibosh on spontaneity, sort of the whole point of a camper-van road trip in the first place.
But friends who live on the Central Coast assured me the advance legwork would be worth it to cruise California's most famous route at the peak of spring bloom. So we booked the best campsites from Carpinteria to Big Sur, flew to L.A., and picked up the Jucy at the depot a few miles from the airport. Appraising the van for the first time was a little like watching a dozen clowns climb out of a VW Beetle at the circus: All that's in there? Kitchen sink, small refrigerator, tiny pantry for pots, pans, dishes. Butane stove. Make that two (one portable). Camp chairs. A table. Lights powered by solar panels. One bed downstairs, another bed upstairs in the pop-top, accessible by an exterior ladder, and bedding for both.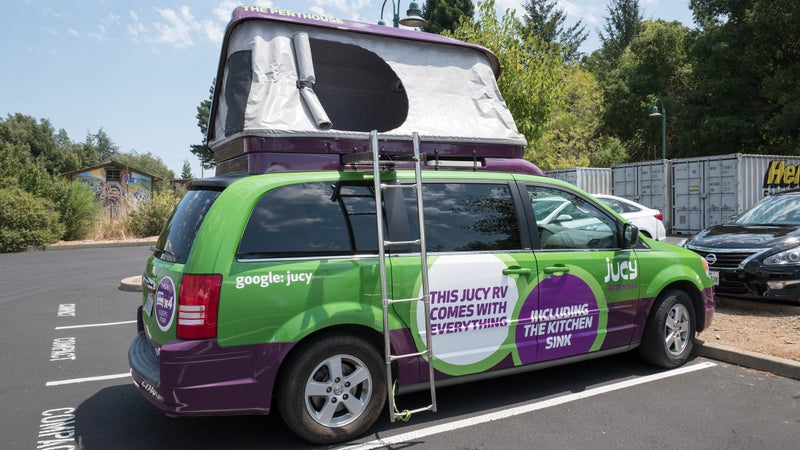 Day One: Ocean Row
There's a learning curve to the Jucy, and it took us a little while to dial in our systems. The first night, on Ocean Row in Carp, we spent 40 minutes cranking open the pop-top bed and assembling the backseat bed, which involved unfolding an accordion mattress and lying it flat across the back of the van (as well as much duffle shuffling and cursing under our breath—if the Jucy's short on anything, it's storage space for personal luggage). But as soon as the girls sacked out downstairs and I crawled up the ladder into the "penthouse," I felt immediately better. The upstairs bed has impressive privacy and soundproofing from the kidlets downstairs and a surprisingly plush mattress. Through the canvas walls, with four screened windows, the crashing waves soothed my jangled nerves—and drowned out the sound of the neighbors, who just ordered a pizza delivered to their RV door.
That was the low point. Fortunately, it was followed by a rapid succession of highlights. 
Day Two: Channel Islands National Park
We're up and out of Carp just after sunrise to catch the hour long ferry from Ventura Harbor to Santa Clara Island in Channel Islands National Park. The 21-mile rough-water crossing (Dramamine saved us) helps explains why this is one of the least-visited national parks in the country—and the absolute best antidote to the crushing thrum of SoCal crowds. There is no development on the island, which is as hilly and green as Ireland, thanks to the El Niño winter. Offshore of Scorpion Cove, the waves are just big enough to make our two-hour guided kayak tour of some of the island sea caves with Santa Barbara Adventure Company feel sporty. Afterwards, we hike the stunning 4.5-mile Scorpion Canyon Loop trail, which climbs the sea bluffs, spackled orange with California poppies, and drops down a switchbacking single track to the walk-in campground, an idyllic spot shaded by mammoth eucalyptus trees. We're not camping here tonight, but we vow to return.
Day Three: Santa Barbara
After the outrageous solitude in the Channel Islands, Santa Barbara feels like a teeming metropolis—nothing that an afternoon surf session with the Santa Barbara Surf School won't cure. At the Santa Claus Lane break, just south of town, the waves are two feet high, the air is a chilly 60 degrees, and the ocean can't be much warmer, but this doesn't dampen my 7-year-old's spirits. Decked out in a wetsuit, Pippa pops up on her first wave ever and rides it to shore, then happily stays out for the next hour and a half with her 20-year-old instructor, Jack. Afterward, lunch is thin-crust pizza and kale salad on the picnic tables outside the hip Lucky Penny before we point the Jucy to wilder points north. 
Day Four: Montaño de Oro State Park
At last! Our campsite at Islay Creek, tucked into a narrow canyon above Spooners Cove, is Jucy-van heaven, with long-limbed oaks for the girls to climb, lots of privacy from our neighbors (a family from Colorado, camping out of their Subaru) and 50 miles of buff, gently contouring singletrack right out the van door. By now we've fully acclimated to van life and have our daily Jucy routine down to an art: while Steve preps breakfast of fruit, hot oatmeal, and coffee from the galley, I break down the beds and turn the camper back into a mini van. Then we go exploring. Though it's only 25 minutes from the happening Central Coast college town of San Luis Obispo, Montaño de Oro feels well off the beaten path, and on our six-mile hike up 1,300-foot Valencia Peak that afternoon, blasted by sustained 30 mile-per-hour wind gusts, we pass only a handful of other hardy/crazy souls. I think wistfully about parking our Jucy here for the next week and hiking, trail running, and prowling the tide pools at surf-pounded Spooner's Cove for sea anemones and star fish, but two nights at Montaño de Oro will have to do—for now. Big Sur beckons. 
Day Five: Morro Bay
After a morning hucking off massive sand dunes and tide pooling at Hazard Reef, we drive north out of Montaña de Oro, bound for Morro Bay, 20 minutes up the road. The beach just north of iconic Morro Rock is riddled with sand dollars and within half an hour, the girls have collected a bucketful–and worked up an appetite for just-baked cookies at the Brown Butter Cookie Company, in the sleepy beach town of Cayucos (while you're there, the smoked salmon at Ruddell's Smokehouse across the street makes for an ready-made Jucy meal). Out of Cayucos, Highway 1 shrinks from a four-lane highway to the narrow, twisting, coast-hugging byway I'd always imagined. We follow the throngs and pull over at the Elephant Seal Rookery, just north of San Simeon, where hundreds of blobby seals and their babies litter the beach like bleached driftwood. Now we've officially entered Big Sur South and the views get more astounding around every curve. We pass trailheads tucked into narrow clefts shooting straight down to the sea, but push on for Kirk Creek Campground, on a grassy bluff directly above the Pacific.
Day Six: Limekiln State Park
There are three public campgrounds to choose from in Big Sur South—Plaskett, Kirk Creek, and Limekiln—but Kirk Creek, on the ocean side of Highway One, with sunset views and the gorgeous, precipitous Vicente Flat trailhead directly across the road, is by far the sweetest. This is our base for the next two days, and we quickly fall into a dreamy routine: hike, picnic on the beach, repeat. We hit up the short three-mile Limekiln Falls trail network and then laze on the sand at Sand Dollar beach, a wide strand protected from the wind by high cliffs. In the evenings, the sunsets at Kirk Creek are too gorgeous to miss, so we cook quinoa out of the Jucy, content to be out of range and just over the edge of civilization for a few days. 
Day Seven: Big Sur
Our last full day in Big Sur, we head north to Big Sur Station, the first town we've seen in days. Compared to remote Kirk Creek, the handful of restaurants and hotels, some swanky, throws down some serious culture shock. Cell service! Spa treatments! Lines out the door at the Big Sur Bakery! We're not ready to reemerge, so after we pick up picnic supplies, we beeline straight to Pheiffer Beach, a sliver of sand fronted by pounding surf, and then out to Andrew Molera State Park for a looping four-mile hike through meadows and along ocean bluffs. After six days of hiking, the girls mostly no longer need prodding (or in the case of five-year-old Maisy, carrying). All they need is their own wacky, made-up missions, like hopping from one boulder to the next or collecting as many roly-poly beetles in their baseball hats as they can. Beyond giving us unparalleled access to some of the Central Coast's wildest terrain, a week in the Jucy Van has taught us to simplify and slow down—lessons we can all stand to learn and relearn and, if we're lucky, import to our real lives back home. 
Day Eight: Going Home
On our last day, after gorging ourselves on wildlife viewing at the Monterey Bay Aquarium and over-nighting in our friends' driveway in bucolic Carmel Valley, we walk away from our Jucy at the Oakland Airport not gladly as we had feared, but sadly. It has given us seven days of unencumbered family time, with little more than a couple duffles and a small, well-stocked supply of food to see us through. Free from the usual clutter of home life, from pesky tasks like doing laundry and running errands, we could focus on being together in our miniature mobile home while time seemed to stand still—for a little while at least.
Lead Photo: 65mmre/iStock