How to Take Your Baby on a River Trip
Taking a tiny human floating seems intimidating, but it doesn't have to be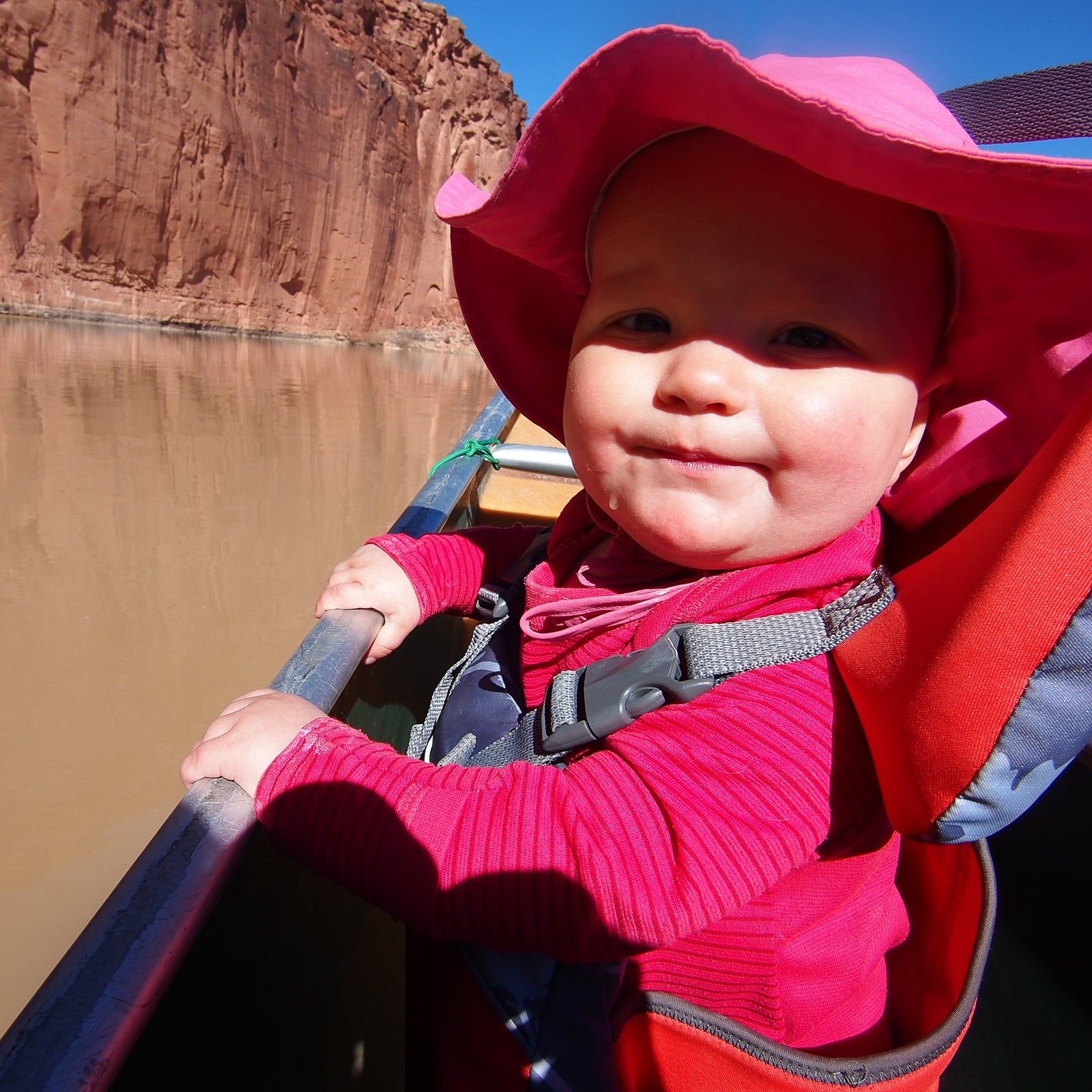 Krista Langlois(Photo)
Heading out the door? Read this article on the new Outside+ app available now on iOS devices for members! Download the app.
Every March, when we're sick of winter but too impatient to wait for spring, my husband and I drive to the desert to go paddling. The rivers of the Colorado Plateau run muddy with snowmelt, and the sun feels like heaven. Weather on these trips is variable—we've been snowed, rained, and hailed on—but the quiet canyons and starry nights are worth the gamble.
This year, though, there was an even bigger variable: our daughter Josephine, who was 11 months old and had never been in a boat of any kind. How would she react to spending hours each day in a canoe or raft? Would she sleep when nighttime temperatures dropped into the thirties? And was it foolhardy to take her so deep into the wilderness that you couldn't easily hike out?
Still, as the snow continued to fly at our home in Colorado, I couldn't stop daydreaming of a 45-mile stretch of calm water that flows through Utah's Labyrinth Canyon. I'd been reading Alan Kesselheim's book Let Them Paddle, about canoeing with his children, and the fact that he'd taken an eight-month-old on a month-long expedition down the Yellowstone River made my idea seem tame. For additional inspiration, I reread a few chapters from Mardy Murie's classic memoir Two in the Far North, in which she takes her six-month-old on a four-month Arctic river trip in the 1920s, long before GoreTex and disposable diapers. Clearly, I rationalized, humans have been taking babies down rivers for millennia.
Despite those two books, there's relatively little information about how to pull off a multi-day river trip with a little one. Apart from a few tips I gleaned from Murie and Kesselheim, we were mostly winging it. As I made lists and packed meals and stuffed clothes into drybags, I was slightly terrified that the minute we were stuck in the bottom of a canyon with a wailing baby, we'd regret leaving the house.
There were indeed a few times when we were stuck in the bottom of a canyon with a wailing baby. But I never once regretted it. Here's how we pulled it off.
Buy a Good PFD
One of the smartest things I did when pregnant was to use my baby shower to convince friends and family to buy me fancy outdoor baby gear, including this bomber PFD from Level Six. This one is comfortable, doesn't ride up, and will fit for several years. I also made my daughter wear it around the house for a couple weeks so that she was used to it before we got on the water.
Choose Your Destination and Boat Wisely 
First, your destination: You want water with easy rapids (Class I) or none at all, in an environment where you're already comfortable with backcountry travel. Then, choose your craft. Kayaks are not practical with a baby. Rafts can haul lots of gear and people but are slow, heavy, and often have standing water on the floor, which means no dry place for an infant to hang out other than in your arms. Canoes, on the other hand, are practically made for babies. The gunwales are the perfect height for a standing baby to hold onto, the hull stays mostly dry and offers a solid surface for playing or napping on, and they're easy enough for one person to paddle if the other needs to hold or feed the kiddo.
Learn to Canoe
Any sport that requires two people to operate a single machine—like tandem bicycling or canoeing—is a fight waiting to happen if you don't know what you're doing. Before you push off with a baby on board, get on a local lake or river and practice paddling with your partner. Master the J-stroke, reverse stroke, and pry and draw, or consider taking an introductory course from an organization like the American Canoe Association. Once you get into the backcountry, there will be plenty of things to stress over; your J-stroke doesn't have to be one of them.
Give Yourself Extra Time
We spent five days covering just 45 miles (it's a two- or three-night trip for adults). That allowed for a layover day if the weather turned and gave us shorter days on the water, spread out over more time. It was tempting to try to do the trip in as few nights as possible to simplify the logistics, but I'm glad we didn't. It took a few days to get into the groove of loading the boat each morning, paddling all day with the baby, and setting up camp in the evening, and we wouldn't have wanted to be getting off the river just as we were hitting our stride.
Pack a Day Bag
When you push off from shore, most of your gear will be hard to access, crammed into drybags and tied to the boat. Make sure you have the essentials in one easy-to-access spot. For us, this meant a 30-liter SealLine Baja drybag that I stashed under my seat, packed with a warm hat and jacket, sunscreen, snacks, diapers, wipes, and a blanket.
Ditch the Cotton Onesies
Sometimes when I dress my infant in her synthetic Patagonia base layers I feel ultra snooty, even though I got them used from the company's Worn Wear site. On this trip, though, they proved ten thousand times better than cotton onesies: breathable but warm, quick drying, and so durable that Josephine wore them every day on sand and mud and abrasive rocks with no discernible effect.
Take a Rescue Beacon
Emergency beacons—like a SPOT Satellite Messenger or Garmin InReach—let you to call for help from remote areas with no cell  coverage. They're also not cheap. The Garmin costs $400, and the SPOT is $150 plus an annual or monthly subscriptions. But if I was ever in a sticky backcountry situation with an infant, I'd kick myself if I hadn't invested in technology to activate a rescue with the push of a button.
Bring an Old Sleeping Pad or Car Seat
I had no faith whatsoever that Jo would nap in the canoe; she's a fussy sleeper who struggles to drift off. But something about the quiet and the rocking motion lulled her right to sleep. I laid her on an old half-inflated Thermarest in the bow, draped a lightweight blanket over the gunwales for sun protection, and paddled in total bliss while she dozed.
For younger babies, we heard of parents who brought a car seat, put an umbrella over it, and let the baby snooze or hang out there while the parents paddled. If you go this route, make sure not to strap your child into the car seat. That way, if you accidentally flip the boat, your baby isn't buckled to a heavy object that will sink.
Rock the Boat
The best advice we got was to bring a plastic bucket and fill it with rocks every morning. Apparently every baby on earth gets a kick out of throwing stones into the water from a canoe, keeping them distracted so you can paddle. On shore, too, they made the best play things. I brought a couple toys just in case, but Jo was way more interested in the local geology.
Without hesitation, I can say that our springtime journey through Labyrinth Canyon was the best river trip of my life. Not because of the water or the scenery, which were both plenty nice, but because I got to watch Jo discover the joy of traveling by canoe, tossing rocks overboard and watching the world go by.
Lead Photo: Krista Langlois