Islabikes: Made for Kids
The British company brings high-quality, lightweight rides to the U.S.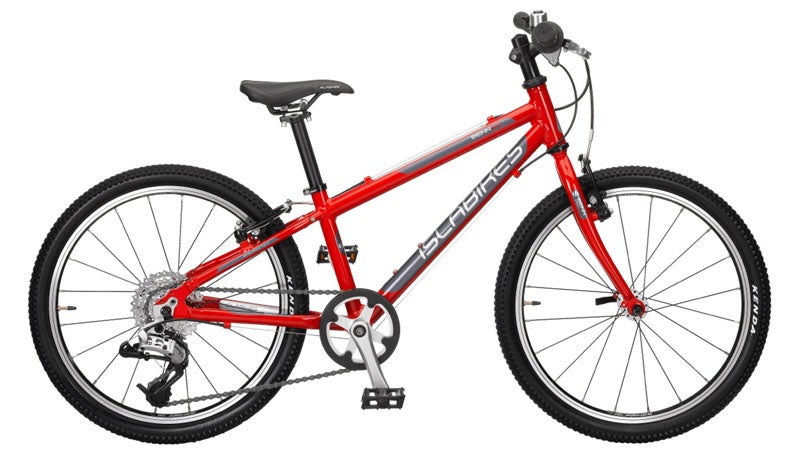 Heading out the door? Read this article on the new Outside+ app available now on iOS devices for members! Download the app.
How do you break into the American bicycle market? If you're a wildly popular boutique brand from the U.K., you do it one carefully crafted bike at a time. 
Founded in London by Isla Rowntree, a former pro cyclist and product designer, Islabikes was built on a radical premise: make fully featured, well proportioned  kids' bikes that weigh a fraction of what their riders do. Not surprisingly, the idea took off, and now—seven years later—Islabikes are the must-have two wheelers across the pond.
"As a small person myself, I have struggled with bikes that are the wrong shape—particularly with brakes that I can't reach and that are too heavily sprung for me to operate well," says Rowntree, 44, who recently won the first round of the British National Cylocross Series. "I know how much that diminishes my confidence and cycling enjoyment. When I saw kids have the same struggles with poorly designed bikes, I knew I could do better." 
The company now produces five different models in a variety of frame sizes for kids ages two to 14, from a "running bike" (that's British for balance bike) to a road bike for tweens and teens that can be kitted out for touring, cyclocross, or triathlons.
"As adults, we often have multiple bicycles for the different riding we do, but for a growing child, that doesn't make sense," explains Islabikes President Tim Goodall, who decamped to Portland, Oregon, to open the company's first U.S. store (complete with a test track in the warehouse) and introduce its fleet to American families. "These are designed to be versatile."
Islabikes couldn't have picked a better test market. Portland routinely tops lists of the most bike-friendly cities in the country, and it's a hotbed for global and national bike trends (like bakfiets, those multi-kid-carrying, Dutch cargo bikes).
Yet when it comes to children's bikes, the U.S. still lags behind on cutting-edge design. Most kids' two-wheelers are burly little behemoths that lack features of adult bikes and often weigh nearly as much as the kids themselves.
Our older daughter, Pippa, learned to ride on a pedal-free Strider bike that carried her all over the park as fast as her little legs would go. Gliding along on two wheels seemed effortless, largely because the tiny Strider weighed all of seven pounds.
But then she graduated to a pedal bike at age three, and started cycling through a variety of lunkers. First there was the Pudd'n, a purple hand-me-down by Giant that must've weighed more than 25 pounds. For a while she borrowed a friend's Jamis, with 16-inch tires that wasn't much lighter; then a neighbor offloaded her grandson's old Huffy BMX, but like the others, it was too heavy for a kid who weighs less than 40 pounds to pedal up the slightest incline.
We didn't want to doom Pippa's early love for riding by saddling her with cumbersome bikes, so when it was time for a new bike, we bought her a Specialized Hot Rock with 20-inch wheels. The company is highly regarded by many in the industry for building the lightest kids' mountain bikes on the market, and her hot pink Hot Rock was a huge improvement. The the bike was clearly much more maneuverable; she could ride it halfway up the driveway and push it up short, steep sections of singletrack. 
So when Islabikes recently delivered a couple of demo bikes to Santa Fe for my daughters to test ride, I was skeptical about how much lighter they really could be. The short answer is: a lot.
The Beinn (that's Gallic for "mountain") comes with 20-inch wheels, two handbrakes, a seven-speed Sram derailleur, Grip Shifts ("about as intuitive as you can make gears," Goodall says), and weighs 17.3 pounds.
Three-year-old Maisy's demo model, the Cnoc ("hillock") has foot brakes, a single hand brake, and Kenda cross-country tires that are midway between true mountain bike knobbies and city slicks. Like all Islabike frames, it's aluminum. It weighs 12.8 pounds.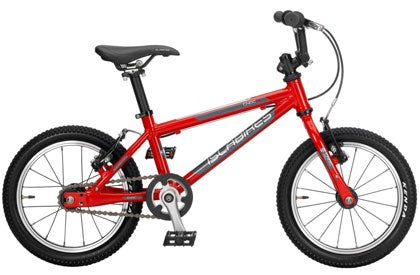 "Traditionally, children's bikes have been left behind" when it comes to quality and features, Goodall says. "There's not nearly as much attention to detail." But not Islabikes. A stickler for sizing, the company molds many of its own parts, including smaller headsets and seven crank lengths. Seats are narrower to fit children's slim hips, and the smaller-diameter handlebar grips and light-action brake levers are proportioned for little hands. Islabikes pedals have a larger platform and are slightly tapered, so if your three-year-old accidentally puts her foot on the narrow top like mine tends to do, the pedal will automatically rotate into the the correct, flat position.
"It sounds so obvious but all we've done is shrunk down everything from typical adult bikes," Goodall explains. "But no one else has done it."
Of course, the kids don't need to geek out on any of these details. They just need to ride  safely and have fun. Which so far mine are. Pippa is still mastering the front and rear handbrakes (the 20-inch Beinn doesn't have pedal brakes—a departure for her), and probably won't really dial in her shifting for another few months, but I can already tell that the Beinn is that rare breed of kids' bike that will grow with her and won't weigh her down.
The other day, I watched both girls zoom around the bottom of our driveway, a rectangular dirt patch with lots of ruts and bumps, sand traps, a couple parked cars and trucks, errant cats and dogs, and numerous other hazards. They flung their Islabikes around with ease—almost too much ease. Pippa bombed down the opposite hill with confident abandon, handlebars wobbling, but she managed to rein herself in before endo'ing in the sand. And Maisy, who only learned to ride a pedal bike two months ago, seemed utterly at home on two wheels.
"Children are not going to tell you that the cranks are the perfect length," Goodall says. "They'll just be able to ride it faster and farther without stopping." 
Islabikes are available directly through the company at islabikes.com, or at Islabikes Portland.
Beinn, $400 (pictured at top); Cnoc,$270 (pictured in text).
Trending on Outside Online