La Formule for a French Family Vacation
Yes, you can tour France with kids without ever setting foot in the museum. And it's cheaper (and a hell of a lot more fun for everyone) than you'd think.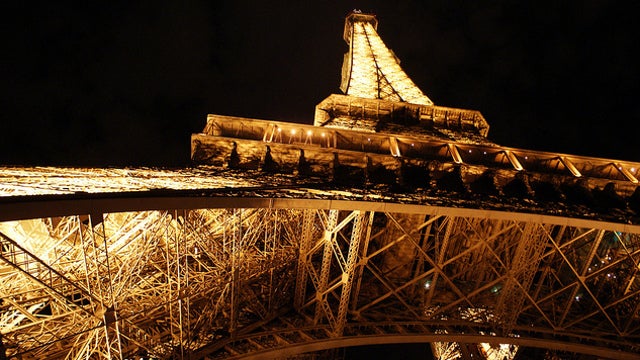 Heading out the door? Read this article on the new Outside+ app available now on iOS devices for members! Download the app.
Maybe 80 miles from my house, there's a large faux-woodsy lodge with an indoor water park open only to overnight guests. It costs way too much and no sane grownup without children would go near it, but the kids we know who have been there rave about it. The place represents one extreme of how to plan a family vacation
The polar opposite – All about us – might be a dream adventure for mom and dad that sucks for Junior and Missy, because it's too tough, too brainy and serious, not suited to brief attention spans, or otherwise wrong for the age group. Ergo sum, the wise in-between, the Land of Happy Tradeoffs where everybody gets a slice of what they want. Works in all the parenting magazines, right?
Well, that ain't us. My wife Sue, our ten-year-old only child Ellie, and I are high-maintenance, demanding gluttons for tailored entertainment who don't like making tradeoffs, especially with treasured vacation time, where everybody wants every damn day to pop.
It's obnoxious, but also possible. This we know, because we hit the mark three times, with some in-between vacations that had elements of greatness but came out a mite blah. Our most notable successes were two family trips we took to France.
I know, I know, France comes with, or seems to, all sorts of gourmet haute-culture baggage. But we go there just to be there. We can't really call ourselves Francophiles, or even Francophones. But we provide laughs for locals and get by.
Last trip, we stayed in a medieval village in Brittany and did, pretty much, the same things we'd do at a little town by a lake in central Wisconsin. In place of the lake we had a pond with a small sand beach and picnic sites. There, we lolled around with seriously rural locals and swam for hours.
We took a few days to go to the Atlantic seashore, 20 or 30 miles away. Our principal outdoor exercise was swimming, with some walking and trail running for me. At mealtimes, we chowed down on French regional specialties, which out there are just things people eat. Lucky for us, Ellie digs mussels, stinky cheese, liver pates, and stunt foods like smoked pig tongue.
Vacation our way is not a field trip. Though we swam, figuratively speaking, in history, we loved the oldness more as a picturesque backdrop. Learning is great, but only if it adds to the entertainment.
On our first France trip with Ellie, we never saw the inside of a museum – a real achievement, since we based ourselves in an apartment in Paris. The thread running through the vacation was hunting up neighborhood playgrounds and other cheap or free kid stuff like pedal go-karts and pony rides.
It sounds stupid, but it worked. Ellie still fit in a stroller, so we could rack up sidewalk miles in cool neighborhoods all day long, eat at places that appealed, and find space and apparati where Ellie could blow off steam with other little kids.
The one time we caved and followed a travel guide imperative was when we day-tripped by train to a river town with a notable chateau. There we realized nobody gave a damn about this or any other chateau, especially on a perfect warm day in such a pretty town. So we blew the thing off, ate a long lunch, walked around, and found a playground down by the river. Ellie met a same-age girl to play with, as she usually does, no common language necessary. And Sue and I gloried in the day and things in view.
Value-wise, these France trips have been surprisingly affordable – less than U.S. vacations with good amenities and sizzle. Our upcoming week in the Alps looks to be cheaper than the same week in a nice rental on the Jersey Shore or alpine American West. Mind, we're talking in-country costs. The trip-killers, lately, are the airfares. If we didn't have mileage points to cover flights, we would not be going.
Our France, of course, is not yours, which might be, oh, Bhutan or the Escalante. At the outset of marriage, long before Ellie, we lived in Juneau and went as often as we could to Admiralty Island, 1,600 square miles of southeast Alaska rainforest with a grizzly bear per square, give or take. There we would poke around, feast the eyes, catch and eat fish, and generally love being with each other where we were. Sub in ancient old-growth trees for historic buildings and monuments, griz for la peuplade, and where were we? France, man, and it brought the same bliss and restorative magic.
When the kid's ready, and the airfare and local charters don't hurt too much, we just might go back.