Get Schooled
Latino Outdoors Doesn't Want to Be Extreme
The leaders who have grown it into a nationwide organization talk about where they aim to take it next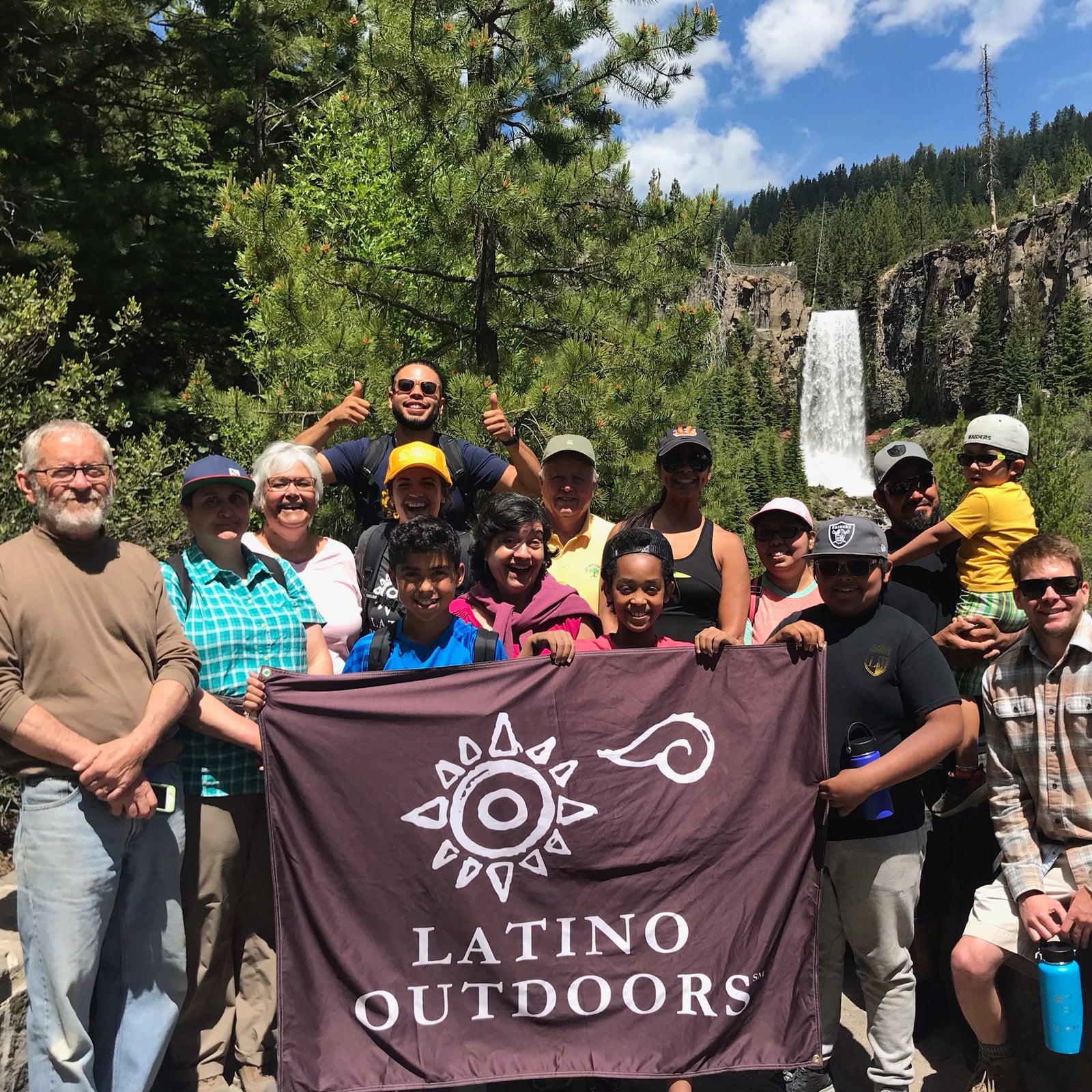 Heading out the door? Read this article on the new Outside+ app available now on iOS devices for members! Download the app.
Jorge Moreno grew up bouncing between the Bronx, Puerto Rico, and Danbury, Connecticut. There were two constants in his childhood: family and basketball. While his mom, grandmother, and uncles were his role models, the center of the community was the local court, where pickup games ran all day.
"We'd show up at the courts with a team and ask, 'Who's got next?' to see if anyone was waiting for the next game," Moreno says. "You couldn't force a team to leave. They had to lose or decide to sit the next one out, so we were forced to be patient and stay prepared for the opportunity. That's a lot like it is in the outdoor industry."
While Moreno didn't start backpacking until he was 33, his love of the outdoors started as a kid. He ran trails near his home and spent summers in Puerto Rico always playing outside. On his very first backpacking trip, he didn't think he'd need a tent and sleeping bag, so he didn't pack them. On his second, he brought too much gear and suffered through a long hike with a heavy pack. Gradually, he picked up skills for these adventures, like how to start a fire, set up a tent, layer for warmth, and fell in love with the activity. Still, he felt something was missing in his outdoor experience: equal opportunities for his community. 
In 2016, Moreno was working at a Patagonia retail store when he met Scott Briscoe, an equity and inclusion leader at the company, who put him in touch with a Latinx-led organization called Latino Outdoors. It was founded by José González in late 2013, with the mission of creating a national community of outdoor leaders. At the time, it was growing quickly but still primarily run by volunteers. National leaders were based in California, but local groups were spread across the country and given autonomy to plan their own adventures, mostly family-oriented day hikes. 
"At that point, I didn't have the right skills and experience to lead, so I just showed up as a participant," remembers Moreno. "My first few outings were hiking on Mount Tam and in the Marin Headlands [in the Bay Area], and I was hooked immediately." He started helping with logistics, hanging out with families who participated, and coordinating events with California State Parks. For three years, he's been volunteering as an ambassador and regional coordinator, getting families outside on hikes and overnight trips, in addition to working as a National Outdoor Leadership School (NOLS) wilderness instructor and account manager, leading trips for inner-city youth. As Moreno took on more responsibilities, the organization grew with him. But its leaders want to make sure that growth continues thoughtfully, positioning the group as an influential difference maker in the outdoor industry. 
"Latino Outdoors reminded me that important outdoor experiences don't need to be in a far-off mountain range. They can be in a public park or your backyard. That's an important lesson for everyone."
Latino Outdoors is currently active in 19 different cities and regions across the country, each with its own program coordinator. The organization is still small in terms of paid staff, with just two full-time employees and a handful of part-time workers. Outings like hiking, camping, biking, and kayaking are organized by about 90 volunteer coordinators across the nation, some more active than others. "The beauty of Latinos and Latinas is that they help with everything," Moreno says. "That's the culture. Volunteering just means being a part of the community. At the time [I joined Latino Outdoors], there weren't set roles like in other organizations—everyone shared the voice, led the talks, and did the planning together."
Latino Outdoors now supports its large network of volunteers by providing programming, advice, and logistics, while still letting local coordinators make many of their own decisions. Ambassadors support the organizers by mobilizing families, guiding hikes, sharing on social media, and attracting new members. Together they hosted 115 outings for 2,000 people in 2018. This year, they're on pace to surpass that by roughly 30 percent. 
In the three years that Moreno's been involved with Latino Outdoors, the organization has more than doubled in popularity and spread to a dozen new regions. Moreno attributes this to how easy it is to get involved. "Most of the outdoor industry likes to say that newcomers need formal training on how to go camping, but it's not true. You're forced to think you need a certificate or a fancy sleeping bag to go outside. Latino families have been doing this for a long time—and Latino Outdoors helps show them that."
Luis Villa, the executive director of Latino Outdoors, worked abroad for 12 years with community-development and environmental organizations. He returned to the U.S. in 2018, hoping to share his experience in the outdoors with his community. "I came back naively thinking I was the only Latino who had had a real outdoor experience and quickly discovered that was far from the truth. Many Latinos were hiking, climbing, trail running, and backpacking," he says. The primary goal of Latino Outdoors, he says, hasn't changed in years: the organization wants to help foster those connections.
In an age when many outdoor brands and organizations are pushing toward extremes—encouraging customers and members to climb bigger mountains, run ultramarathons, and bike and ski steeper lines—Latino Outdoors is going in the opposite direction. "We're focused on our core efforts, and I can't say enough how important that is for us," says Villa. It prioritizes inclusion and getting more Latinx people outdoors, whatever that means for different people. "We want to make sure the entire community knows they have access," he says. "The mainstream narrative of the outdoors is people with individualistic pursuits, and that's where we are different. Latino Outdoors is family oriented."
Ideally, at a Latino Outdoors event, you're not just dropping your kids off for the day—the entire family participates in a shared experience and builds on that together.
While the organization leads some larger and longer trips, it mostly stays local. It believes that a local park can have the same impact as a better-known national park, especially if the whole family can come along. Ideally, at a Latino Outdoors event, you're not just dropping your kids off for the day—the entire family participates in a shared experience and builds on that together.
In addition to getting Latinx people into parks, Latino Outdoors has begun to elevate its voice in the larger outdoor conversation, leveraging its social-media reach to shine a spotlight on its volunteers and the Latinx outdoor community. Villa doesn't shy away from the fact that the Latinx community is among the most underrepresented voices in the larger outdoor conversation. The group is taking steps to change that, using Latino Outdoors as a way to groom new leaders in the industry.
"Our hope is to help volunteers use the organization as a springboard for future work with outdoor and government organizations, providing professional development and growth," says Villa. Latino Outdoors already has examples of this progression, with past volunteers moving on to positions with NOLS, the Sierra Club, and the Wilderness Society, among others. The organization gets a lot of requests for collaboration, primarily from conservation organizations looking for help with trail maintenance, removing invasive species, and policy advocacy. But organizers want families to decide for themselves how they want to get involved in conservation, especially since so many of them are new to the outdoors. 
Ruby Rodriguez, Latino Outdoors' outings program director and operations manager, first volunteered as an ambassador in 2016. With a degree in recreation administration, she's now leading this national network of coordinators and volunteers. "People traditionally excluded from the outdoors are often asked to buy into conservation before they've built a personal relationship with the outdoors," explains Rodriguez. "We believe that stewardship should come naturally, at its own time. We offer healing and empowerment programming and address the wounds that come from being excluded, from entering a space not representative of your identity and from being part of a demographic that's been historically mistreated."
Their next big step is expanding its small core team, spreading out responsibilities with two or three additional full-time staff. This likely means expanding part-time roles and paying stipends to volunteer coordinators, compensating them for their dedication to the organization as it has grown over the last few years. Rodriguez and Villa both noted that the biggest limiting factor right now is time—they both work long hours and often can't get everything done that they would like.  
While the organization hopes to keep growing, Villa emphasized that that doesn't mean significant changes to the mission of Latino Outdoors. "The priority will continue to be the outings program, getting more people outside and letting them decide for themselves how they want to engage with nature, without being overly prescriptive."
The question for all of us in the outdoor industry is: Who's got next? Moreno's answer is straightforward: "There's a wave of people in the industry excited for an opportunity to participate. These aren't just Latinos. They are people from all over with amazing ideas. We're not going to just push someone out. We're going to show up every day, ready to play the game, look for the opening, and accept the challenge when it comes."
Lead Photo: Courtesy Latino Outdoors