Making #VanLife Work with a Family
Talking to the Longnecker family about life on the road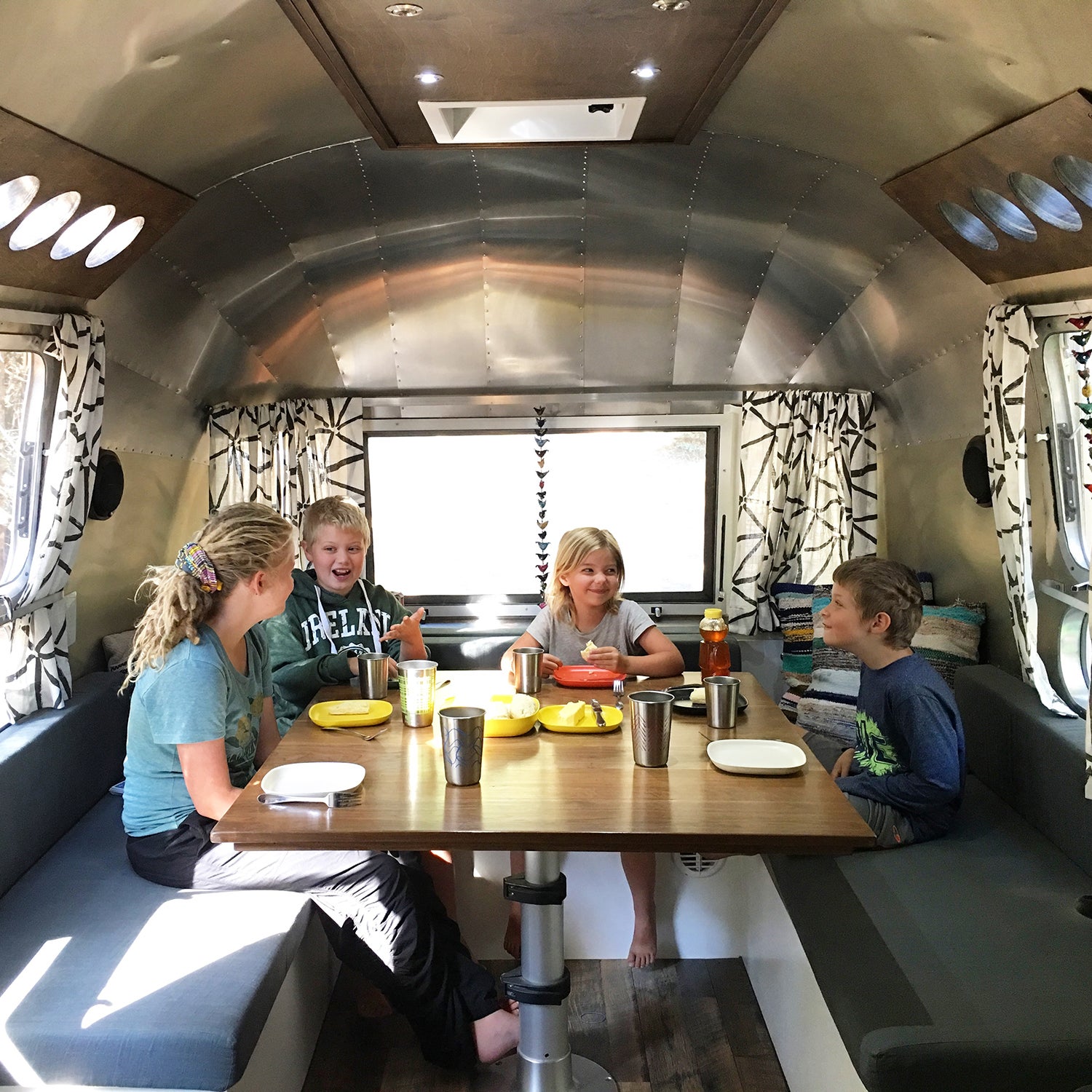 Courtesy of Ashley Longnecker(Photo)
Heading out the door? Read this article on the new Outside+ app available now on iOS devices for members! Download the app.
When Jonathan and Ashley Longnecker sold their house two and a half years ago to move into a massive fifth-wheel RV with their four children, they had never been in an RV or camped before. "We'd never even towed anything!" says Jonathan, now 37.
"It was so big, but compared to our house it seemed small," explains Ashley, 35. Six months ago, they downsized again, this time into a 31-foot vintage Airstream that they gutted and rebuilt into a tiny, off-the-grid mobile home, with solar panels and a composting toilet, perfect for "boondocking," camping in remote, undeveloped areas without electricity or sewer hookups.
"We love being in beautiful places where no one's zipping around in a golf cart," says Jonathan. "But there's no way we could have gone from selling our house to this. We had to go through the process."
Here's how they did it.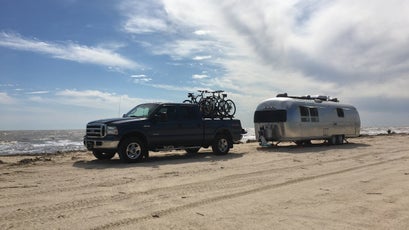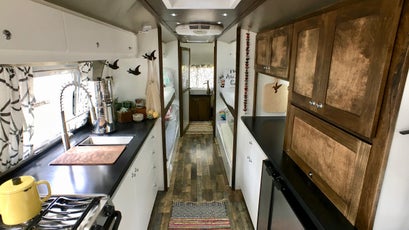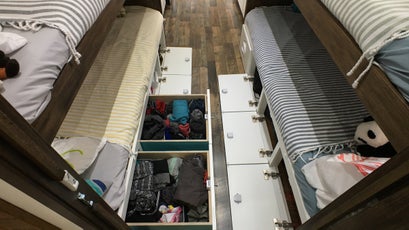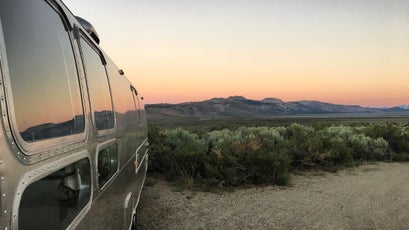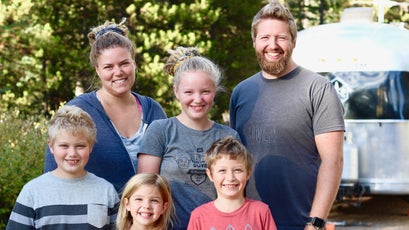 OUTSIDE: What inspired you to hit the road?
Ashley: We had bought our house and been in it for five years. We realized we didn't want to be paying it off for the next 30 years. We didn't want to not be able to go on vacation.
Jonathan: I had a friend who started to travel out of their RV. They were in the area and came over for lunch. Ashley said, "We've gotta do this." It took me a while to come around. We already worked from home, we already home-schooled the kids [now ages six to 11], so it wouldn't change our dynamics. Still, I had initial hangups about selling the house. What happened if we didn't like it? But there was the allure of not being tied down, of experiencing adventures and changing the way we learn and see the world.
Were the kids excited?
Jonathan: Everyone was on board. We explained that we wouldn't be coming back to the house.
Why didn't your first RV work out?
Jonathan: It boiled down to length, width, height, weight. We were mostly on the East Coast and confined to RV parks. You have these grand dreams, and then you realize you're in an RV park.
Ashley: And it was expensive—$50 a night at some private parks. It was kind of like having another mortgage.
Jonathan: We did a bit of boondocking on our way out west. We realized that's what we really loved, but we had the wrong rig for it. It was just too big. I looked at newer-model Airstreams, but it would still cost $10,000 to put in solar, so we finally settled on renovating a 1972 Airstream. We needed knowledge and expertise, because we're not super handy. Ashley's dad poured his heart and soul into it. We helped him gut it down to the ribs and rebuild it exactly the way we wanted, with solar panels so we can be off the grid. It's 31 feet long, 27 feet inside.
How do you all fit?
Jonathan: We built bunk beds for the kids, and the dinette area folds down into a bed for us.
What about all your stuff?
Jonathan: You get rid of most of it. You really learn to whittle down. If you haven't used something in six months, it's a good candidate for Goodwill or the trash.
Ashley: The girls share a drawer for clothes, and the boys share a drawer. We have four to five shorts each, a couple pants. We do laundry once a week. Our tent camping and outside gear is in the truck, so is the generator and our tools. We have a lot of storage under the dinette—office stuff.
Is there a lot of upkeep and maintenance?
Jonathan: Just a little bit. Some things rattle loose, because we like to go on dirt roads, but the cool thing is we built it. If there's a problem, we know how to fix it.
How much did it cost?
Jonathan: Maybe $50K, maybe more. It didn't cost any more than the ten-year old Airstream, with $10,000 in solar-charged lithium batteries. We knew we needed to be connected for our work. We've been weeks in the sun without having to pull out the generator. Solar is 90 percent. We can run the whole Airstream off a regular household plug. We have a composting toilet.
Do you ever miss living in a house?
Ashley: Yeah, when I visit people in their houses, I miss it. I miss the house and kitchen and garden. There are times I want a tiny house. And our oldest daughter really wants to have a farm. That's probably the next phase.
Jonathan: Our eyes have been opened to how little we really need.
How do you manage the home-schooling?
Ashley: We've always home-schooled them. We started out with a curriculum, but now we're kind of making it up as we go, because we go to so many national parks. We do a lot of geography.
How much time do you spend on that?
Jonathan: In the morning, they'll do their reading while I work, then we try to go exploring in the afternoons. They're pretty much learning all the time. This was one of the reasons we wanted to do this, to educate them in useful ways.
How are you funding your travels?
Jonathan: I've had a web design business for 11 years. That's what pays most of the bills. We have plans for our Tiny Shiny Home blog to generate income.
Do you ever feel conflicted about taking away from family time by having to generate media content?
Jonathan: We try to find a really good balance. We take pictures and videos, but we don't come back and spend three more hours writing an article. We're not all about real time. We'll get to it when we get to it, and we're OK with that. Honestly, I don't know if it's super sustainable, if you want to keep your sanity, to be on the content hamster wheel.
Have you met other families doing the same thing?
Ashley: We've seen a huge boom in families on the road. I feel like we have more friends now than when we lived in the house. We knew like two of our neighbors in the subdivision.
Jonathan: We were already changing when we lived in the house. The things that were important to other people weren't important to us. Everybody got real busy, running around like crazy. All the sports. The longer we were there, we felt like aliens, like we didn't belong. We'd walk into Walmart and just stand there in shock at all the shampoo options.
Where are you heading now?
Ashley: We're not big on planning now that we don't have to. We're just seeing where this takes us.
Lead Photo: Courtesy of Ashley Longnecker
Trending on Outside Online