Meditation As Recovery
After a recent ultramarathon, I wanted to test a new approach to healing my mind and body.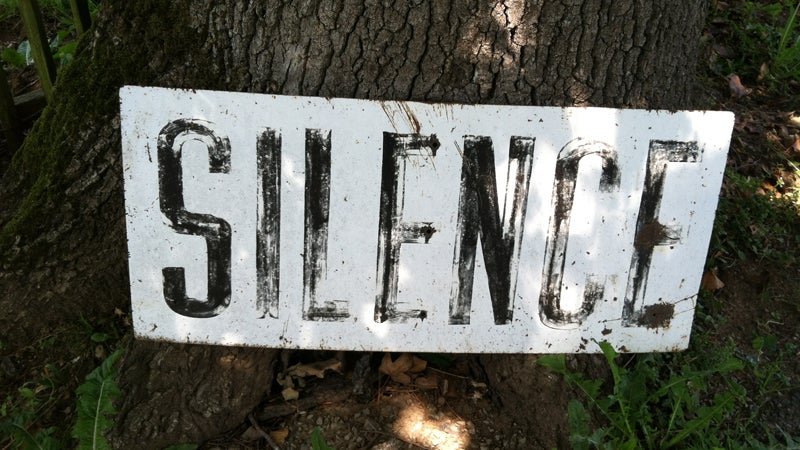 Heading out the door? Read this article on the new Outside+ app available now on iOS devices for members! Download the app.
I signed up for a five-day silent writing retreat that started just two days after an ultramarathon. Coming hard on the heels of running 50 miles, sitting still for the better part of a week would either be exactly what my body needed or quite possibly the worst idea ever. There was only one way to find out.
Keep it together, I told myself, just as I had during the race. Meditation is a endurance sport, too.

Taos Mountain sunrise.

Breakfast at the Mabel Dodge Luhan House.
I was still limping when I showed up at the Mabel Dodge Luhan House, now a historic B&B and retreat center in Taos. Beginning in the 1930s, Luhan, a patron of the arts, hosted luminaries such as D.H. Lawrence, Ansel Adams, and Georgia O'Keefe until she died at home in 1962.
With 30-plus attendees, the retreat was led by my friend Natalie Goldberg, a bestselling author and Zen practitioner whose 1986 classic Writing Down the Bones pioneered a new approach to creativity that combined zazen (sitting meditation) with free-form writing practice. Since then, she's taught hundreds of workshops around the country, using a simple formula: sit, walk, write.
I'd practiced with Natalie in France in 2012, where our days took on a pleasing, predictable rhythm: Zazen followed by slow-walking meditation followed by writing practice, most of which was conducted in silence.
This formula, which she describes in her latest book, The True Secret of Writing, is designed to quiet your inner critic and unleash creativity, or what she calls your wild mind. In France, the silence had been energizing and addictive: A steady dose of endorphins that fueled not only my writing, but also my running.
The first morning at Mabel's, we gathered in the austere zendo—bare wood floors, white plaster walls, and black zafus (meditation cushions), lining the perimeter of the room. Natalie suggested we start the session with lying-down meditation. That sounded pretty good to me because the last thing I wanted to do was contort my quads into a cross-legged position.
We stretched out on the floor, legs and arms akimbo, as Natalie counseled us. "You cannot control your mind—get rid of that idea right away. But instead of running away with your thoughts," she said, waving her arms and doing a jaunty little jig for effect, "let them go. Don't get tangled up in them."
I lay on my back with my legs at straight up against the wall, at a 90-degree angle to the floor, like I do when I'm trying to flush my legs of lactic acid after a hard run. Natalie rang the bell, signaling the start. Minutes ticked by. "Follow your breath all the way in, and all the way out," she intoned from somewhere across the room. I could feel my breath shoot all the way down into my belly and swish around there in a warm, soothing way, then back out the way it came. I was restful, but alert. Piece of cake, I thought. 
But after an indeterminate amount of time, my feet began to tingle. All the lactic acid had drained out of my legs—and all the blood, too. I should have known I couldn't kill two birds with one stone: cure my legs and calm my mind. Natalie likes to say there are no shortcuts in meditation or in good writing—and as I'd learned in California, that was true for running 50 miles, as well. As gingerly as possible, I bent my knees and lowered my feet just above the floor until the pins and needles stopped and the throbbing began.
Eventually Natalie dinged her little gold bowl, signaling it was time to stop, and I toppled over sideways. I couldn't feel my feet, but I could sense that my mind was calmer and my breath deeper than when I'd started.
For the rest of the day, we wrote in silence. My brain felt as stiff as my legs, but I knew from experience that this was just resistance, and I tried to be patient and settle into the new rhythm of stillness and silence—after so many months of training, speed, and then the physical and emotional output of the race itself—and let whatever was going to unfold unfold.
The next morning in the zendo, we went back to sitting. Natalie explained how to sit zazen properly, on the floor or in a chair: back as straight as possible, legs crossed or in a V around your zafu, eyes closed or focused at a 90-degree angle in front of you, hands either palm down or up on your legs, or fingertips pressed together clasped in a mudra just below your bellybutton. No big deal. Then she added, "This time, I want you to sit completely still. Keep coming back to the body and breath. Sit through the pain. 
I've been trying to meditate on and off for the past ten years. The most I can usually manage is ten minutes before boredom and restlessness kick in. I am a champion fidgeter, in both body and mind. Brain racing, I shift and squirm with abandon, constantly seeking a more comfortable position. Sometimes I peek at the timer I've set, and I have even been known to sneak a sip of tea or pet the cat when she climbs onto my lap. I like to tell myself that it's almost impossible to find peace and quiet in a house with two young daughters and a new puppy, but the truth is, stillness has always eluded me.
I cast around the room, desperate. If other people were panicking at the prospect of sitting utterly still for 20 minutes, they showed no sign of distress. They adjusted themselves on their mats, with stick-straight backs, blank faces, and half-smiles, the picture of serenity.
I screwed my mind around a single idea: stillness. It felt like the opposite of a seance: stiff as a board, heavy as a rock. We sat and sat, and every time I wanted to shift my hands or jiggle my foot, I inhaled, exhaled, and stayed right where I was. Eventually, I found that the stillness of my body was becoming a kind of anchor. Every time my mind strayed, a hundred times a minute, I reassured myself that my body was motionless. My mind thoughts might spin, but my limbs were composed. There was some small comfort in this. In, out, in, out. Resting on my knees, my hands had become as heavy as stone, and I couldn't tell where they ended and my legs began.
Afterwards, we practiced walking meditation inside the zendo. It was ten degrees outside, and we were bundled in sweaters, down coats, wool hats, thick socks. "Something so ordinary can really stop time," Natalie told us, showing us how to keep our bodies in motion while walking very, very slowly, one step at a time, without ever coming to a complete rest. "This is a lesson in impermanence," she explained, demonstrating how to bend one leg deeply and lift the other foot, leaning forward as you place it on the gently on the floor, feeling each footfall, sole on wood. It felt smooth. It felt like dancing. It felt like my best days running, only in slow-motion. Around and around we walked. Sometimes we sang as we walked. 
For the rest of the week, we wrote and sat and walked, sat and walked and wrote. Here in the deepest, darkest, coldest Taos winter, the weather suited my sluggish muscles—body and brain—and what I seemed to crave most was sitting. 
So I sat. I actually began to look forward to the 30-minute zazen each morning before breakfast, before we met Natalie in the zendo to sit some more. After the evening sessions with Natalie, we sat zazen again in the flickering, candlelit zendo. Slowly, my body was recovering.
The kitchen at Mabel's prepared enormous quantities of eggs and pinon pancakes and tomato meatloaf and roasted root vegetables, and I would say my silent Buddhist gratitude chant and chew my bites 30 times in the dining room where Georgia O'Keefe once sat, and then I would help myself to seconds. As the days passed, my writing motor, slow to start, was beginning to hum.
The sits were getting easier, too, or at least not so excruciating. I still looked about the room at the placid masks of my fellow writers, but they seemed completely unfazed—professional, even—and I still obsessively adjusted my position right up until the last second before the first bell dinged, trying to determine the least tormenting way to sit completely still for the next 30 minutes. I still fought the urge, at the sound of the final bell, to yell out "Sweet Jesus!"—two words I have never in my life used together—and sprint from the zendo.
Keep it together, I told myself, just as I had during the race. Meditation is a endurance sport, too.
The stillness was a revelation. By not moving my body, I could let my mind rest in that quiet place. As my brain settled, my body did, too, and as my body settled, my mind came alive, and pretty soon I was a silent, revving engine, burning slower than I had in France, and certainly slower than I had in California, but deeper, too, in a way that I knew would last, even after I went home to the noisy, happy chaos of daughters and dogs and deadlines and family life. The silence and stillness would sink into my writing and my running. It was part of me now.
Before she sent us back into the world, Natalie told us, "What I most want for you is for you to become an animal when you write, to close the gap between the shame and pain and humiliation, and to stay with it. When you do this, all beings get behind you and you keep going. When you do something seriously, then you can pass it on and help other people and inspire other people." 
She was talking about writing and sitting, but she may as well have been talking about ultrarunning. You have to go a little crazy out there, pour it all out on the trail and the page, accept help when it's offered and try very hard not to be afraid.
I left Mabel's the next day, and slid back into my real life. No time to sit, barely any time to write. I sat at the kitchen table, trying to capture something about silence while my daughter refused to go to bed, up and down, crying and resisting, for two hours straight.
In the morning, I went for a run, my first since the race. It was quiet and still on the trail, and my legs were strong and remembered what to do. I flew.