The North Face Endurance Challenge Championship
You'll never forget the suffering of your first ultra gone awry—until you do.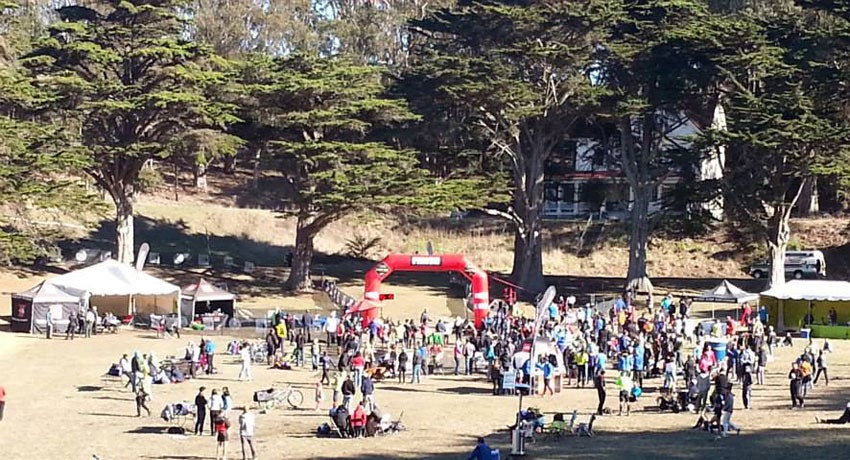 Heading out the door? Read this article on the new Outside+ app available now on iOS devices for members! Download the app.
Sometimes distance running is as effortless as floating. You drift along like a feather, your feet barely touching the ground.

The author at TNF Endurance Challenge, December 2013.
Other times, it's like giving birth. When you charge off into the chilly, black of pre-dawn, you know you have many long hours of hard physical labor ahead of you. Many people will try to help you, but you will not be in control of your faculties and some of them will irk you for no good reason and you'll most certainly act like a maniac and say things that you'll regret. You will vacillate between the black pit of despair and euphoria, and at some point your only goal will be to make it to the finish line without anyone getting hurt.
You will promise yourself that you will never, ever do this again. 
When I arrived at the start of The North Face Endurance Challenge 50 Mile Championship at 4 a.m. Saturday morning in Golden Gate Recreation Area, outside of San Francisco, I had big plans. If I'd admitted it out loud, I would have said I was hoping for a top-ten finish among a stacked field of elite female runners. This was an optimistic, but possibly attainable goal. If not, Plan B: finish in under nine hours, a personal best at 50 miles. And short of that, I would dust off Plan C, my unspoken old standby: going the distance without doing irreparable harm to my body. Live to run another day. 
Held each November as a finale to The North Face's nationwide, five-race series, the Endurance Challenge Championship has become the most prestigious 50-miler in the U.S., its $30,000 purse attracting the best ultrarunners in the world. This was perhaps the deepest field in the race's history, with some 30 elite men and women scheduled to face off on 9,000 feet of vertical and a relentlessly hill course in the Marin Headlands. 
Despite its profile, the trail race has a reputation for being fast, probably because it's not very technical—long sections of undulating dirt fire roads and smooth singletrack contouring along high, grassy slopes. 
I went out fast, in the first wave of elite runners, burning through the darkness on a rolling five-mile fire-road loop to the first aid station. Running at dawn, it's easy to miscalculate your speed. You either feel like you're running faster than you really are, or you really are running faster than you ought to be. For me, it was the latter. Climbing a slight rise on the Bobcat Trail, I glanced back; lit by the white glow of 500 headlamps, the trail snaked through along like a highway ablaze with rush-hour traffic.
For the first five miles, I kept pace with three or four other elite women, one of whom I recognized as New Zealander and 2011 champion Anna Frost. Already the lead men had surged ahead, and no one was saying much. It was 38 degrees and pitch black, and there was too much work to do. 
I figured most of the other top women—including Rory Bosio, who shattered the women's course record at the Ultra Tour du Mont Blanc in August, and 2013 Leadville 100 winner Ashley Arnold—were ahead of me. Run faster, I kept chiding myself. Keep up. 
A blonde woman with black arm bands powered past me in a blur, a headlamp bobbing. At one point, Swedish defending champ Emelie Forsberg flew by me on a downhill and called out in a lilting voice, "Rory, congratulations on a great UTMB!" but she disappeared into the night before I could correct her mistake.
By the time I cruised into Tennessee Valley aid station, at mile nine, in just over an hour, I knew I was in trouble. The pack of four women had pulled ahead of me on the 800-foot climb over Bobcat. My legs were as wobbly as Jell-O, whether from lactic acid or the onset of dehydration. Time to troubleshoot. 
I gulped down two cups of electrolyte drink, ate a gel, and plodded four miles up and over the Coastal Trail to Muir Beach. Ashley Arnold caught up with me on the long, curvy descent to Muir Beach. Dawn was only just beginning to break, and from those grassy heights, it looked like I could dive straight into the Pacific. If only, I thought. 
The week before I flew to California, my husband, Steve, watched as I tried to figure out my strategy, organize my kit, and mentally prepare to leave home. I always lose my mind a little right before a race, but I was especially freaked, given the stiff competition. 
Steve kept his mouth shut for days, until the night before, when we were sitting in the hot tub, and he turned to me and said, "Here's my race advice for you. You have to go a little crazy out there. Leave it all on the trail." He was talking, of course, about the end of the race—the last third when it's time to gun it hard and go for it. Not necessarily the beginning. Definitely not the first five miles. 
The night before the race, I'd written in my notebook: I am light. I am a feather. I am fast. Wishful thinking! I was a fully loaded 18-wheeler lumbering up the hills with my hazards on, downshifting into granny gear all the way down the other side— all weight and no grace, pure mindless momentum, holding myself back from burning up, jackknifing. 
On the 1,800-foot climb from Muir Beach, where I ditched my headlamp, to the Cardiac Aid Station, at mile 17, Rory Bosio passed me, her long legs wheeling through the grass. 
Meanwhile, someone had taken my legs and replaced them with concrete blocks. The wind was gusting at 15 miles an hour. I'd foolishly left my gloves at the start, and my hands had turned to frozen chunks of ice. I had to ask a volunteer at Cardiac to rip open my energy blocks. 
It's funny how fast your priorities can change. Top ten was out of the question now. On a three-mile out and back section to the McKinnon Gulch Aid Station, I counted women ahead of me on their way back. Ten, eleven, twelve. If I held on, I could still make top 20. Keep it together, I steeled myself. It's still early. Anything can happen. You can turn this around. I could see now that I'd grossly overestimated the benefits of running at sea level and underestimated the size of the hills. There was hardly half a mile of flat terrain on the entire course.
Tell anyone you're going to run through the Marin Headlands and they will go nuts about how beautiful it is. And it was: impossibly, ridiculously beautiful. Who lives here? I thought, as the glimmery Pacific taunted me from below me. I ran through deep dappled sections of eucalyptus forests and through enormous stands of redwoods, past picturesque coastal inns and a rustic German touring cabin high on Mt. Tam. But the landscape had narrowed down to a pin prick, and I saw nothing. 
On the steep, stair-steppy, two-mile descent to Stinson Beach, I caught up with Rory. She was puking and running at the same time. Keep it together, keep it together.
My sister, Meg, and stepmother were waiting for me at Stinson Beach, where they plied me with pretzels and a Starbucks  mochachino, of which I drank a total of one sip. I tried not to look at my hands so I wouldn't see how swollen they were. My knuckles had disappeared, and it was hard to bend my wrists. I'd dug myself into a deep hole and was only halfway through the race. 
On the lurching climb up the Dipsea Steps from Stinson, a half-remembered line from Abraham Lincoln's Gettysburg Address kept looping through my brain: "Now we are engaged in a great battle…"  I was at war with the trail, and the trail was at war with my body.  I thought about quitting, but when you're at war, quitting is the same as dying. I was delirious. I kept going. 
Things got murky between mile 30 and 44, when I trucked back into Tennessee Valley on concrete legs,where Meg was waiting to pace me. I shoved a few gels into my sticky, fat elephant hands, and Meg and I set off on the final push,  a two-mile climb up a wide fire road. Somewhere in the haze of the effort, I lost track of where we were.
I was definitely, without question, cured of ultrarunning forever.
"Are we at the top, do you think?" I whined more than once in a voice that suggested the only correct answer was yes. 
The 50-mile course had long since merged with the 50K and marathon races, and the runner we were overtaking raised his head and muttered evilly, "Don't count on it." 
My sister growled at him to be quiet, and we kept going. I want this to be done, I pleaded to her.  Pleeeeease. I felt  a little sniffle creep into my voice. Then, just as suddenly, I thrust my fist in the air. "I got this!" I screamed into the wind. Other 50K runners nearby whooped in agreement. It was five years earlier and I was in labor with my firstborn daughter, a 30-hour marathon without medication. Just get the baby out of me now! Schizophrenia and cursing always kick in at the end. 
Finally, we crested the top. Fewer than two miles to go. My legs weren't wobbly anymore, just unreliable; my hands had thawed but were still monstrous. I found another gear I didn't know I had and I pinwheeled to the bottom. The white North Face tents at the finish line were the most beautiful sight I'd ever seen. "Go Katie,  go Katie!" Meg kept screaming behind me. I crossed the line. 
It would be nearly an hour before I checked my time Who cared? I was done! Someone was announcing my name and handing me a finisher's medal. Moments before I'd been a tortured wreck, now I was euphoric. It was a stunning, crystalline day to be alive, I was surrounded by people who loved me, and I'd survived. 
The next day I could barely walk. My legs were stumps of petrified wood. I'd gone a little crazy out there and left it all on the course, and I'd learned something important: That even when things turn ugly, I can still hold it together. 
I finished in 8 hours and 49 minutes, 16th among women. (Michele Yates had won; Emelie Forsberg finished third; Anna Frost was eighth; Ashley Arnold, 11th; and Rory Bosio dropped.) Not the day I wanted, but the day that was. In its own weird way, perfect. 
And then the amnesia set in. What pain and suffering? What great bodily war? Why not do it again?As my plane circled above Albuquerque, I started dreaming about my next 50.