The Onda of Raising a Family in Patagonia
Trapped in the work-grind of the U.S. a family moves to Patagonia, staying true to the compass of exploration and travel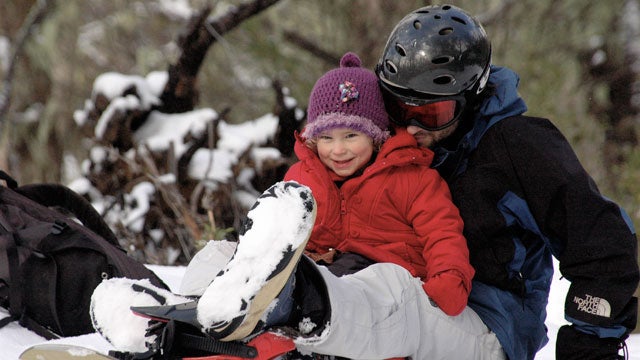 Heading out the door? Read this article on the new Outside+ app available now on iOS devices for members! Download the app.
In 2009, when my daughter Layla was two, I felt increasingly trapped in the work-grind of the U.S. and ended up bailing and moving our family to Patagonia. I was working two jobs, 12-plus hour days, my time split between writing and editing and doing local remodels around Seattle. And while it's untrue to say we never did anything as a family—we did get out on little camping trips to the Olympic Peninsula and day trips to the Snoqualmie—it was never enough. It wasn't even close. 

Miller and Layla walking through the snow

Lau hiking with Layla

Layla at Lago Puelo

Layla with Paulo, Noel, Brisa
Layla had been born en casa, as they say, right in the bed of the 8th floor apartment we'd rented on Calle Defensa in my wife Lau's native Buenos Aires. It was the same bed she and I would hang out in on Sunday mornings, drinking coffee and reading El Clarín, the same bed we'd make love in, the bed she'd labored in. When Layla was born we just stayed in that bed drinking champagne and singing.
At some point in the days following, in one of those primal moments where you look at your first child and realize holy shit this is for real, I became aware that Layla's birth could be traced back through the same onda of exploring places that had been with me ever since childhood, drawing me out the back door to the Chattahoochee forest growing up in Georgia.
That had led me to the Appalachian Trail after college, and later, to travels through Latin America, eventually meeting Lau and falling in love. That was, in many ways, at the center of our marriage. It was the bridge between our two different cultures and languages and geographies: We were travelers. There's no real rationale to this kind of thinking, but I reasoned that if now, as parents, we needed some kind of compass, we just had to stay true to this same onda of exploring, of travel.
I wasn't so naive to think moving to Patagonia would suddenly make everything perfect for our family. But, remembering back to our last time in Argentina, and spring days lying on blankets with baby Layla and other families in Parque Lezama, I knew it could help where it counted.
In those first few months after arriving in the small Patagonian town of El Bolsón, it felt less like "bringing" Layla down there and more like following her. She was now two years old, fully formed into her own personage and identity, a strong-willed, mischievous-eyed, curly-blond little toddler girl who wanted to engage in absolutely everything. Our limitations—we had no car, no furniture, no appliances, nothing but a roof, Wi-Fi, camping, and snowboarding gear—became our daily lessons and liberation.
Layla wanted to do it all. Washing clothes by hand. Digging a garden plot. Walking to town through the mud. Making small purchases in the market, the lumber yard, the hardware store. A radio. A shovel. A bike. A table. A cutting board. A doll. A drill. A blanket. Light-bulbs. Shelf-boards. Seeds. Rope for a clothesline. Each thing we did together was a kind of ceremony. If you wanted to get it done faster and tried to exclude her, she would ferociously protest, wailing as if you were literally cutting something out of her.
Although I'd come down with visions of camping and paddle trips on the Rio Azul, family ski missions in the Andean side-country, road trips down the Ruta 40 (which ran right through town), it was actually this first muddy year, these months of having to constantly walk to town, to rebuild our lives from scratch, which was the biggest adventure, the biggest gift to our family.
From the time I was a boy, I've been troubled by what seems like a mass forfeiture of place. It's as if where we live—the actual land itself—is an afterthought for almost everyone. As kids we are immersed in wherever we play, wherever we hide, wherever we watch it rain. There is no separation between the terrain and our imagination. But as we become adults we end up "based out" of a place. Our work, our "recreation," our religion, almost everything else is peripheral to the ground upon which we walk.
But in Patagonia, everything began right on our dirt road Avenida Perito Moreno. Each trip to town. Each hike up to Cerro Amigo. Layla wanted to touch everything, to feel it for herself. We'd see the paisanos' horses grazing in the pasturelands, and she'd say "Layla toca caballo." This would lead to a thirty-minute stop in the fields, feeding the horses, touching their noses. We explored the steppe-lands, which formed in the dry parts of the valley near the airstrip, and then down to the wetter Valdivian forest by the river.
Layla set the pace. She stopped anywhere and everywhere, finding "casas" for her "bebés" in blackberry thickets or patches of thistle and wild rose. Without trying to, or even being conscious of it, we were traveling in the way that's always felt realest to me, which is less a sense of visiting a place than forming a kind of language from it. 
By late winter, all of this activity was turning Layla into a mini powerhouse. She was starting to walk the full mile to town by herself, and she'd gotten used to being out in the cold and rain.  On sunny days, snow from the high peaks of Cerro Hielo Azul and Cerro Lindo would glow along the horizon, and I'd crouch down and point upwards, explaining how it was all nieve and we'd go up there, soon.
Later on we learned that there was an actual term for the parenting approach Lau and I had taken: Free movement. Instinctively we'd let Layla crawl and move in a self-directed way, not "sitting her up" or pushing her to walk by holding her up and forcing her to take steps, but allowing her do everything at her own pace. We'd also eschewed strollers, walkers, bouncy seats—anything that restrained or in some way governed her motion.
In many ways, simply living in our barrio was the ultimate extension of this logic. It wasn't just free movement, but free childhood. Our house was next door to the barrio's original matriarch, Doña Adela Colque, who'd arrived in Bolsón with her husband from Tucuman province forty years earlier, when there was no highway to the town and nearly all the land was either virgin forest or chacra, large tracts of farmland.
Over the decades, Adela worked the local chacra, built her own house, planted all the apple and cherry trees than now lined the roads, and raised a huge family (11 children and some 80 grandchildren). The day of our arrival, we were surrounded by half a dozen of Adela's grandkids, their muddy faces encircling Layla, asking her name, telling her how beautiful her pelo was, asking if she wanted to play. Several of these children, Brisa, Noel, Fatima, Paulo, Abril, Agustina—would become her first friends. 
There was something almost heartbreaking about the simple and generous way they played together; I couldn't help superimposing images of meticulously planned playdates back in the U.S., after school programs and daycare, arrangements being made so that kids would be "supervised" while parents worked.
Even the notion of "free movement"—of having the privilege to raise kids as "free"—seemed ludicrous when watching Adela's grandkids. They were raised with "free movement" because there was no money or use for strollers. There was no babysitter; they were responsible for one another because they had to be. They were amazingly inventive at creating games, building forts, building things out of junk in the yard, because there wasn't anything else to play with.
Deep into that first winter, heading towards Layla's third birthday, we found out Lau was pregnant again.  After weeks of rain and snow, they plowed the road up to the local ski area, Perito Moreno, and we bundled Layla in her snowsuit, put my board through the back window of a taxi, and rode up there.
Once on the mountain I remembered a side trail that Lau and I had hiked years before when we first visited Bolsón. It was went away from the main run, switchbacking through a forest of huge Cohiue trees. The snow was knee deep, lending a strange look to the understory of canebrake, as if two feet of powder had been dropped in the jungle. Lau moved slowly with her growing panza, but was happy to be up at elevation finally, in the colder, drier air. Meanwhile Layla was stomping around, licking the snow, inhabiting the place. 
At some moment I realized this was actually something I'd always dreamed about, the idea of taking a son or daughter "snowboarding." It wasn't exactly as I'd imagined it, but then—as we kept stopping and watching Layla plunge her mittens in the snow—I never quite could've imagined this scene. 
Once, while living in Colorado, I put on at Boulder Creek right above Elephant Buttress rapid with a guy who told me he'd just taken his three year old daughter down Westwater Canyon, a class III-IV multi-day float on the Colorado River. I admire people like this, people who take their kids deep into the realm from the very beginning. These are the kids who grow up to be total rippers and Red Bull athletes. They're on some next level trajectory. But I just wanted Layla to feel what it was like playing on the snow, to negotiate the terrain on her own terms, to get her first taste of flowing down it on a board with me.
After several switchbacks we all stopped and looked around. Clouds were still lingering from the storm. It hadn't blown out yet, and everything was very calm, the tangles of lichen hanging perfectly still.  "Look at how all the snow is blown against one side of the trees," I said. "The storm came from the south."
We kept looking around, our eyes instinctively drawn back down the valley. The northern section where we lived was slightly obstructed by a broad plateau. But Layla understood perfectly: That's where home was, where Brisa and Abril and the other nenas were; that's where our casa and her cama and all of our stories came from, right down there.
The board gave that beautiful snuffing sound as I dropped it into the snow. Layla was looking at me with so much intensity it was as if she were looking into a fire.  I had this strange thought that for once I might actually be "keeping up with her."  
"Whatcha think baby?" I asked, motioning toward the board. "Should we go for it?"
David S. Miller is Senior Editor of Matador Network, winner of two Lowell Thomas awards for excellence in travel journalism.