Real-Life Dog Tales
Add these six movies—all based on true stories—to your Netflix queue.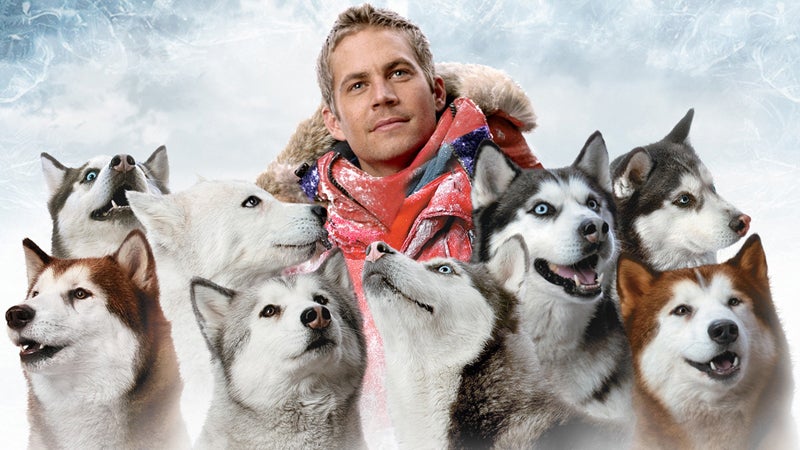 Heading out the door? Read this article on the new Outside+ app available now on iOS devices for members! Download the app.
What's better than a good dog movie? But we're not talking about Chihuahuas that talk or pasta-slurping Cocker Spaniels. Like our favorite print stories, the best dog films are the ones based on real-life adventures. So grab your pooch and some popcorn; here are six of our favorites:
Hachiko: A Dog's Story
https://youtube.com/watch?v=Y6U7mAnPtw4%3Frel%3D0
The original tale took place in 1924 in Japan. A rescued Akita named Hachiko waited at the train station everyday for his owner—a professor at the University of Tokyo—to return. One day, the owner doesn't get off the train; he suffered a stroke earlier that day. The story goes that every day for almost ten years, Hachiko waited at the train station for his owner. The loyal Hachiko became somewhat of a celebrity in Japan—there is a statue of him at the Shibuya train station—and he even had his organs preserved when he died in the 1930s.
The 2009 film is set in America instead of Japan, and stars Richard Gere as the professor.
Balto
Balto's real-life journey began when a case of diphtheria broke out among the children of Nome, Alaska in January of 1925. Roads were down and the town's single airplane had been put away for the winter. The solution? Sled dogs, naturally. A group of 20 mushers started on the 600-mile trip to Anchorage to get the medicine back to Nome, with Balto bravely leading the way.
As a result, this husky might be the most famous dog yet—he's voiced by Kevin Bacon in the 1995 animated movie Balto: The True Story of An American Hero, his statue is a favorite of visitors to New York City's Central Park, his body is mounted at the Cleveland's Natural History Museum, and his famous trek inspired the legendary Iditarod sled race.
Air Bud
If you don't like the original basketball-playing Air Bud, don't worry—you have about 12 more movies to choose from, including (but not limited to): Air Bud: Strikes Back, where the pooch plays volleyball; Air Bud: Seventh Inning Fetch, where he plays baseball; and a plethora of Air Buddies films, where, you know, Air Bud has puppies? We're not sure, we didn't watch all six of them.
The true story, though, behind Buddy is much more interesting—and realistic. Buddy was a found in the Sierra Nevada by writer and producer Kevin di Cicco, who later wrote a book, Go Buddy!, about the dog. "I rescued him from abandonment in the mountains, but Buddy also rescued me, giving my life purpose, direction, and a profound sense of relationship I had been missing," he writes. "Our bond saved us both and together we forged a path from that dirt trail near the old mine shaft to international sensation on the silver screen, his eventual fall to cancer but not before siring a litter of puppies that would carry on his iconic legacy for generations to come."
Finding Rin Tin Tin
Arguably the most famous German Shepherd to hit the big screen, Rinty, as he was nicknamed, starred in five seasons of the ABC television series The Adventures of Rin Tin Tin, and countless movies.
The 2007 film, Finding Rin Tin Tin, is the story of Rinty's rescue from a French battlefield during World War I by American soldier Lee Duncan. The dog was taken back to California by his new owner and quickly became an onscreen favorite, starring in 27 Hollywood films.
According to Susan Orlean, author of Rin Tin Tin: The Life and the Legend, Rin Tin Tin received the most votes for Best Actor at the first Academy Awards in 1929, but the Academy decided a human actor should win the award.
My Dog Skip
My Dog Skip is your typical coming-of-age story, but this time with a furry friend along for the journey. The film includes a line-up of well-known actors, including Frankie Muniz, Luke Wilson, Kevin Bacon, and Diane Lane. The story follows a young boy who can't seem to make any friends in his new Mississippi town. To solve the problem, his parents get him a terrier puppy who helps him grow up.
The 2000 film is based on the autobiographical novel of the same title by Willie Morris.
Marley & Me
Warning: If you've ever had yellow labs, this is a hard movie to watch. Based on the autobiographical novelMarley & Me: Life and Love with the World's Worst Dog by John Grogan, the 2008 feature film stars Owen Wilson and Jennifer Aniston. The story follows the husband and wife as they get a puppy that never seems to outgrow his energy and mischievousness. If your pooch has ever been kicked out of training class or has a penchant for ignoring you when something more interesting is in nose-range, Marley & Me will resonate deeply. By the time the credits roll, you'll be sobbing into your dog's fur. 
Eight Below
Based on the true story of a Japanese Antarctic expedition in 1958, the 2006 film Eight Below tells the sad story of dogs getting left behind in dangerously cold conditions. A dogsled team is chained outside a research station, while the humans leave in a hurry as winter sets in. The main guide, played by the late Paul Walker, constantly worries about the dogs back at home. Days and months pass, and we are left wondering how many pups survive.
Trending on Outside Online