Seven Healthy Back-to-School Recipes for Active Kids
It's easy to fall into bad habits with the start of the school year. Follow these seven recipes for a healthier year.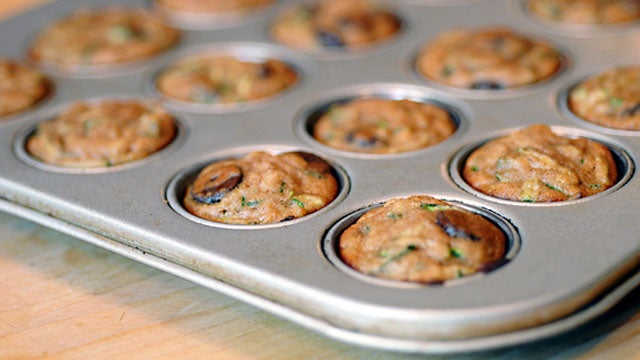 Heading out the door? Read this article on the new Outside+ app available now on iOS devices for members! Download the app.
Fueling active, outdoor kids is a constant challenge. It can take a delicate balance of smart substitutions, added but unnoticed ingredients, and patience to fuel growing bodies. So we reached out to Prescribe Nutrition, a leader in nutrition choices for children, for rules and recipes the whole family will love.
1. The more alive your food is the more alive you are
Food that is alive is chock full of vitamins, nutrients, and minerals our bodies can easily recognize, absorb, and use for fuel. To illustrate this, try the rot test: Put out whole foods verses processed package food and watch them literally rot. You only need to do this once to illustrate that alive foods eventually decompose, unlike the snacks in plastic bags, which remain unchanged, thanks to all the artificial ingredients (this experiment isn't wasteful if you use the rotting food as compost).
2. Level up
Find ways to make your regular menu more nutritionally dense. This can be as simple as using coconut oil instead of canola oil, adding greens to scrambled eggs, or boosting smoothies with goji berries, flax seeds, or chia seeds. The perennial favorite of afternoon snacks—popcorn—is primed for a nutritional makeover, too.
3. Make smart substitutions
Eating healthy is often about making healthy substitutions. Allergic to eggs? Substitute applesauce or cooked sweet potato. Allergic to nuts and nut flour but not seeds? Try sunflower butter in place of peanut butter, and in recipes that call for nuts, replace them with raw seeds like sunflower or pumpkin seeds. If dairy is an issue, opt for coconut, rice, goat, or almond milk.
4. Aim for 80/20
Here's a no-guilt guideline: 80 percent of the time aim to eat nutrient-dense, whole foods your body can easily recognize and convert to fuel. For the other 20, adopt looser guidelines knowing your body will be able to handle the "insult."
5. Take the long view
Healthy family eating is a journey, not a destination. Think of making incremental changes that will become habits for you in the kitchen and at the table. Start with your kids' favorite foods and find ways to level up with each of them—add pureed sweet potato and cinnamon to your pancakes batter and instead of wheat flour, try oat. Then gradually live into a more nutritious version of the meal; you just might find that what was a favorite cycles out all together because your family no longer craves it.
Recipes 
Spinach and carrot muffins
Get in the good stuff each morning. Makes 10-12 muffins.
1 cup buckwheat flour
1/3 cup cornmeal (fine)
1 teaspoon baking powder
3 tablespoons flax or chia seeds, ground
1/2 teaspoon salt
3 organic eggs
1 cup full fat coconut milk
1 cup fresh spinach, chopped
2 carrots (grated)
1/2 onion (grated)
Juice of half a lemon
1 clove garlic (mashed)
1/4 cup of pumpkin or sesame seeds for topping
Preheat oven at 350 F. Line muffin tin with paper or coat with spray olive oil, coconut oil, or ghee. 
Mix all the dry ingredients in a bowl and set aside
Whip egg and coconut milk in another bowl, for approximately one minute
Add spinach, carrots, onion, lemon and garlic, stir for a minute and then add all the dry ingredients
Pour in muffin tins, top with pumpkin or sesame seeds and bake for 25 minutes
Delicious with fresh ghee, organic butter, or scrambled eggs
Prescribe Nutritions' Popcorn, Upgraded
We love this because it takes a staple snack that's relatively low in nutrient density and crams in a punch of protein, vitamins, and minerals. Nutritional yeast is known for its particular density in vitamin B-12, which is a boon for growing kids and adults alike. This popcorn is savory and has a cheesy flavor.
Popcorn kernels
Coconut oil, ghee or grapeseed oil
2 tablespoons tamari
1/4 cup nutritional yeast (more as needed)
Home cooked popcorn—cook your favorite way at home, but we find this ratio works best:
1/3 cup organic popcorn kernels
3 tablespoons coconut oil, ghee or grapeseed oil 
Drizzle cooked popcorn with 2 tablespoons of tamari and mix continuously to make sure tamari is evenly dispersed (it will get absorbed quite a bit).  Then sprinkle with nutritional yeast, adding more should you love the cheesy taste.
Carrot Banana Muffins
The almond flour in these makes these protein-filled breakfasts that are great on-the-go. Makes about 12 muffins.
2 cups almond flour
2 teaspoons baking soda
1 teaspoon sea salt
1 tablespoon cinnamon
1 teaspoon ginger
½ teaspoon nutmeg
1 cup dates, pitted
3 ripe bananas (small)
3 organic eggs
1 teaspoon apple cider vinegar
¼ cup coconut oil, melted
1 ½ cups carrots, shredded
1 cup walnuts or pecans, chopped (optional)
Preheat oven to 350 F.
In a large bowl, combine almond flour, baking soda, salt, and cinnamon
In a food processor, combine dates, bananas, eggs, vinegar and oil
Transfer mixture from food processor into the large bowl, blend until thoroughly combined. Fold in carrots and nuts.
Spoon mixture into paper lined cupcake pan and bake for 25–30 minutes
Mint Chip Pops
We love this recipe. They'll be begging for spinach!
1 cup spinach leaves
1 cup full-fat canned coconut milk
1/4 cup fresh mint leaves or 1/4 teaspoon pure peppermint extract
1/2 teaspoon pure vanilla extract
1/3 cup honey or coconut palm sugar
Dash of sea salt
1/2 cup Enjoy Life chocolate chips
In a blender or processor, blend all ingredients except chocolate chips until completely smooth
Pour into popsicle molds, or paper cups with spoons as the sticks
Add chocolate chips to each mold. They will sink to the bottom but that's okay!
Freeze completely, then pop out, and enjoy
Quinoa Fruit Salad 
Fruit's a pretty easy sell for kids, but adding the quinoa adds an extra punch of vitamins, minerals, fiber and protein. Makes 6 servings.
4 cups cooked quinoa, cooled
Juice of 1 large lime
2 tablespoons extra virgin olive oil
2 tablespoons honey
2 tablespoons mint, minced
3 cups fresh berries, your favorite kind (if using strawberries quarter them)
1 large mango, peeled, seeded and chopped
Extra chopped mint, for garnish-optional
In a medium bowl, make the dressing by whisking the lime juice, olive oil, honey, and mint together
In a large bowl, combine quinoa, blueberries, strawberries, and mango. Pour dressing over the fruit salad and mix until well combined
Garnish with additional mint, if desired, and pack in a bento box or other cool school-worthy container. Serve at room temperature or chilled.
Avocado Egg Salad
Avocados are packed with fiber, antioxidants, vitamins, and minerals. We find most kids love them as is, but if not, they sure are easy to hide. Egg salad is a great way to get your kids plenty of protein. Makes enough for 2-3 sandwiches, depending on size.
4 hard boiled eggs, chopped
1 large avocados, pitted and peeled
1 stalk celery, diced very fine
2 tablespoons olive oil mayonnaise (we love Spectrum brand)
1 tablespoon fresh lemon juice
Sea salt to taste
In a medium bowl, mash the hard boiled eggs and mayonnaise with a fork
Add avocado, lemon juice and celery and mash again. Season with salt to taste.
Spread between two slices of bread of choice for a sandwich, or eat with crackers or in a lettuce wrap
Protein Power Bars
Makes 16 1" square power bites.
1 cup raw almonds
1 cup walnuts
½ cup freshly ground flaxseed
½  cup flaked, unsweetened coconut
½  cup almond, cashew, pecan or sunflower seed butter
½  teaspoon sea salt
½  cup coconut oil, melted
1 tablespoon honey
1 tablespoon vanilla
½ cup chopped dried black figs
Pulse nuts, flaxseed, coconut, nut butter and salt in a food processor until coarsely ground
Add melted coconut oil to food processor along with remaining ingredients. Pulse to create a coarse and pasty mixture.
Press mixture into an 8 x 8 glass-baking dish. Chill in refrigerator for 1 hour, until mixture hardens. Cut into minibars and store in refrigerator.
Do NOT let kiddos eat all at once. They will be fueled for a ultramarathon!
Prescribe Nutrition invites you to participate in their upcoming two-week Kids Rule online course, starting October 14.
—Elizabeth Eilers Sullivan