The Biggest Storm of 2017, According to a Bunch of Kids
Because no one will remember this storm as much as the children who got to stay home because of it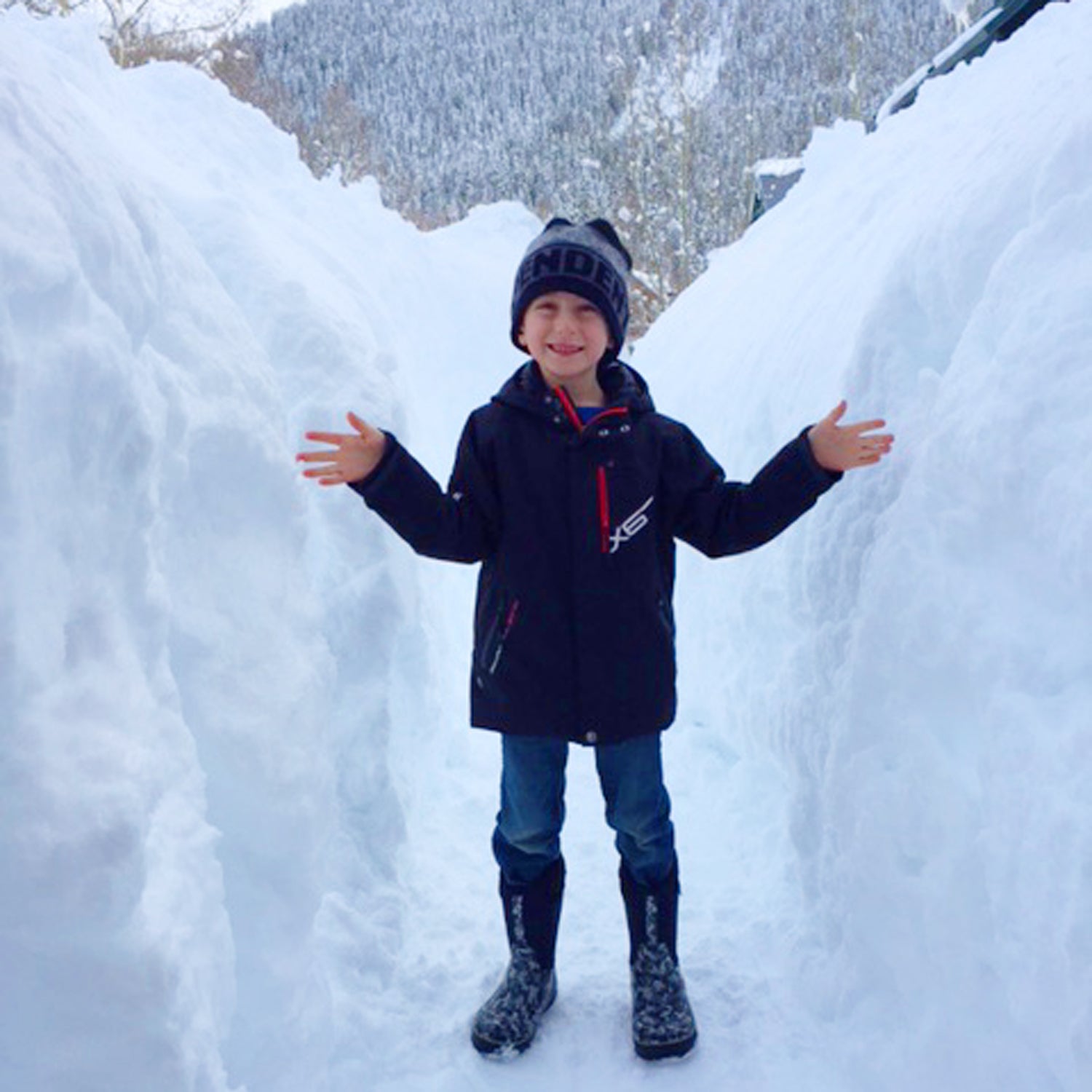 Heading out the door? Read this article on the new Outside+ app available now on iOS devices for members! Download the app.
The January 2017 storm that dropped multiple feet of snow on towns like Mammoth Lakes, California, and Crested Butte, Colorado, was great for skiers—in fact, it drove at least one ski bum to say, for the first time in his life, that he hoped it would stop snowing. But there was another beneficiary. In towns across the nation, the storm resulted into school cancellations for kids, who responded by building innumerable snow forts, snowmen, snow castles, and snow tunnels. We dispatched correspondents to talk to a few of these intrepid youths and chronicle their exploits.
---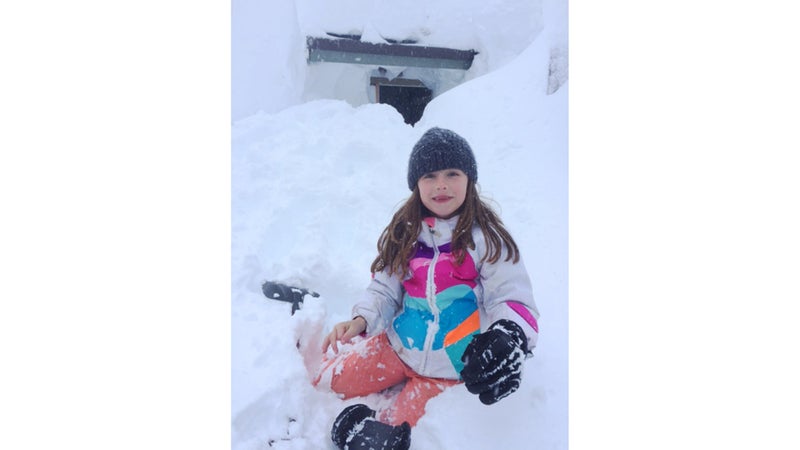 Name: Nakita
Age: 6
Hometown: Alpine Meadows, California
How much snow they got: 183 inches
How much snow fell?
That's a hard question. It was a lot. It looks like a fat marshmallow.
What did you do when the storm hit?
I stayed at home. We couldn't really do anything. The power went out, so we couldn't watch movies. There was no skiing. I helped my dad shovel. There was a lot of shoveling. He has a big shovel and a little shovel, and I used the little shovel.
What was it like when the power went out?
The top part of our stove worked, so we could make pasta. We lit candles. I wasn't that scared. OK, maybe I was a little scared. My mom was the scaredest.
How long was school canceled for?
Seven days. That's the longest school has ever been canceled for that I know of. I kind of liked being out of school. Maybe there will be another snow day tomorrow?
Have you ever seen it snow like this before?
This is the biggest storm, I think. I don't think it's ever snowed this much.
Do you think it'll ever snow like this again?
Maybe it'll snow like this again. But if the power goes out again, that would just be crazy. There's no TV!
I heard your house got hit by an avalanche. [Ed. note: Nakita's family lives in an avalanche path below Alpine Meadows.] What did that sound like?
It sounded like an elephant farting. Just a really loud fart. The snow hit the front door and filled our mudroom to the top of the door—like way above my head. We had to stay inside while my dad went out through the downstairs door and started shoveling. Snow filled our garage, too. I wasn't scared at all.
Do you think you'll remember this storm when you're older?
Nope. I don't think so. This happens a lot. —Megan Michelson
---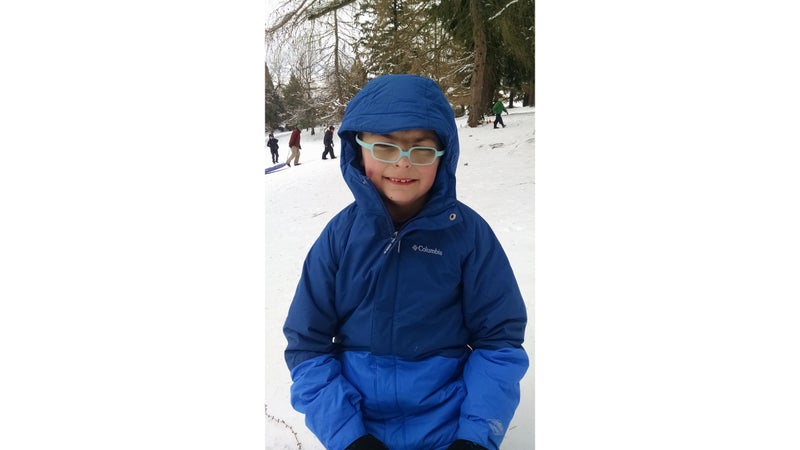 Name: Jack
Age: 9
Hometown: Portland, Oregon
How much snow they got: 8 inches
How many days of school have you missed?
Like a thousand, but I'm not worried about that.
You've missed a thousand days of school?
Yeah.
Are you worried you're gonna fall behind in your learning?
What?
What's been your favorite thing about the snow?
That I get to go tubing and make snowmen and go sledding and make it go faster!
If you could make every day like this instead of school forever, would you do that?
What do you mean?
Like, having a snow day instead of—
YES. —Alex Ward
---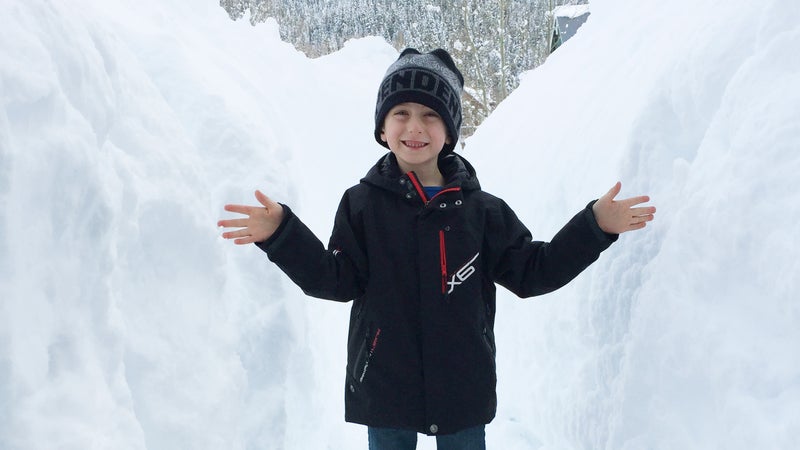 Name: Jonah
Age: 7
Hometown: Crested Butte, Colorado
How much snow they got: 111 inches
When did you find out that you would get to experience the first snow day Crested Butte has had in decades?
I was about to read a book in bed with Mom, then Dad came in and told me. I didn't know what it was going to be like. Maybe I would sit at home on the couch and not do anything?
What did you do?
I woke up, played some Minecraft, ate waffles for breakfast—[laughs] I was about to say dinner!—played more Minecraft, went outside and made a snow fort with my friends. There were five of us, plus Mei [Jonah's dog]. That's six. Mei was excited, digging everywhere.
What was the best part of the day?
The best thing about the snow day was building the snow fort. Since the start of winter, I've probably built 20. On the snow day, I dug just one. I dug it by the fence, so the fence was part of the fort. We got three people inside. It was cramped and warm. I almost fell asleep in there. During the storm, I think the small animals go into snow forts to stay warm. I bet they go in with the bears, where the bears are sleeping.
How much snow did you get?
On the first week of the storm there was 90 inches, and on the second week there was probably 200 inches. It's been storming for two weeks. It's maybe 15 feet deep on the ground in the yard. The snowbanks in town are probably like 30 feet. I don't dig forts in them because they're all dirty. Since the plow touches the ground, it brings up lots of stuff, like dog-pee snow.
Have you seen any of the roof avalanches?
You don't call them roof avalanches, you call them roof slides. I just think they're normal. I've seen lots of them, not just this time. But this time, when I leave the house, Mom tells me to run. She's never told me that before. The snow on my roof is five feet tall.
If you could make every day a snow day, would you?
I like school, so I hope there aren't any more snow days. The only thing I don't like about school and building forts is that recess is so short and we don't have enough time. Recess is like half of a half-hour, which is like 20 minutes. On the snow day, I worked for two hours on the fence fort.
Did you do anything other than build a snow fort?
It got dark at five, and I went inside, had dinner, and ate cookies. I made the cookies. They were chocolate chocolate mint. —Leath Tonino
---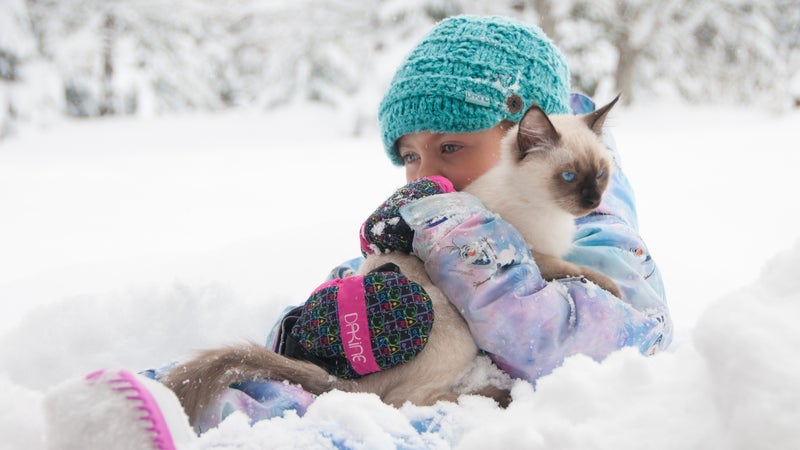 Name: Isabella
Age: 5
Hometown: Hood River, Oregon
How much snow they got: 36 inches
What's the best part about all these big storms in Oregon?
I like going in the hot tub, jumping in it, and eating snowballs. 
What is your favorite part about skiing?
I like going in the powder. I like skiing on the big runs. Like Express [at Mount Hood Meadows], stuff like that.
Do you like to ski when it's snowing?
Yes, I like to ski when it's snowing out because then all the snow falls on me and I feel like an angel.
Why are snowstorms cool?
Because then a ton of snow comes. It snowed a lot last week. A lot, a lot. There was so much snow that we couldn't bring the kittens outside.
What does mom do when it's snowing out?
Work.
What do you like to do with your dad [professional skier Eric Pollard] in the winter?
Open presents. And kittens. —Kade Krichko