Study: Tweens Not Wearing Enough Sunscreen
Heading out the door? Read this article on the new Outside+ app available now on iOS devices for members! Download the app.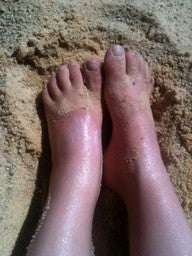 It's late January. The days are getting longer, the sun is getting just a teensy bit stronger. Who doesn't have beach days or bluebird powder days on the brain? Which brings to mind one of parenthood's more onerous tasks: applying sunscreen. It's sticky, the kids are wriggly, and if you buy the all-natural stuff you and said child inevitably will be coated in clumps of gloppy white stuff, which he or she may or may not try to eat. But there's no question that a painful sunburn is a much worse alternative, so it's a chore we tolerate until the kids are old enough to do it themselves. Unfortunately, that day just got a little farther away, according to a new study in the February issue of the Journal of Pediatrics. 
The study, conducted by researchers at Memorial-Sloan Kettering in New York, found that half of a group of 360 fifth graders wore sunscreen regularly, but three years later, when that same sample group reached junior high, the stat had dropped to 25 percent. Why? Presumably because their parents had stopped  doing it for them. The study also reported that middle school kids spend more time in the sun and are more interested in tanning than little kids. As someone who grew up in New Jersey in the late 80s, where the after-school activity of choice was to "lie out" in the backyard or roof deck slathered in baby oil, with tin-foil wings for added reflectivity (sorry, skin), believe me, I can relate. What is a little sobering, though, is the fact that two decades of skin cancer awareness doesn't appear to be trickling down to this group of tweens. 
The report is too new to follow the students into adulthood to see what the effect is (if any) on skin cancer rates. But the numbers suggest that whatever the season and whatever the adventure—skiing, sledding, biking, rafting, swimming, sailing—coating the kids in SPF is a job we'll have to keep doing longer than we might like. 
Read more at The New York Times' Motherlode blog. 
—Katie Arnold