Teach Your Kids to Fly-Fish
Take your children fishing. Then do that over and over again for the rest of your life.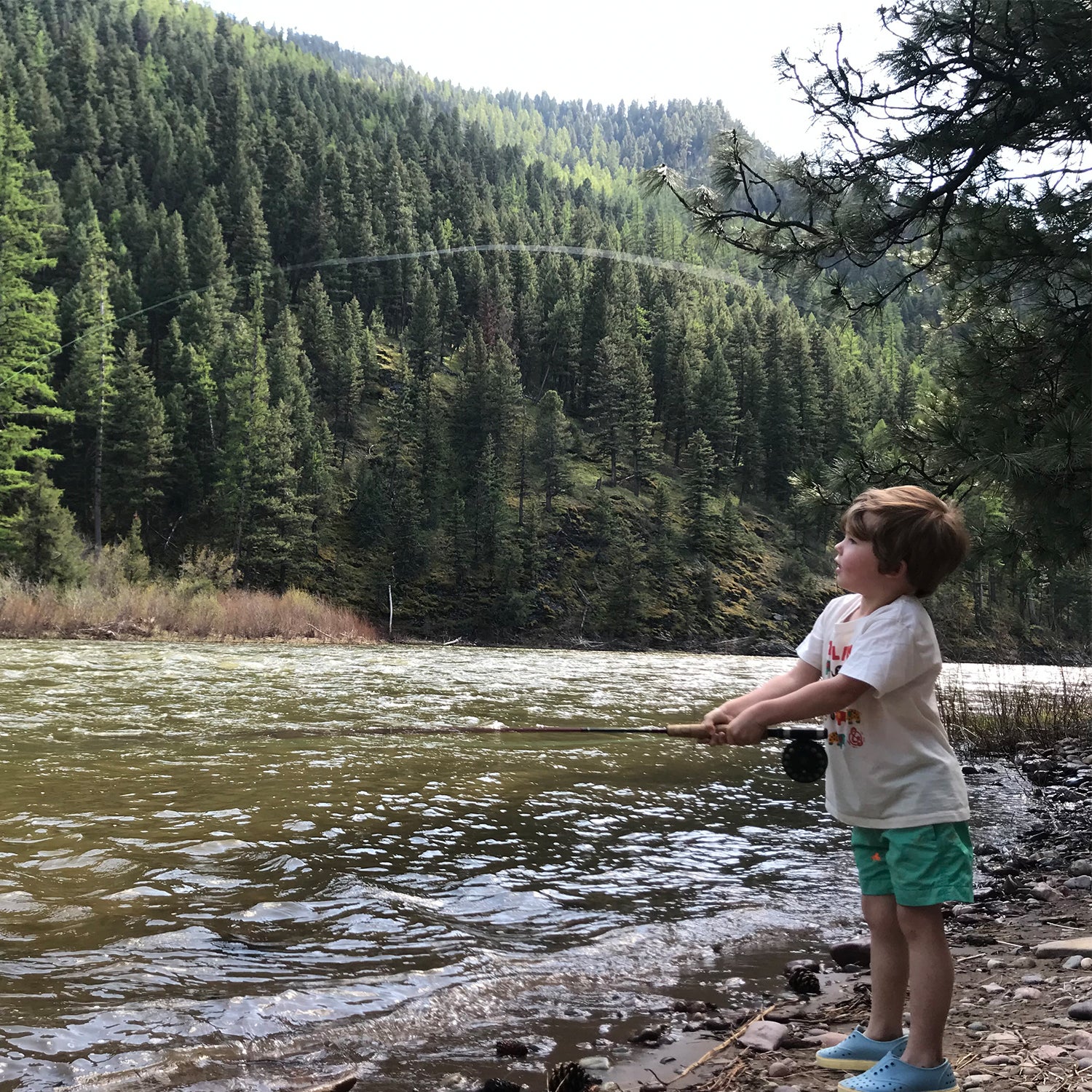 Heading out the door? Read this article on the new Outside+ app available now on iOS devices for members! Download the app.
I come from a long line of fishing fanatics. My Irish grandfather smuggled a fly rod into his honeymoon suitcase on Scotland's Isle of Islay. My granny may have envisioned lazy mornings and breakfast in bed, but instead she spent her days tramping through the boggy moorland, ruining her shoes in search of wild trout.
My father is similarly obsessed. Over the years I have watched him descend dangerous cliffs to promising pools, trawl around lakes at midnight in search of nocturnal lunkers, and capsize his float tube while bringing a seven-pound brown to net. Once I saw a black bear swim across the Blackfoot River just 50 yards upstream from my father, who kept one eye on the bear and the other on his fly and never interrupted his drift.
I inherited this madness. On family camping trips in Colorado, I would watch my dad wade into a mountain lake in his rubber hip boots and swish a dry fly in calligraphic arcs out to the rising cutthroats. I made my first casts in those lakes. I got in tangles and jammed my reels and snagged dozens of flies in trees. But eventually, under my father's tutelage, the skills coalesced. I remember one magical evening on a corner pool of a meadow stream near Leadville, my sister and I crouched on our knees taking turns flipping a yellow humpy into the current and waiting for the splashy rise at the end of every cast, when my dad would shout, "Strike!"
As time passed, I grew and changed, but fishing with my father remained a constant, in all seasons. 
Today I fish like my father does, and like my grandfather did: in total absorption, somewhere beyond thirst, hunger, or sunburn. For me it's the activity that defies distraction in these most distractable of times. When I am at the river, I feel the sense of expectation, the pregnant, hold-your-breath stillness usually reserved for sacred spaces. Fishing can seem like an addiction at times, but it may equally be the antidote for the ills of our age.
Now my wife, Hilly, and I have two children of our own: five-year-old Theo and two-year-old Julian. They have already grown up clutching our ankles as we cast into mountain lakes. I want them to feel the same yearning, drama, and excitement I did as a child. I want to share adventures and make memories with them. I want to be a family of fishing partners. So, I called up my dad—the world knows him as Paul—and asked him how, and why, we should teach our sons to fish. And he gave me this advice.
Start Simply
"I'd recommend starting them on the lawn," Dad said. "Teach them how to bring the rod back, keep the line up high, load it, and then cast it forward." Tie a big, bushy fly on the end of the tippet and clip off the hook, then cast with your hand over your child's until they learn how far forward and back the rod should go—the classic ten-o'clock, two-o'clock motion. Set a dinner plate on the grass, and see if your kid can hit it. When they do, move the plate a little farther away. It will help to learn the basics in this fun, low-pressure environment before they ever get on the water. 
There's no need to go out and buy fancy gear, either. We found Theo's rod at a garage sale, and I rigged it with one of my old reels. A short, light rod is perfect—something like a seven-foot three-weight.
Fish Stillwater First
Learning to fish is full of discouragement, so it's important to find the best setting for your child's first experience on the water. Try to find a pond or a lake without too many trees to hang up your child's backcasts. (Reservoirs stocked with trout are often good places to begin.) Tie on a big, visible dry fly, something like a Royal Wulff or an Adams Irresistible, add plenty of floatant, and don't forget to crimp down the barb in case somebody gets it in their ear. Then encourage your child to cast as far as they are able.
Those early casts are bound to be sloppy. Fortunately, trout cruise in lakes, so even if the cast is splashy, a fly left floating for long enough is likely to disappear in a swirl. Then coach your child into keeping a tight line and striking at just the right moment. They'll miss many more than they'll hook, but they will be thrilled and honing their reflexes with each rise. If they can't connect, most kids will enjoy bringing in a fish that you've hooked. Teach them how to hold it, remove the hook, and release it.
"Fishing is infectious," Dad said. "If you're really passionate about it, the chances are your kid will be passionate about it, too. At first you'll spend a lot of your time untangling and unhooking things, but that intensity of being present with a child, that's the best."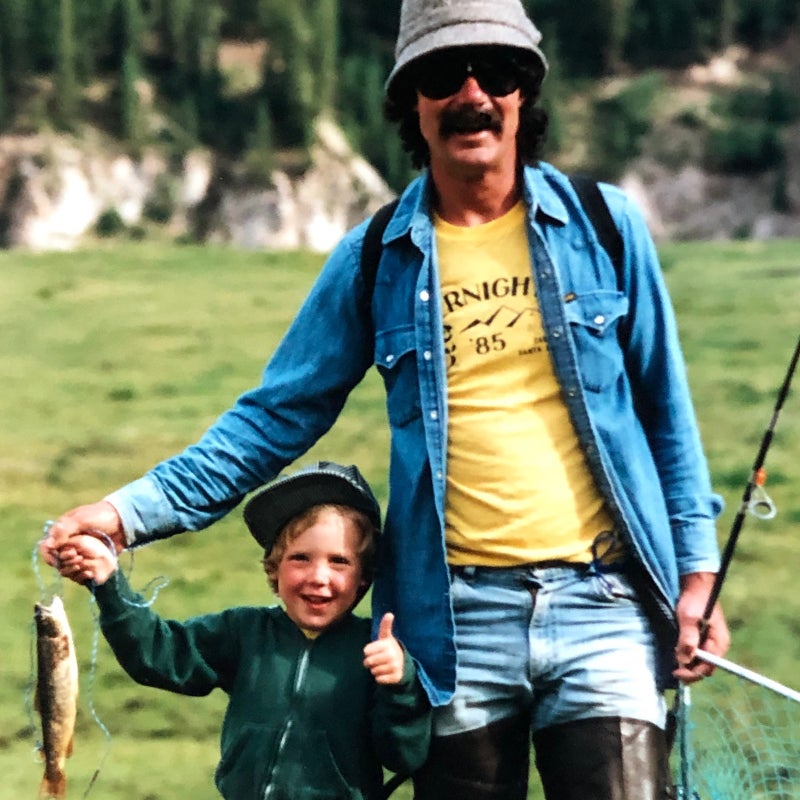 Graduate to a Meadow Stream
Once your child can cast, take them to a small stream, ideally one without too many willows to snag their fly. Here it will be important to teach your child how to sneak up on a pool.
"Kids really respond to stealth," my father said. "I loved crawling on my belly with my dad to fish the highland streams in Scotland." 
Fishing moving water will reveal to your child one of the hardest parts of fishing: how to land a fly on the water and let it drift like it's a natural insect that's not attached to your line. If you pick the right stream, with plenty of small, hungry trout, your child will have lots of strikes to keep them focused as they perfect their drifts. In the meantime, you can help them sharpen their casting and develop a sense of awareness for what's going on around them.
"You're teaching them fine motor skills but also how to be aware of the water, and the insects, and where a fish would hang out," Dad explained. "Imparting that knowledge, wisdom, and experience to your children is really rich. There's something ancient about it."
Embrace the Tangle
There's no way to learn to fish without getting into a lot of tangles. "There's probably more that goes wrong than right when you're first learning," Dad told me. "Patience is critical. Kids are like a mirror—if you're impatient, your kid probably will be, too."
I lost the first big fish I ever hooked because my line had tangled in my reel and jammed while the fish was in the middle of a powerful run. Somehow the tangles always happened when the fishing was best. Occasionally, I would walk over to my father in the middle of a hatch, holding a reel that looked like a bird's nest. I can remember him hissing "Darn it!" through clenched teeth, which is as close as my father gets to cursing.
He is cooler in retrospect. "Tangles are part of fishing," he said. "You have to teach the child how to solve the problem. If you get irritable, you've lost them."
It's usually easiest to cut off the fly and try to work the end of the line back through the mess. Sometimes you might save time by cutting more line off and tying on fresh tippet.
Follow Your Child
Of course, it's entirely possible that your child will not be as obsessed with fishing as you are, and that's OK.
"You were all in," Dad recalls of my early angling career. "There was no stopping you. You just wanted to fish. But every child is unique. There's no generic, cookie-cutter approach to teaching them to fish. There are different levels of patience and motivation."
Thankfully, fly-fishing is a hobby that accommodates a wide range of interests. When your child wearies of the fishing, reel in the line and go looking for bugs. Pack a little net with you and start flipping over rocks to find stone fly larvae, mayfly nymphs, and little caddis fly houses made of leaves and gravel and silk. If your child likes this, consider buying an entomology kit to collect bugs for closer inspection. Learning about the life cycles of insects is interesting and will also help your child become a better angler.
If your child is interested in arts and crafts, teach them how to tie flies. My father didn't tie, but he found a fly shop that offered lessons. I liked learning how to spin feathers and fur around a hook until it looked like a bug. And it was supremely rewarding once I started catching fish on flies that I had tied.
---
Fishing with his father are some of my dad's favorite memories. "He just completely calmed down," my dad said. "He was totally focused on me. He'd take me out at night sometimes, and we'd fish wet flies for sea trout. He'd hold my hand, and we'd cast a couple wet flies downstream and let them sink. We'd strip them in together. Then we'd feel that thrill of a sea trout grabbing it and shooting out into the darkness."
My grandfather died five years ago, but my dad said he feels that same sense of connection with me. A love for the mystery of water and fish has bound three generations of our family. Call it a blood knot.
Trending on Outside Online