Teaching Kids To Ski
I have a five-year-old who I want to put on skis for the first time. What's the best approach to a new sport?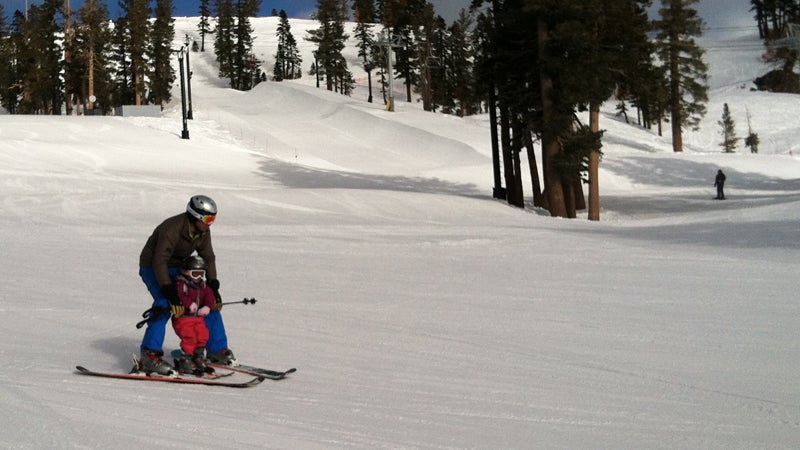 Heading out the door? Read this article on the new Outside+ app available now on iOS devices for members! Download the app.
In some ways, five is the perfect age to learn to ski. Kindergartners are usually more independent than preschoolers, not to mention stronger and more coordinated.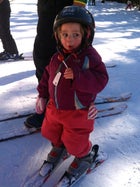 Will ski for candy.
We put both our daughters on skis when they were 18 months old, but our younger one is only just now—at three-and-a-half—developing the leg strength to execute a controlled snowplow stop. So although it can be entertaining to get them out when they're tiny, starting super young doesn't always yield huge payoffs. 
In general, there are two approaches to teaching a little one to ski: DIY on the bunny hill, or outsource lessons to a ski instructor. If you're a skier, perhaps the best and most cost-effective strategy is to combine the two.
We did half a dozen or more sessions on the Magic Carpet conveyor lift with our daughters to get them comfortable on snow and in ski boots before we hired an instructor. (At most resorts, little kids five and younger can ride the Magic Carpet for free; parents wearing street shoes can usually walk on for free, too.) For the first few sessions, we would simply run or walk next to them in our snow boots, holding onto them by their jacket or hands.
You don't need to be an expert skier to get them started on the basics: leaning forward with hands on knees, ski tips pushed together in a wedge or "pizza" formation, looking downhill where they want to go.
We kept each session deliberately short, no more than an hour or two with at least one hot-chocolate break thrown in to keep them happy. Little kids tire quickly, and you'll want to anticipate hunger and fatigue by stashing snacks in your pockets and being prepared to take a break if they start to tire or fuss. Five-year-olds will naturally have more stamina, but no matter what your age, learning a new sport can be exhausting, physically and emotionally.
The goal is to get them used to the sensation of being on skis: shuffling around on their skis, getting on and off the Magic Carpet with assistance, and moving down the slope in a controlled way. There are various devices and strategies that can help.
Some parents I know swear by a harness and leash set-up such as the Lucky Bums Ski Trainer, which keeps them tethered to you as they ski in front of you (this works best if you're on skis, too).
For our three-year-old, we recently tried the Edgie Wedgie, a $10 rubber strap that connects the ski tips and hold them together in a perpetual snowplow or "pizza" wedge for little legs that aren't strong enough to hold an edge. Unfortunately, the strap kept popping off and accidentally snagging on the chairlift safety bar, so we reverted to our tried-and-true method: having her hang onto one of our ski poles to slow herself down while she practices the pizza.
Whatever your strategy, DIY sessions are helpful for gauging kids' interest in the sport before shelling out big bucks for a lesson. Once you determine that they're not going to freak out every time you pull out their ski boots or fall to the ground in a tantrum as they're shuffling toward the Magic Carpet, they're probably ready to graduate to ski school where the pros will take their instruction to the next level.
The first thing to do is check your local ski mountain, or the resort where you'll be skiing, to see what they offer for different age groups. If it's a holiday period—like MLK weekend, Presidents' Day, or spring break—try to reserve lessons well in advance, as slots tend to fill up quickly.
You'll need to decide if you want to do a group lesson or a private; although the level of attention is obviously much greater one-on-one, there are benefits to small-group lessons, too. Namely, positive peer pressure. If they're hesitant to try something, they might change their minds if they see other kids doing it.
This, of course, depends on the child. Our girls are both pretty social, so they tend to thrive in groups or semi-privates, but if it's your kid's first time on skis, or if they learn better in a quieter atmosphere without distractions, you might enroll them in a private for a day or two, and then transition to small groups (keeping in mind that privates can be two or three times as expensive). Either way, watch them and see what's working best. If they're not having fun and advancing in either format, switch it up.
In privates, parents and adults can usually tag along for part of the time, so you'll get a feel for how they're doing. But hang around too long and you might become a distraction. After each lesson, be sure to ask the instructor for details on how their skiing is progressing and specific techniques for teaching them on your own. 
No matter which approach you try, the key is to make it fun. You'll want to keep tabs on kids' hunger, energy, and comfort levels. Bring lots of layers, so they don't get cold, and take a quick snack break if they start to flag. Keeping them out there past their limit will just make each of you ornery—not a feeling you want her to associate with skiing. It's far better to go in for a 20-minute hot cocoa break than to bail on the day altogether. 
Remember, keep it it fun and they'll have fun!
Trending on Outside Online