Ten Questions for Parker Liautaud
Teenager sets new world record for the fastest unsupported trek from Antarctic coast to South Pole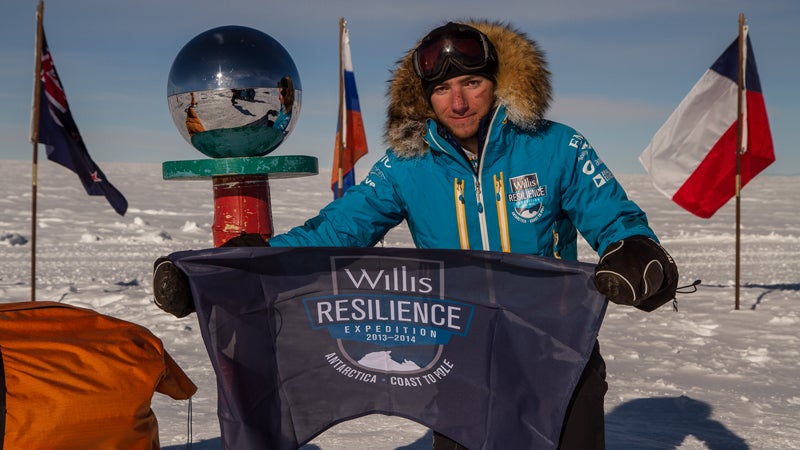 Heading out the door? Read this article on the new Outside+ app available now on iOS devices for members! Download the app.
On December 24, 19-year-old Parker Liautaud arrived at the South Pole after skiing 563.3 kilometers in 18 days, four hours and 43 minutes. He set a new world record for the fastest unsupported trek from the coast to the Pole, and became the youngest man ever to ski to the South Pole.




Along the way, he endured a myriad of discomforts you'd expect from crossing the frozen continent, which despite the 24 hours of midsummer daylight, still thrashed him with flesh-freezing temperatures and blasting winds. Call it suffering in the name of science: Liautaud, a geology and geophysics major at Yale, partnered with veteran polar explorer Doug Stoup, 50, to research and raise awareness for climate change.
Before they set out on their speed attempt, the team spent eight days traveling 1,800 kilometers overland from the Pole to the Ross Ice Shelf in a custom-built ice truck/mobile laboratory, collecting snow samples to test for the effects of global warming. The data is still in New Zealand being analyzed, but Liautaud had no shortage of learning moments on his epic quest to the Pole. 
How does it feel to be home?
I feel good. I'm just trying to get back into my regular life. In the grand scheme of things, I escaped barely unscathed. A lot of people get frostbite, but I've recovered quickly. The feeling has come back in my fingers. 
Tell me about the toll it took on your body.
I could go on and on about it, but at base camp on the coast, I picked up a virus. I had a viral infection and a cough the whole way through. I had minor sprains in my ankle, tendinitis in both ankles, back and knee pain. These things sound so basic in day-to-day life, but on an expedition they're not as obvious. I kept worrying, Is it going to get a lot worse? Are these problems going to keep me from completing the expedition?
How did you get into doing polar expeditions?
When I was 13, I became interested in climate change. I'd been told that it was important, but I knew nothing about it. So, I set out to try to learn as much as I could. I met a British explorer named Robert Swan, the first person to walk to both the South and North Poles. He really developed the idea of using polar exploration to demonstrate climate change. I saw him lecture in California and basically harassed him for six months. When I was 14, I joined him on a small trip to the Antarctic Peninsula. I did my first North Pole ski expedition when I was 15, but we had to turn back because of open water. I went back when I was 16 and 17, and made it to the Pole both times. It really all started with climate change. I am the least athletic person. In high school, I was always the last one picked for a spot on a team. I've had to learn how to train like an athlete, and behave like an athlete.   
How did you train for Antarctica?
A lot of polar explorers train by dragging tires, but I go to university in the center of a city, so I didn't have the ability to drag tires. You need a big field or open area, and some place to store them. I live in a dorm. At the time, I didn't have a driver's license. I was a full-time student and I couldn't take a week off to go to the Rockies. This sort of freaked me out at the beginning, but then I realized that people train all the time in different ways, some of them using nothing but the floor. So I talked to a trainer I'd worked with before [Sham Cortazzi], and we created a training plan broken into three stages: developing strength, developing endurance, and mixing the two. I went from barely being able to do one pull-up to being able to do 12 five times. It's a workout called Death by Pull-up. You do one in the first minute, two in the second, three in the third, and so forth. I couldn't believe I was able to do it.
How did your parents support you?
They've been through this four times with me, so they're getting used to it by now. They didn't support me financially or with contacts, but they did give me a lot of moral support. They've always encouraged us [five kids] to be very independent and deeply involved in what we're interested in. To just go after it. During tough times of preparation, my mother knew to remind me why I was doing it, and to not let up on any of my goals, whether it was training or fundraising.
What was the low point of the speed record?
This was an expedition, so there was a low point every day. But the low point of the whole trip was days four through nine. All the little things that had started to bother me were at their most severe, but I hadn't figured out what to do about them. I was also very short of breath, and it was hard for me to deal with the high altitude. I knew this would be a challenge because I wasn't able to train in the high mountains. The pressure at that latitude makes 9,000 feet feel more like 12,000. At that point we were still carrying all our supplies, pulling probably 170-180 pounds, and I'd start to break down after about eight and a half hours. I was sitting in our tent, five or six days in, wondering if I was even going to be physically capable of doing this. That's a terrifying thought. That means I didn't train hard enough. And that's the thing that's most in your control. Everything else is out of your control. Over the next few days, I kept thinking about the crevasses in the glacier. What if I fell into one and broke my leg? And that started to seem like a legitimate way I could get out of this. I still had 250 miles to go. That was the low point.
How did you pull yourself out of it?
I worked with a mental trainer before I left, and we developed a strategy for those moments: breaking everything down into manageable chunks. In whiteout and 40 mph winds, I could handle ten steps before resting. In better days, maybe I could handle a one-and-a half-hour session, which is how Doug and I broke down our day. Maybe I could handle thinking about the bigger picture. I also brought good luck notes from people at home that helped me get back in the game. Down there, it was very easy to feel that no one was with me, not just in Antarctica but in the whole world.
What was the high point?
Beyond the obvious of reaching the Pole, it was when we started to maintain a steady, good daily distance. This was about day 12, when I realized I was beyond the low point, and I wasn't going to go back to that. I had defeated that mindset. If we could just get after it and keep doing eleven and a half hour days, we'd have a shot of getting there in record time. 
What were your impressions of climate change in Antarctica?
We did all our data sampling from the South Pole to the Coast, so that the science wouldn't interfere with the speed work and vice versa. We don't have any of the information yet; it's in New Zealand going through the scientific process. I don't know enough about Antarctica to draw conclusions from what I saw. It's not like I've been going there every year for 30 years. I'm impatient to get the data back, because when we do, it will give us a much clearer picture.
What was the coldest temperature you endured?
Negative 40 Celsius. It was a whiteout, with fast winds. I didn't get hypothermia, but I did get cold damage on my nose, cheeks, and several fingers. At the end of each day, my shell jacket would be covered in ice. All I'd want to do is take it off, but I would put my down jacket over top of it to melt the ice. Otherwise, there'd be permanent ice buildup. It would just be a giant chunk of ice. So I would sit there with ice melting over me. Short term pain for long term gain.
What's next for you?
I'm going to do another expedition, but I don't know what it is yet or if it's going to be polar. There are so many opportunities. Right now I get to kick back for a little while and brainstorm and day dream a bit. It's the most carefree part of an expedition. 
I've read that you want to get your PhD?
First I have to graduate! And then apply to programs. There are no guarantees.
Do you have any advice for aspiring young advocate-explorers?
All I would say is just do it. I was a really pathetic case. I had no athletic promise or connections for funding. If you have a good idea and a good reason for wanting to do it, eventually you will find people to support it. You'll have to go through a lot of boring cold calls and emails. But people want to help. They're positive and enthusiastic, especially with young people. And don't be discouraged if it takes longer than you planned to get ready. At least for the next few years, the mountains aren't going anywhere.