Sponsor Content: Bermuda Tourism Authority
The Family Travel Guide to Getting Lost in Bermuda
Adventurous families, Bermuda is the unexpected vacation you didn't know you needed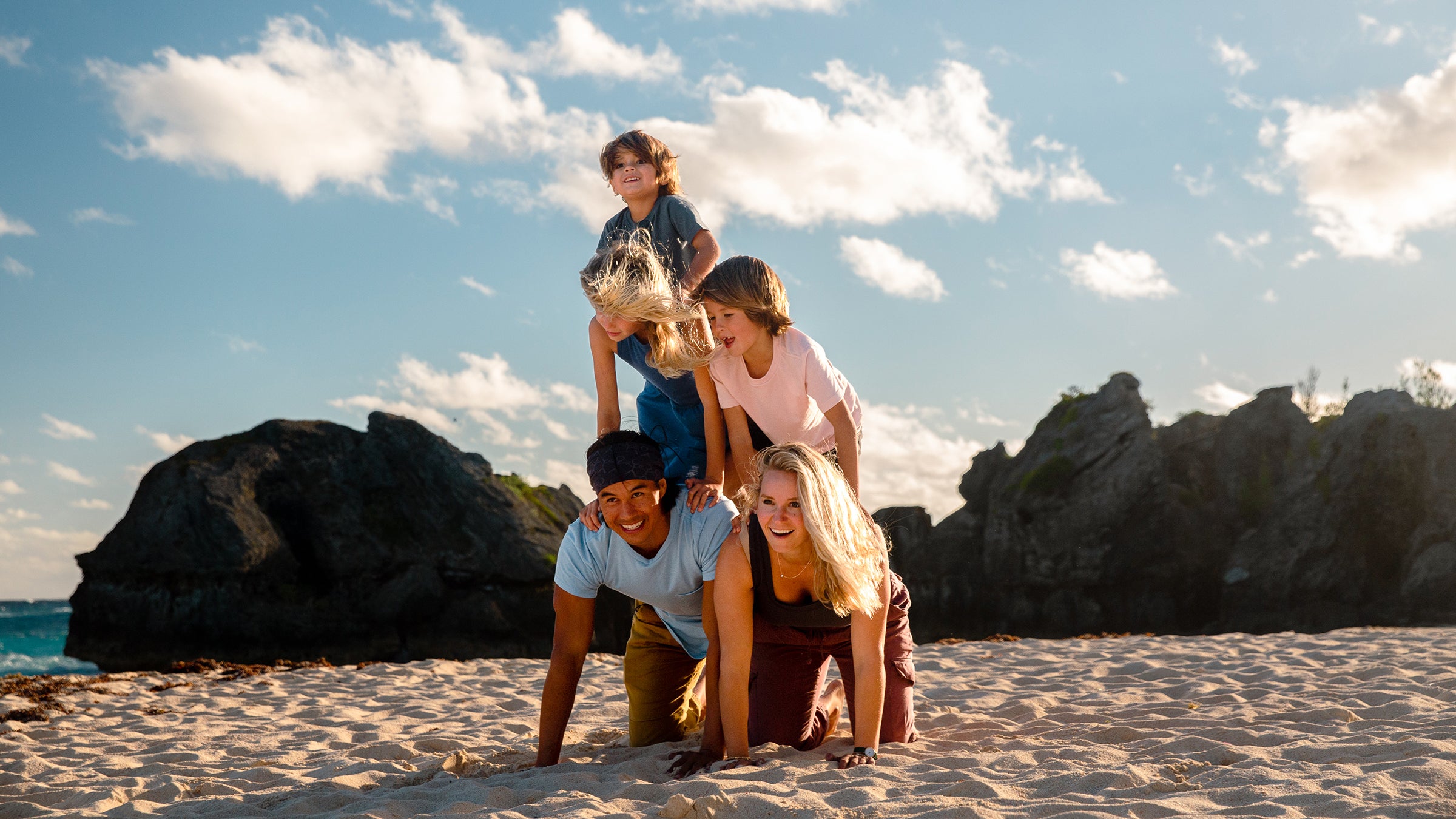 With its signature pink sand beaches, mild climate, and subtropical waters, Bermuda is often mistaken as part of the Caribbean. But this 21-square-mile archipelago situated about 650 miles off the coast of North Carolina exists in a world of its own. Bermuda offers an island experience that allows you to discover the path less traveled in a safe and welcoming environment. You'll find a mix of superlative nature, intriguing culture, and an abundance of history to explore as a family—from rugged coastlines and subterranean caves to shipwrecks and a storied maritime history. Don't let the remote location deter you—getting to Bermuda from the U.S. is surprisingly easy. Here's how to experience this unique island destination to the fullest as a family.
Coastal Activities
Bermuda has no shortage of oceanfront and on-the-water family fun. When it comes to exploring the coast, Bermuda's famous pink sand beaches aren't the only wow factor. The dramatic limestone cliffs along the coast are popular among locals for cliff jumping. It's not uncommon for Bermudian families to spend their weekends picnicking on the shore while daring kids leap into the ocean below. Experience this rite of passage at Admiralty House Park on the North Shore, where the protected waters of Clarence Cove provide a family-friendly bay for swimming. 
On the other side of the island, Jobson's Cove is a natural playground with towering rock formations and boulders. Pack snorkeling gear to explore the lagoon. Or create a magical family experience with a picnic and bonfire on the beach. Don't forget to pack ingredients for adults to enjoy Bermuda's classic cocktails with local rum.
Any locals will tell you the best way to see Bermuda is from the water. Find an adventure by renting a boat for a day and exploring the islands and bays you can't reach any other way. Local vendors offer rentals, including a Bermuda-pink electric boat and a family-friendly vessel with a slide off the top. Pack a picnic and set sail from Barr's Bay Park to cruise around the Great Sound. Then anchor offshore for an afternoon of swimming and family fun. During whale-watching season in the spring, you will want to venture a little further with a tour company to catch these majestic creatures as they pass by Bermuda's shores.
Underwater Adventures
With more than 300 sunken vessels off the coast, Bermuda is the shipwreck capital of the world. Head out with a local dive shop to explore Bermuda's underwater treasures. Most shipwrecks are 40 to 80 feet underwater, so beginners will find them easy to visit. Advanced divers with a wreck-diving certification can take it up a notch to explore the interiors of some of the wrecks and get a closer look at the history preserved in the depths.
Bermuda's high concentration of shipwrecks can be attributed to the 200 square miles of coral reefs that ring the islands. These reefs are fantastic dive sites in their own right. Follow colorful fish through tunnels and archways, or explore the famous Cathedral dive site—a large coral dome with windows that let sunlight stream in from above. While underwater, keep an eye out for spiny lobster, a seasonal Bermuda delicacy.
Have family members who aren't dive certified? Many of Bermuda's reefs are great for snorkelers of all ages. For a unique snorkeling experience, check out the Living Reef Foundation, which supports coral reefs and marine ecosystems in Bermuda. Learn about Bermuda's coral reefs and see the restoration efforts in action as you snorkel in the coral garden and even help plant young coral.
Exploring the Island
Even on land, Bermuda is all about ocean exploration. The Bermuda Aquarium, Museum, and Zoo introduces visitors to the island's natural history. Your family could spend an entire day meeting sea turtles and other native and international animals and learning about Bermuda's ocean ecosystems through its interactive exhibits.
Of course, there are plenty of non-oceanic activities to enjoy too. Explore the island on a guided e-bike tour of colorful St. George's or the historic East End. For coastal views, bike or hike the Bermuda Railway Trail National Park, a scenic 18-mile trail that extends across the island.
Bermuda's culture—a unique blend of British and Portuguese colonial heritage with African, Caribbean, and Native American influences—shines in the flavors of its local cuisine. Fuel up at a food truck before heading out on your next adventure. Try one of Bermuda's seafood specialties. You can't go wrong with a classic fish sandwich—deep-fried fish (wahoo, snapper, or rockfish) with tartar sauce on whole-wheat or raisin toast. Locals add a variety of toppings: tartar sauce, grilled Bermuda onions, cheese, hot sauce, and coleslaw. 
Then set out to explore Bermuda's natural caves. Visitors staying at the boutique Leamington Caves villa are granted exclusive access to explore the private caves in the property's back garden. Alternatively, the Walsingham Nature Reserve is open to the public. This 12-acre protected area is the ultimate natural playground. Explore an intricate system of subterranean caves, swim through grottos with crystal blue water, and hike in dense jungles brimming with life. 
---
The Bermuda Tourism Authority (BTA) is an award-winning, accredited destination marketing organization that promotes Bermuda internationally and works to empower our tourism industry stakeholders. Explore Bermuda's National Tourism Plan.
Lead Photo: Bermuda Tourism Authority