Toys of Summer: The Floater Mat
This six-inch-thick foam pad is half slip-and-slide, half water trampoline, and, for hassled parents, a blessing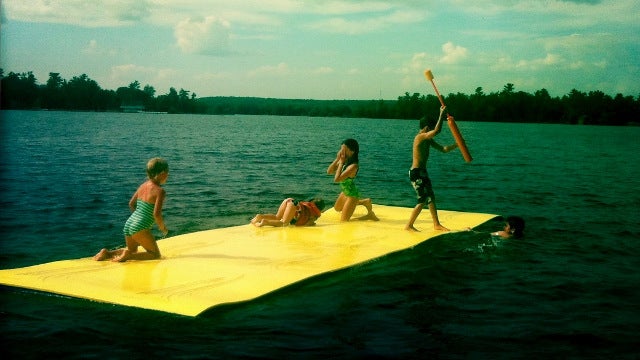 Heading out the door? Read this article on the new Outside+ app available now on iOS devices for members! Download the app.
My daughters had been angling hard for a floater mat ever since they'd played on them at friends' cottages this summer, and I knew that a mat of our own would encourage them to stay in the lake longer, burn off their wolverine energy, and maybe even help them become stronger swimmers. At 20 feet long and a mere two inches thick, the mat is made from marine-grade styrofoam and looks like a cross between a magic carpet and a slip-n-slide. It functions as a little of both.
Anchor it in lakes, calm ocean coves, or other protected water, and with a buoyancy of 1,500 pounds, it will support the weight of a dozen kids and a handful of adults doing pretty much any activity you can do on land while on water: jumping, sliding, wrestling, sliding, skipping, dancing, sunbathing, hopping. It doesn't absorb water and even fully loaded, the mat doesn't sag or bow in the middle; when you stand up on it, only your ankles get wet.
We bought ours to replace an inflatable water trampoline that lived hard and died young at the hands of my nieces and nephews. Every summer it sprung a leak. At its best, the Bongo was springy and bouncy, but it also had worrisome blind spots: It was so high off the water, you couldn't see little ones when they were on the far side, you could get trapped underneath it, and it was difficult for the youngest swimmers to climb up without help. We debated replacing it with a wooden floating dock but the $3,000 price tag was too steep, and we worried about boats accidentally ramming into it at night.
So when I saw the yellow Floater Mat skimming the lake's surface in front of a nearby cottage like some kind of enormous, man-made lily pad, I was intrigued. At first glance, it looks an optical illusion: How can something so thin and light (it's less than 40 pounds, lighter than my three-year-old) stay afloat under so much weight? But the minute you or your kids play on it, it no longer requires any explanation. It's magic and it works and it's crazy fun, and that's all you need to know.
We planned to anchor ours about 15 feet off our dock. This would give my daughters, who are 3 and 5 and are both swimming on their own, a place to actually swim to, rather than simply hurl themselves off the dock and climb out on the ladder, over and over. My little one, Maisy, has been having trouble sleeping, so I also selfishly hoped she'd tire herself out bobbing back and forth between dock and mat.
The Floater Mat comes with an anchor line that affixes to the mat via a plastic grommet. The directions blithely instruct you to cut a hole in the foam, but the idea of punching a screwdriver through a $500 mat gave me pause. I didn't want to botch it right out of the box, so I asked the shop to do it for us.
While the mat isn't heavy, it is awkward to move around, and it took two of us to get the rolled-up foam into our boat for the ride across the lake. Back at our cottage, my stepfather and I tried to unfurl the mat by loosening the velcro straps and stretching the 20-foot long mat out across the dock, but every time we unwound it, it would stubbornly re-curl itself, flopping around like a half-dead fish.
With so much surface area, positioning the pad is tricky. You need to give it ample space from land so that no one hits the dock when they jump in, but because it's only anchored only on one side, the mat rotates freely in the wind. At any given time the nearest side can be five feet from the dock or 35.
The anchor line looked terribly, perhaps fatally, short, but I flung it overboard, and it appeared to hold. In a flash, the girls flung themselves off the dock and started swimming madly for the mat. My stepdad stretched out on it, sunbathing. We could have had a party on the mat. Maisy, who we decided would wear a lifejacket when swimming to the mat, awkwardly hoisted foam over foam to pull herself up, unassisted. The girls proceeded to sprint back and forth, slipping and sliding off the end like penguins launching off the ice shelf.
That afternoon, though, a storm rolled in, pounding the lake with sideways rain and whitecaps. From the shelter of our cottage, I looked out just in time to see the gale pick up the mat on one end and wave it like a flag. That's it, I thought. $500, gone in a single day. But rather than floating away across the lake, it dragged its anchor and smashed up against the cliffs in our little cove. There it rested.
The next morning, we retrieved the mat and did the awkward repositioning dance all over again: drag and paddle, fling anchor, hope it lands. Friends of ours from down the island showed up with their four sons, who along with Pippa and Maisy, turned the mat into a featherweight wrestling ring. And in this corner, six-year-old Rocky from Saskatoon!
It's been windy every day for the past week, and the first thing I do when I wake up each morning look for the mat, as though I'm holding vigil. Has it moved a little overnight? Is it farther out now than yesterday? Is it slowly dragging its line? As soon as the shop gets more anchor lines in, I'm going to put a second one in on the other side for extra peace of mind. As for now, it's still here. I can see the yellow from the corner of my eye, awaiting the next round of action. Maybe tonight Maisy will sleep.
The Float Mat is available in two lengths: 15 feet and 20 feet, for $450 and $550. Go to thefloatermat.com for more info.
Trending on Outside Online