Trading in Flagstaff for New York City
Finding outdoor adventure in the Big Apple is easier than you think.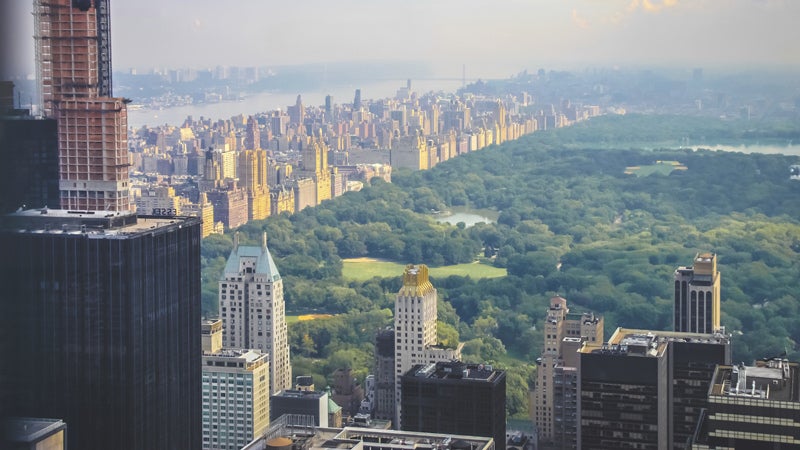 Heading out the door? Read this article on the new Outside+ app available now on iOS devices for members! Download the app.
Many outdoor enthusiasts would say we did our daughter wrong. Bella was born ten years ago in Flagstaff. Not long after she turned two, we moved to Denver. And then, five years ago, we moved to New York City. 

Bella on Governor's Island, NYC.

Hippo playground.

A horseshoe crab in Jamaica Bay.
Flagstaff is a nature lover's nirvana. There, at an altitude of 7,000 feet, I could trail run, mountain-bike, and ski—all on the same day. After my wife learned to cross-country ski, we'd use a pulk to tow Bella—all bundled up and stretched out on a plush sheepskin—and tour for hours through meadows, aspen groves, and pine forests under the cloudless, cerulean sky. 
When we wanted to get out of town, the Rocky Mountains, Utah's canyon country, the southern Arizona desert, Santa Fe, and the shores of California were all within driving distance. Bella had been to the Grand Canyon eight times by the time she was two—and we stayed overnight on three of those visits, once camping on the North Rim, where we didn't see a soul for three days. 
Denver's outdoors scene isn't shabby either. Although folks forget Denver was once known as the Queen City of the Plains, and isn't actually nestled in the Rocky Mountains, it still affords easy access to the mountains and all they offer—camping, trail running, mountain biking, skiing, rafting, and fishing. At four, Bella learned to downhill ski in the mountains above Boulder. We all loved the shortgrass prairie: a long day in the saddle on the Great Plains is not soon forgotten. (The picture of Bella that I carry around in my wallet shows her smiling—a black-eyed Susan in each hand—in the wide-open prairie, surrounded by flowers.) 
Bella was five in 2009, when we moved to Manhattan. It was quite an adjustment at first. My "trail" runs in Central Park were muddy, and half on pavement. Our dog stared at us, perplexed at the lack of grass and trees, unsure of where to do you-know-what. Gone was the backyard, with Bella's sandbox, the herb garden we'd planted together, and the deep, green grass. I worried about what my daughter's upbringing would be like here in the city, now that she was used to spending so much time outside.
I didn't have to worry. We learned to take advantage of Riverside Park's four-mile stretch along the Hudson—to walk the dog, play ball, climb trees, sled in the winter, and catch fireflies in mason jars, punched on top with airholes, in the summer. When we need an easy outdoor adventure, I take Bella and her friends to clamber over the huge Manhattan Schist formations in Central Park.
Our daughter has been out to Jamaica Bay, in Queens, to catch mating horseshoe crabs and watch for migrating Red Knots, birds that feast on horseshoe crab eggs during their spring migration. I've taken Bella to see peregrine falcons perch in the nave of Riverside Church, and she and I have seen red-tailed hawks hunt from the fire escapes on Broadway. Right now, we're planning an outing to see seals in New York Harbor.
And that's just in the city. Bella has also camped and roasted marshmallows in Montauk, hiked in the Catskills, and cross-country skied and snowshoed in the Adirondacks. Within a day's drive we have Cape Cod, the Great Lakes, the St. Lawrence Seaway, the Delaware River, and the massive and stunning forests of the Northern Appalachians.
The world around our kids is what we make of it. We can find opportunities in our immediate vicinity, and we can hunt them down farther afield. I find that, while I revel in big, open landscapes, Bella loves the minute detail of an insect on a flower. She and her best friend can spend what like feels like forever climbing in an old apple tree a few blocks from our apartment. Sometimes I need to remember that, although I love to plan big, adventurous outings, some of them are often just around the corner, and right under our noses—even in one of the biggest cities in the world.
Lead Photo: Getty Images/iStockphoto